►
◄
latest
habitat tv
blog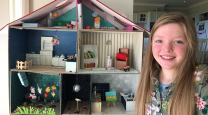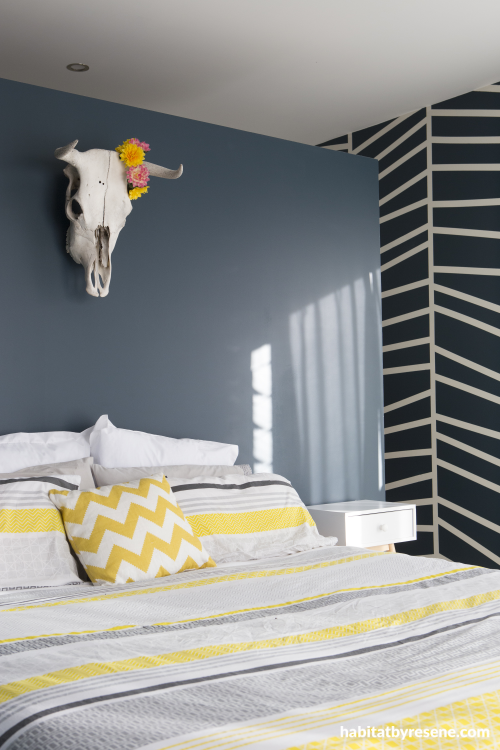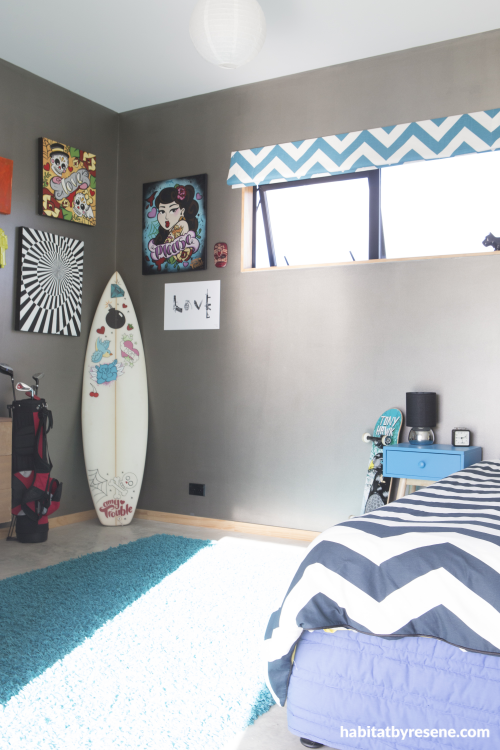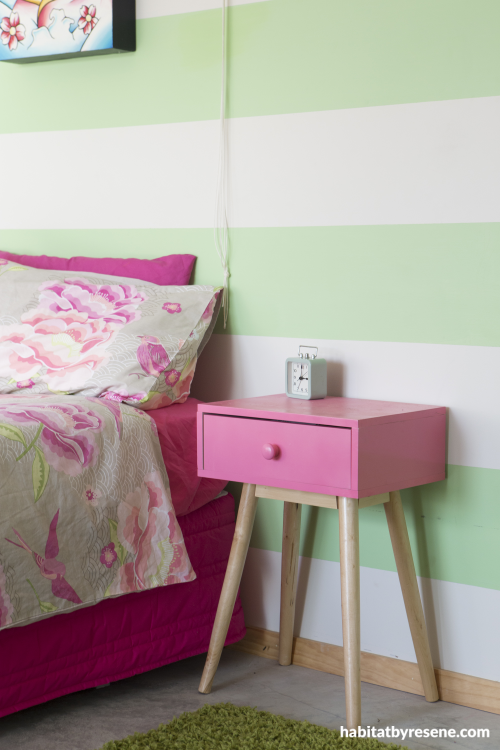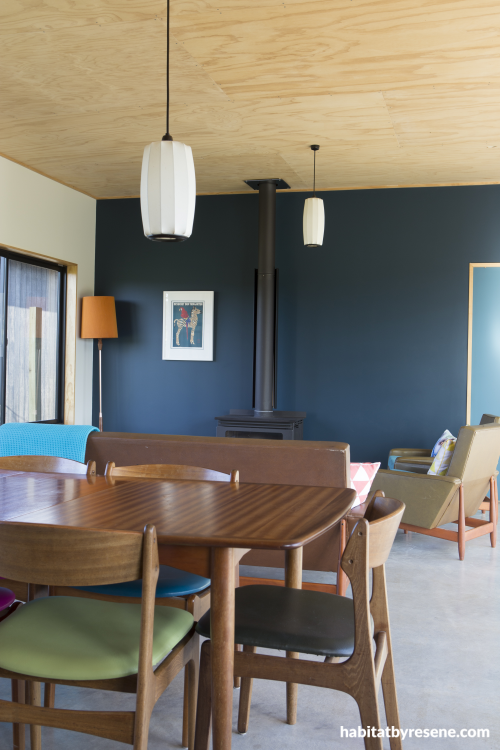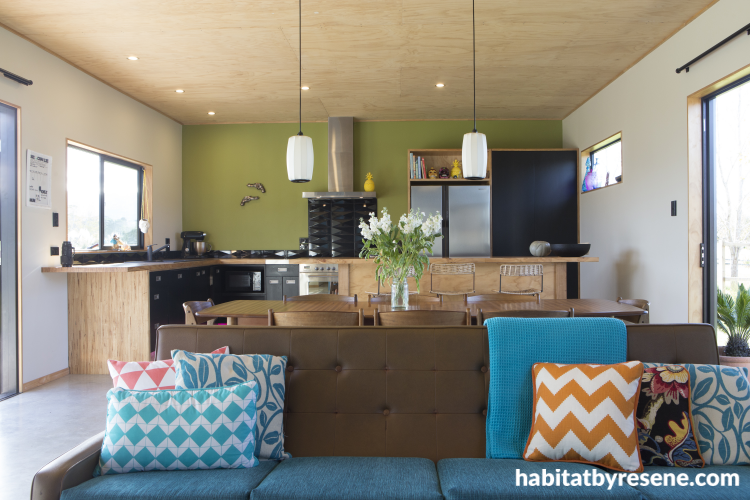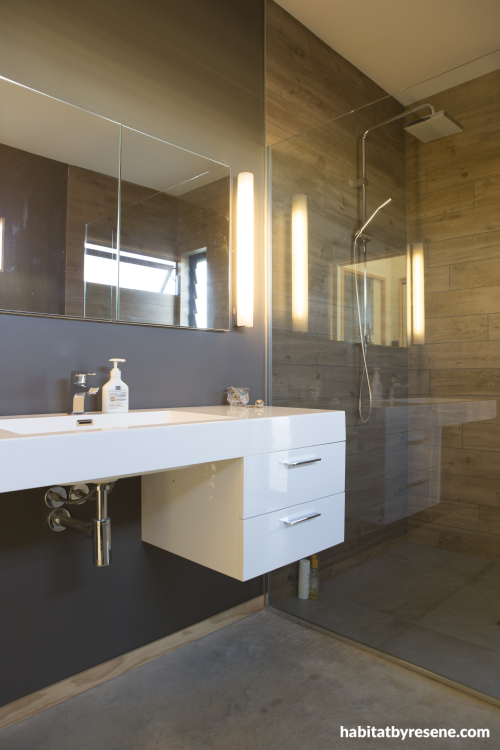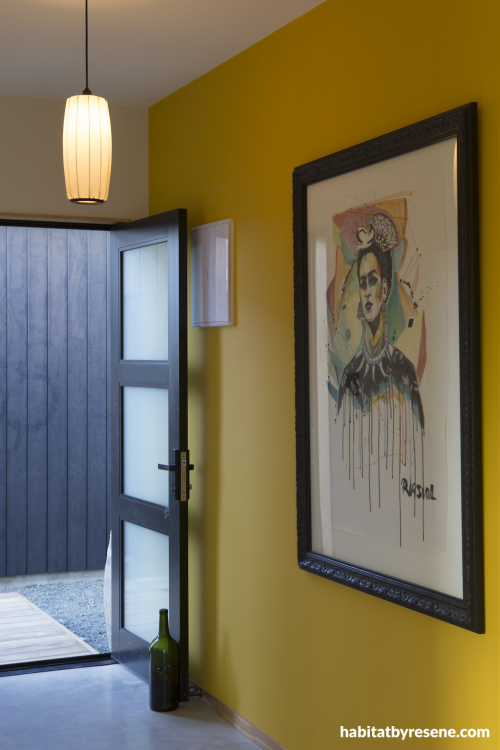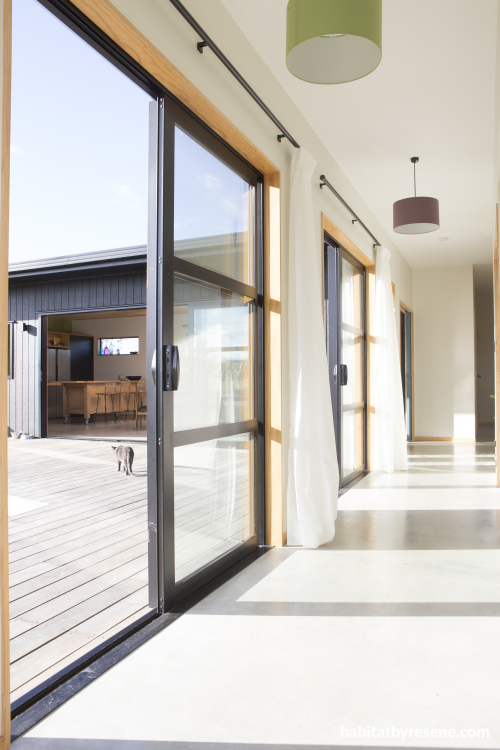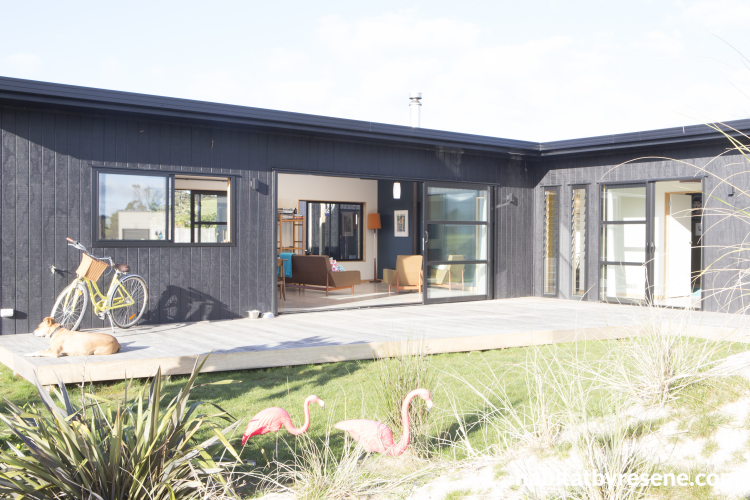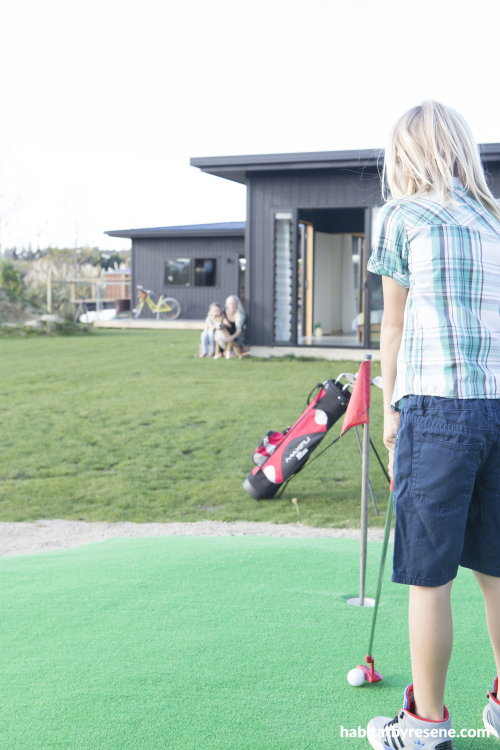 Brandon and Anna choose the unusual
When Anna and Brandon Barclay took on their first house-building project, they didn't tread the usual path. No all-white colour scheme for them. No off-the-shelf standard fittings. Rather, they trawled through online listings for fittings and supplies, pored over Resene colour charts, worked alongside tradespeople, and did all the painting themselves.
The result is a magical home with retro touches and a very personal vibe for them and their twins Charlie and Ari. It's filled with found treasures, upcycled pieces, bold colour and thought-out features that lift this home beyond the ordinary.
There's a rich yellow entrance hall wall (in Resene Galliano), a deck shaped like airplane wings, an intriguing kitchen bench made out of timber slivers, and a cavity slider that reveals its edgy teal self when you pull it out.
It's not surprising really. Anna is a jewellery designer (Sparrow & Co) and Brandon has an antiques background. Choosing a more unique approach comes naturally. As Anna says: "Once someone shows you something that's different, it's hard to go back to normal."
They were keen on a colourful house from the start. Their previous house was painted entirely in Resene Black White so, at first, choosing colour felt odd… "especially when the walls are all sealer-white and you first put colour on them." The one colour that did come more easily was Resene Kombi. It's a lovely warm green that works well with the black and timber in the kitchen.
While the deep blue of Resene Elephant was a natural for the feature wall in the living room, partly because it 'disguises' the black wood burner in front, when Brandon suggested it for the master bedroom, Anna wasn't so sure. She now loves it.
Anna put together mood boards for the house, an exercise she found extremely helpful. A photograph of a striped drinking straw became the key element of the mood board for daughter Charlie's room, interpreted in Resene Tutti Frutti and Resene Half Ecru White horizontal stripes.
Son Ari wanted black walls for his bedroom but compromised on Anna's suggestion of using Resene Pure Pewter from the Resene Metallics and Special Effects range.
Keen on embracing some eco principles, the house is built in an L-shape facing north-west for good sun access, and the polished concrete floors act as a heat sink. The children's bedrooms have double doors to welcome the sun from the north-facing gallery hall.
It's a simple design but one that works superbly for this family of four. There are other projects on the go – a new garage cum studio for Anna, and a shade sail of some sort over the deck. Watch this space…
Published: 25 Jan 2016
Do you have a home full of wonderful Resene paint and colour? Send us some snaps by emailing [email protected].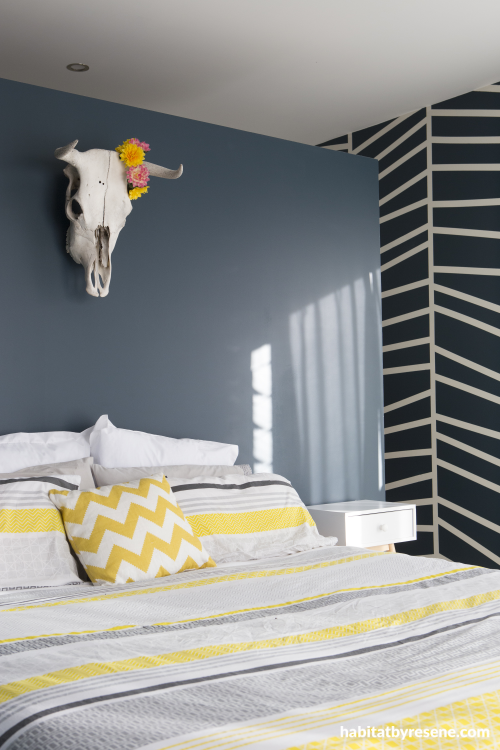 Anna was nervous of Brandon's suggestion to use Resene Elephant in their bedroom but now loves it. She added the herringbone patterned wall to transition from the dark wall to the light one at the back.
pictures
Marc Herbulot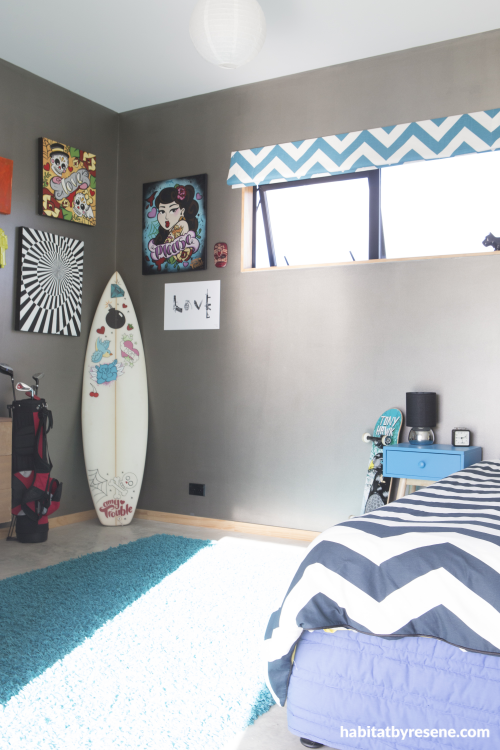 Eight-year-old Ari wanted black walls in his room but compromised on Resene Pure Pewter from the Resene Metallics and Special Effects range. The ceiling is Resene Alabaster.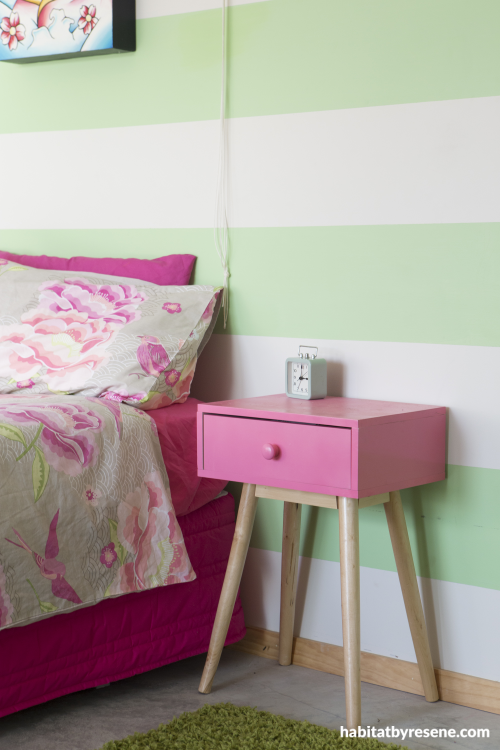 Inspired by a milkshake straw, Anna painted stripes onto daughter Charlie's walls using Resene Half Ecru White and Resene Tutti Frutti from the Resene KidzColour range.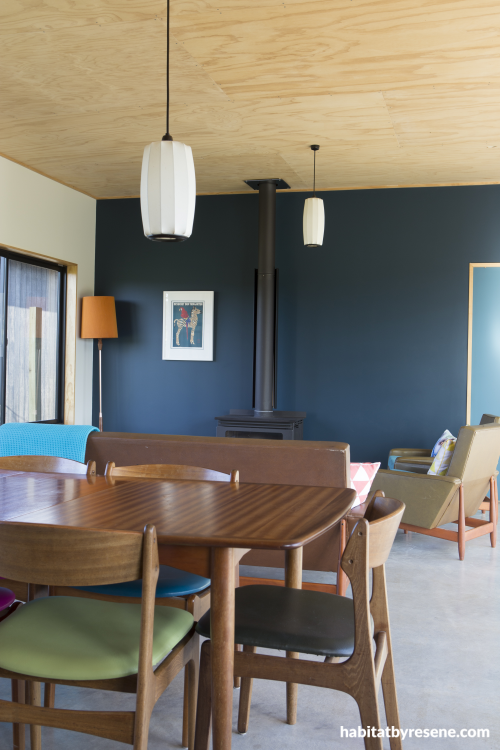 Resene Elephant is a deep green-edged blue, used as a feature wall in the living room, and joined by a cavity sliding door in Resene Marathon. The chairs for the retro dining table were reupholstered in multi-colours by Anna.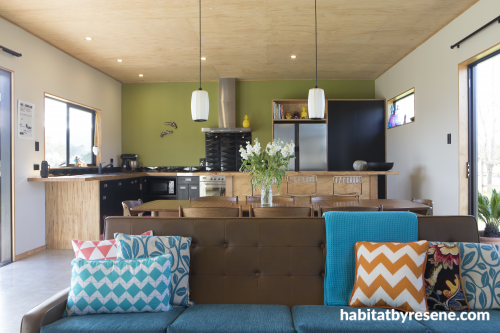 Resene Kombi is a warm green backdrop to the kitchen. The cabinets were bought second-hand and resprayed, while the unusual bench is LVL (laminated veneer lumber).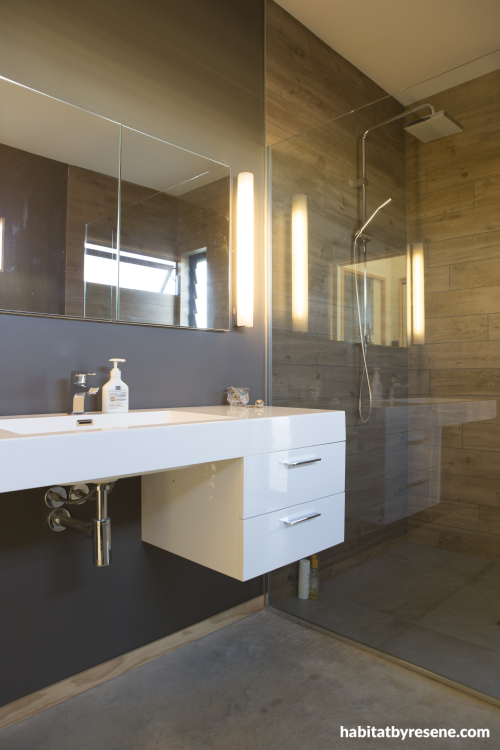 Resene Mondo is a warm, moody colour for the bathroom. The timber-look walls in the shower are tiles.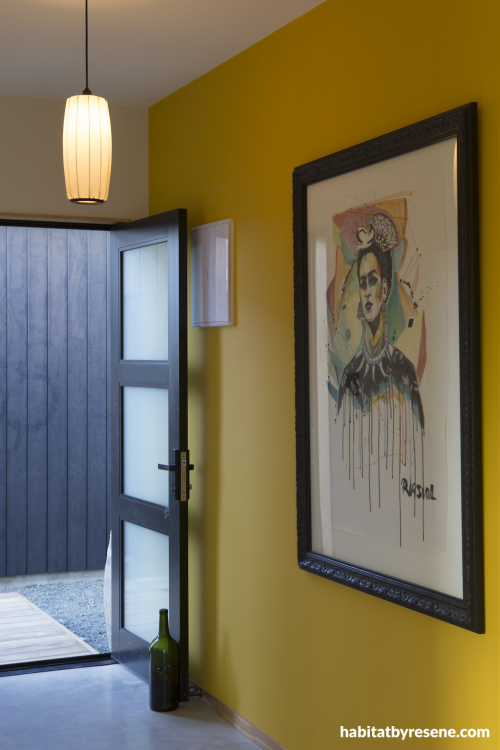 A bright yellow hall in Resene Galliano is a hint of the colour to come.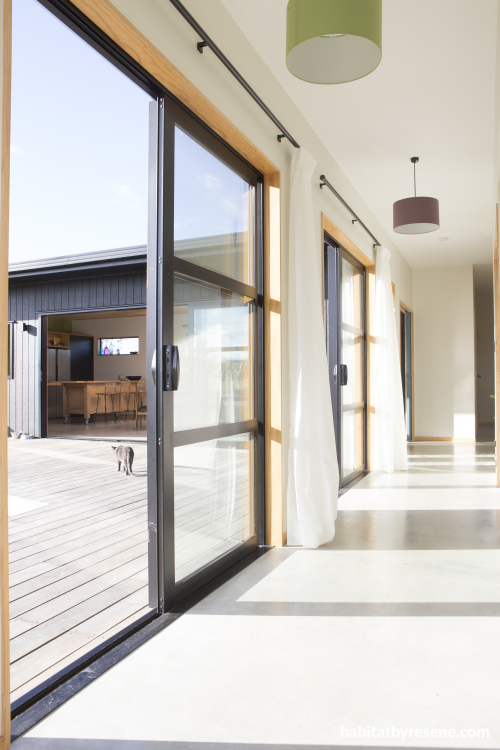 A gallery hall runs between the bedrooms and a TV snug and a series of doors to the deck. The lightshades are from a Lighting Plus range that are matched to Resene colours.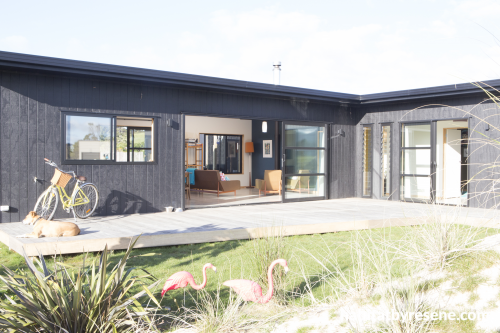 The exterior of the house is clad in Shadowclad and painted in Resene CoolColour Black. Says Anna: "Resene CoolColour is great. The deck gets hotter with the sun than the black walls."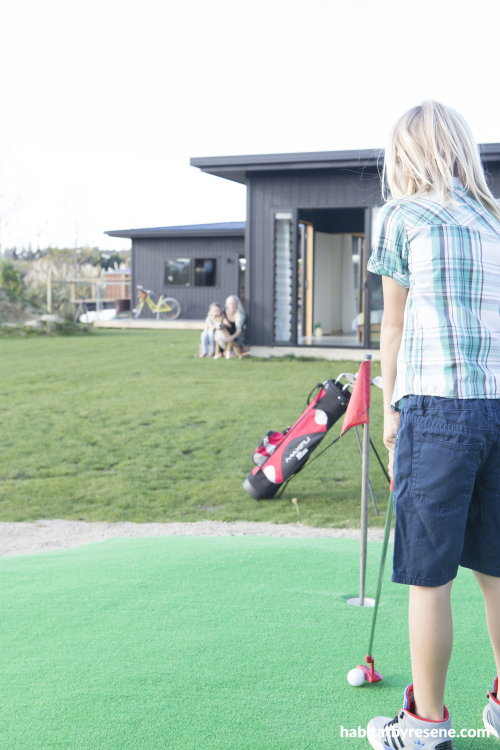 Budding golfer Ari already has a customised putting green in a corner of the back garden! It's another touch of bright colour in this colourful family home.
the look
If you're stuck on what
colour to use or need colour
advice, try out the Resene
Ask a Colour Expert service.