►
◄
latest
habitat tv
blog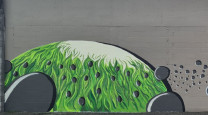 Bronze and black define Hobsonville Point's next generation of golden living
Nestled on the banks of the western coast and a stone's throw from Auckland CBD is Hobsonville Point. It's a suburb that's been under construction as workers carefully renovate the expansive space to craft sustainable builds. Built by Jalcon Homes, this newly-opened Blackburn Point showhome is a gateway to one of the area's most recently developed communities, coloured by a warm Resene colour palette.
The home is filled with expansive angles and lofty cathedral ceilings. It was these architectural features, and one accessory in particular, that helped designer Julie Cooper of Duo Design find her inspiration for the colour palette.
"The overall direction for the interior started from a purchase that I made of a 'Côte Noire' scented glass vase of flowers that were packaged in the most gorgeous black, brass and white trimmed box," Julie explains. "I kept this box as our design inspiration and everything else fell into place."
The result is a colour palette reflective of the surrounding landscape, with a hint of contemporary glamour. Dramatic details are framed by a carefully selected colour palette, full of warm brass, bronze, coffee and caramel tones offset by a diffused off-white, Resene White Pointer, in multiple strengths. The living room is especially inviting, painted in warm, neutral hues to emphasise the height and space of the room. Soft bronze tones are dotted throughout, working to help heat up what otherwise might have felt like a cool space.
This scheme is continued cohesively throughout the property in the feature wall colours, light fittings and soft furnishings.
"I carried the brass colour from the flower packaging and popped it throughout the show home. Alongside beautiful black cabinetry and Resene White Pointer interior walls, it's a colour palette that certainly works well with the high, raking ceilings."
While the kitchen is a beautifully decorated area, it's the master bathroom that really turns heads. It's a moody space with pops of glamour, where beautiful dark tiling adds a contemporary touch, emphasised by a shower outfitted with glittering bronze tiling that provides texture and a point of difference. The ceiling, painted in Resene Quarter White Pointer, breaks up the colour palette and creates height. Fittings such as taps, handles of cabinets and the trim of the mirrors are carefully chosen to match the golden hue.
The home has also been infused with plenty of future-focused 'smart home' technology with Samsung wifi-enabled appliances. Built-in cameras even let you check the contents of the fridge when you're at the supermarket. The futuristic features combined so carefully with the colour palette and detailing means this smart house still feels like a home.
Published: 08 Aug 2019
Do you have a home full of wonderful Resene paint and colour? Send us some snaps by emailing [email protected].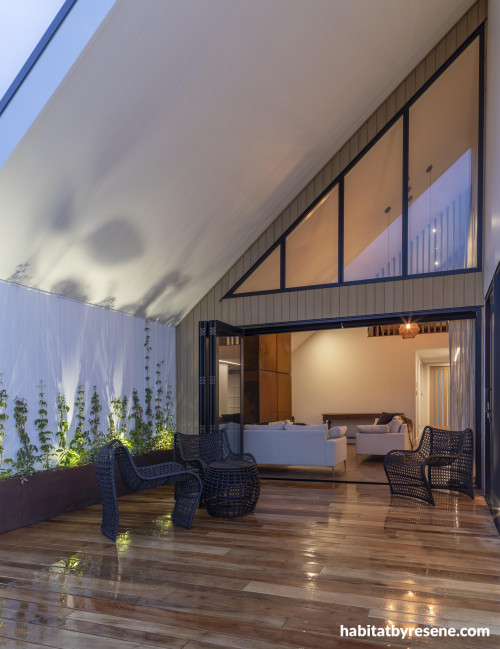 Grand glass bi-folding windows open out into a large deck area, an extension of the indoors into the outdoors ideal for entertaining. Inside, the walls and ceiling are painted Resene Quarter White Pointer – a colour that's continued on to the exterior overhang.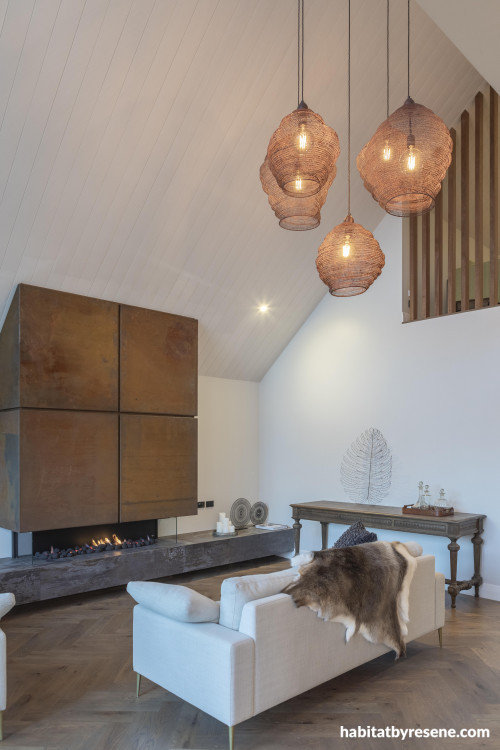 This grand living room is painted in a combination of fresh and natural hues to create height, width and warm up the space. Wooden slats tie into the feature fireplace wall, light fittings and soft furnishings, offering a welcoming point of difference. The ceilings and walls are painted in Resene White Pointer.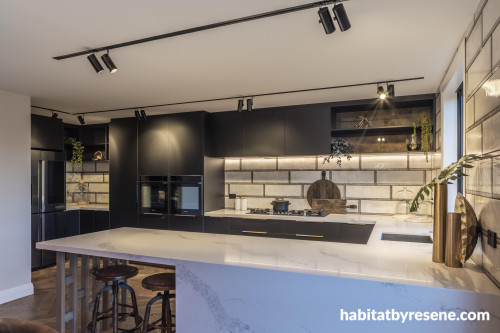 The kitchen's stylish and contemporary interior designed by Julie Cooper of Duo Design is a focal point of the property, housing state of the art at-home technology for modern living. The ceiling is painted in Resene Quarter White Pointer and the doors are trimmed in Resene Quarter White Pointer. At the left, the wall is painted Resene White Pointer.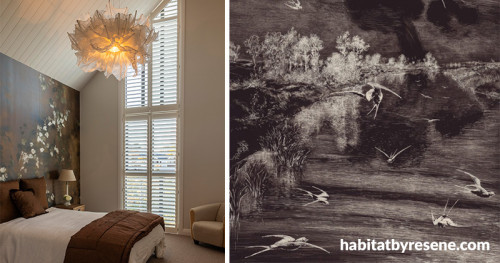 The show home has three bedrooms, each painted in a combination of warm, neutral hues. While the feature wall of the master bedroom creates a stunning statement, the surrounding walls enhance a sense of tranquillity, important in a space intended for sleep. The main walls and ceiling are painted Resene White Pointer while the skirting board and window sills are in Resene Quarter White Pointer. For a similar look, try a floor to ceiling wallpaper mural behind your bed, using a design such as Resene Wallpaper Collection E366100.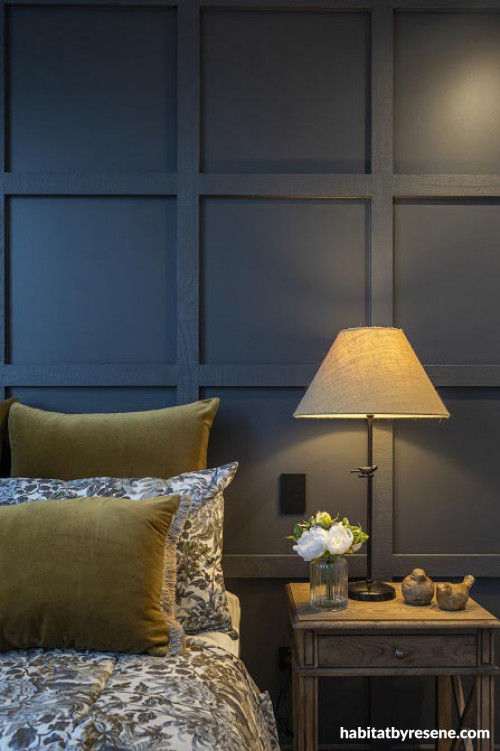 This bedroom at the back of the property takes on board a different personality, and colour palette, while still retaining pops of bronze. The feature wall is painted in Resene Baltic Sea, Julie's favourite Resene shade, which works beautifully against bronze accents seen in the soft furnishings and lighting.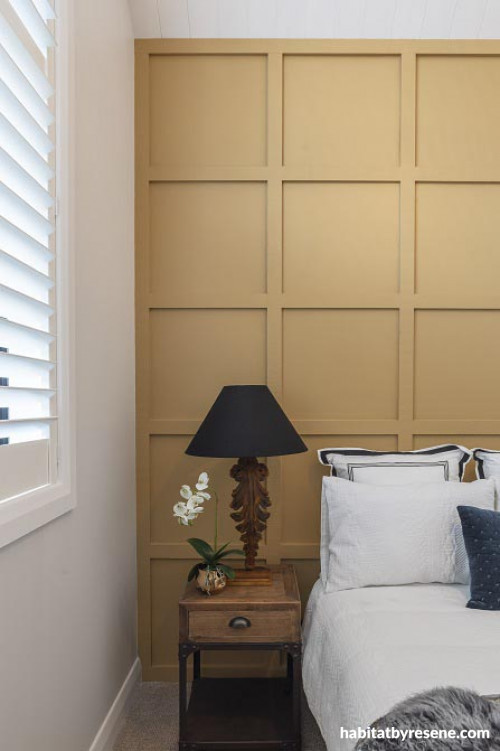 The front bedroom has soft golden colour palette. The batten feature wall is painted in Resene Teak, the adjoining walls are in Resene White Pointer, while the trims and ceiling are in Resene Quarter Pointer.
The bathroom houses a moody, dramatic palette with pops of glamour with warm bronze fixtures and metallic tiling details teamed with a Resene Quarter White Pointer ceiling.
Special thanks toJalcon Homes and Samsung.








Resene Quarter White Pointer
the look
If you're stuck on what
colour to use or need colour
advice, try out the Resene
Ask a Colour Expert service.