►
◄
latest
habitat tv
blog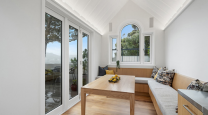 Master Builders' Chief Executive David Kelly shares his tips for building in the challenging climate.

Planning... more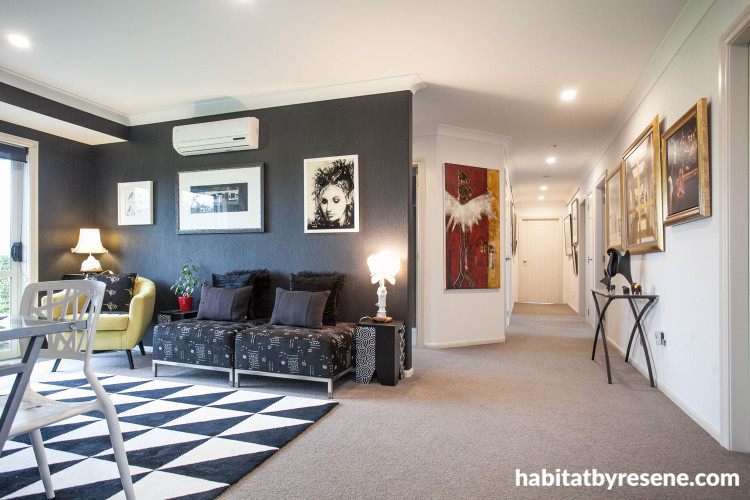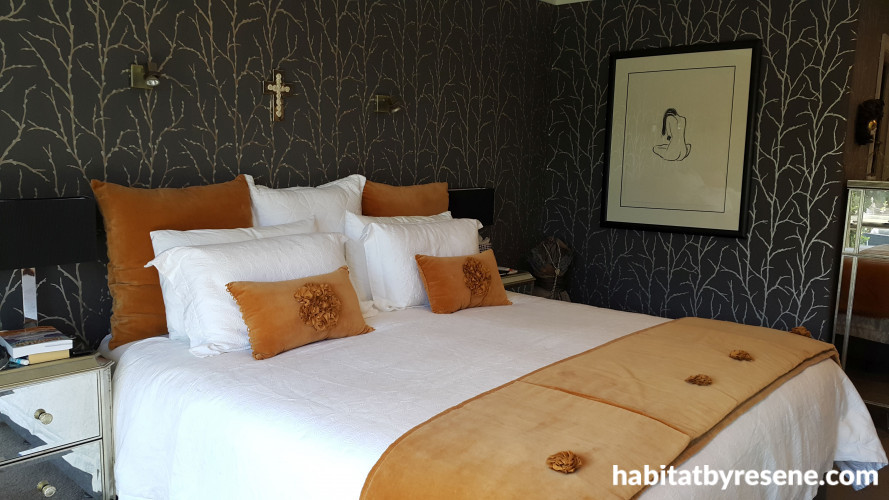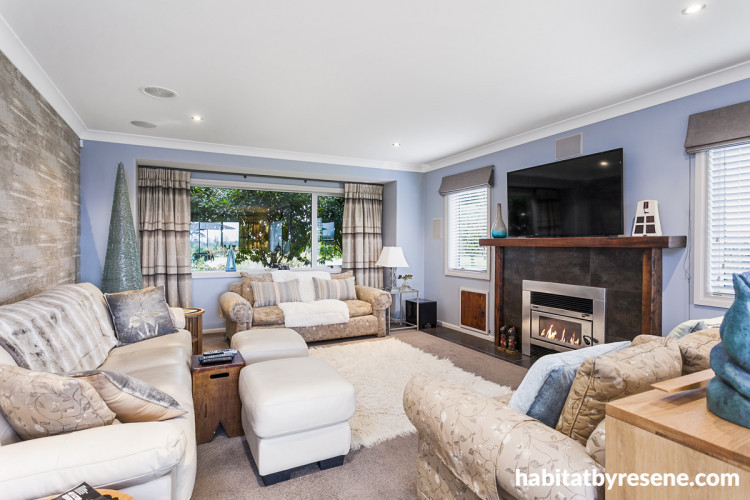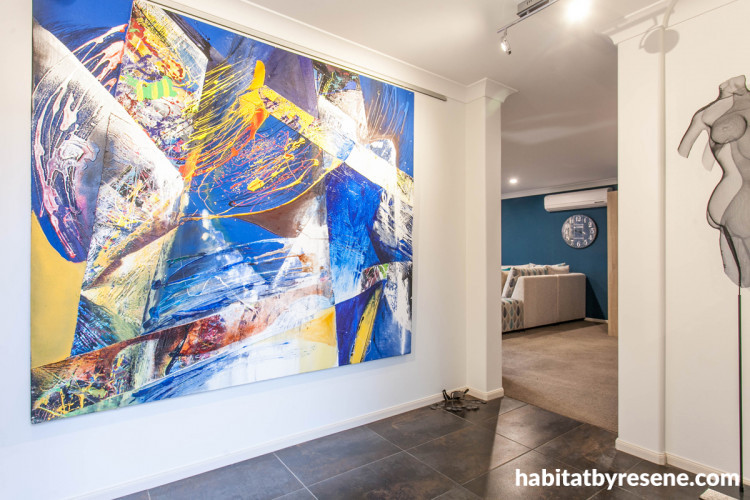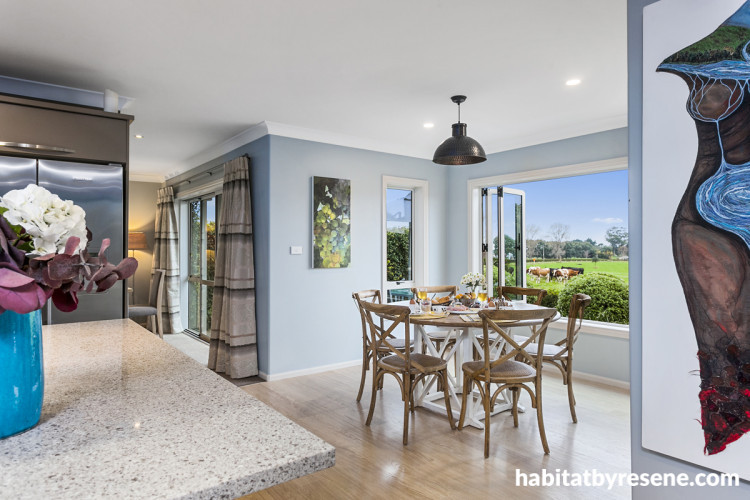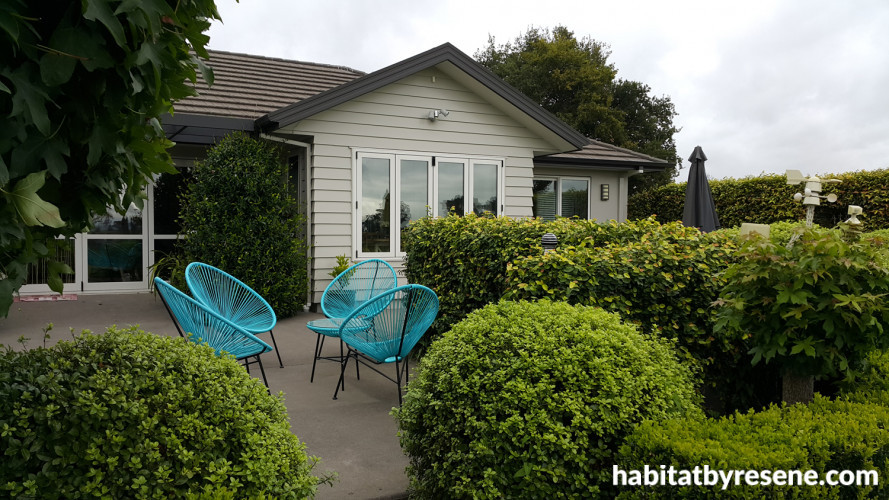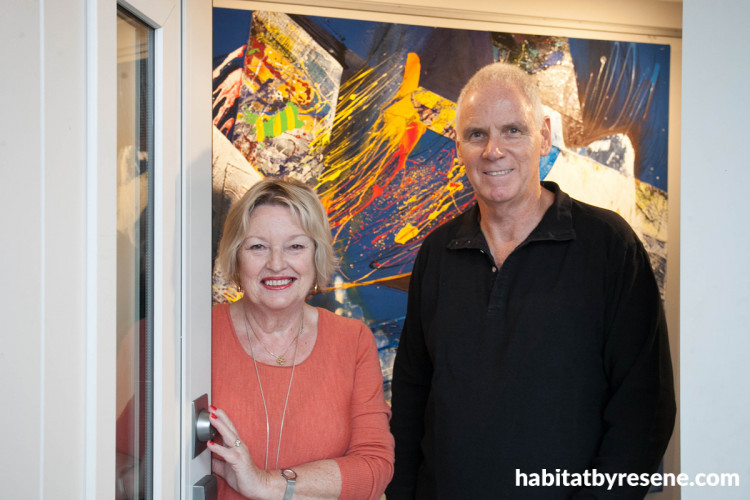 Bruce and Denise's utterly artful approach
Denise Bryce and Bruce Church have managed to combine a love of three things… all in the one house. They love art, hospitality and colour, so their recently established Arthouse Bed and Breakfast, decorated in an array of Resene colours and with an enviable art collection, is the perfect fit.
The couple owned the Bryce Gallery in Christchurch for 11 years before selling up and moving north to Matamata, home of the Hobbiton movie set. They then spent three months converting and renovating a four-bedroom family home into a bed and breakfast business, which opened in mid 2016.
It's not surprising that the home is decorated with vibrant artworks, some of which are for sale. The display includes paintings, sculpture and glass from most corners of the world, mostly originals but with a sprinkling of limited edition pieces from well-known local and recognised international artists.
Denise tells us more:
How did you decide on the overall look of the interiors?
Having owned an art gallery for 11 years, we were confident with the use of colour and were willing to take risks and thankful that they paid off!
What part of the house are you most happy with?
At first, I would have said the living room for its bold blues and greens accented with red. The north wall here is painted Resene Periglacial Blue, accented with a marine blue wallpaper, from Resene. But on second thoughts, I'd have to choose the main bedroom. I just adore the colour combinations of the charcoal pussy willow wallpaper (Shiny Chic 309720, from Resene ColorShops), the gorgeous topaz-coloured accent cushions and comforter by Bianca Lorenne on the white bed linen, the elegant mirror furniture and simple black and white artworks.
Bruce prefers the guest lounge with its eye-catching textured Intenz wallpaper (Textures II, 712216 from Resene ColorShops) on the feature wall, which makes an awesome backdrop for artworks.
What is your advice for someone trying to achieve a similar look?
Forget matchy-matchy and pick out a colour or two from the artworks as your accent and go for it!
What was the biggest decorating, renovating or building challenge for this project?
It went very smoothly. The biggest challenge was having the tradies' Friday afternoon tea ready on time!
Do you have a favourite colour, and if so why is it your favourite?
No particular colour is a favourite. I love the yellow tub chairs in the guest lounge but equally the marine blue wallpaper in the living room. Also the bold azure blue and coral in Sally's Room. The romantic and serene colours of duck egg and white in The Swan Room. I could go on…
Bruce loves blue, particularly the Resene Periglacial Blue we used in the breakfast nook, lounge and living rooms.
Who helped you with the renovation?
Our friend Vicki Andrews of Vicki Andrews Design in Christchurch made wonderful suggestions and ensured that the colour tones were right. Local builder Peter Vossen took charge of the tradies so the project went smoothly. We arranged our own painters – Brent and John from Matamata Decorators - who did a stress-free job painting and papering the house inside and out.
For more about Arthouse Bed & Breakfast, see www.arthousebnb.co.nz.
Published: 23 Mar 2017
Do you have a home full of wonderful Resene paint and colour? Send us some snaps by emailing [email protected].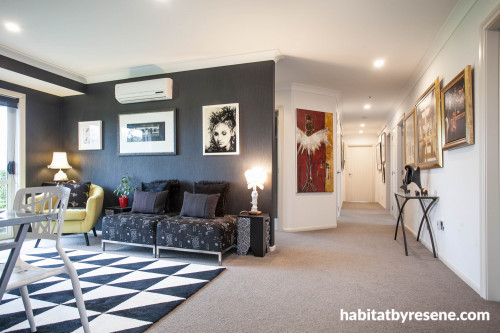 Bruce's favourite space is this living area next to the hallway with its dramatic black wallpapered walls - in Textures II, 712216, from Resene ColorShops. The hallway walls are painted in Resene Half Merino.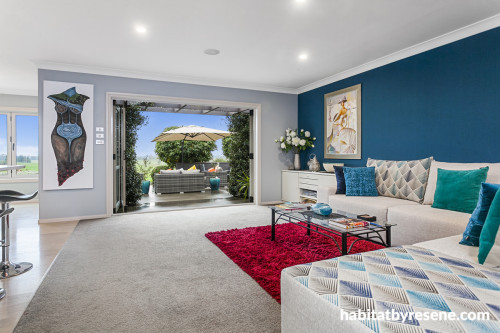 The living room has a dramatic marine blue feature wall. Get the look with wallpaper from the Wall Textures III range (545838), from Resene ColorShops. The other walls are in Resene Periglacial Blue with trims in Resene Blanc, and a ceiling in Resene Half Merino.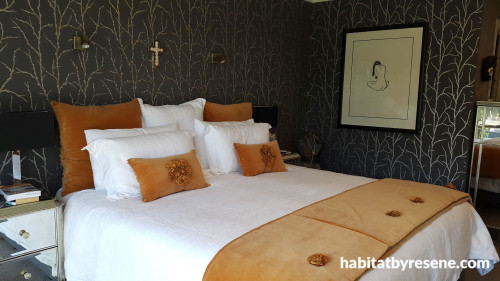 It's not just guests who get to enjoy luxurious surroundings. Bruce and Denise's own bedroom has just been redecorated, using a wallpaper from the Shiny Chic collection (309720), from Resene ColorShops. It's now Denise's favourite room with its topaz-coloured accessories and mirrored furniture.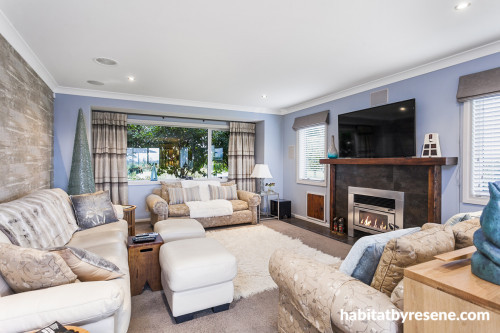 The owners' private lounge has a character-filled feature wall in faux timber wallpaper (Intenz 48863, from Resene ColorShops) while the other walls are painted in Resene Periglacial Blue, a favourite colour of Bruce's.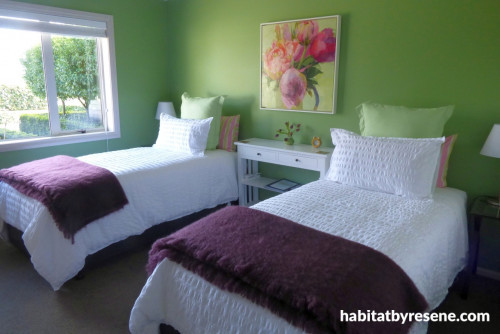 The fresh tones of Resene Woodstock are used in the Peony Room to work with the Peony painting by Christchurch artist Galina Kim.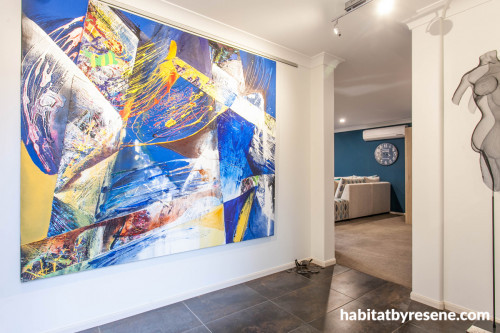 Resene Half Merino is the perfect neutral background for this key artwork by Cristina Popovici, displayed in the entry hall.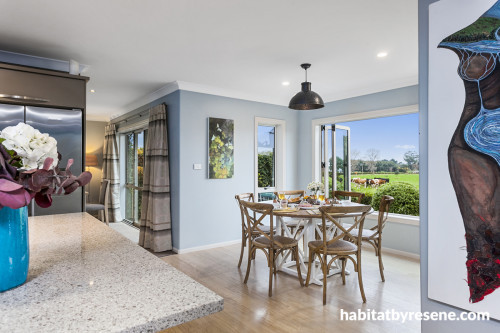 The owners' lounge, breakfast nook and living room are painted in soothing Resene Periglacial Blue. The trims are Resene Blanc and the ceiling is Resene Half Merino.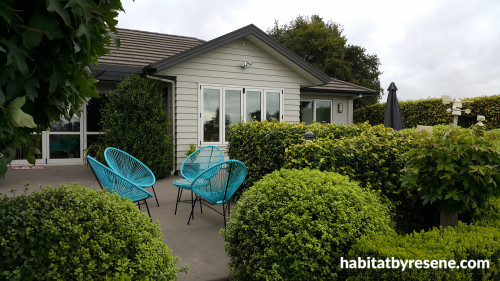 The exterior of the bed and breakfast is painted in Resene Double Truffle for a neutral contemporary look.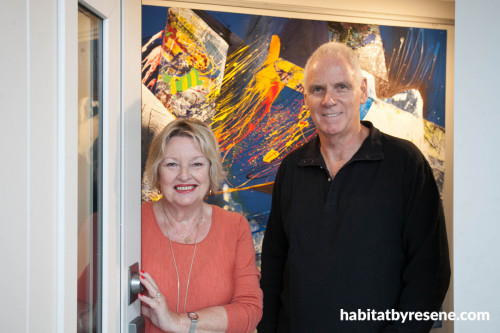 Denise and Bruce – artistic hosts with a great sense of colour.
the look
If you're stuck on what
colour to use or need colour
advice, try out the Resene
Ask a Colour Expert service.