►
◄
latest
habitat tv
blog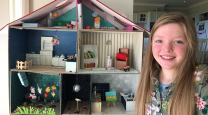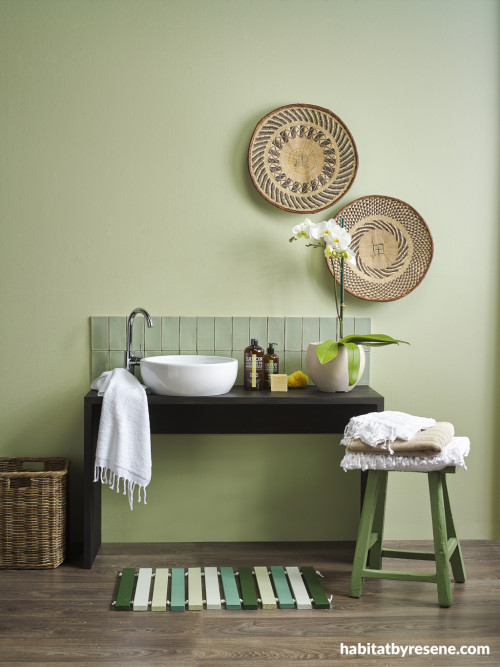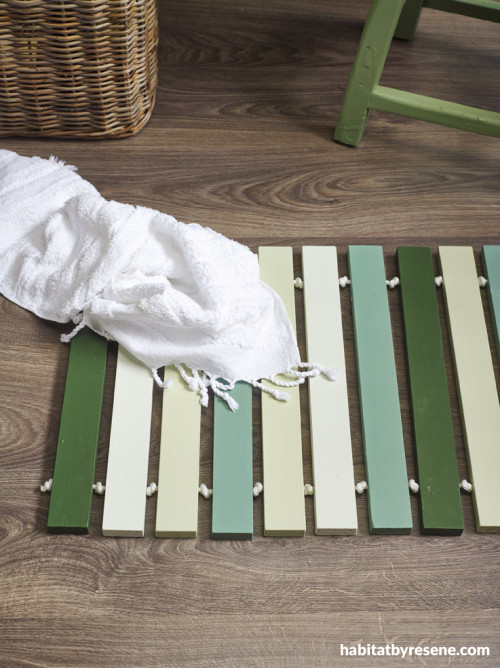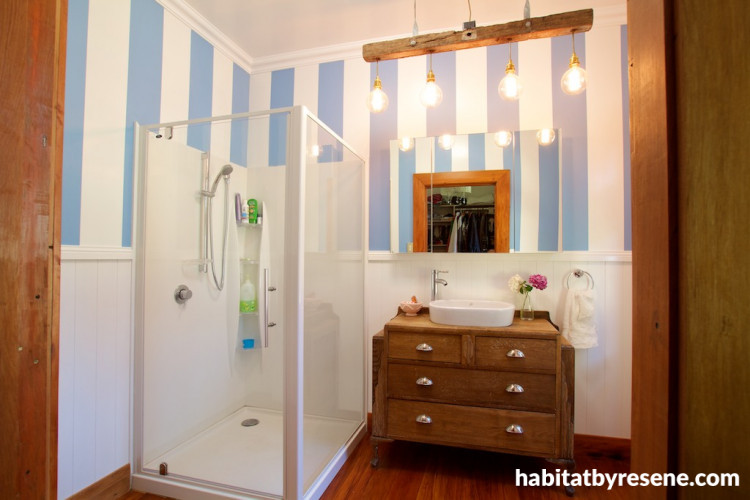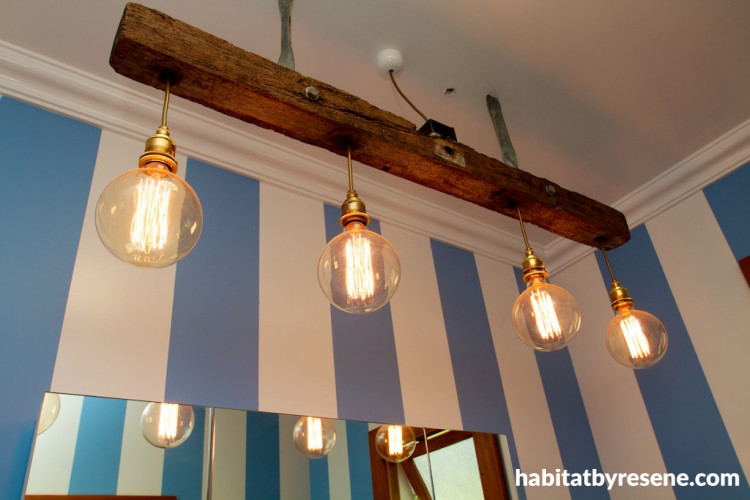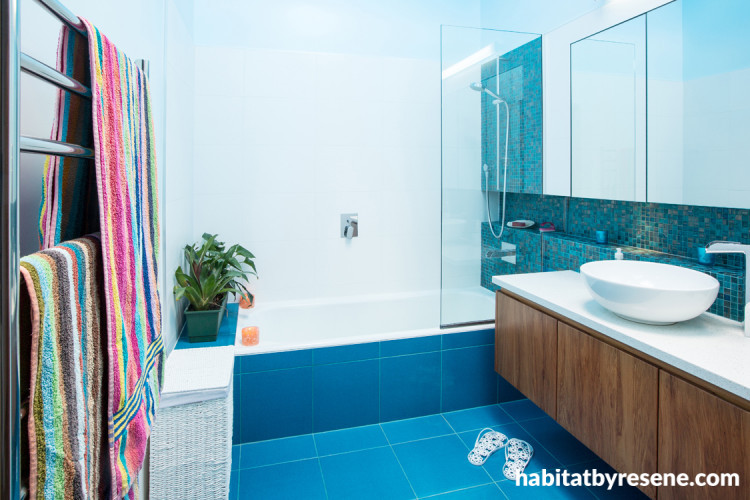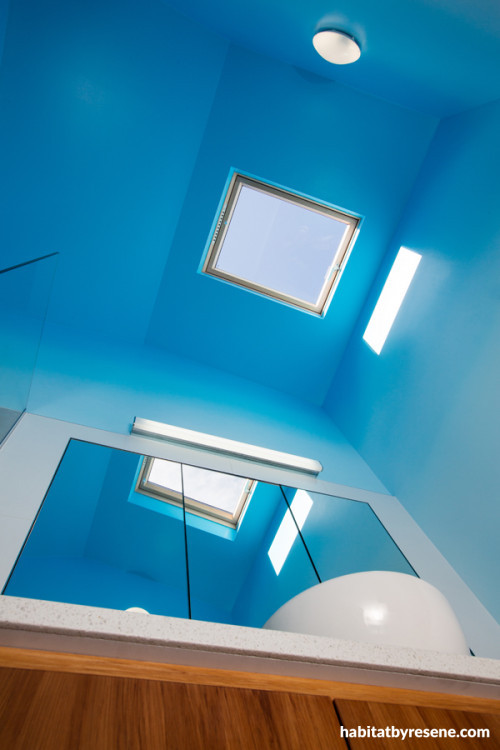 Where eco meets zen
When it comes to bathrooms, nothing beats a fresh scheme that's simple and relaxing. Because bathrooms are generally small spaces, it's good to choose a style that allows you to keep the design lines quite clean and uncluttered. With its eco-greens and streamlined vanity stained with Resene Black Pepper, this space echoes with a hint of Eastern promise.
The colour palette is restrained and elegant, anchored by a wall in Resene Coriander, a muted herbal green. The slatted bathmat is painted in Resene Scaramanga, Resene Secrets, Resene Coriander and Resene Seaweed, and sits on top of floorboards in Resene Colorwood Walnut.
The circular top-mounted basin has a certain ceremonial look while the stool is painted in Resene Paddock.
To see how this setting was created go to watch our video.
To see how to make this cool slatted bathmat, see our video.
Celia and Al's vintage style
When Celia and Al Jaspers added a main bedroom and ensuite to their 100-year-old cottage in rural Martinborough, they were keen to honour the vintage of the rest of the house, and make it appropriate to the home's use as a working farmhouse.
Says Celia: "With the bathroom in particular, I didn't want white-on-white-on-white, or standard melamine vanity, so we sourced recycled matai floorboards to match the house, rimu skirting, and a beautifully shaped oak dresser, that needed restoring and then converting in to a vanity."
Celia also made a feature light fitting from part of old power pole and new Edison bulbs, "as there was nothing in the lighting shops that suited the vintage of the house or use of the room." The lower part of the walls was clad with Hardigroove board to give the appearance of tongue and groove. This was topped with a dado rail, which gave a natural boundary to do something fun with the wall above.
Celia painted the entire room with Resene Lustacryl (a semi-gloss waterborne enamel) tinted to Resene Quarter Merino, then painstakingly measured the width of the stripes so that each wall ended on a full stripe. She then masked up and painted the stripes in Resene Polo Blue. She chose Resene Polo Blue as mid-way between the more commonly used duck egg style blue and cobalt blue. "It needed to be a bright colour, but not too wishy washy."
Colours chosen with help from Carmel Ferguson at Paradigm Design, Greytown.
Terry's sunrise serenity bathroom
Stepping into designer Terry Lobb's bathroom is like experiencing early morning on a pristine tropical beach. The walls are painted in a soft ombre effect using five Resene blues, the bath spout delivers a cascading waterfall of water, glass mosaics look like a tranquil rock pool and the floor tiles remind Terry of the ripples created by soft rain falling on still water.
It's a truly blissful room, lavished with great design and superb attention to detail. And when day gives way to night, Terry's mood lighting and a place for candles makes for a relaxing soak in the bath.
Italian floor tiles were the first component of the colour scheme. They are two-toned and have tiny circles which reminded Terry of ripples created by light rain falling on still water. The glass mosaic tiles at the end of the shower and in the wall recess above the vanity were perfect for creating the illusion of wet rocks and a waterfall.
For the walls, Terry chose five closely related Resene blues (from top to bottom) - Resene Malibu, Resene Anakiwa, Resene Onahau, Resene Twilight Blue and Resene Serenade. The painter rolled the darkest colour over the ceiling and part way down the walls while the rest of the room was sprayed with the other colours, finishing in just a hint of blue above the skirting tiles.
The bathroom is part of an architect-designed 1970s house with mulitple levels and lofty ceilings in some rooms, including this one. The original bathroom lacked natural ventilation and was very gloomy with only a small high window. While small, as a family bathroom, the space needed to include a bath, shower and generous-sized vanity and plenty of storage.
Storage is hidden behind three large mirrors which blend seamlessly into the white wall tiles and sit above a long recess shelf. The electrical hot-points and underfloor heating controls are also set into the deep wall cabinet.
In keeping with the tropical retreat theme, the top-mounted round basin looks like a pool, and the vanity top reminds Terry of pale stones. The handle-free vanity cabinet is wall hung to gives the bathroom more space visually.
To create mood, Terry added LED lights in the wall recess which can also act as a night light for children.
Designer: Terry Lobb Colour and Design, www.terrylobb.com.
Published: 10 May 2015
Do you have a home full of wonderful Resene paint and colour? Send us some snaps by emailing [email protected].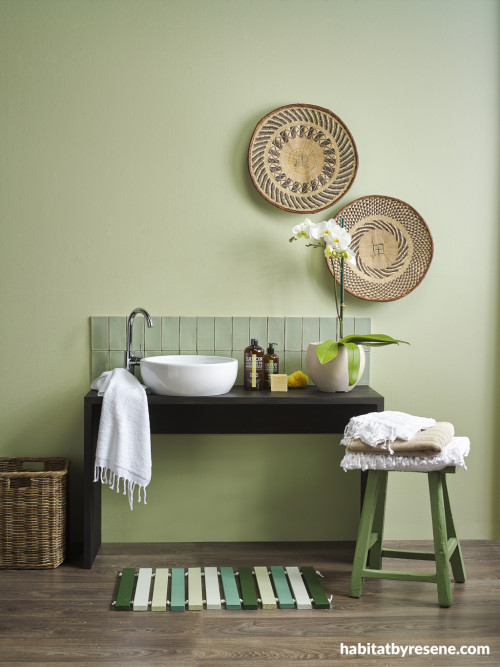 Eco meets zen: Walls in soothing Resene Coriander are joined by a vanity in Resene Black Pepper, a stool in Resene Paddock and a multi-coloured duckboard.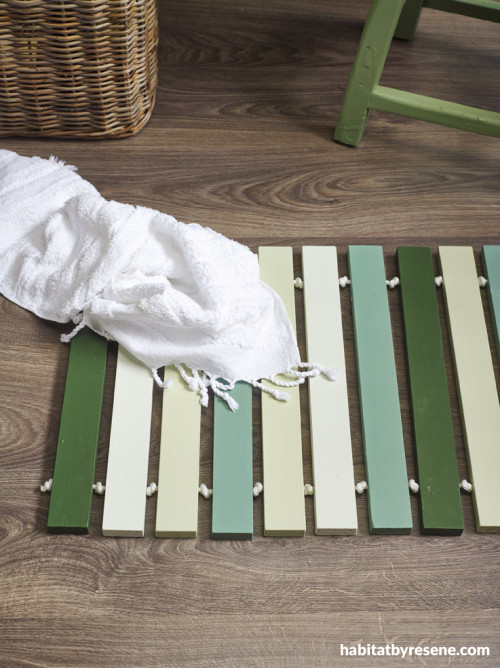 Make a duckboard mat for your front door or bathroom by painting timber slats in whatever colours suit your scheme then roping them together. We used Resene Scaramanga, Resene Secrets, Resene Coriander and Resene Seaweed to go with our eco-zen bathroom setting and arranged the colours fairly randomly. You could use just one colour, two colours to create a striped effect, or arrange these four colours tonally from light to dark. Anything goes.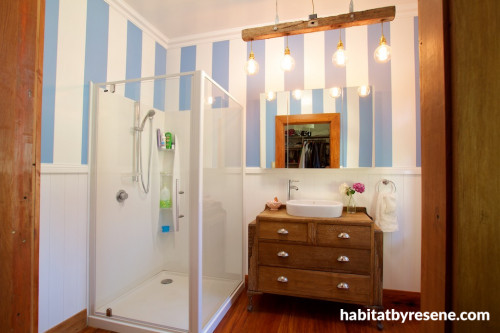 Stripes in Resene Quarter Merino and Resene Polo Blue gave Celia the vintage look she was after.
An old oak dresser was repurposed as a vanity.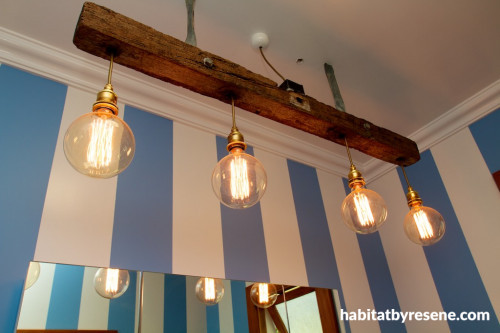 A stunning light fitting was specially made for the ensuite out of part of an old power pole and Edison bulbs.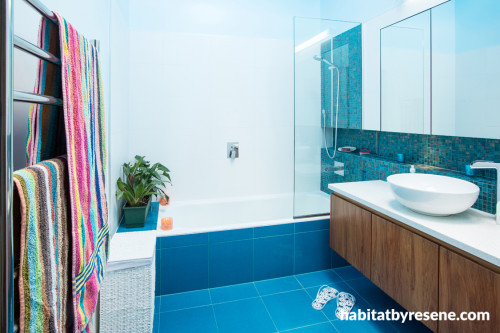 A cleverly designed compact family bathroom has a colour scheme inspired by the floor tiles.
pictures
Photography by Tracey Grant.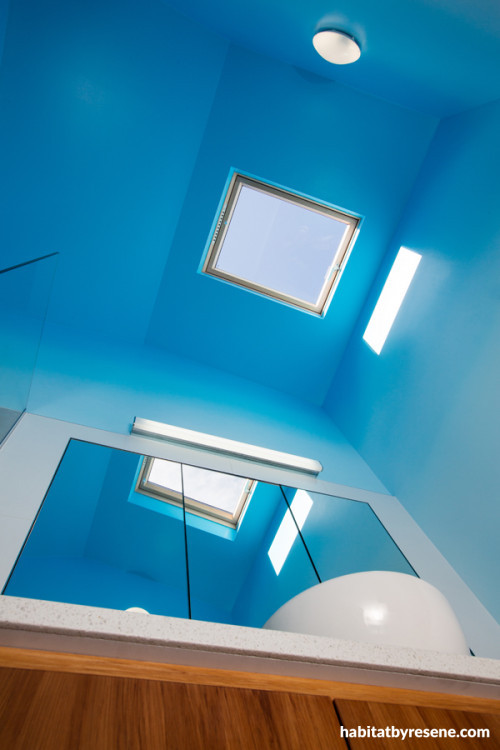 The ombre walls soar up towards the skylight. The colours used were, from top to bottom, Resene Malibu, Resene Anakiwa, Resene Onahau, Resene Twilight Blue and Resene Serenade.
the look
If you're stuck on what
colour to use or need colour
advice, try out the Resene
Ask a Colour Expert service.