►
◄
latest
habitat tv
blog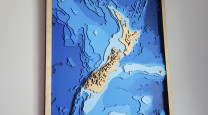 Classic meets contemporary in this stunning Sydney home
The process of turning a house into a home is a journey filled with creativity, innovation and an eye for detail. Interior designer Julieanne Henry was tasked with breathing new life into a classic home that had lost some of its original charm. Through her keen vision and selection of Resene paints, Julieanne skilfully transformed this house into a decorated haven that oozes sophistication and warmth.
"The brief for this project was to give a fresh lift to the interiors, design beautiful functional storage for all the rooms, as well as create a classic timeless family home filled with beautiful details," Julieanne says. "Everything was considered and chosen meticulously."
This Sydney house, boasting a unique character of its own, had suffered the loss of many of its original details. "We custom designed classic timber wall panelling throughout the entry and stairs leading to the upstairs landing," Julieanne says. "We wanted to give the home more of a feeling of grandeur and a sense of what it once felt like."
Julieanne selected a moody and contemporary neutral, Resene Napa, to bring some drama to the entry, with a touch of Resene Black on the front door to complete the look, creating the perfect backdrop for the beautiful art that adorns this area. Resene Half Spanish White was used on the lower panelling and Resene White on the ceiling.
The transformation extended to the upstairs level, with custom-designed cabinetry that turned previously cramped spaces into functional living areas. Julieanne moved a few internal walls, ushering in light and a fresh colour palette. The choice of Resene Half Spanish White aimed to infuse warmth and light into a once dark and enclosed upper part of the house.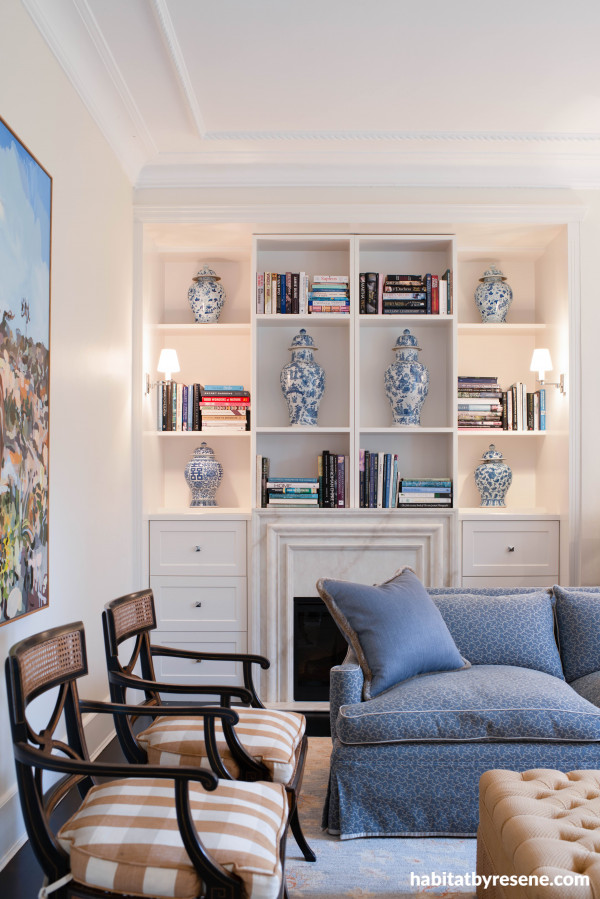 The living room features Resene Half Spanish White on walls and custom-designed cabinetry, with Resene White on the ceiling.
The colour scheme was no random selection; it was a carefully considered choice. "We selected Resene Half Spanish White as our main white, in particular to create a beautiful warm feeling in the home," Julieanne says. "It went very well with the traditional elements of the home."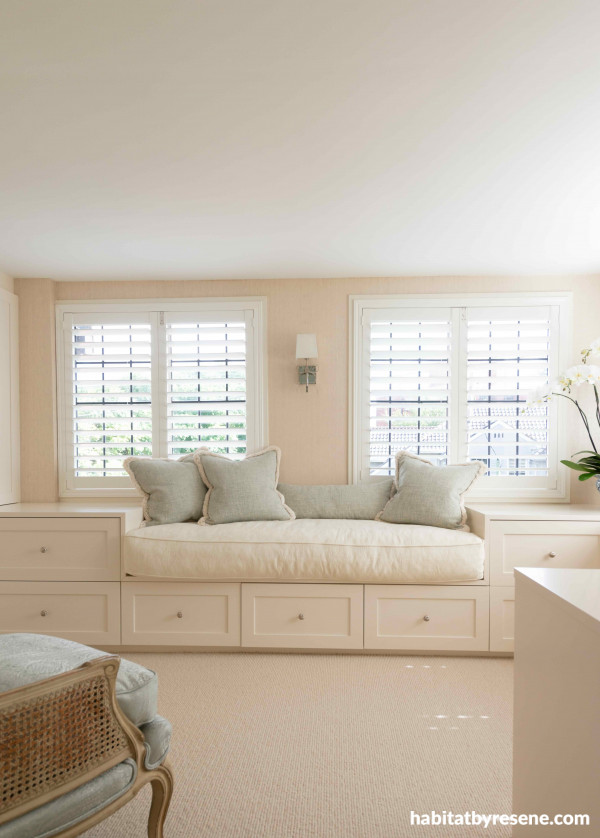 For the sun-filled dressing room, the dreamy Resene Half Spanish White was an obvious choice, creating a warm and inviting space to sit and relax. The ceiling is painted in Resene White.
"My client has a very classic, stylish elegant style with a bit of unpredictable thrown in for an element of fun," Julieanne says. "It was very clear that this was where we were going with the look for the interiors."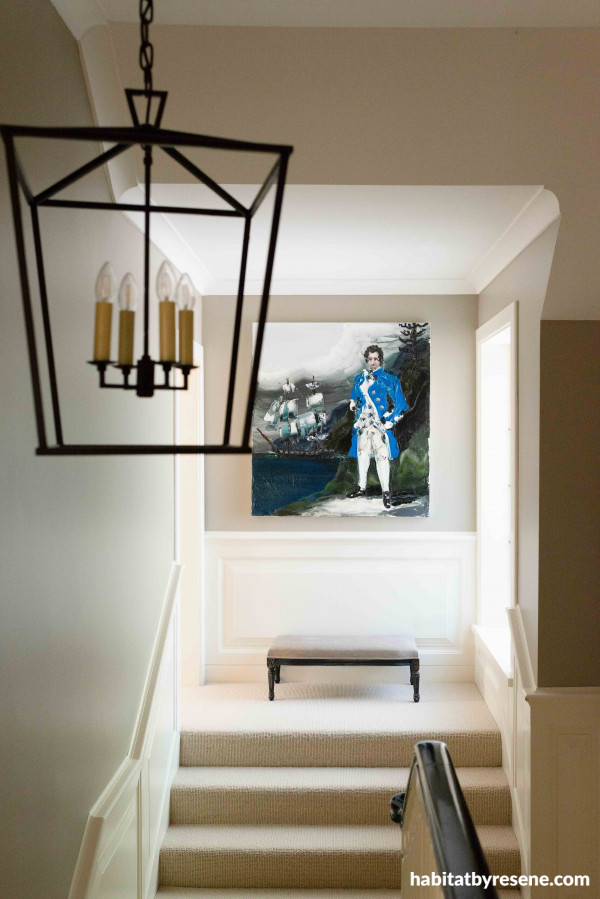 Among the charming neutrals in this home, is unique and eclectic artwork and furnishings, making this a one-of-a-kind home. The staircase features Resene Half Spanish White on lower panelling with Resene Napa on the upper walls and Resene Black on stairwell railings for an added contrast.
The inspiration for the entry and stairwell colour came from the client's artwork, which boasted bright colours against a moody background. Similarly, the sentimental pink artwork dictated the pink colour choice of Resene Ebb.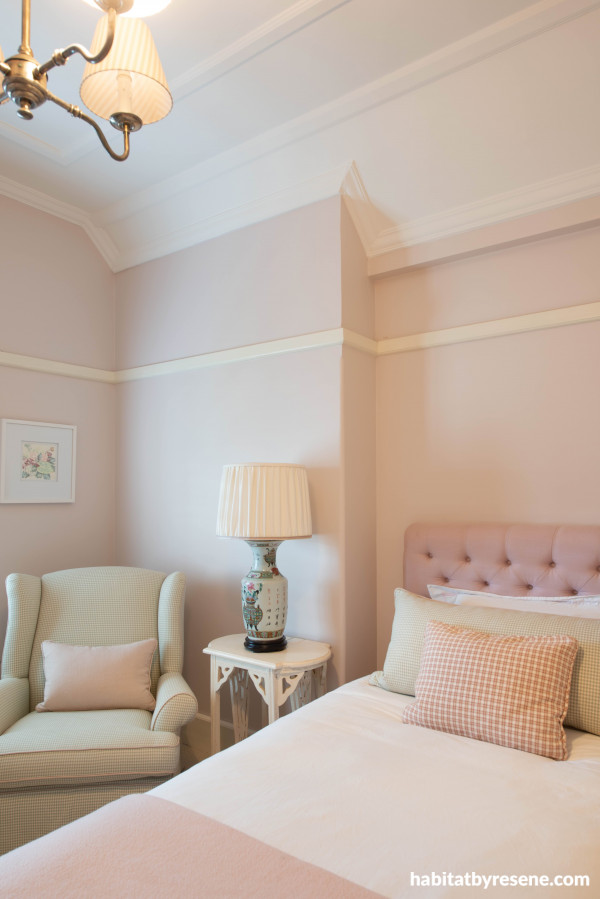 The subtle pink shade of Resene Ebb was the perfect choice for this girl's bedroom, with ceiling in Resene White. The colour scheme is also reflected in the gorgeous décor choices, making this a dreamy room with a soft touch.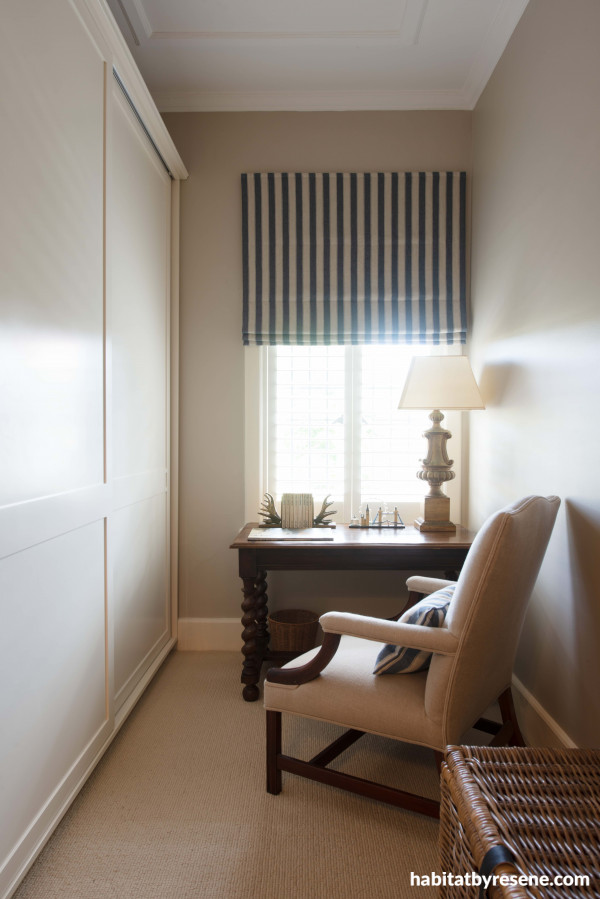 This handy workspace needed a smart, adaptable palette, leading to the selection of Resene Tea, which complements the warm timbers and textiles.
Julieanne's favourite room in this project is the master bedroom and adjoining dressing room. These spaces are filled with light, and Resene Half Spanish White creates a stunning backdrop. The addition of custom cabinetry in the dressing room has turned it into a practical yet cosy space, complete with a comfortable window seat that's perfect for relaxing and reading.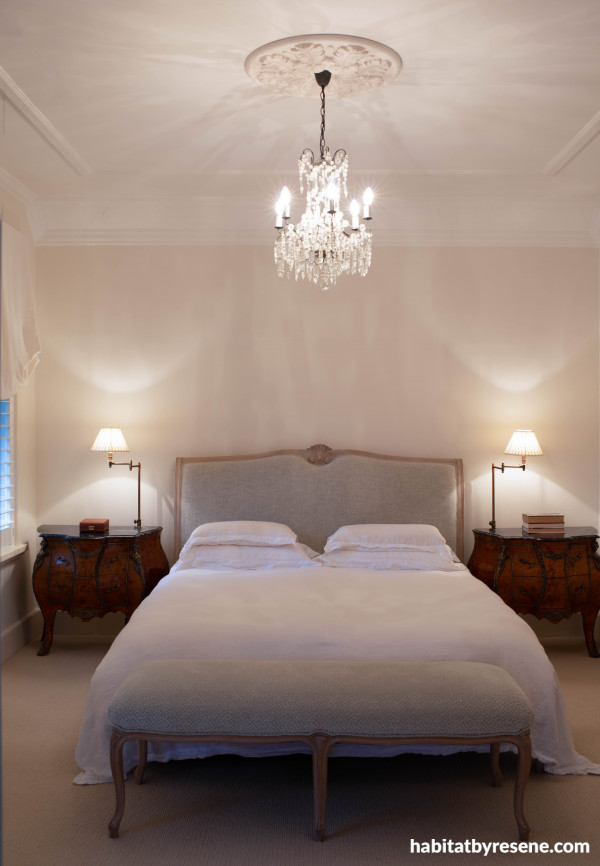 The master bedroom features classic neutrals with charming décor, a space where traditional meets contemporary. The walls are painted in Resene Half Spanish White and ceiling in Resene White.
As with many renovations, this one didn't come without its challenges - the most significant being the lockdown restrictions. Nevertheless, the collaboration with the talented team from Brace Building ensured that the project successfully navigated these hurdles.
Julieanne expresses her appreciation for Resene colours, particularly the whites and neutrals range. "I find the tones are just perfect, and I love experimenting with them in spaces and seeing how they work with different surroundings and light." She singled out Resene Tea as one of her favourite colours for its versatility and sophistication, while also noting her affection for the bold and impactful Resene Dynamite
This transformative design project beautifully showcases how a skilful blend of colour, creativity and craftsmanship can turn a house into a true home. Julieanne's choice of Resene paints played an essential role in achieving the homeowners' desired aesthetic, bringing a sense of grandeur and sophistication to every room. This home is a testament to the power of timeless design and captivating charm.
design Julieanne Henry www.julieannehenry.com
build Brace Building Solutions www.bracebuildingsolutions.com
images Laura Baxter www.laurabaxter.net
Top tip: Use Resene testpots or Resene A4 drawdown paint swatches to test the paint colour in your home. Try your painted swatches in different parts of every room you want to use that colour in – or every side of the house if you're painting the exterior – to see how the colour changes as the available light changes. Place your painted swatches next to key furniture items like sofas to see how the colours work together, or if you're doing a full makeover, try your painted swatches next to curtain, carpet and upholstery fabric swatches.
If something isn't working, remember that the most popular Resene colours are available in different strengths – for example, Resene Spanish White comes in six different strengths from Resene Triple Spanish White to Resene Eighth Spanish White. You may find that different strengths of the same neutral work better in different rooms.
Published: 25 Oct 2023
Do you have a home full of wonderful Resene paint and colour? Send us some snaps by emailing [email protected].
the look
If you're stuck on what
colour to use or need colour
advice, try out the Resene
Ask a Colour Expert service.
the look
If you're stuck on what
colour to use or need colour
advice, try out the Resene
Ask a Colour Expert service.