►
◄
latest
habitat tv
blog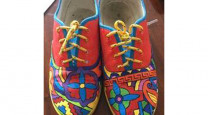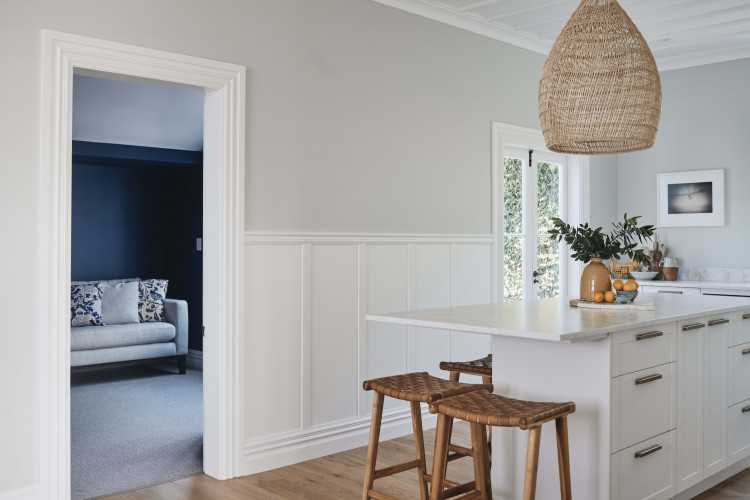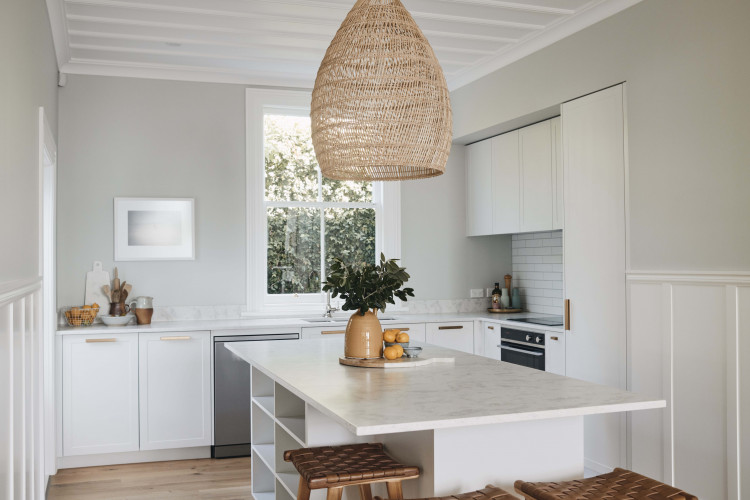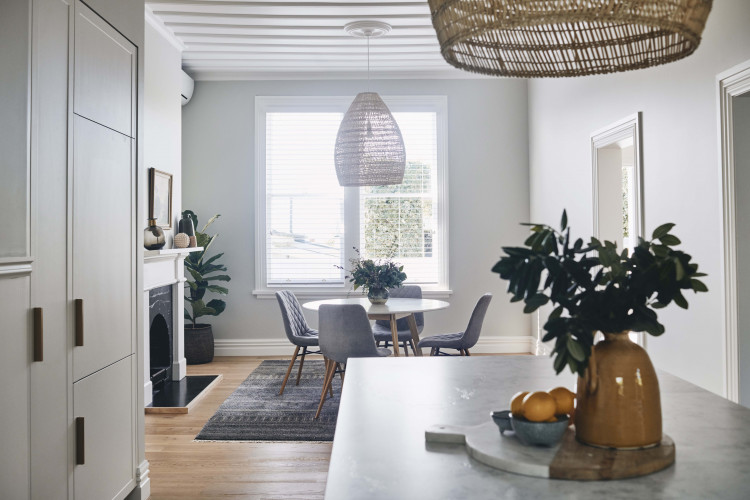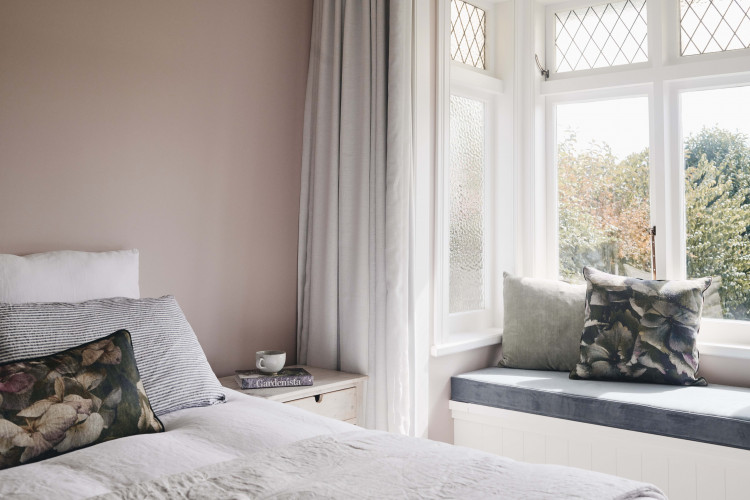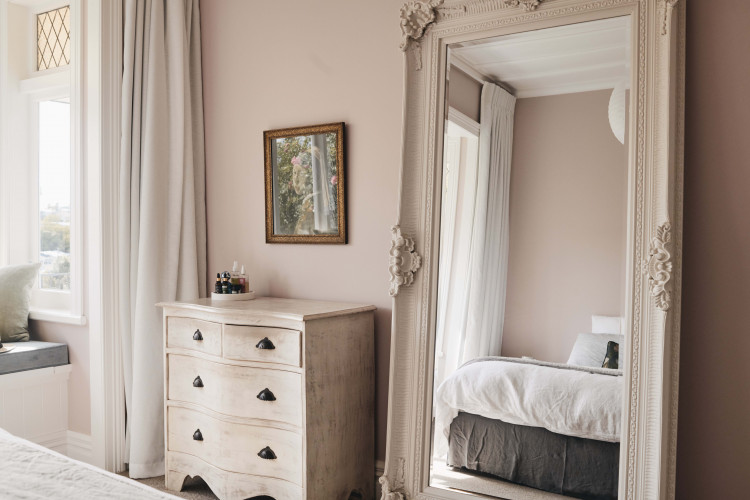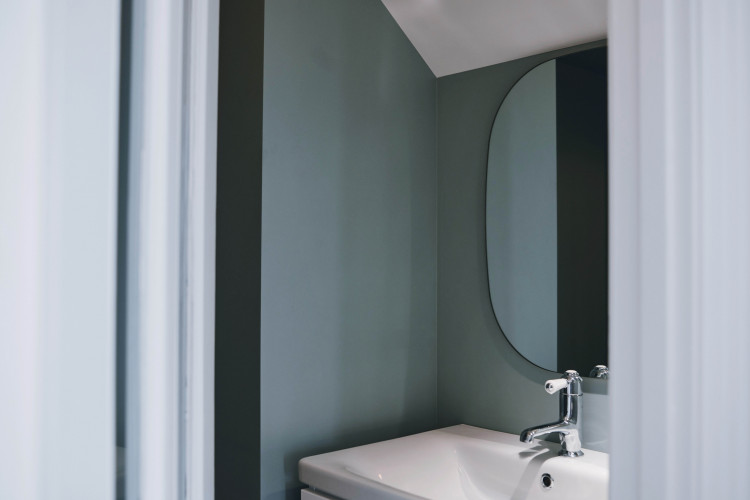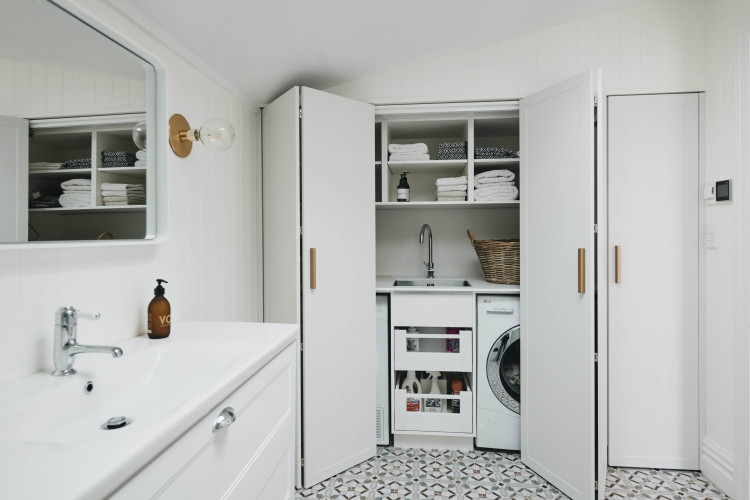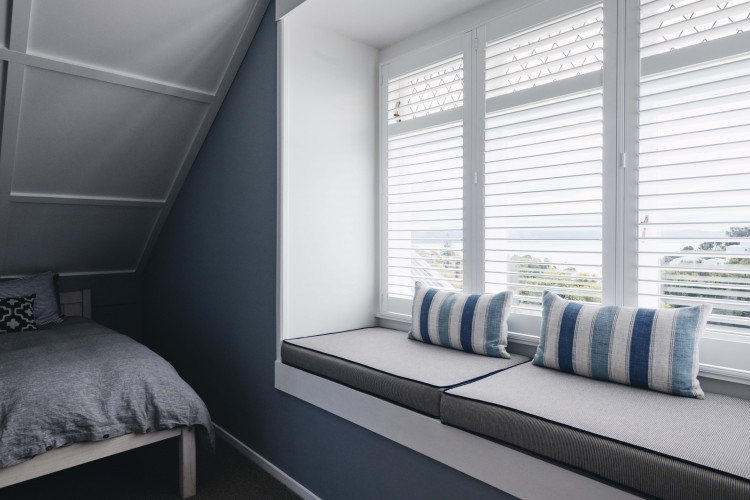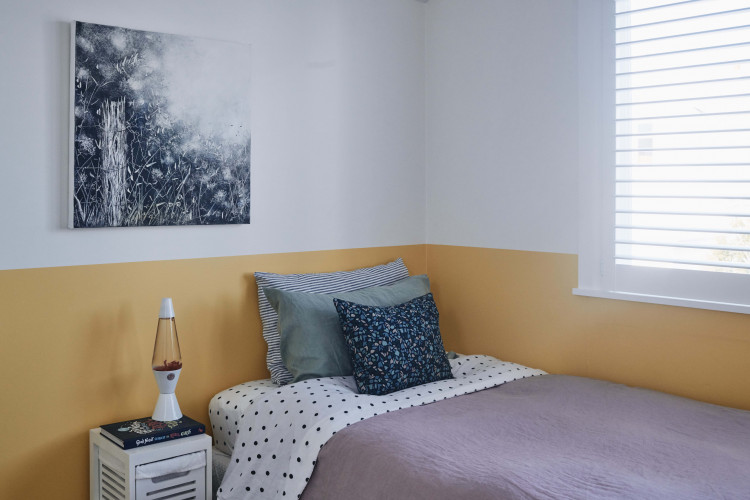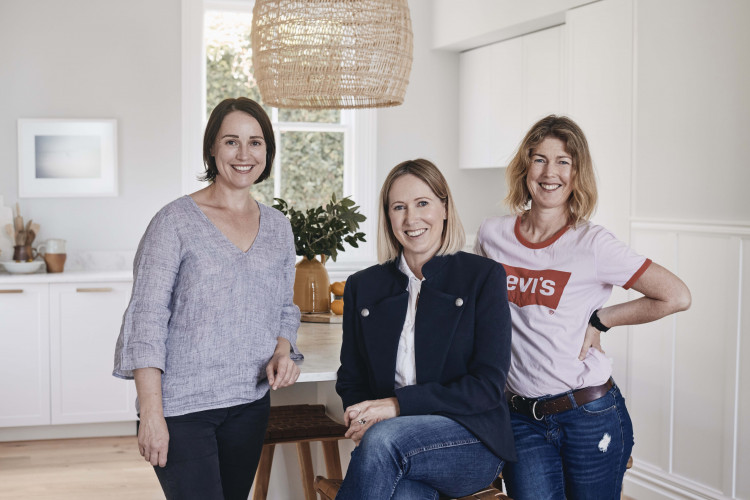 Colour experts paint a Napier villa with vibrant Resene blues and yellows - and a green/white you'll fall in love with
08 Apr 2021
When homeowner Rachael wanted to update her 140-year-old villa in Napier's Bluff Hill, she called in the pros. Vic Bibby and Dael Brady from Napier-based interior design firm, Bibby + Brady, are so well known for their colour expertise that they run online courses. When they came to choosing Resene paints for Rachael's 1880s home, they chose sophisticated yet unexpected shades such as Resene Eighth Lemon Grass to fill the home with colour while also staying true to the building's original character.
"We wanted to keep the style and character of the old villa, but with a slightly modern twist," says Vic.
"When putting a colour palette together we make sure all of the colours are harmonious, even when they're not directly side by side."
But like many renovation projects there were some surprises. Even the design veterans were taken slightly off-guard when the builders, Davcon Construction, stripped back the walls and floors to discover floor joists on a dirt floor propped up by bricks.
"Luckily the builders took it in their stride and used their experience and expertise to sort it out," says Vic.
The build was doubly stressful for homeowner Rachael, a single mum with a young family. But like Vic and Dael's colour scheme, the project came together in the end.
"Working with a great team of builders and architects – plus a client that listened and trusted us - meant that the project went smoothly."
Originally commissioned to just renovate the kitchen, Rachael liked Vic and Dael's work so much they expanded their colour scheme into the rest of the house. Located on the south side of the house, Vic needed a colour for the kitchen that was light and fresh but still had a hint of character.
"The very first colour we chose was Resene Eighth Lemon Grass for the kitchen," says Vic.
"The kitchen is just a beautiful space to be in with its calming colour palette.
"Resene Eighth Lemon Grass seems to be loved by men and women alike, looks beautiful with white, wood tones and our favourite blues and is a great colour for rooms that don't have a lot of natural light."
With the kitchen freshened up, the rest of the home's colours flowed from there.
"Resene Half Bianca flows through the trunk of the house. Resene Half Bianca is a favourite of ours as it's soft with a hint of warmth without being too cream."
For a crisp finish, Vic and Dael used Resene Alabaster on the trims, doors, and ceilings.
Directly off the kitchen sits the family's media room. Vic wanted to create a cosy, snug feeling and chose the deep blue Resene Coast.
"This room is directly off the kitchen. We were mindful of the Resene Eighth Lemon Grass used on the kitchen walls, so made sure that the two colours complemented each other beautifully."
Vic and Dael used Resene Soothe in the master bedroom, a dusty pink brown that created a pretty, relaxing interior while still being sophisticated. "We wanted to create a warm, calming feeling for Rachael to retreat to after a busy day.
"The wall colour oozes warmth and is so inviting." Elegant floor-to-ceiling curtains tie the Resene Soothe walls in with the fresh Resene Alabaster finish on the window trim.
The windowless powder room posed a big challenge for Vic and Dael as the narrow space with artificial light looked dark and small. Instead of painting the room white "which can look flat" they chose misty grey blue Resene Boulevard to give the room vibrancy.
The colour palette for Rachael's son Christian's bedroom was chosen to match the room's magnificent sea views. Vic and Dael decided to make a splash and painted the walls in Resene Dusted Blue. "It's a colour that will carry him through into his teens and beyond as its grey undertone adds a sophistication to the light blue.
Rachael's daughter Elsa wanted to give her room a pop of personality but pink was out of the question. "We had some fun with a sunny, vibrant yellow," says Vic. Painting the entire room yellow would have been too intense for the overall tone of this classic home, so Vic and Dael came with an alternative solution: they painted the bottom half of Elsa's walls in a brilliant Resene Supernova and the top half was painted in Resene Half Bianca.
By retaining the original features of the villa and transforming them through clever colour palette choices, Vic and Dael have created an oasis for this young family. "We like to design spaces that are layered, are easy to live in and age well," says Vic.
"Our design reflects the lifestyle of the homeowner and exudes warmth and relaxed sophistication."
Check out Bibby + Brady's website here for your interior design needs or sign up for their online colour course here where they will teach you how to create a colour palette to suit your home and style.
interior design Bibby +Brady
architect Brent Scott, Citrus Studios
building Davcon Construction
images Florence Charvin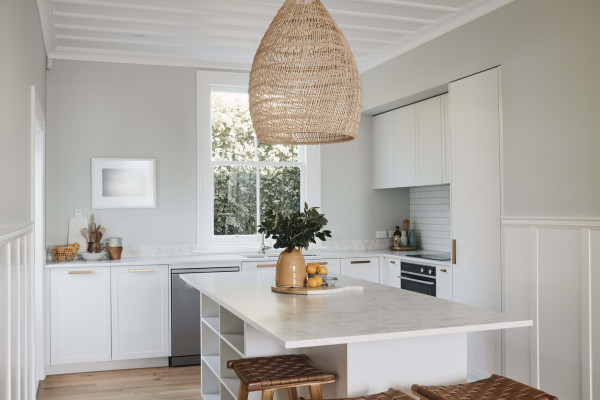 Resene Eighth Lemon Grass helps these kitchen walls look light and fresh. Vic and Dael wanted to add a modern twist to the villa but still retain its character. They did this by adding wall panelling in the kitchen and choosing quaker style cupboards painted in Resene Alabaster. The trim and ceiling are also painted in Resene Alabaster.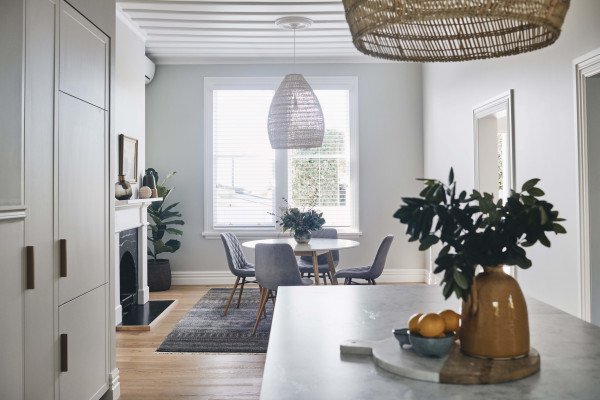 The ceiling and trim are painted in Resene Alabaster and complement the grey green undertones of Resene Eighth Lemon Grass on the walls of the kitchen and dining area.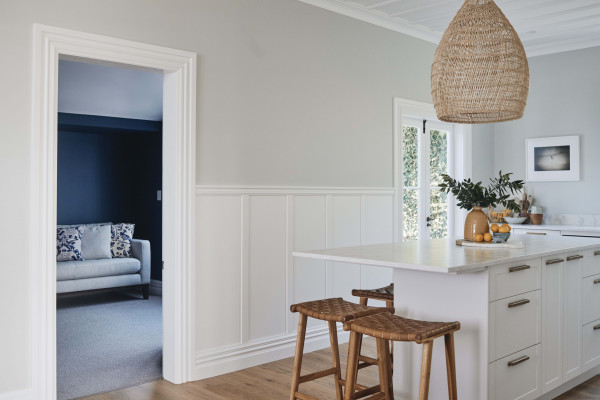 The media room's deep blue Resene Coast walls are colour matched to balance the kitchen walls in Resene Eighth Lemon Grass. Resene Coast creates a cosy feeling and is tied into the rest of the house through its ceiling and trim in Resene Alabaster.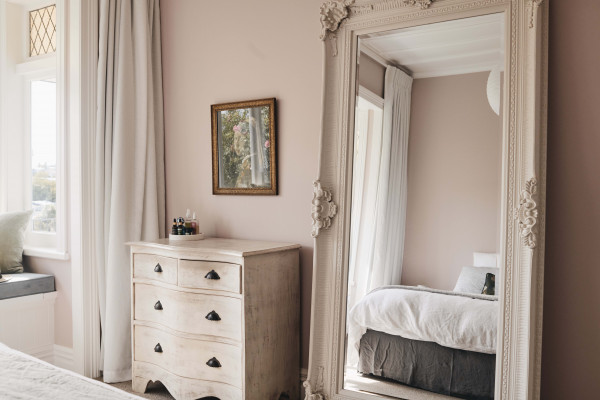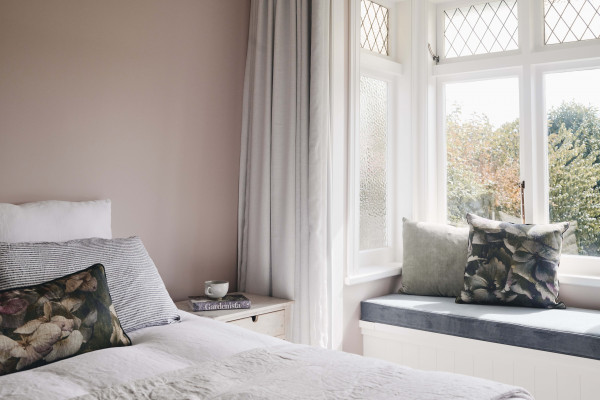 The master bedroom is homeowner Rachael's oasis. Resene Soothe colours the bedroom walls, creating a sweet and sophisticated look. The bay window is given a refresh with Resene Alabaster.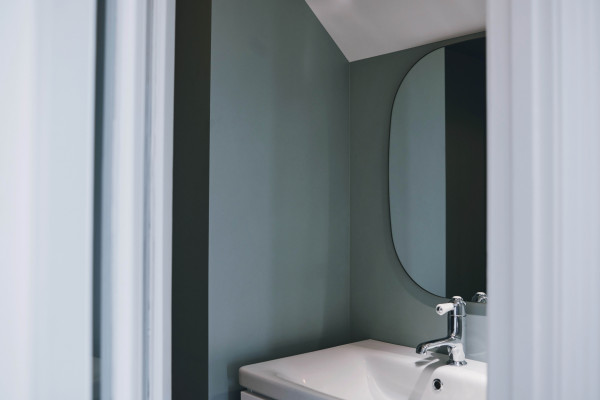 The powder room of this 1880s villa has no windows or natural light. To avoid the room feeling flat when lit with artificial light, Vic and Dael painted the walls a colourful grey blue Resene Boulevard. The Resene Alabaster ceiling and door lightens the room.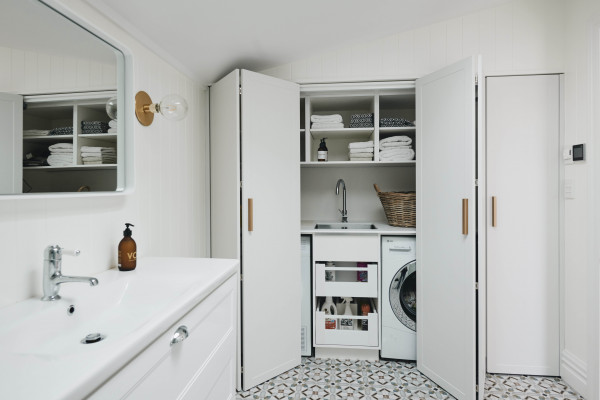 The bathroom, which doubles as a laundry has walls painted in Resene Half Bianca. Vic loves the colour for its fresh white hue and its hint of warmth. The ceiling and trim were painted in a brighter Resene Alabaster, giving the bathroom a feeling of cleanliness while still feeling warm.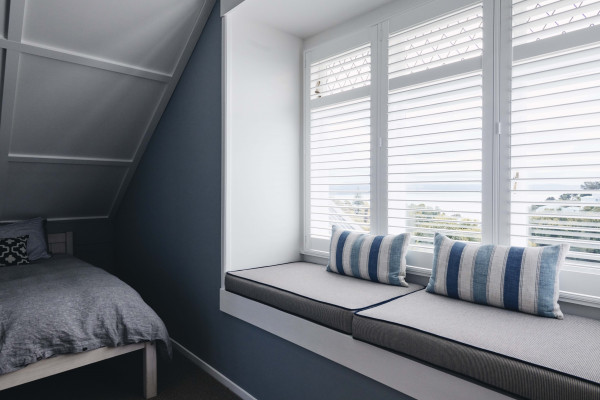 Christian's bedroom was painted to mimic the stunning views of the Pacific Ocean. Vic says it was smooth sailing redecorating this room with a splash of Resene Dusted Blue for the walls and a seafoam-inspired ceiling and trim in Resene Alabaster.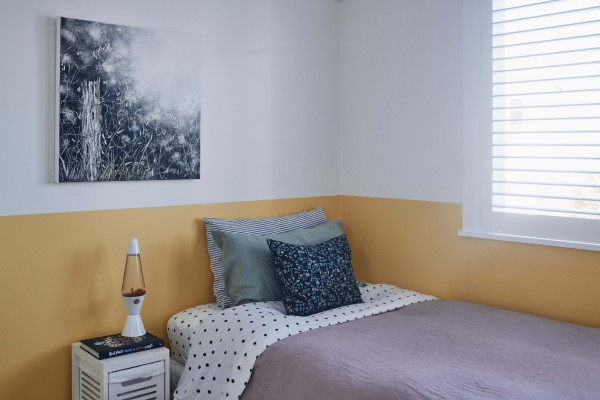 Elsa's vibrant personality shone through in her bedroom and the walls were divided into sunny Resene Supernova painted on the bottom half and gentle Resene Half Bianca on the top half. The ceiling and trim created a crisp outline in Resene Alabaster. Painting a solid, deeper colour on the bottom half of a two-toned wall ensures that the room feels grounded.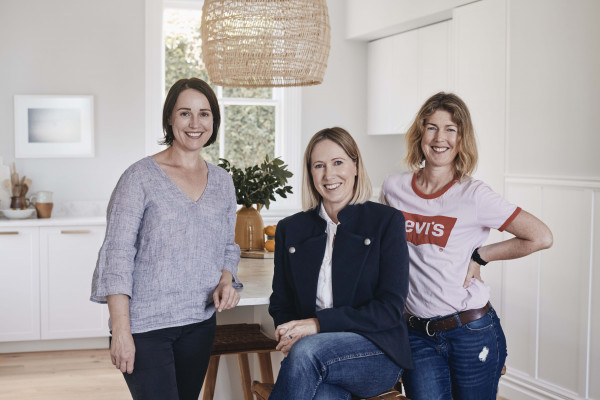 From left to right: Homeowner Rachael worked with Vic and Dael from Bibby + Brady to transform her 140-year-old villa into a tranquil family home.
Do you have a home full of wonderful Resene paint and colour? Send us some snaps by emailing [email protected].