►
◄
latest
habitat tv
blog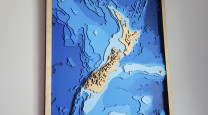 Colour lessons from a showhome
How many times have you looked at photographs of a showhome and sighed with envy? They always look so, well, perfect. Not to mention tidy with none of the detritus of everyday life that normally clutters our own homes.
It's a bit like going to the open homes of houses that are on the market for sale. They've often been decluttered and pimped to perfection and styled by a home-staging company to look their best.
Showhomes have an added level of appeal. Like any new home, there has been the opportunity to create a paint colour scheme for the house (using Resene colours, of course) that means the house is beautifully coordinated with colours flowing gently from one room to another.
Some showhomes stick to the tried and true, one-colour-fits-all approach and use off-white on everything. But progressive companies, take a step towards the brave side and introduce a range of colours to add character to every room.
This home, by Golden Homes Counties, is one example, and it even showcases a background colour that's used in the main areas, that's a tiny bit bolder than usual – Resene Triple Sea Fog. This popular colour from the Resene Whites & Neutrals range is a pale misty grey, so co-ordinates beautifully with many other colours.
Top tip: The Whites & Neutrals palette cards available at Resene ColorShops let you see and compare the variants, or varying strengths of one colour, making it easy to create a tonal scheme, or find the perfect colour.
The team at Golden Homes have used Resene Double Alabaster for the trims and ceilings, but have introduced stronger colours in various rooms… and the ceiling. In a fashion-forward and elegant treatment, they have painted a stepped ceiling in the entranceway and the living room with almost-black Resene Baltic Sea. It's like the night sky and shows how a painted ceiling can transform a room.
They've also added character to the bedrooms without going over the top. Bedrooms are personal spaces and because they're often not seen by visitors, you can be bolder in your colour choices. Here, one bedroom is painted dreamy grey-blue, Resene Dusted Blue, another is warm mid grey Resene Silver Sand and the main bedroom has a feature wall in dark warm grey Resene Tundora.
All these the colours have a grey tone but lean towards the warmer greys than we have been seeing lately.
Of course, a showhome also has the advantage of being dressed with fabulous new furniture. Not many of us can build a house then furnish it straight from the shops. One thing we can easily and relatively adapt, however, is the colour of our walls.
Tips to take away
Try a slightly deeper neutral than you would normally choose – you'll be surprised how good it looks
Be adventurous – paint a ceiling in a colour other than white or off-white.
Use classic mid tones to add character to bedrooms
Use a dark colour as a bedhead wall for added definition
De-clutter – create extra space by paring back your furniture and accessories
See more from Golden Homes here
---
Colour Consultant Tracey Fox, Tracey Fox Design
Published: 02 Oct 2019
Do you have a home full of wonderful Resene paint and colour? Send us some snaps by emailing [email protected].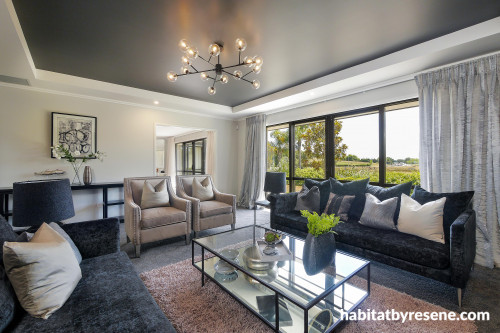 A dramatic stepped ceiling is painted in Resene Baltic Sea while the walls are Resene Triple Sea Fog. A shaggy rose pink rug and armchairs accent against the darker sofa and a glass-topped coffee table is a light element in the scheme.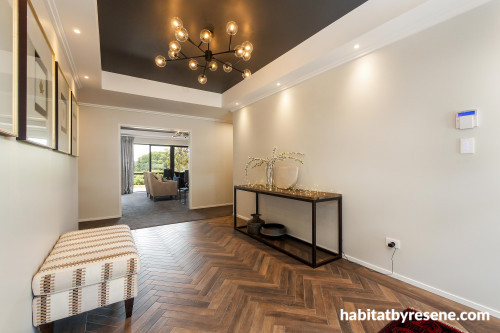 The wide hallway also has a Resene Baltic Sea ceiling which highlights the designer pendant light. The walls are Resene Triple Sea Fog.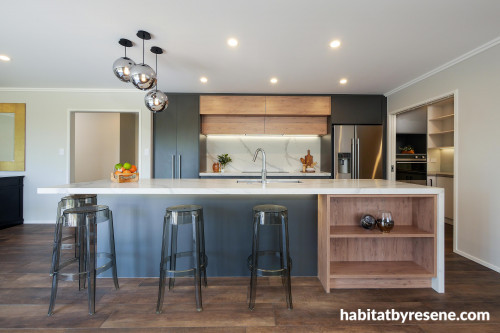 The deep charcoal and timber of the kitchen look superb against a background of Resene Triple Sea Fog walls.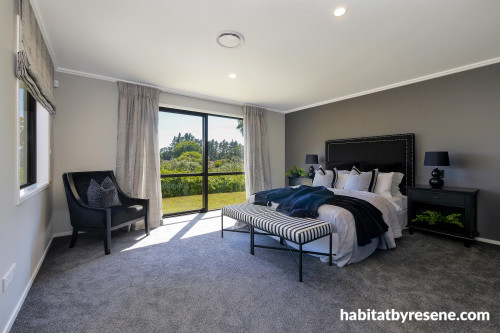 A feature wall in Resene Tundora, a warm dark grey, is the perfect tonal complement to other walls in Resene Silver Sand in the main bedroom.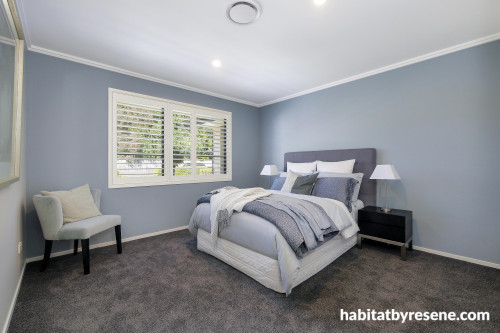 Resene Dusted Blue walls add character to one of the bedrooms.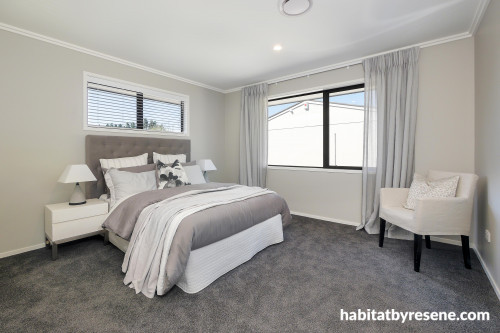 Resene Silver Sand, which is a mutable pale warm grey, has been used in all but one of the bedrooms.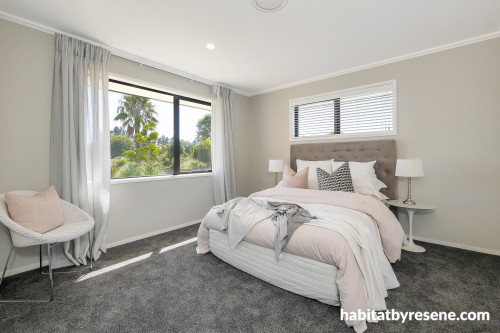 This highlights how versatile a good mid-toned neutral paint can be – Resene Silver Sand is used in this bedroom but with pink accents, giving it a different look to the other bedrooms in the house.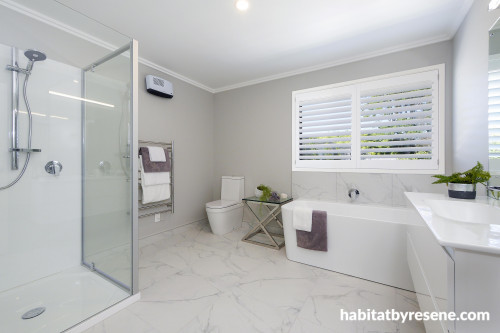 Resene Silver Sand appears again in the bathroom where it picks up on the grey veins of colour that run through the marble-look floor tiles.
images thanks to Golden Homes Counties












the look
If you're stuck on what
colour to use or need colour
advice, try out the Resene
Ask a Colour Expert service.