►
◄
latest
habitat tv
blog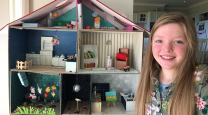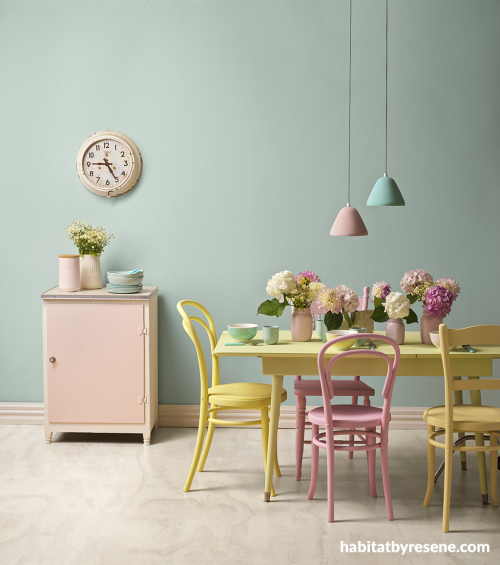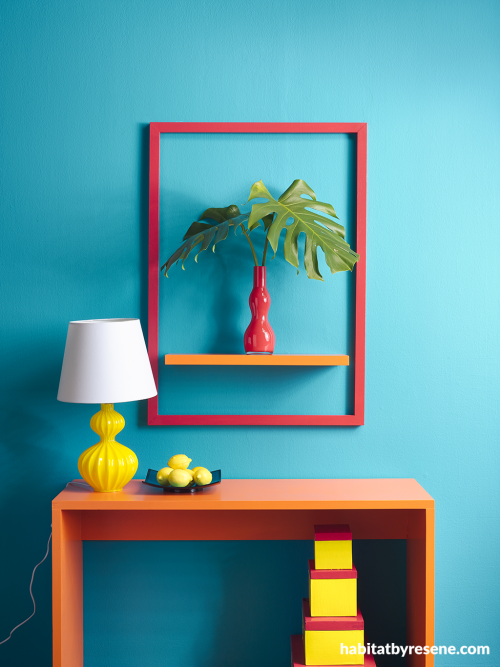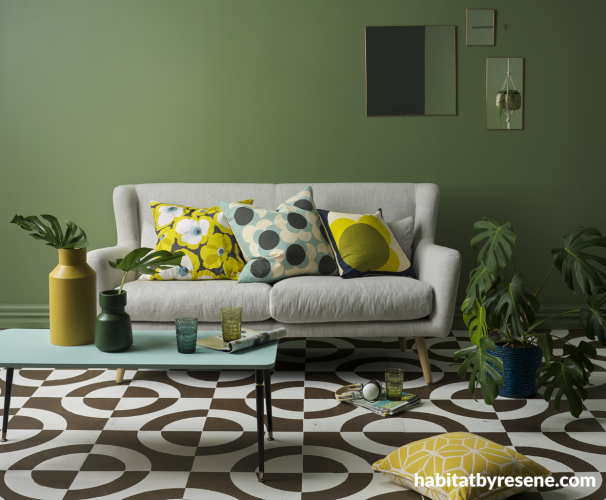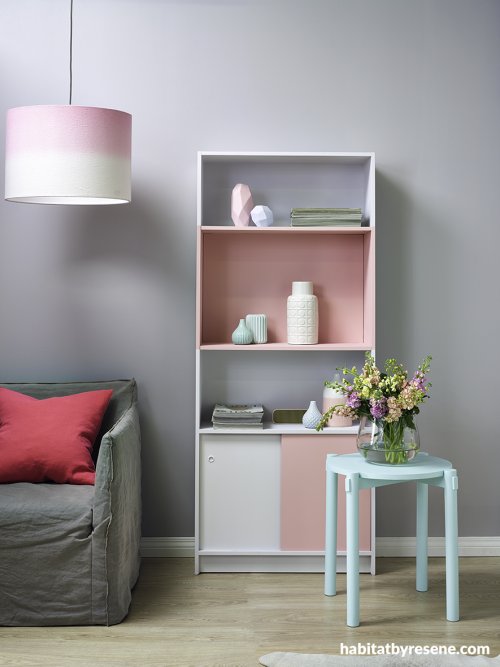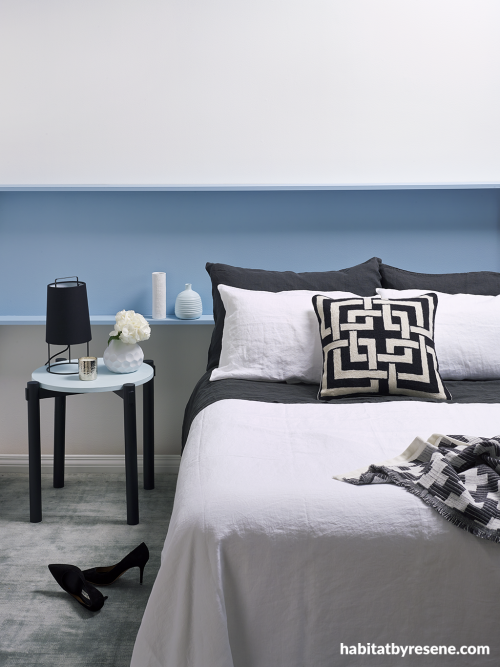 Colour from yesterday, for today
Resene turns 70 this year. Known as a leader in fashion paint colour since the beginning, let's look at the colours that we've loved to use in our homes since the 1950s, and reinvent them for today.
Published: 16 Mar 2016
Do you have a home full of wonderful Resene paint and colour? Send us some snaps by emailing [email protected].
1950s: Pretty in pastel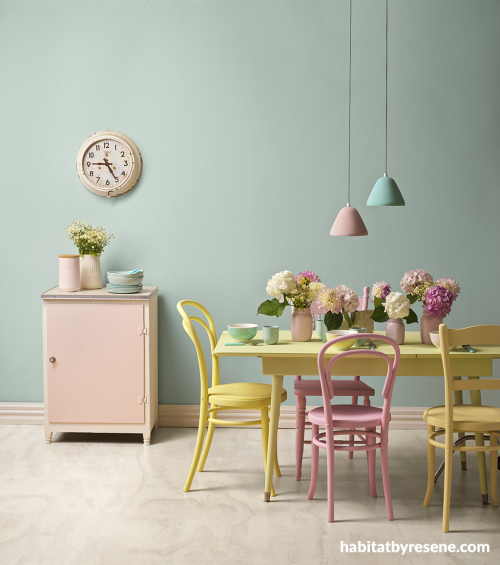 The 1950s was a time of optimism after the grim war years. There were new materials like Formica, vinyl, chrome, labour-saving devices and lots of hopeful fresh colour.
Pastels were in – pretty pinks, minty greens, pale blue, lemon and mauve. Use these colours today with this dreamy dining setting with a vintage vibe.
The wall is Resene Nebula, the table and chair at left are Resene Moonbeam, while the other chairs are Resene Princess and Resene Melting Moment. The cabinet is in Resene Pink Terrace and Resene Bianca while the jar vases are in Resene Alluring, Resene Sea Nymph and Resene Pink Lace. The floor is in Resene Colorwood Whitewash and the skirting is in Resene Pink Terrace.
1960s: Get with the groove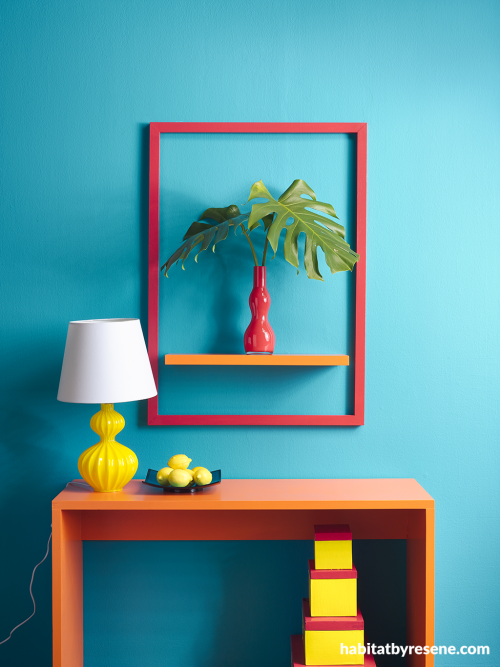 The 1960s was groovy baby, an exciting, turbulent era full of social change, new music and the mini skirt. The colours of the 1960s were bold and psychedelic – sharp orange, intense teal, banana yellow, cyan blue and red.
Use those intense shades today, in transitional areas like halls were you see them fleetingly. Add a simple curvy vase and a tropical touch with a monstera leaf. The wall here is Resene Hullabaloo, the hall table and shelf are Resene Trinidad, the boxes are Resene Supernova and the box lids, frame and vase are Resene Candy Floss.
1970s: Peace, love and colour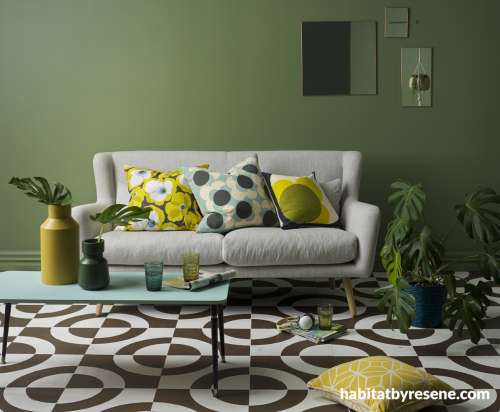 The 1970s was an era of hippy culture, mellow homespun looks, shagpile carpets and the lava lamp. Colours became earthier than the pretty pastels and saturated brights of the two previous decades. There were bronzed greens, warm tan, burnt orange and chocolate brown.
Today we can use those colours in this hippy-inspired living room, with a stunning stencilled floor in Resene Lignite and Resene Quarter Cararra, a wall in Resene Paddock, a table top in Resene Unwind, and vases in Resene Intrepid and Resene Seaweed.
1980s: Split personality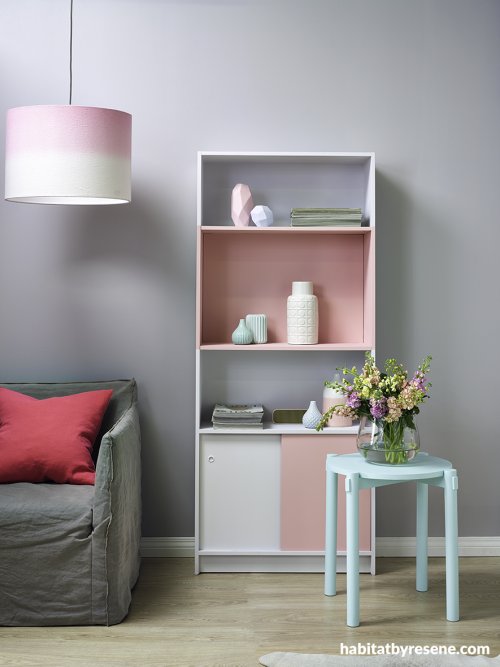 The 1980s was a decade of two halves – the hedonistic brash years before the 1987 stock market crash, followed by a more sombre mood post-crash. Colours of the 1980s interiors were nurturing apricots, nude pinks, pale greys along with black and white, and shots of bold colour.
Who would have thought that pink and grey could look so good again? This soothing living room uses palest shades for an elegant look. The walls are Resene Rakaia, the trims are Resene Alabaster, the floor is blonded with Resene Colorwood Rock Salt, the shelving unit is Resene Sweet Spot pink and Resene Seashell. The side table is in Resene Reservoir.
1990s: Minimalist nirvana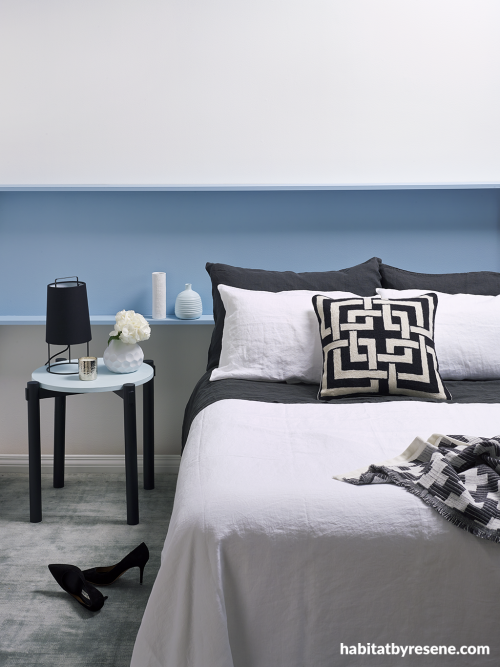 The 1990s turned its back on excess; it was a decade for minimalism and simplicity. Our eco-consciousness began to grow and the internet took off. Colours of this decade were pared back, neutral and soothing – non-nonsense blacks, clean whites, zen greens, icy aquas and nautical blues.
Today we can use those colours in this ultra-calming bedroom, with walls in Resene Quarter Alabaster and a bedside table with a Resene Cut Glass top and Resene All Black legs. A slice of bold nautical blue appears in the recessed headboard cum shelf, in Resene Frozen. The vases are in Resene Quarter Alabaster, Resene White Thunder and Resene Cut Glass.
2000s: All about tea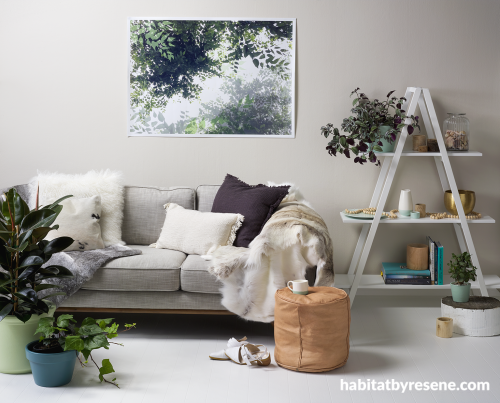 The new millenium came and the world's computers didn't fail. Technology advanced, the green movement grew, and we yearned to feel safe after the terror of 9/11. For Resene, this decade was all about tea – Resene Tea sold in the bucket-load. This safe cocooning beige was celebrated as an incredibly versatile colour and was joined by cool whites, botanic greens, silver and moody taupes.
Today this living room has a Scandi vibe, with animal skin rugs and cushions, house plants and a wall in Resene Half Tea. The floor and tree stump are Resene Sea Fog while the pots are Resene Soft Apple (large, on floor), Resene Tax Break (medium, on floor) and Resene Gum Leaf (on shelf and tree stump).