►
◄
latest
habitat tv
blog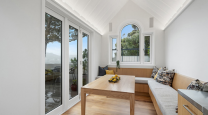 Master Builders' Chief Executive David Kelly shares his tips for building in the challenging climate.

Planning... more
Colour yourself happy with primary colours
If primary colours remind you of long days in the classroom, then these colourful red, blue and yellow interiors are here to give you a whole new perspective. With Resene's range of colourful hues, it's never been easier to go back to the drawing board and colour yourself happy.
The three primary pigments are the foundation of all other colours and have more recently been seen in interior design as light yellows, calm blues and dusky reds. But with the modern design world becoming increasingly bold and geometric, there's been an uptake in homeowners and designers alike returning to the vivid hues of childhood to brighten rooms and create dynamic spaces. Here's a few tips and tricks for using bright, bold Resene primary colours in your home.
Not-so-mellow yellow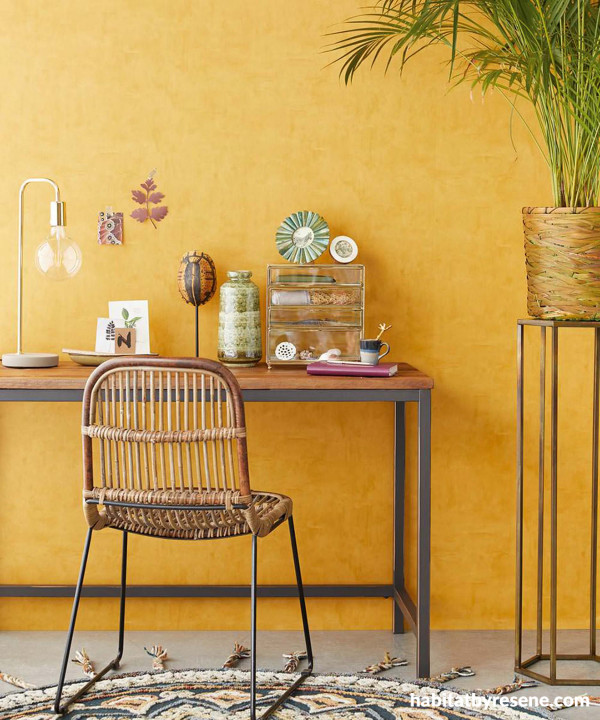 This trendy boho look was achieved with bright yellow Resene Wallpaper Collection E384556 on the walls.
Even on the dullest day, the Resene Wallpaper Collection will bring a ray of sunshine into your home. A golden yellow wall is a fantastic way to create happiness in your study, bedroom or kitchen. We associate yellow with warmth and positivity, so colouring – or wallpapering – your walls in yellow tones will provide you with an immediate mood booster. Resene Wallpaper Collection E384556 is softly mottled, breaking up the solid yellow colour and creating a sense of depth to the wallpaper. It's just as easy to pair yellows with thatched, earthy furniture for a trendy boho look as it is to create a modern space with white furniture and accents of gold.
Seeing red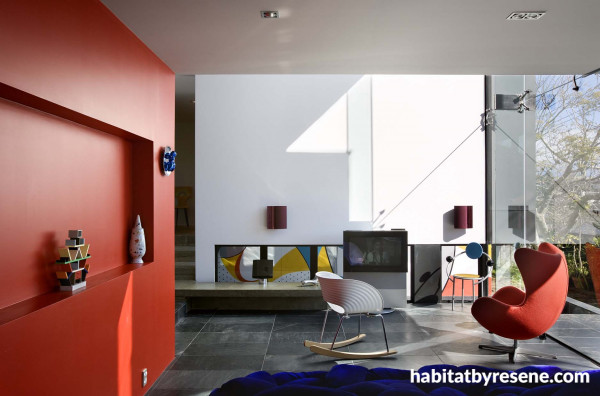 Daniel Marshall from Daniel Marshall Architects created this dynamic living space by pairing walls in Resene Blanc with a feature wall in Resene Flame Red.
It's go bold or go home with this red-hot feature wall trend. Living rooms are a great place to express your true colours and a red feature wall will bring passion and energy to even the smallest of spaces. Modern design has seen primary reds, such as Resene Flame Red, effectively used to create coherent spaces when paired with bright whites such as Resene Black White and grey tones. In rooms such as these it's best to take a minimalist approach with any décor or furniture to let the paint truly shine. If you have an older home and are looking to incorporate a bold red, try painting an unexpected place, such as your ceiling or kitchen. Add a colourful rug or two in a deep grey or patterned with a hint of red to connect it to your walls.
Blue funk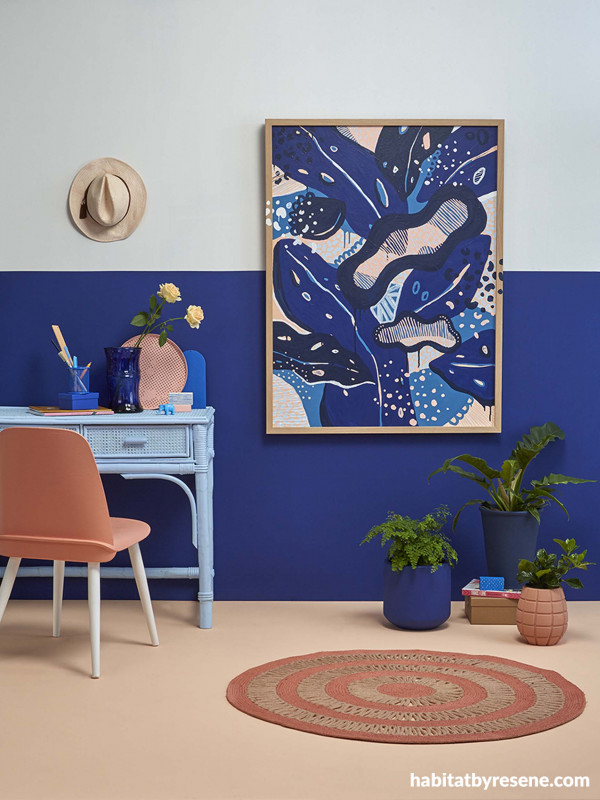 This modern hallway turned study space uses deep Resene Aviator on the lower wall and pot plant and Resene Triple Alabaster on the upper wall. The floor is in Resene Romantic and the desk is in Resene Sails. The chair, plant pot and rug are in Resene New York Pink. Artwork by Alice Berry from Endemic World. Project by Kate Alexander. Image by Bryce Carleton.
Committing to a bright primary colour doesn't necessarily mean forgoing other blue ribbon interior ideas. The two-toned wall is a great way to create interest and movement within a space such as a hallway, where the horizontal line will give the space the feeling of length and depth. Primary blues such as Resene Half Resolution Blue are adaptable and can suit any type of home. Blue can provide a great base for a colour scheme and is one of the easiest colours to use in the home. For example, a striking blue and white colour combination, such as Resene Aviator and Resene Triple Alabaster, can be used for a range of different themes and styles. Create vertical stripes in alternating colours for a beachy theme, or pair a white wall with blue doors and cabinetry for a sophisticated look.
Good accent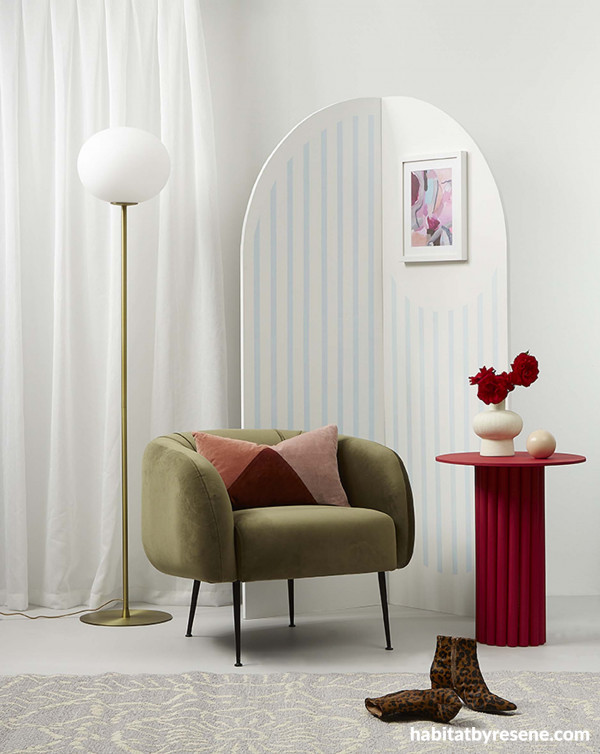 This dreamy room pairs Resene Half Alabaster walls with floor in Resene Rakaia. The arch screen is in Resene Half Alabaster with stripes in Resene Pattens Blue. The tall side table adds a pop of colour in Resene Code Red. Olive chair from Contempa and cushion from Adairs. Project by Melle van Sambeek. Image by Bryce Carleton.
When it comes to creating a space with primary colours, a little can go a long way. Primary colours used as accents can make the room feel cosy and warm up the space. Having a statement piece such as a dining table or coffee table in bright Resene Influential or striking Resene Code Red can uplift a room and catch the eye, which is great if you need a distraction from imperfect walls. Co-ordination is key when it comes to creating colourful décor, so make sure that any upcycled furniture works within your overall colour palette. For inspiration or to see what colours will work with your chosen primary colour, try the Resene Colour Palette Generator here.
Mix and match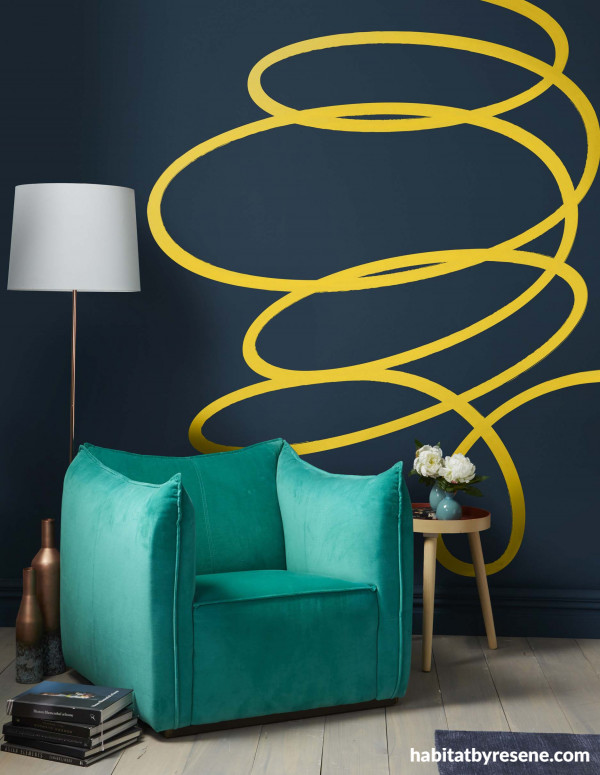 This whimsical wall uses Resene Tangaroa as a base colour with yellow swirl in Resene Turbo. The floorboards are in Resene Colorwood Greywash. Armchair from Republic Home and copper bottles and rug from Freedom Furniture. Project by Megan Harrison-Turner. Image by Bryce Carleton.
Embrace your inner child and mix and match your primary colours on your walls. Spice up a cosy reading nook, library or kid's room by using two primary colours on one wall. Make sure to only use two bright hues, any more and you run the risk of creating an overwhelming space. When using blue and yellow hues together, opt for décor that uses just one of your chosen colours but in different tones. For example, this classic yet fun nook uses deep blue Resene Tangaroa on the wall with lighter accents of blue in the vases and a deep navy rug. If you're planning to create a colourful abstract design on your wall such as this funky Resene Turbo swirl, remember to leave some negative space to allow the eye to rest.
Whether it's Resene Turbo, Resene Jalapeno, Resene Tangaroa or another favourite – by using primary colours creatively you can bring energy and style into your home.
Published: 02 Sep 2021
Do you have a home full of wonderful Resene paint and colour? Send us some snaps by emailing [email protected].
Resene Half Resolution Blue
the look
If you're stuck on what
colour to use or need colour
advice, try out the Resene
Ask a Colour Expert service.