►
◄
latest
habitat tv
blog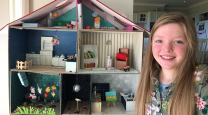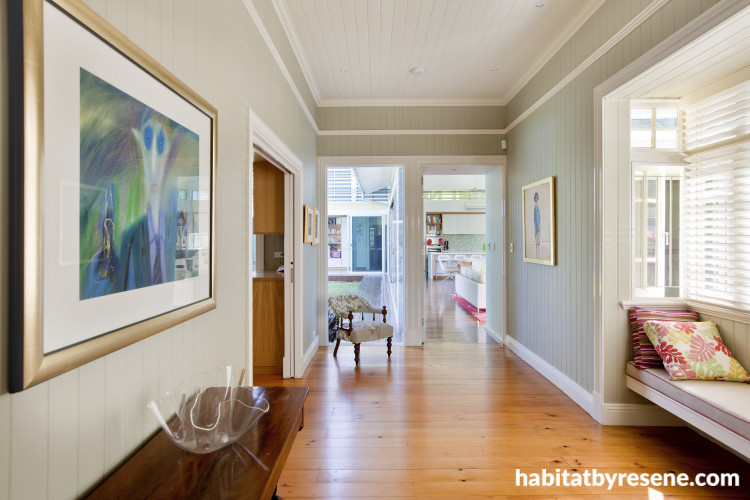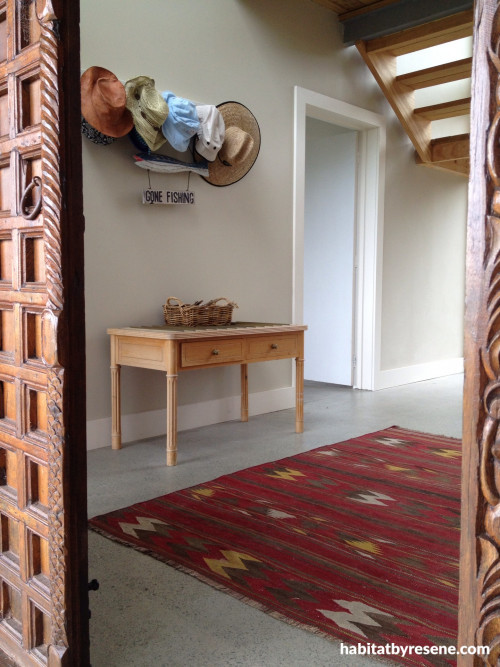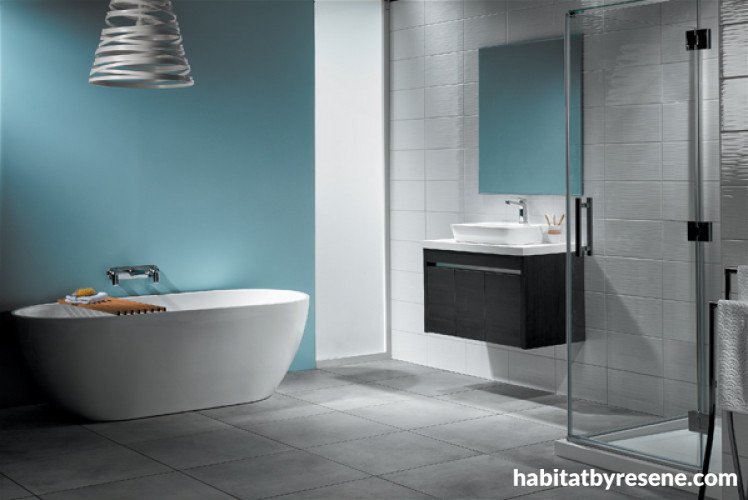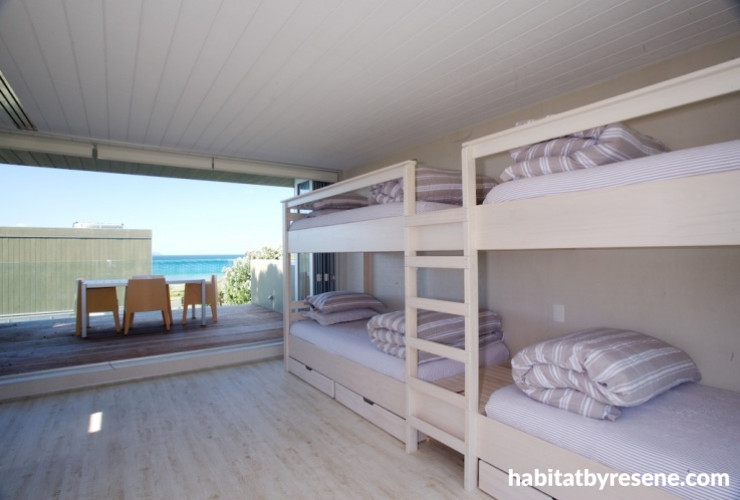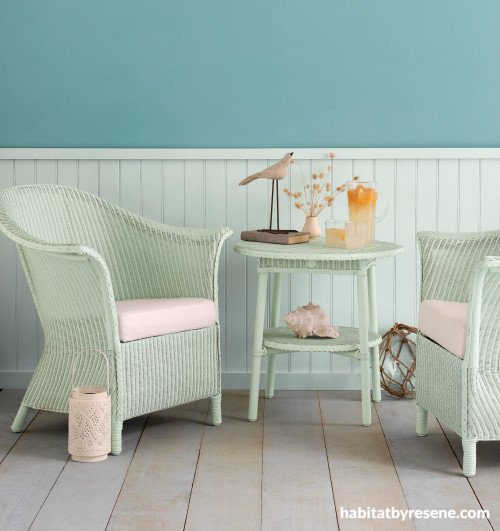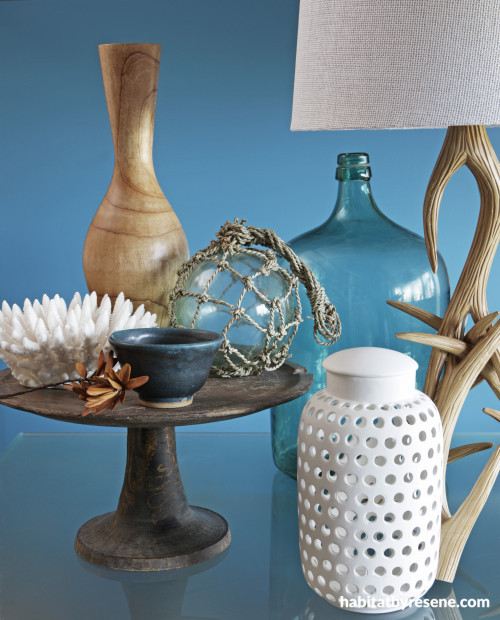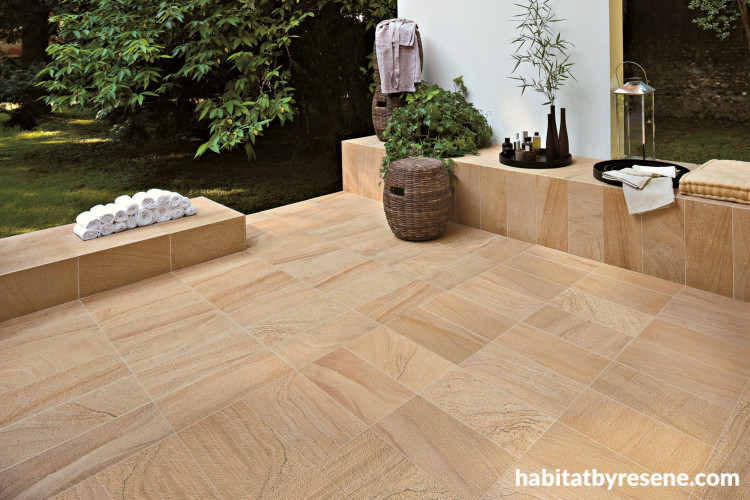 Colours of the sand and sea
Mellow, aged tones with weathered texture and washed shades of sea blue and sandy golds. These are the colours of the sea and shore, but you certainly don't need to have a bach or be near the coast to enjoy them.
Those cross-over greens and blues have been strong in Resene's fashion-forward palettes for two or three years now and aren't going away any time soon. Pale wheaten sand colours are also hugely popular, as exampled by Resene Tea still being a top-selling paint colour for Resene.
Together, they make a soothing scheme where you can almost smell the salty tang of the sea or feel the sugary grains of sand between your toes.
These colours are great companions to many styles, not just those with coastal influences. They can be given a retro twist by sharpening up an aqua into turquoise, or a classic Victorian look by softening the green into a pale lettuce shade. These colours can be as modern or as traditional as you like.
How to use these colours
Whether you're using a sea foam green or soft aqua blue or one of those mysterious colours in between, keep the palette pale, washed or muddy so that the tones don't tip over into bright turquoise or limey green - both of which can look aggressive and adolescent.
Don't be afraid of using more than one of these cross-over colours in the same space – they look sensational together, just as the sea has so many tones. Look to The Range Fashion Colours fandeck for a flood of cross-over green-blue sea tones like Resene Reservoir, Resene Half Kumutoto and Resene Escape.
While these sea tones look sensational on the walls, if you're nervous, just use them as accents or on accessories against a pale sand-coloured wall in Resene Half Wheatfield. Use soft milky whites like Resene Half Bianca or Resene Rice Cake for your trims and ceilings.
Driftwood, sand, shells and seaweed
The Resene Whites & Neutrals range is a natural when looking for sand, shell and driftwood style shades. Try Resene Double Pearl Lusta to replicate east-coast beaches golden white sands, or Resene Tapa for the mineral tones of iron-rich west coast sands. Resene Quarter Fossil is the colour of driftwood, Resene Half Fuscous Grey for the colour of the rocks.
Skip to the Resene Multi-finish Range for the shell-throat pinks of Resene Spring Wood and Resene Island Spice. Finish them off with a coat of Resene Pearl Shimmer to give a pearlescent shimmer for true depth and beauty.
It's all about texture
Texture is a big part of the sea-inspired look so while you're at it, consider other textural finishes for your sea-and-sand schemes. Whitewashes, like Resene Colorwood Whitewash which can be used for floors or other timber, for a weathered look, or paint with grit added (Resene Sandtex) for something that, literally, feels like sand. Or use something from the Resene Metallics and Special Effects range with a bit of sun-sparkled glitter.
Other textural elements to use are baskets, linen or rough-woven fabrics, coir mats, rattan furniture, rough-sawn timber. Juxtapose these grunty elements against translucent, dreamy components that represent the opacity of the sea – sheer fabrics and softly coloured glass.
Published: 31 Jan 2013
Do you have a home full of wonderful Resene paint and colour? Send us some snaps by emailing [email protected].
Walls the colour of sand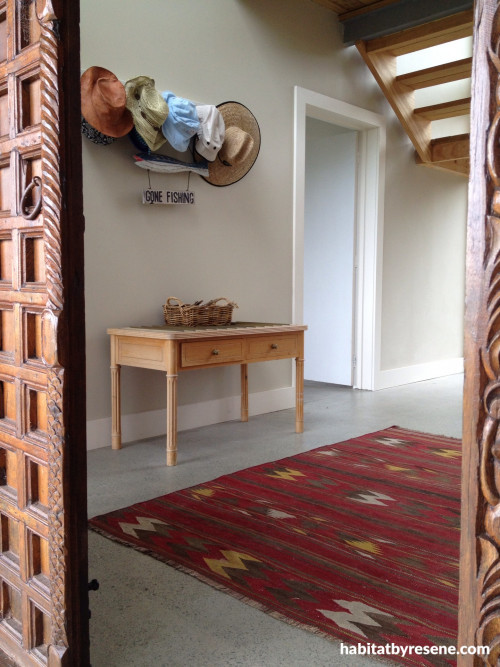 A sandy-toned wall in Resene Double Parchment makes a great backdrop in the hallway of this seaside house.
Classic watery hues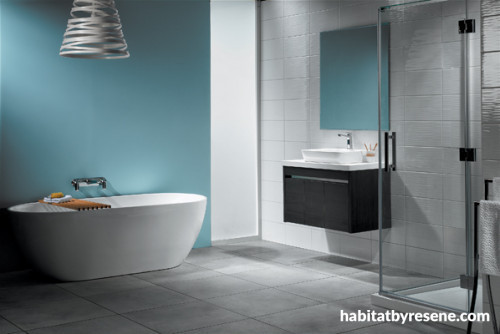 Athena Bathrooms' sculptural Cassini bath is offset by a wall painted in Resene Kumutoto. The perfect colour for a calming watery environment.
Whitewashed wonderland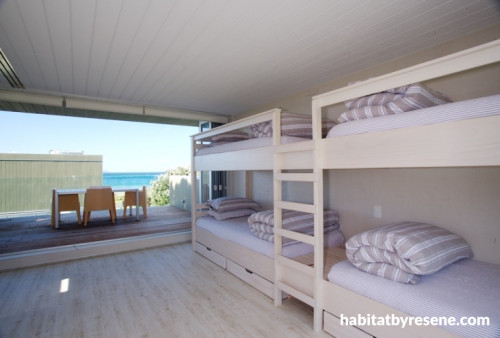 This bunk room used blonded timber on not only the floor but the built-in bunks. Designed by Yellowfox, you can achieve a similar look with Resene Colorwood Whitewash.
Beach-inspired setting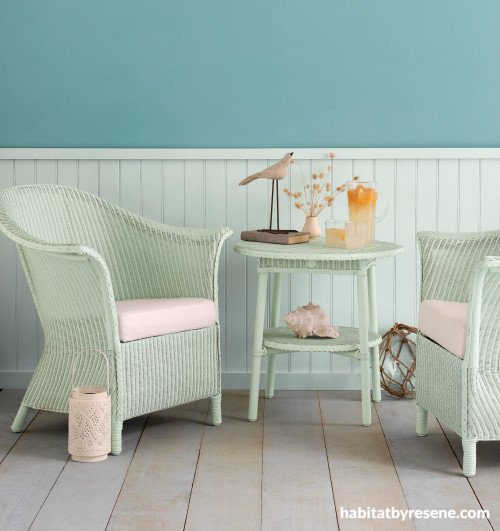 Create a soothing beach-inspired setting with soft sea colours – crossover tones that are neither blue nor green. The wall is painted in Resene Kumutoto, the tongue-and-groove panelling in Resene Carefree and the floorboards whitewashed in a diluted Resene Relax. Even the Lusty Lloyd Loom Eton chairs and Brighton table are painted, in Resene Kandinsky.
Pale sophistication
A woven mat and fabrics from Warwick's Ipanema range are a sophisticated seaside scheme.
Coastal accessories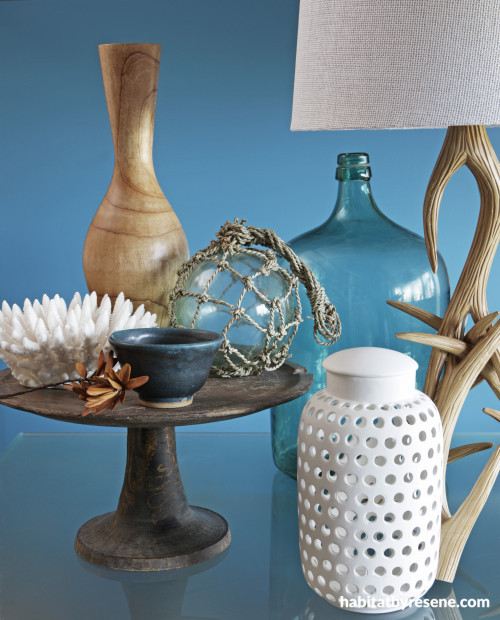 Resene Wavelength is an oceanic mid-toned blue with a touch of lilac and offsets this collection of coastal-themed accessories.
Swirling sands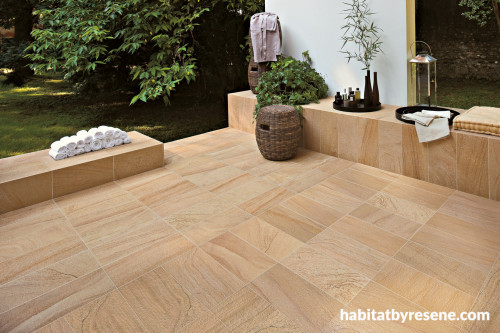 Create the look of swirling sands on your floor or in your courtyard. These 600mm x 600mm Colorado tiles from Tile Warehouse come in both indoor and outdoor options.
Resene Double Pearl Lusta
the look
If you're stuck on what
colour to use or need colour
advice, try out the Resene
Ask a Colour Expert service.