►
◄
latest
habitat tv
blog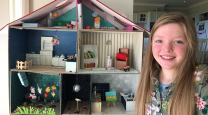 Contemporary ideas to update your heritage home
Modern colour palettes aren't just for contemporary homes. Freshen up your villa or heritage home with on-trend colour combinations that are anything but old fashioned. Resene's extensive range of interior colours will have you abandoning those cream walls and stepping into a whole new world of colour.
Traditional homes are an integral part of our urban landscape and it's exciting to see homes being restored to their original state. Contrary to popular belief many villas and colonial era homes were actually very colourful with bold colours used on the interiors and exteriors. With today's range of paint colours the possibilities are endless for these heritage homes.
Whether it's a subtle blue hue or a dark and moody feature wall, try something a little out of the ordinary in your home. They're called character homes for a reason, so why not give your heritage house a colour splash to be proud of. We've got six splendid colour combinations to get you on the right track.
Terracotta and wood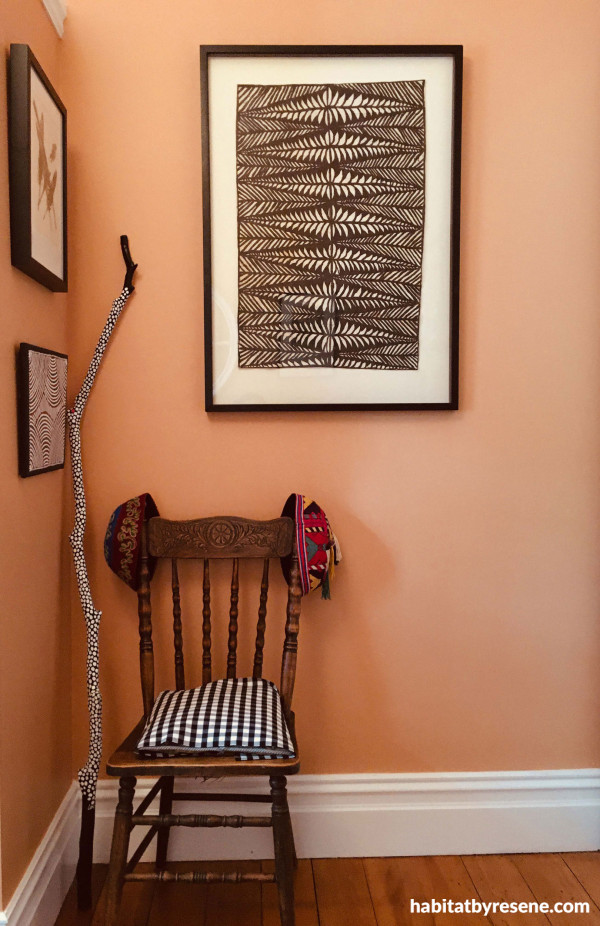 Interior designer Clare Kitching created a new colour scheme for this historic Mount Eden villa. To complement the vivid black-and-white art, she painted the home's smallest bedroom in Resene Beethoven with skirtings in Resene Alabaster.
Embrace the rustic beauty of your heritage home through an earthy colour palette. Flooring makes a huge impact on the overall tone of the room. If your carpet is tired and in need of replacing, try taking it away completely to reveal the wood underneath. Often heritage homes and villas use native timber such as matai or rimu for flooring, which looks great sanded down and stained with Resene Colorwood wood stain to bring out the beauty of the timber then protected with a Resene clear coat such as Resene Aquaclear. Native timber colours are naturally mid to light in tone, so finish them with a warm Resene Oiled Cedar or Resene Natural to let their true colours shine. Pair your wooden floor or furniture with gentle apricot and terracotta colours, such as Resene Beethoven. This will strip away the formality of a room and replace it with an atmosphere of warmth. Keep things simple with a crisp white paint for the ceilings and trim.
Blue and white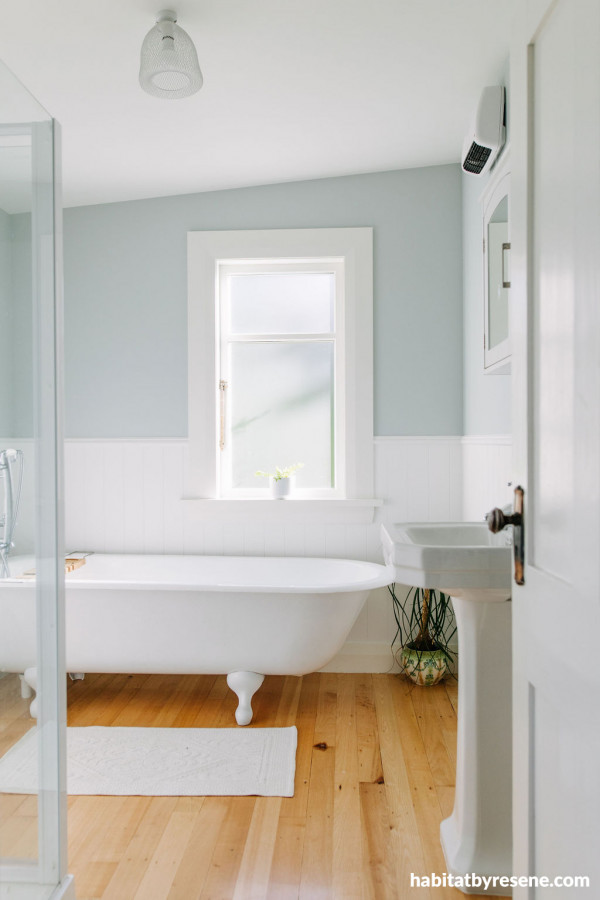 Annabel Berry renovated this Kakanui Beach home with an elegant yet contemporary colour palette. The tongue-and-groove panelling of their bathroom is painted in Resene Half Black White and the ceiling, architraves and door are in Resene Eighth Parchment. Calming Resene Duck Egg Blue colours the walls.
A colour scheme of blue and white will leave your bathroom looking timeless and trendy all at once. Often traditional homes have smaller windows in the bathrooms, making the space feel dark. Incorporating white into your colour palette is a sure-fire way to brighten up the space and leave your bathroom feeling clean. With blue and white at your side, pairing your classic furniture with a contemporary palette has never been easier. Relax in your clawfoot bath surrounded by soothing Resene Duck Egg Blue walls. Reminiscent of warm blue skies and fluffy white clouds, the blue and white colour combination works with a variety styles and will add elegant simplicity to your heritage home.
White on white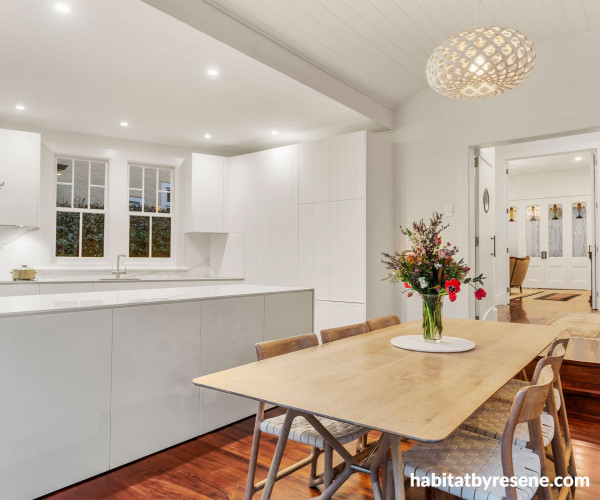 Homeowners Jane and Steven breathed life into their 1912 transitional villa with a colour palette of Resene Eighth Thorndon Cream on the walls, ceiling and kitchen cabinetry. Their Scandi-style furniture adds a contemporary touch.
While it's important to acknowledge your home's history, you don't need to copy brushstroke for brushstroke the colour schemes of the past. There are plenty of ways to celebrate the classic features of your home, and a white on white palette is one of them. White is the perfect intermediary colour that can seamlessly merge styles, even if they are decades apart. Today's homes are naturally more free-flowing and open and you can mimic this through bright white walls that reflect light. Going for grey or green-toned whites, such as Resene Eighth Thorndon Cream, will instantly update your colour palette and complement your darker furnishings. Stick to two whites; a slightly off-tone white for your walls and a crisp bright white for your ceiling and trim. This will give you the freedom to introduce your own style through furniture, whether it be a modern Scandi couch or classic and deep mahogany table.
Primary colours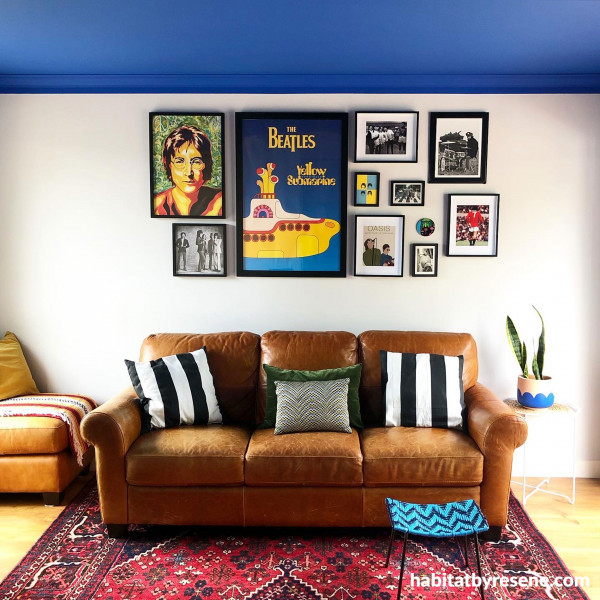 When homeowner Nikki renovated her Greytown home she painted her lounge ceiling in vibrant Resene Half Resolution Blue and paired it with an eclectic mix of décor. The walls create the perfect canvas for her artwork and are painted in Resene Iron with Resene Merino on the trim.
Think of your ceiling as a blank canvas, rather than an afterthought. Heritage homes often have lovely panels, exposed beams and, if you're lucky, a decorative frieze or two. A modern way to accent this old charm is by painting it with hues inspired by the three primary colours; red, blue and yellow. Treat your ceiling like a fifth wall; leaving it unpainted will leave the room feeling unfinished. For a thoughtful design and elegant feature, paint the accents on your ceiling in free-spirited Resene Apache or deep Resene Arthouse. In rooms where the ceilings have no accents or features, try creating your own with a striped ceiling of blue and white reminiscent of the Hamptons. In an already busy room, use a solid colour for your ceiling. Don't shy away from a dark blue ceiling, they can positively alter the mood of a space and leave the room feeling larger.
Black and white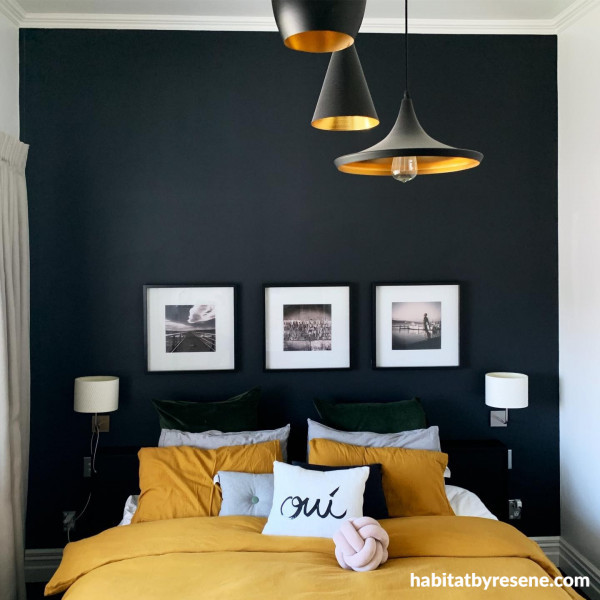 Homeowners Hannah and Tim renovated their 120-year-old villa with a striking feature wall in Resene Shark in the master bedroom. A Resene Sea Fog ceiling provides contrast to the deep charcoal wall and accents of gold and mustard create a warm atmosphere.
When it comes to feature walls in a heritage home, go bold or go home. Black is a statement colour that can elevate your space instantly. Using dark colours for a feature wall may seem intimidating, but with some simple tricks, such as pairing the wall with a lighter trim, you can easily create a light and carefree atmosphere. Trims highlighted in Resene Alabaster will complement a darker wall in Resene Nero. Painting a wall in black will help it to recede into the background, leaving your furniture and décor the centre of attention. The atmosphere of a room with a black feature wall can change drastically depending on the décor you pair it with. Using gold accents provides a modern take on the golden age of Hollywood, whereas monochrome furniture and stark black and white photographs have a minimalist feel with a subtle nod to the past.
Orange and grey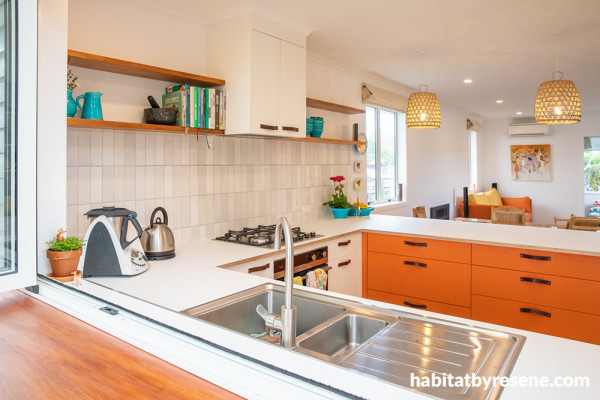 This Te Awamutu home received a bold and bright update when homeowners Amy and Mark coloured their kitchen cabinetry in Resene Rock Spray. They painted the surrounding cabinetry in a subtle Resene Sea Fog, with the walls, ceiling and trim in Resene Alabaster.
Get the best of both worlds with a contemporary retro mix in your kitchen or living area. Neutral kitchens are classics, with whites keeping those busy areas feeling clean, but painting your kitchen cabinets or splashback in a vibrant orange will take your kitchen design to a whole new level. Rather than hiding the older aspects of your home, highlight features such as a kitchen hutch. Adding colours such as Resene Rock Spray or Resene Clementine Orange is a great way to change things up and add a bit of fun to your heritage kitchen. You can create a cohesive and contemporary look by pairing 70s colours with stained wood surfaces and light grey walls. Grey tones are perfect as a springboard for bright colours, providing more interest than a white wall would while still allowing the brighter colour to shine.
Published: 20 May 2021
Do you have a home full of wonderful Resene paint and colour? Send us some snaps by emailing [email protected].
Resene Eighth Thorndon Cream
Resene Half Resolution Blue
the look
If you're stuck on what
colour to use or need colour
advice, try out the Resene
Ask a Colour Expert service.