►
◄
latest
habitat tv
blog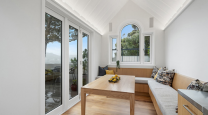 Master Builders' Chief Executive David Kelly shares his tips for building in the challenging climate.

Planning... more
From cot to college: managing multiple bedroom transitions
Children change so fast, and so do their tastes. But let's face it – not everyone has the time to constantly change their kid's bedroom décor every time they outgrow it. Thankfully, with some foresight, planning and creative flair, you can create a scheme that can be easily taken from nursery to childhood bedroom to teenage hangout to that long-awaited guest room. The key is in careful and clever colour planning.
Neutral ground
When making the leap from a guest room or home office to a nursery, it's important to keep things simple and to consider how the room will need to evolve in 10 or even 20 years' time. Sticking to classic colours that will stand the test of time is one of the simplest approaches to kick off your scheme.
Published: 28 Jan 2020
Do you have a home full of wonderful Resene paint and colour? Send us some snaps by emailing [email protected].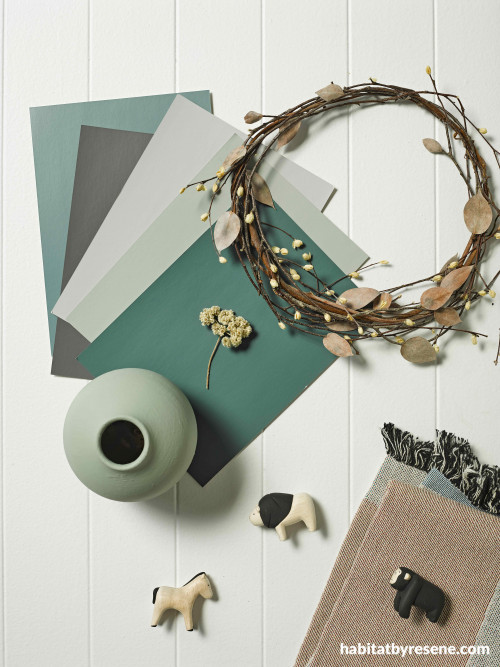 Rather than something too 'cutesy', choosing a calming green and neutral colour palette for a nursery can easily last through multiple age transitions. Background in Resene Poured Milk with A4 drawdown paint swatches in (from right to left) Resene Green Meets Blue, Resene Helix, Resene Secrets, Resene Armadillo and Resene Artemis.
Designer and colour consultant Sylvia Sandford says that it's not a bad idea to begin with a neutral base such as white, cream, duck egg blue or dove grey as other hues will present themselves through the myriad of accessories, toys, charts, pictures, decals, pin boards and other decorations that you'll be layering into the space. "By the time you hang things from the ceiling, put artwork in frames, add in a colourful pendant light and some age-appropriate drapery, there will be plenty going on."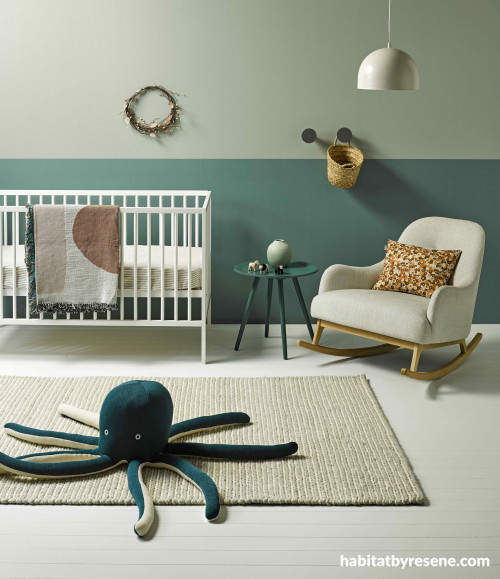 Incorporating a few colourful accessories gives this nursery personality and interest. Including a rug ensures there is a soft and tactile element for your baby while they are in their crawling phase, while the timber floor will help for quicker clean up. The lower walls are in Resene Artemis, the upper walls are in Resene Helix, the floor, dome lamp and cot are in Resene Poured Milk, the side table is in Resene Green Meets Blue, the coat pegs are in Resene Armadillo and the vase is in Resene Peace.
If you have your heart set on a particular wall colour, then you should go for it. However, make sure to keep flooring and window treatments neutral to save you time and money in the long run. Children tend to outgrow gender-specific colours like pink and blue early, so you might find yourself repainting over these choices sooner rather than later.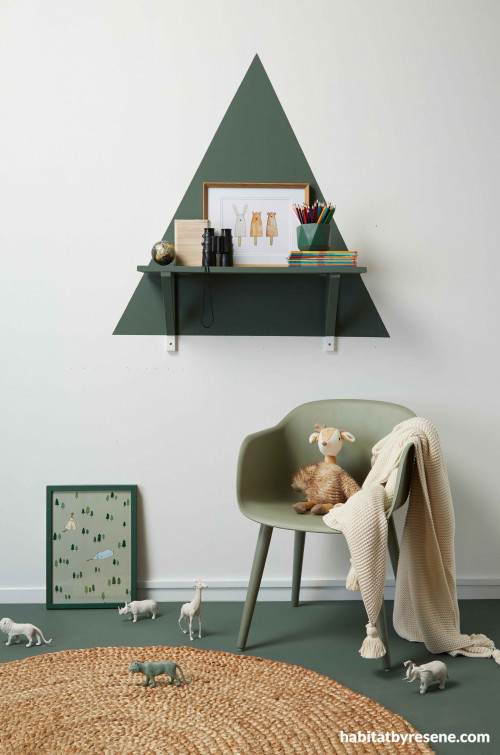 Neutral – and gender neutral – tones make it simple to start adding in some personality in this nursery when transitioning from baby to toddler. Resene Black White walls are the perfect blank slate to add in interesting details, such as this triangle 'tree shelf' in Resene Middle Earth. Floor painted in Resene Yucca, pencil pot and frame in Resene Permanent Green. The chair is painted Resene Yucca.
Another way to achieve a neutral look is through a classic wallpaper. The Resene Jack N' Rose 2 Wallpaper Collection is especially intended for kids, and includes designs that would just as appropriate in a home office as they would in a nursery – a win-win that'll serve your family's needs for years to come.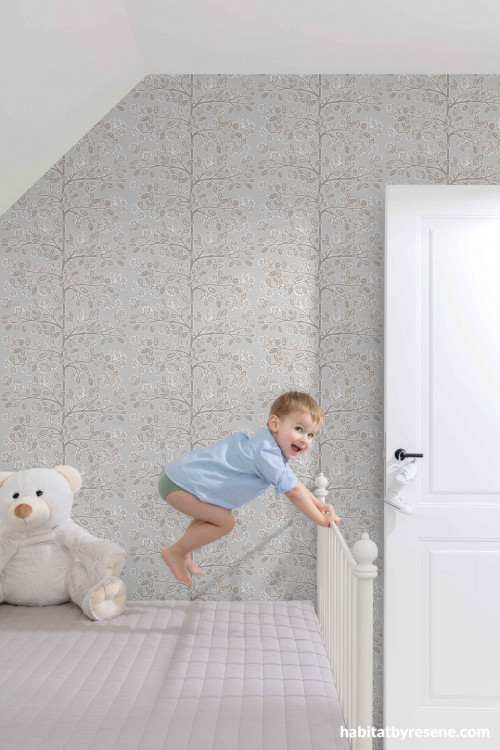 This wallpaper from the Resene Jack & Rose 2 Wallpaper Collection is cute enough for a nursery, neutral enough to fit seamlessly with the rest of your home's colour palette and sophisticated enough to keep up long after your child has grown.
Colour considerations
If you're struggling to come up with a colour scheme for your nursery, look to science to decide. For the first three months, babies can only see black, white and grey, so they tend to focus on contrasting colours, such as black and white, because they're much easier to see. Conveniently, this makes nursery renovations easy when it comes to choosing colours! Try Resene Rice Cake, Resene Poured Milk or Resene Merino for a warm, neutral white and pair it with Resene Noir for a high-contrast look.
If monochrome isn't for you, try contrasting grey with a splash of colour, such as a subtle yellow like Resene Yuma, or go bold with one red feature wall. Red is actually one of the first colours a baby can see, and Resene has a huge selection of vibrant options like Resene Pohutukawa, Resene Poppy and Resene Code Red. A Resene colour expert can help you to pick the right palette and make a plan that'll take your room seamlessly through the eighteen or more years that your child will be living at home.
Proper preparation
Before picking up your roller, Sylvia advises paying proper attention to preparation to save headaches in the long run. "No painting over old wallpaper or layers of old paint. Start with as clean a slate as possible and seek advice for the appropriate finishes as these are going to be surfaces that will ring the changes over many years. Good initial preparation will allow you to layer up colour as time goes on with little effort."
When it comes to furniture, the nursery stage is a great time to take it easy, but once you hit the 'incredible years' — ages three to six — and beyond, you can start to get creative. Upcycling old furniture such as painting an old set of drawers in brighter colours, or even just their handles, can instantly transform a room.
Top tip: Look to the Resene Classic Collection for timeless colours to create a palette that will last for years to come.
Outgrowing the cot
Naturally, as your children's personalities develop, their rooms should become reflective of their tastes. Choosing an overall theme that's versatile rather than 'flavour of the month' is a great way to ensure they'll enjoy their room for years. Think beyond pop culture trends to imaginative worlds of oceans, deserts or space.
"It's sometimes hard for families to allow children's rooms to move away from the very co-ordinated scheme that may have been created throughout their home. However, there is usually a sense of continuity that already connects the rest of the house to these children's rooms," says Sylvia.
She points out that your home likely already has the same skirting, architraves, doors and hardware throughout. This makes paint the best option thanks to its ease of application and the change it affords. When making the big step from an all-neutral room, Sylvia notes adding a new wall colour could be as simple as painting a feature wall or two, or just painting at dado height can be great for hiding smudges from little fingerprints.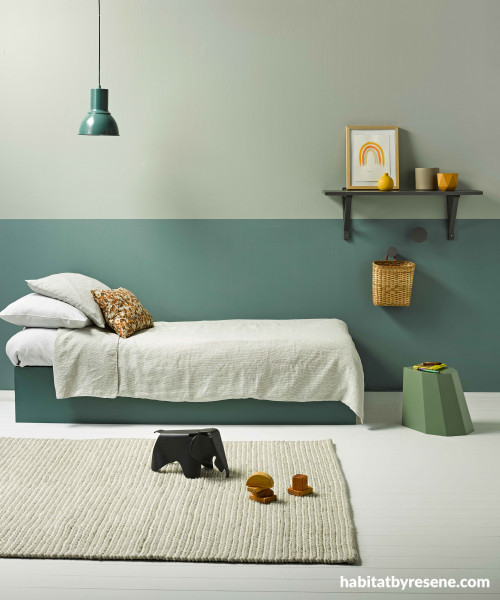 Choosing a dark colour for the lower wall section in a space for babies and toddlers will help mask smudges and fingerprints from little hands. A lighter colour up top adds interest and visual height to the room and add some levity. In this child's room, the lower walls are in Resene Artemis, the upper walls are in Resene Helix, the floors are in Resene Poured Milk, the bedframe and lamp are in Resene Green Meets Blue, the shelf and coat pegs are in Resene Armadillo while the vases and pots on the shelf are in (from left to right) Resene Cleopatra, Resene Colins Wicket and Resene Swiss Caramel.
Top tip: To choose the right colour and keep your child involved in the process, visit a Resene ColorShop and look at the colour charts and wallpaper books together. While might not let them choose whatever they want, you can narrow down the choices to ones you like too and then let them choose from those options.
Flexible furnishings
Another way to move your child's bedroom away from the cot stage, is to bring in furnishings and accessories that feature fun pops of colour. Flexible furniture, like wooden bunk beds, can be a great investment during this phase and have the added benefit of freeing up floor space and can be painted to suit your child's personality. You can even lose the bottom bunk and add a study nook underneath the top bunk once your child starts high school.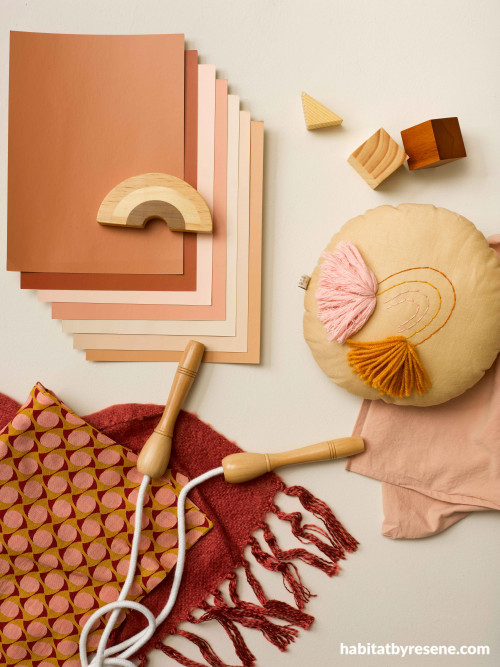 As your child ages into teen territory, they tend to become more conscious of trends. Choosing dustier variations of trendy colours, such as pink, can age better with your child than more vibrant versions of the same hue. Background in Resene Blanc with A4 drawdown paint swatches (from top to bottom) in Resene Sante Fe, Resene Moccasin, Resene Sorbet, Resene Just Dance, Resene Bone, Resene Cashmere and Resene Kalgoorie Sands.
Framing your child's artwork or having them paint storage boxes is another way to brighten things up with minimal change to the room's main décor. Pick up a few Resene testpots in colours that coordinate with your child's bedding and furnishings and let them paint up something especially for their space.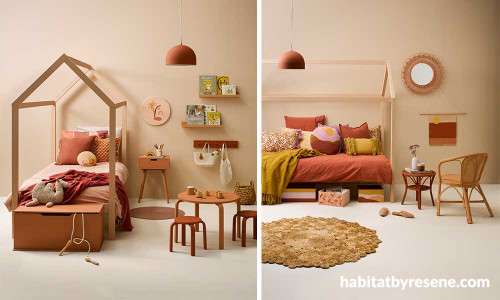 This room easily goes from child to pre-teen with the addition of fun DIY art and storage boxes that have been painted to match the scheme. Testpots in Resene Moccasin, Resene Just Dance, Resene Twilight,Resene Sante Fe, Resene Apache, Resene Sorbet and Resene Kalgoorie Sands were used to paint the round artwork, banner and wooden boxes. The wall is painted Resene Bone, the floor is in Resene Blanc, the bedframe is in Resene Cashmere, the toy chest is in Resene Sante Fe, the cane chair and lipped shelves are in Resene Kalgoorie Sands, the stools and hooks are in Resene Moccasin, the pendant lamp, mirror, lipped shelves, bedside table and play table are in Resene Just Dance.
Top tip: Opting for a matte finish, such as Resene SpaceCote Flat, can help mask imperfections in older walls.
The move to maturity
Teenage years are a time of serious change, making it especially important for bedrooms to reflect individuality. "At this age, there will likely be requests for more colour on the walls and possibly the ceilings," says Sylvia. She suggests hand-painted stripes or a wall mural to add personality without letting things get too out of hand, before adding brand new bed linen, rugs and other furnishings to match.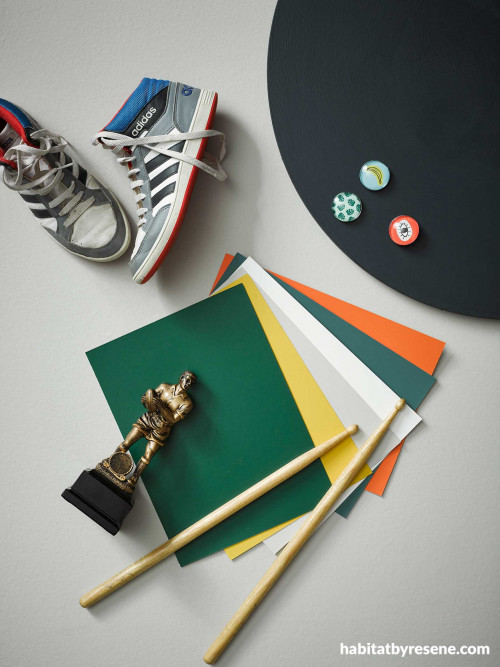 It's not unusual for a teen to request black walls. Painting a chalkboard wall using Resene FX Blackboard Paint , Resene FX Chalkboard Paint or Resene SpaceCote tinted to a black or near black like can be a way to reach a middle ground. Plus, if you paint it with a couple of basecoats in Resene FX Magnetic Magic first, it can hold up strong magnets – which will allow your child to hang up photos and mementos without the need for tacks. Background in Resene Truffle with A4 drawdown paint swatches (from front to back) in Resene Permanent Green, Resene Thumbs Up, Resene Truffle, Resene Alabaster, Resene Fast Forward and Resene Jailbreak. The round chalkboard is in Resene FX Magnetic Magic with two topcoats of Resene SpaceCote in Resene Noir on top.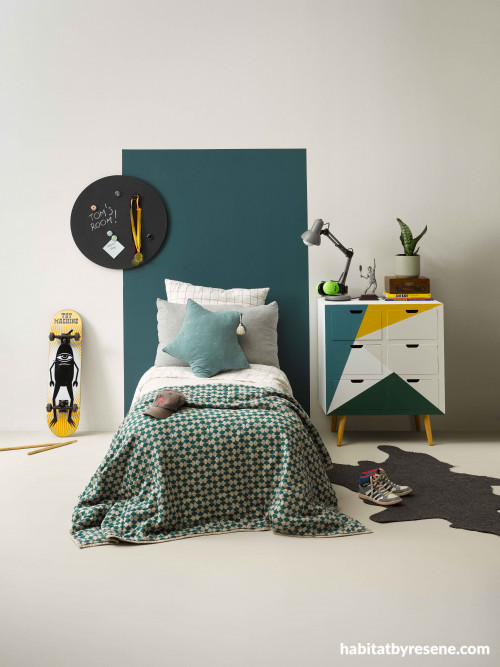 Even a simple painted headboard can help define a teen's bedroom but painting a piece of furniture with a cool pattern, like this chest of drawers, can add real character to the space. Both can be achieved with masking and can be easily painted over when your teen leaves home. The wall is in Resene Sea Fog, the painted headboard feature is in Resene Fast Forward, the floor is in Resene Truffle, the message board is in Resene Noir, the plant pot is in Resene Earthen and the chest of drawers is in Resene Bismark, Resene Permanent Green, Resene Thumbs Up, Resene Alabaster and Resene Truffle.
Photo and pin boards are popular with teens and can help save your walls from too many holes and tack marks. To steer clear of holes all together, paint Resene FX Magnetic Magic under two coats of Resene SpaceCote tinted to the same colour as the rest of your walls. Your teen can hang notes, posters, or artwork – and even write on it with chalk. Simply use a damp cloth to wipe it clean.
With studies gearing up during teen years, having organised shelving is a wise move. Wooden crates are easy to stack and don't take up too much room, while box or honeycomb shelves make a fun DIY painting project and can be arranged in different patterns on the wall throughout the bedroom.
Top tip: Picking something in a solid, classic shape means you can hang on to them once your teen moves out – just repaint them in a colour that suits the rest of your home.
Reclaiming the room
It can feel bittersweet when your child finally flees the nest. However, it can be can also be a productive and creative time for you to look at your own needs and reclaim their room.
Planning ahead of their departure can make the process a little easier. Will it be a guest room? An office or crafts space? Or a multi-purpose room? Once you've made a decision, you can make small moves ahead of time in preparation. Painting a colour block headboard behind their bed, for instance, could become a cool way to define your work space once the room becomes your home office.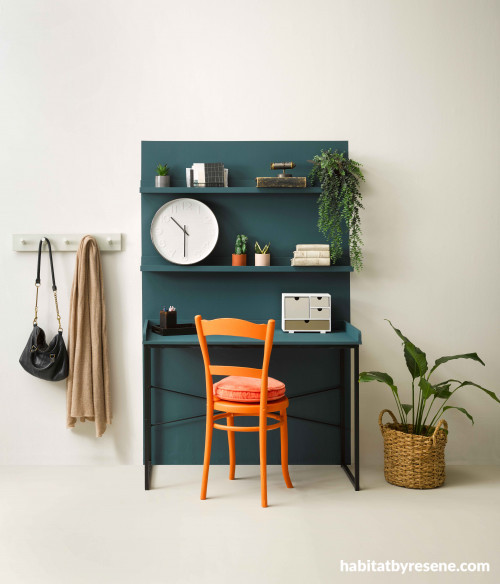 With a bit of foresight, a feature like a painted colour block headboard can find new purpose defining a home office space after your teen takes off with their bed. The wall is in Resene Sea Fog, the colour blocked feature, lipped shelves and desk top are in Resene Fast Forward, the chair is in Resene Clockwork Orange, the floor is in Resene Truffle, the desk organiser is in Resene Alabaster, Resene Truffle and Resene Earthen, the hook rack is in Resene Secrets, the plant pots are in Resene Quarter Baltic Sea, Resene Moccasin and Resene Soulful.
To make the most of your reclaimed room, choose multi-functional furniture. If your teen has taken their bed with them, consider replacing it with a fold-out couch. That way, the space can still serve as a spare bedroom when company comes over, but do double-duty as an office or library.
Getting another opinion
No matter what age of child you're trying to design a bedroom for, it's okay to seek out help if you're feeling stuck for what to do, given colour is so personal and affects everyone differently. "It's important to try to understand how each family member responds to colours, as we can sometimes jump to conclusions. Choosing the right colours for the personality of the room's user takes some skill. Professional guidance can be helpful and necessary," says Sylvia.
Visiting your local Resene ColorShop is a great place to start. The staff there can help you with some recommendations or point you in the direction of other design professionals who can give you more in-depth direction.
If you're looking for some inspiration for you and your little ones before you roll up your sleeves, the habitat plus – kids' spaces booklet is the perfect place to start. It's full of useful tips, including how to create a theme, clever ideas for wall and headboard designs, shared spaces, nurseries, study nooks and throwing a colourful party in the comfort of your own home. Pick up your free copy at your local Resene ColorShop and selected Resene resellers.
Top tip: When painting a feature design on your wall, use low-tack masking tape from your Resene ColorShop over a dry, freshly painted background or existing paint that isn't damaged.
styling Gem Adams, Kate Alexander, Annick Larkin, Vanessa Nouwens?
images Bryce Carleton, Melanie Jenkins