►
◄
latest
habitat tv
blog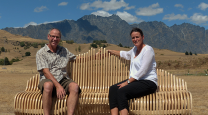 Create a bedroom your child won't grow out of
While growth spurts might have you overhauling your child's wardrobe each season, thankfully a well-designed bedroom doesn't have to be outgrown quite so quickly. With a little inspiration from Resene, you can design a space that will grow with your children, and is easily adaptable when their tastes change. (Spiderman, safari and mermaid phases sadly don't last forever!) Know that you can still create colourful and inspiring themed rooms with a slightly more subtle palette. We show you how.
Things to keep in mind when designing bedrooms for kids
As kids grow, their tastes grow with them. A well-considered colour scheme can save you plenty of hassle later on, and make the transition from child to teen-hood smoother interiors-wise. When you're designing your child's room, keep in mind:
Involving your child in designing their room is great. After all, it should be their sanctuary and safe space. Involve them in the colour choice and give them a sense of autonomy if they're old enough. A good option can be to narrow down Resene paint colour choices you are happy to have in your home, then let them choose their favourite.
Keep it simple. A more neutral paint or wallpaper means it can act as a blank canvas as they grow up – think soft tones like Resene Rice Cake, Resene Cut Glass, Resene Bone and Resene Pot Pourri. Don't underestimate the power of artwork, photos and furniture.
Hold off on the extravagant furniture pieces. Keep rugs, bedding and accessories affordable, so if nail polish, slime or clay spills, it's no big deal.
Keep things practical, and have plenty of storage space to keep the floor uncluttered. Pick up a few Resene testpots in coordinating colours and let your child decorate under bed storage boxes.
Remember while a magazine-worthy kids room is great, ultimately a child's room is for them to play, learn and be a kid. It won't look picture perfect all the time.
Make the walls their canvas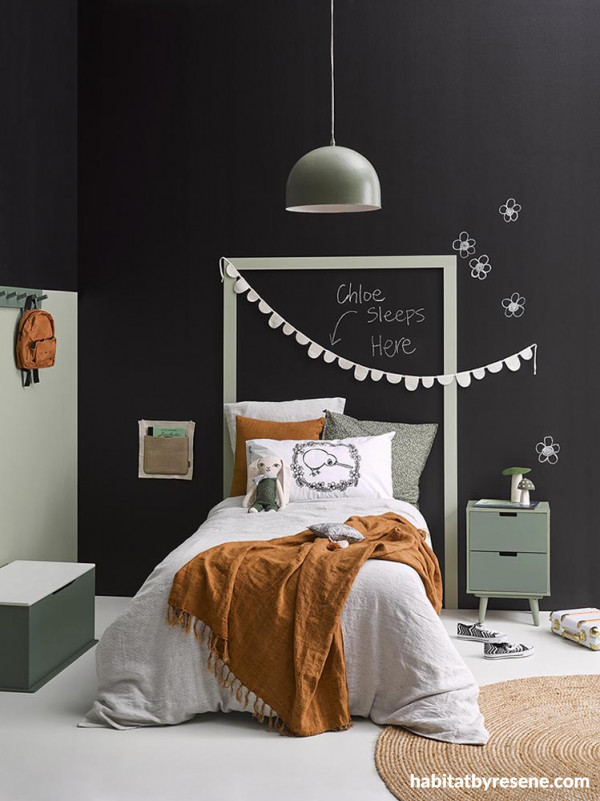 This simple yet effective headboard 'frame' was made from three lengths of flat profile skirting board painted in Resene Green Spring and screwed into the wall, which is painted in Resene FX Blackboard Paint. The beauty of a blackboard wall is that there's no limit to how your child can personalise it with chalk – and starting afresh is as simple as a quick wipe with a clean, damp cloth. Main wall in Resene FX Blackboard Paint, left wall in Resene Green Spring, floor in Resene Secrets, hook rack in Resene Rivergum, toy box in Resene Secrets and Resene Rivergum, headboard outline in Resene Green Spring, pendant lamp in Resene Paddock and nightstand in Resene Rivergum (drawers) and Resene Paddock. Project by Vanessa Nouwens, image by Melanie Jenkins.
A blackboard wall is a fantastic way to add plenty of personality to a child's bedroom – essentially it's their own personal blank canvas. What child wouldn't want to draw all over their walls! It's a great activity too for when friends come to play. Resene FX Blackboard Paint is probably one of the most versatile options for a kid's room, as the bedroom transforms depending on what's drawn on the walls. It's equally as fun and handy for a child as it is a teenager, or even adult when the kids move out. The room could then become an office or creative space.
Keep in mind Resene FX Blackboard Paint looks best a feature wall, even one corner of a room painted with it is striking and has great impact. An entire room in it would be dark and overwhelming. Instead, contrast the look with light and bright Resene Black White on surrounding walls, or black also looks wonderful with light pinks like Resene Half Pale Rose and light blues like Resene Quarter Frozen. If you'd prefer a coloured chalkboard, use Resene FX Chalkboard Paint instead.
Create contrast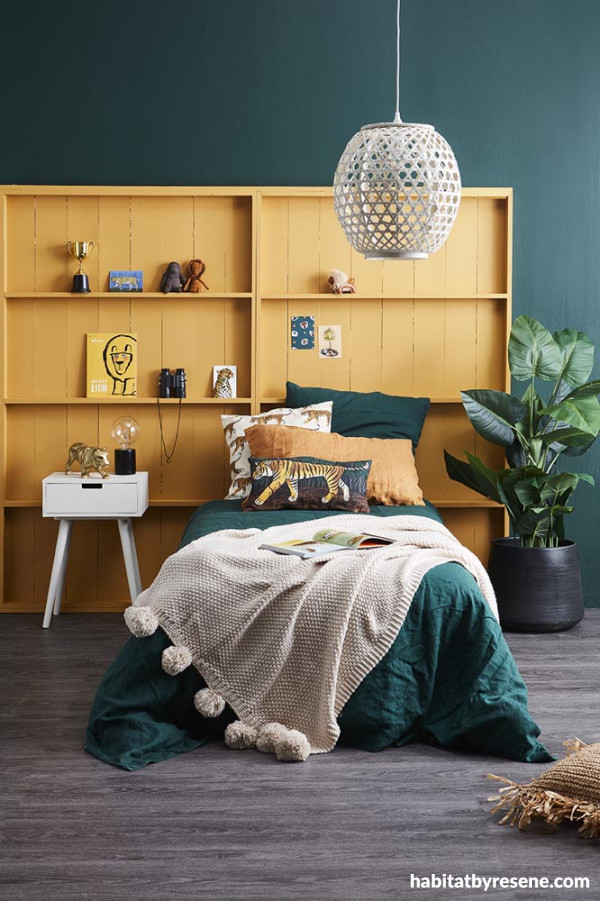 Bold colours can be used in children's rooms without the fear of them growing out of them, just add colour to furnishings. This headboard doubles as a bookshelf and provides a great focal point while keeping books, favourite accessories or a glass of water handy. Wall in Resene Palm Green, headboard bookshelf in Resene Noosa, bedside lamp in Resene Nero, bedside table and pendant lamp in Resene Quarter Sisal. Project by Vanessa Nouwens, image by Wendy Fenwick.
Add boldness and life to a children's bedroom with contrasting colours. Utilise furniture you can paint and get creative! A couple of coats of Resene paint in child-friendly colours can easily be painted over when the time comes to re-style a room. Think wardrobes, desks, shelves, side tables and chairs.
Painted furniture has grown in style in recent years and boldness with one-of-a-kind pieces are making a real impact in bedrooms. Pops of your child's favourite hue can transform second-hand furniture into statement pieces. It's time to hit the op shops, find a piece or two and DIY them to add a splash of colour to a kid's room. A quick refresh with paint is the perfect weekend restoration project.
Think about painting walls in one colour and contrasting with furniture. Some fantastic pairings include Resene Saratoga and Resene Bullseye (forest green and bright red), or Resene Sea Half Fog and Resene Princess for a pretty pastel look.
Go for neutrals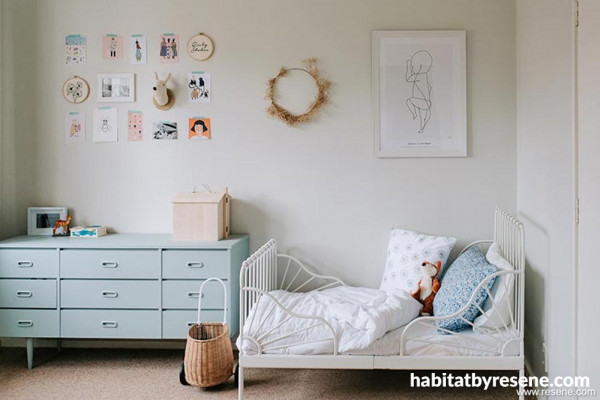 It's amazing the difference the walls make in a room. habitat reader Tash discovered this when redecorating her daughter's room. Originally finished in dark navy wallpaper, the room tended to feel closed in. After stripping all the wallpaper, sanding and repainting in Resene Double Sea Fog, the transformation from dark to light is amazing. The blue grey undertone of the Resene Double Sea Fog goes well with all the paraphernalia that comes with being a kid. The walls will change with her as she grows and reflect her personality with art and photos.
Don't feel you have to splash bright colours on your children's walls if that's not your style. If you like the soft, neutral Scandi look, go for a colour like Resene Rice Cake, Resene Black White or Resene Half Bianca that certainly won't go out of style. White is the perfect backdrop for a room that will transform and grow with a child. The room can totally be brought to life with its décor and furnishings. Artwork will always make your child feel like the space is theirs. Framed artwork can change as they grow up, but you can always keep the frames and repaint in new favourite Resene colours. A cork board is a great idea to install too – you can paint it in a complementary Resene colour to suit your room.
Lighter and cool colours can have a calming effect on children. They can also open up a small space. If you're worried about a white room feeling too cold, layer in shades of cream and pops of pinks, yellows or greens in cuddly linens and cushions for warmth.
Top tip: Pick up some Resene testpots and create custom artwork or signs with your kids to match their room. To make your sign double as a magnetic noticeboard, paint it first with two good coats of Resene FX Magnetic Magic before painting on your coloured topcoats.
Go half and half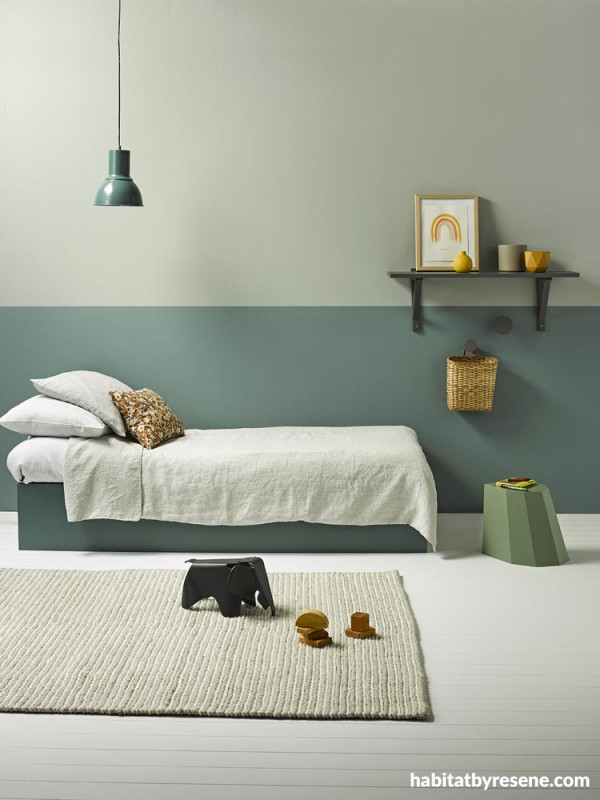 A darker colour for the lower part of a bedroom wall will help mask smudges and fingerprints from little hands, while a lighter colour up top will add visual height and levity. Upper wall in Resene Helix, lower wall in Resene Artemis, floor in Resene Poured Milk, side table and pendant lamp in Resene Green Meets Blue, toy box in Resene Secrets, pegs and shelf in Resene Armadillo, vases and pots in Resene Unwind, Resene Cleopatra, Resene Colins Wicket and Resene Swiss Caramel. Project by Gem Adams, image by Melanie Jenkins.
A child's room is a great chance to really play with colour and try out some design ideas you might not feel bold enough to attempt in your living room or own bedroom. Now's your chance to take a cue from your child and get as creative as you like! Consider splitting a wall in half and going for a monochromatic look using two shades of the same hue. Or, have fun and make a statement on the ceiling. Why not paint a ceiling like the night sky in Resene Space Cadet or Resene Surfs Up and dot it with glow-in-the-dark stars painted with Resene FX Nightlight?
Consider the mood you want to create in your child's room. Green tones are calming, it's a natural colour that has a soothing impact on a child. Scientists have found too that the colour green can improve a child's reading speed and comprehension. Blue decreases feelings of aggression and anxiety, lowering heart rates. Children prone to a temper tantrum or two could appreciate the soothing effects of a blue bedroom.
Try greens together like Resene Bilbao and Resene Happy Hour, or blue tones like Resene Blue Night and Resene Waikawa Grey.
Top tip: Involve your child in the colour-picking process but carefully edit how their ideas are used. Remember, a child might have an idea for colour but that could be used in something as simple as a wall poster. A whole room doesn't need to be decked out in one shade.Test before you settle on a colour. Resene testpots are the best way to try out your colour choices and can also be used to add touches of favourite colours to frames, ornaments and other knick knacks. Available at your Resene ColorShop and reseller, or order online at www.resene.com/testpots.
Create features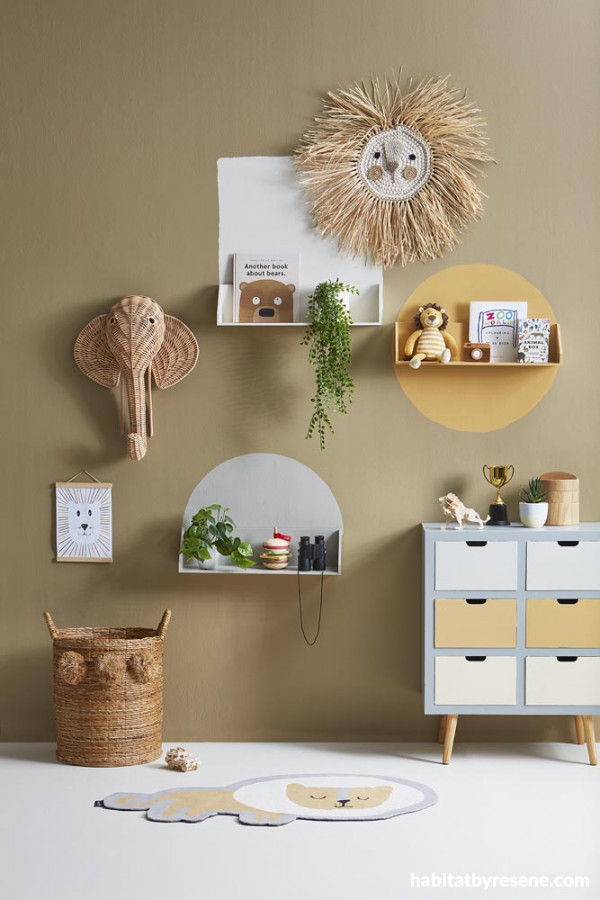 Create an eye-catching display area by defining shelves with painted shapes in colours taken from elsewhere in your child's room. Wall in Resene Colins Wicket, square and floor in Resene Half Fossil, circle in Resene Twine, semi-circle in Resene Triple Truffle and dresser in Resene Stack,Resene Half Fossil,Resene Twine and Resene Triple Truffle Project by Vanessa Nouwens, image by Wendy Fenwick.
Think about creating interest with feature walls, or even adding shapes around shelving. You can do this with a subtle and neutral colour palette that your child won't outgrow. Earth tones are great for this, like Resene Teak, Resene Sandbar, Resene Putty and Resene Manuka Honey. They add personality, but are soft, warm and gentle. They'll also match a variety of colours when you change duvets, furniture and art.
Think about utilising removal wall decals, too. Paint a neutral hue as a backdrop then set the theme of a room with stickers – try a safari theme (elephants or leopards), a sea theme (shells or boats) or a nature theme (flowers, trees and butterflies). As they are removable, it's only as permanent as you need it to be.
Top tip: For a feature wall, get as creative as you like. How about a wall of geometric shapes? This is a great shared project, with your child taking the lead in choosing the colours. One approach is to start with an item they really love – a cushion, print, bedding, rug, etc – and draw complementary Resene colours from that.
Let children's rooms inspire creativity. Colour and artwork are a sure way to get their creative juices flowing. For more ideas and inspiration, see the habitat plus – kids' spaces and visit your local Resene ColorShop.
Selected images courtesy of Your Home and Garden magazine
Published: 06 Jul 2022
Do you have a home full of wonderful Resene paint and colour? Send us some snaps by emailing [email protected].
the look
If you're stuck on what
colour to use or need colour
advice, try out the Resene
Ask a Colour Expert service.