►
◄
latest
habitat tv
blog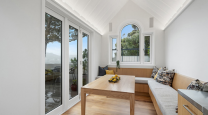 Master Builders' Chief Executive David Kelly shares his tips for building in the challenging climate.

Planning... more
Create an endless summer in your home using a sun-kissed colour palette that brings the warmth indoors
Summer is sitting outside watching golden sunsets settle over the water and celebrating in the sun-warmed goodness of a fun-filled long day. It's flipping through magazines while condensation gathers on an ice-cold beverage. It's an afternoon siesta in a balmy breeze. But it doesn't have to end – let the summer vibes last throughout the year by choosing warming colours from Resene which will fill your home with sunny charm.
Add warming pops of colour to create intimate spaces for lounging, reading, chatting, snoozing or for enjoying that delicious end of day summer cocktail.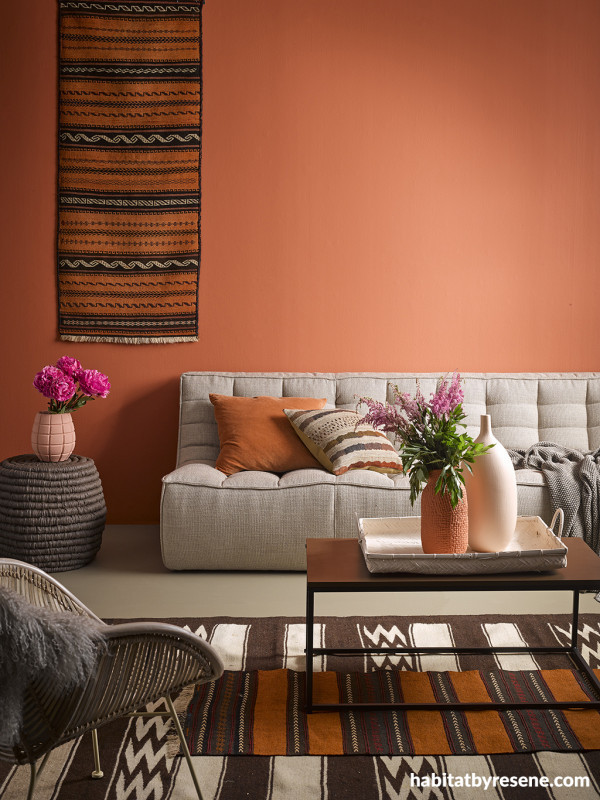 Inspired by the burnt terracotta hues of the Mojave Desert, Resene Sunbaked used here on the walls, casts a summer glow on interiors. Ground the look with Resene Earthen on the floor to create a space that oozes relaxation. The woven side table is painted in Resene Thunder Road, coffee table in Resene Sambuca, woven tray in Resene Despacito, woven texture vase in Resene Sunbaked, large vase in Resene Soulful and the grid vase is in Resene Just Dance. Armchair from Indie Home Collective, kilim rugs from Republic, cushion and throws from Furtex. Project by Claudia Kozub, image by Melanie Jenkins.
Spice up your lounge with Resene Sunbaked
Whether you take inspiration from the spices in a Moroccan souk, freshly roasted coffee beans from a Columbian market, or the rosy sunsets skies of Tulum, Mexico, there is an allure to these sun-drenched countries that makes our homes welcoming
Capture the warming hues of an endless summer by choosing Resene paints that evoke warm spice, vibrant sunsets, combined with the rich golds and pinks of juicy summer fruit.
Go bold by using an on-trend terracotta such as Resene Sunbaked and create harmony with timeless Resene Earthen on the floor, an enticing blend of mudbrick and olive brown. Create depth with décor pieces by painting them with a spicy, warm colour palette including rich moody brown Resene Thunder Road, aniseed-inspired Resene Sambuca, the delicate pink beige of Resene Despacito along with the sunset pinks and peaches of Resene Soulful and Resene Just Dance. Layer cushions and throws, add freshness with pink and fuchsia flowers and embrace the timeless trend of using a rug as a wall hanging.
Top tip: Let go of trying to 'match' colours in decor styling and let instincts take over by building on a simple palette of Resene paints. Paint the Resene feature wall colour onto one of the decor pieces to anchor the space.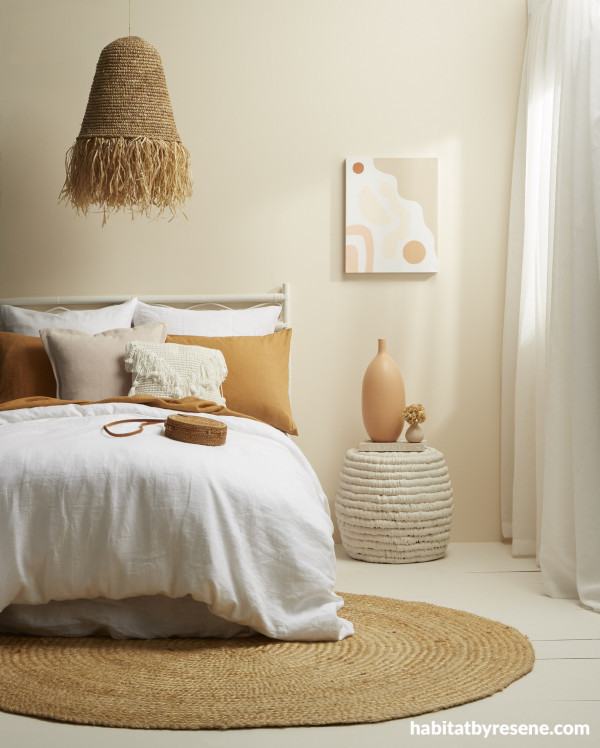 Bring relaxing holiday calm into your bedroom with a soft neutral palette. Walls painted in Resene Eighth Canterbury Clay and floor, bedhead, woven bedside table and small vase in Resene Eighth Joss. Tall vase painted in Resene Beethoven. Custom art created with Resene Sour Dough, Resene Wax Flower, Resene Beethoven and Resene Tuscany. Bed linen, lampshade, rug, artwork, cushions and purse from Mood Store. Project by Melle Van Sambeek, images by Bryce Carleton.
A bedtime oasis
The bedroom is a room where we can create an oasis of calm but too often the reality is it's more of a layered 'floordrobe' than a tranquil space. A paired back bohemian style is an easy, refined way to claim back the space using nature-inspired neutrals with soft undertones of colour. Walls painted in soothing Resene Eighth Canterbury Clay bring warmth to this summer-inspired bedroom and make a cheerful pairing with a vase painted in Resene Beethoven. Natural fibres such as jute and rattan and tasselled cushions and linen curtains gives the room softness creating a sleep-friendly sanctuary.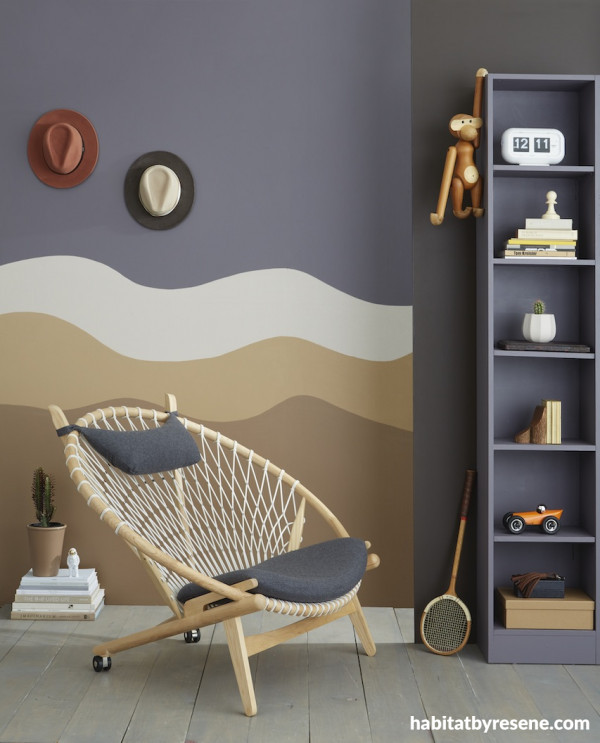 This simple mural is easy to create even for those with less artistic experience. Mural colours from top to bottom: Resene Zulu, Resene Antidote, Resene Sorrell Brown and Resene Lone Ranger. Right wall in Resene Half Wood Bark, and bookshelf in Resene Zulu. Sun-bleached deck effect on the floor was created using Resene Colorwood Mid Greywash. Large plant pot on book stack in Resene Sorrell Brown and small plant pot on shelf in Resene Antidote. Hats from H&M, chair and toy car, Twemco Quartz and clock from Homage. Project by Kate Alexander, image by Bryce Carleton.
Create mural magic
Summer is all about finding cosy nooks in and outside of the home, perfect for curling up with a book. Bring the outdoors into underutilised nooks, corners or conservatories by creating a coastal-inspired feature which brings a sense of calm to the space.
A simple mural of curved lines evokes sand dunes and the rolling sea. Resene Zulu on this bookshelf and the sea/sky of the mural is paired with rolling layers of sandy hues using Resene Antidote, Resene Sorrell Brown and Resene Lone Ranger. The right wall adds drama in darker tone Resene Half Wood Bark, with the bookshelf framing the space in Resene Zulu. Resene Colorwood Mid Greywash on the floor channels sun-bleached wooden decks of baches and holiday homes.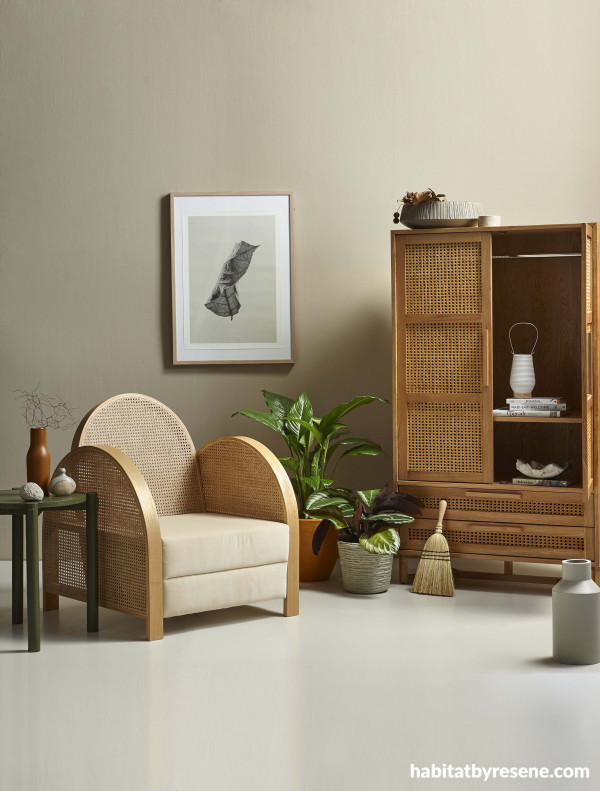 Create colonial charm with walls in Resene Double Sisal with a Resene Parchment painted floor. Painted jug in Resene Korma, wide bowl in Resene Soya Bean, side table in Resene Scrub, palm plant pot in Resene Mai Tai, basket planter in Resene Double Lemon Grass and tall vase in Resene Triple Ash. Chair from Douglas and Bec, Rice Straw Hand Brush and Sabi Leaf 04 artwork by Paper Plane from Factory Frames. Project by Gem Adams, images by Wendy Fenwick.
Say cheers
It's always cocktail hour somewhere in the world – embrace the charm of Colonial-era hotels such as Raffles and evoke the relaxing feeling of tropical heat with a refreshing G 'n' T in hand.
To create this elegant-yet-relaxed look, pick bright wood-toned Japanese or Scandinavian inspired furniture and pair with walls painted in rich green Resene Double Sisal and flooring in rich beige Resene Parchment. Add a pinch of spice colour to the room by painting your favourite pieces in Resene Korma, Resene Soya Bean and Resene Scrub. Resene Mai Tai on the palm pot plant holder brings energetic golds and ambers into the room.

This charming chatty room features walls in Resene Smooth Operator with stripes in Resene Mountain Mist and floor in Resene Wafer. Peg stools using ombre effect in Resene Mountain Mist and Resene Kalgoorie Sands. Large plant pot in Resene Rodeo Dust and lampshade in Resene Mountain Mist. Chairs from Dawson & Co, rug from Ivy House, plant pot from Kings Plant Barn, lampshade and peg stools from Freedom Furniture. Project by Kate Alexander, image by Bryce Carleton.
Twice as nice
Summer is all about intimate gatherings with friends and catching up on the year that was. As the nights close in, create conversation-inducing symmetry in your home inspired by Californian Spanish design.
Archways are popular in this Spanish revivalist style and while it's not easy to recreate the look architecturally (without knocking down walls and plastering!) it's easy to add a touch of Spanish flair using Resene paint.
This pinstripe design is shaped in an oval to mimic the setting sun using sultry grey Resene Mountain Mist paired with soft ochre Resene Smooth Operator. The combination charms when paired with flooring painted in pink biscuit-inspired Resene Wafer.
Carry the symmetry into the styling with matching comfortable chairs, cushions and lines and get creative painting side tables in a delicate ombre effect using Resene Mountain Mist and Resene Kalgoorie Sands.
Top tip: When creating feature wall art always use a high-quality painter's tape and a paint brush with plenty of soft bristles to ensure smoother lines. For more experienced DIYers, a small smooth surface roller will also do the trick and will be a time saver. Use a lower sheen paint such as Resene SpaceCote Flat to create a velvety look.
Published: 24 Feb 2021
Do you have a home full of wonderful Resene paint and colour? Send us some snaps by emailing [email protected].