►
◄
latest
habitat tv
blog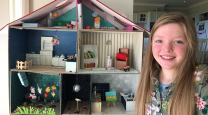 Create a complementary colour palette worthy of compliments
If you can remember back to your days in primary school, you might recall learning that complementary colours are hues that sit opposite each other on the colour wheel. In their most basic form, they are one primary colour and the secondary colour that is created by mixing the other two primaries. For instance, yellow is complementary to purple, which is a mix of blue and red. That also means blue is complementary to orange, just as red is to green.
It might come as little surprise, then, that decorating with a palette based on colours that contrast each other so sharply can be a challenging look to pull off – but when everything comes together, the results are dynamic and memorable.
Here are some rooms that completely nail each combo and some low-risk ideas that can help you to accomplish this expert-level look at home.
Blue + Orange
Published: 17 Apr 2019
Do you have a home full of wonderful Resene paint and colour? Send us some snaps by emailing [email protected].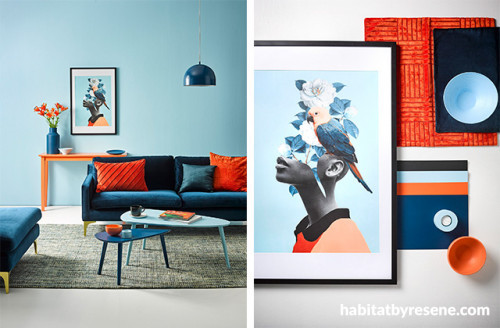 The key to getting a space like this one is to find the right tones that work together, rather than competing with one another, and then mixing in a variety of darker and lighter shades.
The Hugo Sofa from Me and My Trend in Petrol Blue Velvet and the pendant lamp, vase, dish and small retro nesting table in Resene Wishing Well provide high contrast with the Resene Bluetooth walls and Resene Jailbreak console while the small bowl in Resene Japonica brings in a softer orange to balance out the look and play off tones in the artwork. Neutral floors in Resene Alabaster lighten things up and keep the bold tones from becoming overpowering while the Akram Floor Rug from Freedom Furniture adds another layer of visual texture.
If Resene Bluetooth is a little too vibrant for your liking, high-octane orange also looks great with pewter, deep slate or midnight blue – try Resene Artemis with Resene Party Zone, Resene Fast Forward with Resene Jailbreak or Resene Twilight Zone with Resene Daredevil.

Red + Green
Red and green can be a great combo for a whole range of interior styles: modern, retro, mid-century modern, Moroccan and more. But of course, the challenge with pairing red and green together is creating a look that doesn't feel like you're living with year-round Christmas decorations.
First, you need to choose the best green and red shades that go together – try going for one that's vibrant and one that's more subtle. Brighter colours are often best used in accents while primary colours may be kept muter, and reds are usually more suitable as a bolder choice.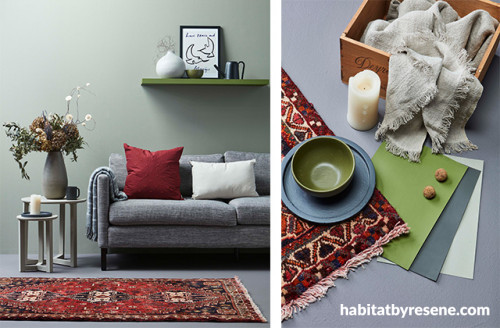 Bold red highlights, like the spicy shades in this rug and velvet accent cushion, are one of the easiest ways to work red successfully into a green room. The cool grey tones of the soft green Resene Peace walls are picked up in the Resene Grey Chateau flooring but it's the floating shelf in Resene Untamed and the touches of Resene Mother Nature and Resene Waiouru throughout the space that really bring the room to life – by picking up the earthier green shades in the rug (try this one to build a similar look) and adding a bit of an autumnal feel.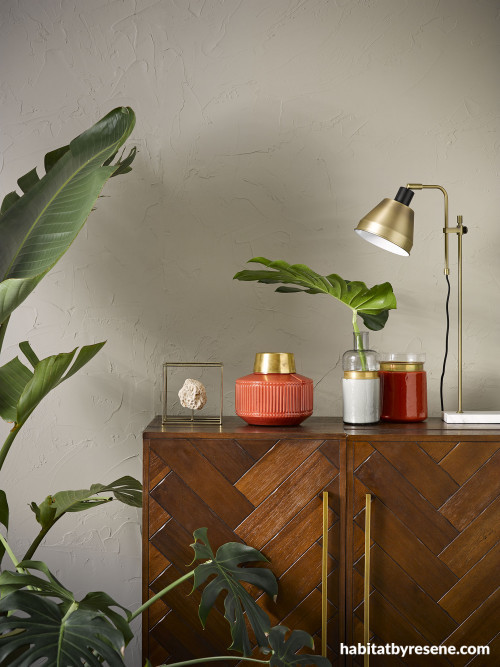 When it comes to really vibrant reds, no green pairs better than that of natural plant life. Stylist Claudia Kozub painted the inside of these glass vases from Freedom Furniture with testpots of Resene Candy Floss and Resene Silver Chalice to make a home for the monstera leaf cutting and complement the larger plants. The textured walls look warm and neutral in Resene Double Ash and play off the golden brass tones of the wooden sideboard (try this one for a similar vibe) and lamp.
For a different look, try a feature wall in Resene Raging Bull, an on-trend terracotta, and add accessories in a leafy green like Resene Waiouru or double down on darks with accents in both Resene Karaka and Resene Courage.

Purple + Yellow
When done well, purple can be a distinguished addition to your palette – it is the colour of royalty, after all. It also might be the most flexible complementary colour combo to run with, as most shades pair well with yellow. However, both colours can be a challenging choice for walls.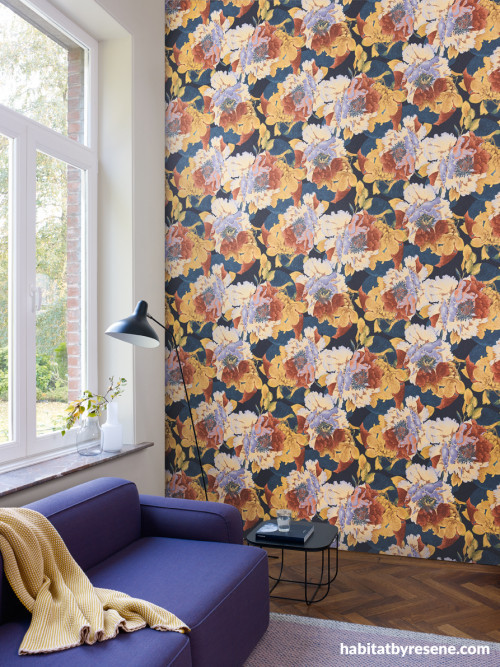 An easy solution can be to keep with warm white walls and try a graphic accent wallpaper on a feature wall with a pattern that incorporates purple and yellow. A fun and floral choice like Resene Wallpaper Collection GLA707 looks stellar with a statement sofa in a simple greyed-purple fabric, a lilac rug and a buttery yellow throw.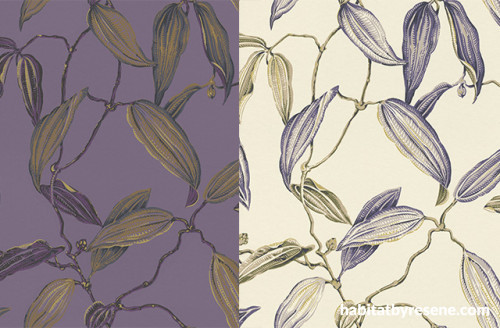 Resene Wallpaper Collection 525755 (left) and 525731 (right) are two variations on the same magnolia design – but both would make the perfect backdrop to a purple and yellow room scheme. Try either of them on an accent or feature wall and go with Resene Elderflower or Resene Quarter Spanish White on the remaining walls and add key pieces of furniture, like a table or bookshelf, painted Resene Moonlight or Resene Yuma for a contemporary traditional look.

If you'd like to keep patterns off the walls, go for a feature wall in deep Resene Purple Rain and pair it with accessories in soft Resene Chorus Line or try a muted duo of Resene Thumbs Up with Resene Sixth Sense.

stylists Vanessa Nouwens, Gem Adams, Claudia Kozub?
images Melanie Jenkins, Wendy Fenwick