►
◄
latest
habitat tv
blog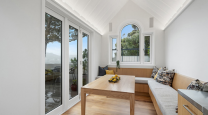 Master Builders' Chief Executive David Kelly shares his tips for building in the challenging climate.

Planning... more
Creature comforts: Animal prints and wild room designs for grown-ups
New Zealanders and Australians love animals. Both countries have some of the highest pet ownership rates in the world and we love spinning yarns about sheep, going cracker over quokkas, ruffling feathers for Bird of the Year and getting hopped up over kangaroos. Resene's range of paint colours and wallpapers can help animal lovers to fill your home with both creatures and comfort.
Animal-inspired interiors shouldn't be restricted to teddy bears in kids' bedrooms. Animal prints and wildlife-inspired designs can fill a room with style and sophistication and unmatched charm.
From bird-brained wallpapers, bull-ish prints to luxe leopards- bring the animal kingdom into the home with these purrfect interior ideas.
Toucan do it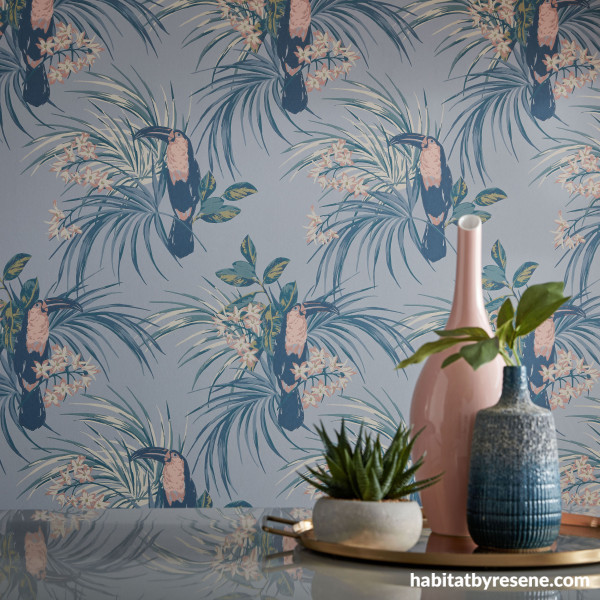 The pale blue toucans in Resene Wallpaper Collection 1907-135-01 will make your room soar to new heights. Pair this fun and stylish design with neutral walls such as green-tinged white Resene Rice Cake, lush houseplants and elevate the look with classic ornaments such as ceramic ginger jars.
Botanical wallpapers are a hot interior trend which brings the outside indoors, infusing our homes with the calming qualities of nature. Combine tropical trees and palm designs with bold birds and cheeky monkeys and you've got a natural habitat for style. The Resene Wallpaper Collection is filled with playful yet sophisticated designs which colour your walls with personality. Many designs such as 'Le Toucan' from Resene Wallpaper Collection 1907-135-01 to 1907-135-06 comes in six different colourways, allowing you to build a colour palette from the pattern or to choose your print to match your existing furniture.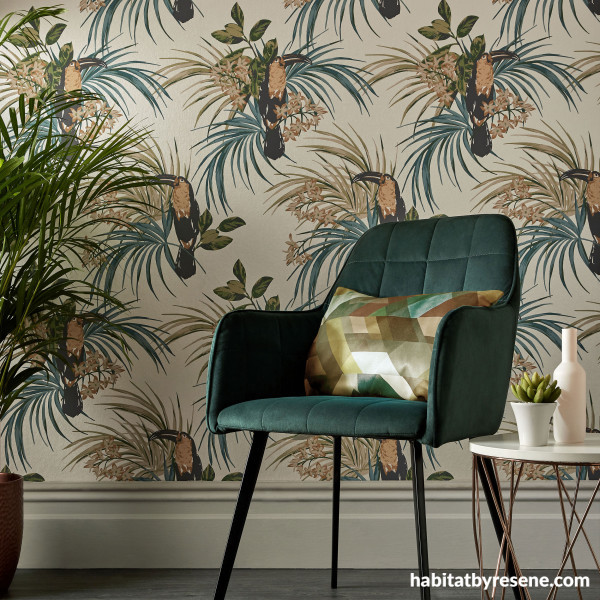 Resene Wallpaper Collection 1907-135-03 is a more muted version of the toucan pattern. Pair it with emerald green furnishings, dark oak sideboards and skirting boards painted in crisp white Resene Alabaster.
Read more: Six wonderful ways with wallpaper.
Read more: Great green ideas to transform your home into an indoor oasis.
Highland fling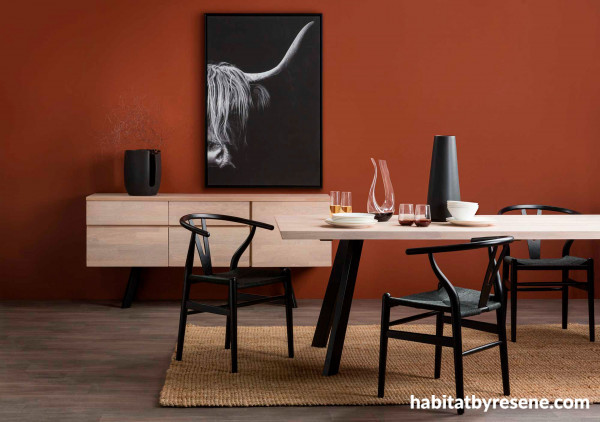 The earthy red brown of Resene Mocha gives warmth to the Scandi style furniture. The walls are paired with a Calais Sideboard, Segment Vase, Cow in the Dark Artwork, Calais Dining Table, Flo Dinner Plates, Flo Entrée Plates, Flo Salad Bowls, Vida Stemless Champagne Glasses, Vida Stemless Wine Glasses and Arielle Wine Decanter, all from Nood.
Use an animal artwork as the starting point for a room's colour palette and theme. This chic dining room has the surprise and delight factor with its clever use of a colour inspired by the print. The Cow in the Dark print from Nood is black and white but links thematically to the Resene Mocha walls, which are the colour of the cattle's thick coat. The elongated horn shape seen in the print is emulated in the wine decanter, black vase and the smooth curves of the replica wishbone dining chairs, all from Nood.
Stag do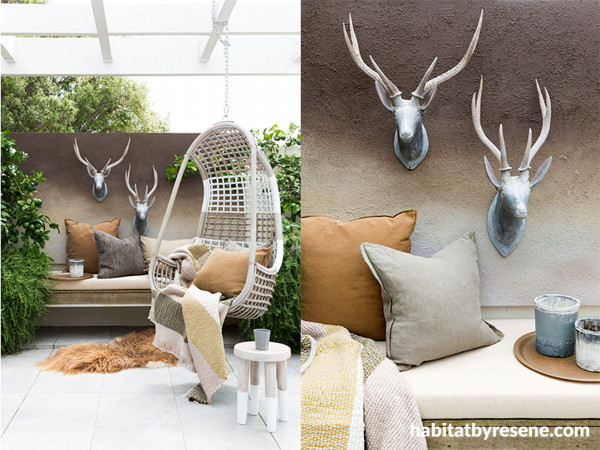 This Resene Resitex and Resene Sandtex textured wall is painted in an ombre effect in Resene Sambuca, Resene Papier Mache and Resene Martini. The hanging egg chair is stained in Resene Woodsman Bleached Riverstone and painted with Resene Alabaster stripes and hangs from the pergola which is painted in Resene Rice Cake. The stool is Resene Whitewash with Resene Alabaster legs. The deer heads are finished in Resene Whitewash.
While animals are a way of bringing wildlife indoors, they can also add character to outdoor spaces. Create a sense of adventure by choosing art pieces and furnishings inspired by grazing animals such as deer, antelopes, giraffes, and zebras - animals that are more at home on mountains, plains and in forests than in your backyard. Add beauty to the beast by pairing animal art with cosy textiles, faux furs and natural furnishings such as cane and rattan. Layer the texture further by using Resene Woodsman wood stains and whitewashes and ombre effect walls in warm browns such as Resene Sambuca, Resene Martini and Resene Papier Mache (for an alternative in the Resene Multi-finish range try Resene Noosa). Resene Resitex and Resene Sandtex are specialist paint finishes which add texture to the walls.
Spot the difference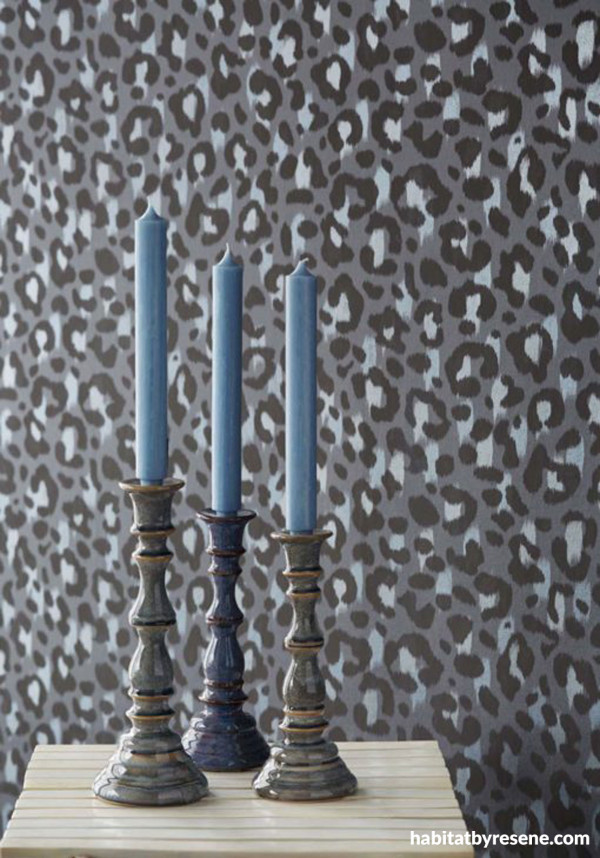 Resene Wallpaper 356181 is a leopard print design with a hint of blue. Pair it with soft blue of Resene Astronaut for an out of this world room.
A leopard can't change its spots, but you can change up a room in less than a day using a feature wallpaper. A feature wall in the bold pattern of Resene Wallpaper Collection 356181 is an easy and quick way to make a style statement. While they may seem brash, think of animal prints as Mother Nature's neutrals. Spots and stripes are designed to camouflage big cats in the wild and they work well when paired with natural materials and earth tones. They can be a neutral backdrop for a gallery wall of artworks. When using a statement animal print wallpaper it's best to use it on only one or two walls to stop the room feeling enclosed.
Get pet-orating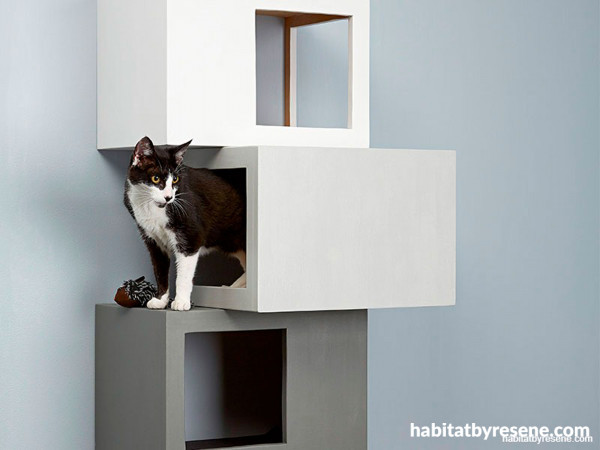 This cat climber is painted in chic shade of Resene Half Gravel, Resene Atmosphere and Resene Black Haze – the purrfect match for black and white cats and will keep your room feline good.
Nearly 60 per cent of New Zealand households own at least one pet. Cats are New Zealand's most popular pet with 45 per cent of homes having at least one feline, while 31 per cent of households own dogs. In Australia, dogs are man and woman's best friend with 40 per cent of homes owning a canine followed by cats who feature in 27 per cent of homes (sources RSPA and NZ Herald). Make your furry friends feel more at home by incorporating them into your home's design. Stop tripping over your pooch's food bowl in your kitchen by transforming the bottom drawer of your kitchen cabinetry into a tuck-away pet food bowl drawer. Cat lovers can make your kitty's climber a design feature by painting it chic shades of Resene Half Gravel, Resene Atmosphere and Resene Black Haze.
DIY cat climber here: Make your cat the perfect climber | Habitat by Resene
DIY pet dish drawer here: DIY pet dish drawer | Habitat by Resene
Top tip: Resene Colorwood and Resene Woodsman wood stains are the perfect match for animal prints. Wood stains let the natural grain of timber shine through and when paired with an animal print the knots and grooves softness and cohesion to an animal theme.
Published: 17 Jun 2021
Do you have a home full of wonderful Resene paint and colour? Send us some snaps by emailing [email protected].
the look
If you're stuck on what
colour to use or need colour
advice, try out the Resene
Ask a Colour Expert service.