►
◄
latest
habitat tv
blog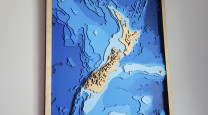 Cushla and Richard's mid-century home beautifully blends traditional and modern
With a seven-year-old boy and six-year-old twins, life for Cushla and Richard Waites is as busy as you'd imagine, but they still took on the task of renovating their Tauranga home. Reminiscent of their days living in London, blue Resene Biscay steals the show in this 1950s brick beauty.
Built in 1959 with a number of updates over the years, this 320m2 red brick home has been a labour of love. When fixing up small areas periodically was no longer cutting it, the family undertook a massive renovation of the kitchen and dining space that also created a room for their son, Jonty, that was all his own.
For the kitchen, Cushla and Richard wanted something simple and white that enhanced the house's beautiful bones. They were quickly drawn to using the same colour as their cabinetry – Arctic White tinted by Resene, and added a splash of colour with Resene Biscay on the two walls opposite the kitchen and dining area. While the owners were already fans of blue, they especially loved this shade for the way it enhances their home's red brick features.
Cushla shares more about the history of their house, what results of the renovation they're most happy with, and tips for achieving the same look.
Can you tell us a bit of background about the house, its style, and how long you've lived there?
The house was built in 1959 with red brick, curved in an art deco sort of style, but the flat roof makes it almost look contemporary today! Since it was built, this huge home has housed six different families that have all raised their children there. Each family has also changed something in the home, from removing wood panelling on the interior to building the first massive deck. We have been in the home for four years and, since then, have renovated a number of rooms, replaced the huge deck, and still have more to go. It's so full of concrete and brick that it's a big task to renovate any area.
How did you decide on the overall look of the interior?
I love the traditional and beautiful design features of the curved walls and curved bricks, but I also love a contemporary look.
What Resene colours have you used in which rooms and what inspired your choices?
I have always loved the colour blue. We lived in London for a number of years, and we had a gorgeous flat that had blue floor-to-ceiling shelves in the kitchen. From then on, I have always had an obsession with the colour blue (and shelves)! When I first viewed this home before we bought it, it had gorgeous dark navy wallpaper in the lounge – which is still there – and as cliché as it sounds, I knew it was meant to be.
For the kitchen, dining area and bathroom, we chose Resene Biscay because it reminded us of our London days and Arctic White tinted by Resene to match our cabinetry. Resene Gondwana is such a warm green, it was perfect for our son Jonty's room.
Our exterior was painted with the expert hands of a company called Cantec in Tauranga with Resene Black White. They did the huge job of scraping the window frames and soffits of decades of old paint and breathed life back into the timbers with their brushstrokes.
What part of the house are you most happy with?
The kitchen and dining area is the cool and contemporary hub of our home, with the warmth of Resene Biscay blue and the oak floors and the fresh Arctic White cabinetry with matching Resene paint made the renovation so worth it for me.
What advice do you have for someone else trying to achieve a similar look?
Go through magazines or look online to get an idea of what you like. Then, when you realise you may not be able to afford the cost of all the things you want, splash out in one area and compromise in another. For example, I really wanted the oak flooring despite the cost, so to do it, we saved money by reducing on other items in the kitchen.
Also, if you have good bones – or in our case, paint, flooring, etc. – then you can change furniture to keep up-to-date without all the hard work of redoing walls and flooring.
What was the biggest decorating challenge for this project?
Wiring the 60-year-old home with no ceiling space and the fibrous plaster walls and ceilings! Luckily, my husband and I run our own electrical business, Red Security & Electrical Ltd., so the work was done by my husband!
Who else helped you with the renovation?
Cantec Services, who did an incredible paint job. Coast Construction NZ was our builder and ripped through the renovation so quickly and professionally. Eastwood Kitchens and Prestige Benchtops, who fitted-out our beautiful kitchen.
Published: 17 Jan 2019
Do you have a home full of wonderful Resene paint and colour? Send us some snaps by emailing [email protected].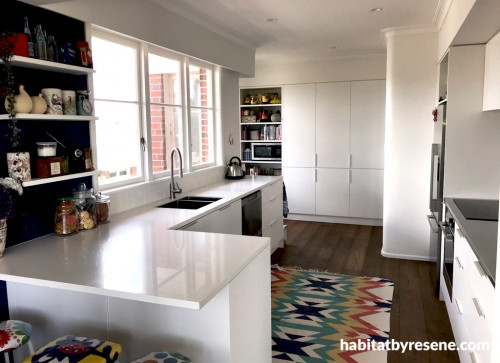 Cushla and Richard's new kitchen looks clean and contemporary with Arctic White joinery, trim, and shelves up against deep navy Resene Biscay.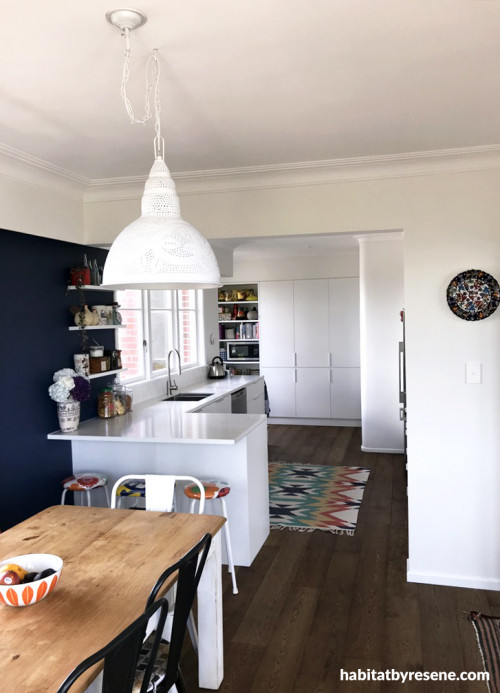 Resene Biscay makes a statement on the left wall in deep contrast to the Arctic White tinted by Resene used throughout the rest of the kitchen and dining area.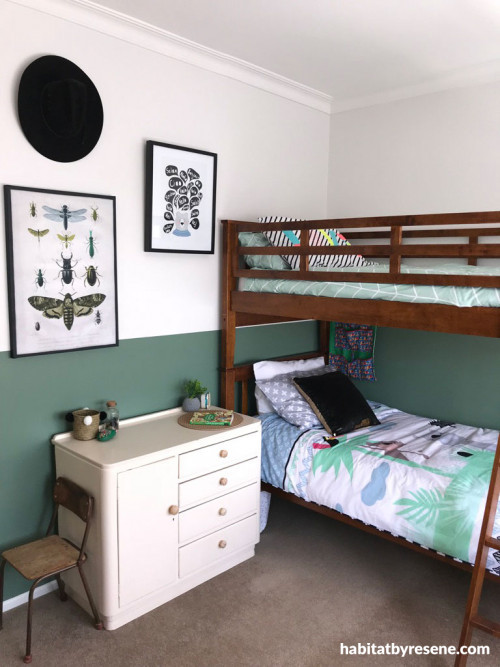 His first space away from his twin sister, Nina, Jonty's room is a relaxed space full of afternoon sunlight. The walls have been painted with Resene Gondwana on the bottom and neutral Resene Black White on top.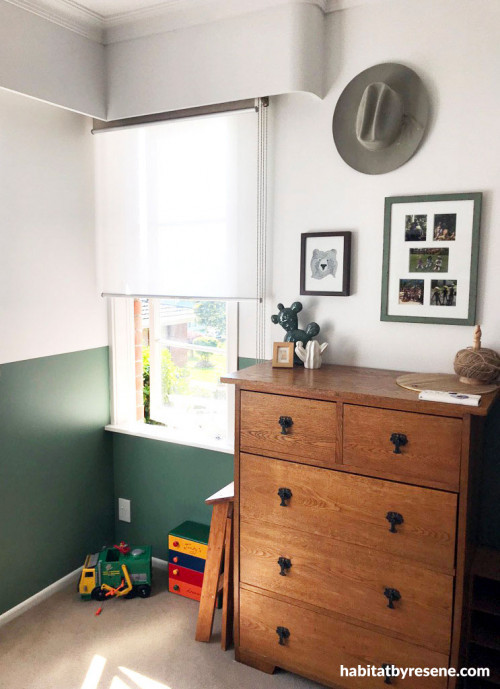 The warm tones of Jonty's dresser pop against the Resene Gondwana lower walls. The top part of his room has been painted Resene Black White.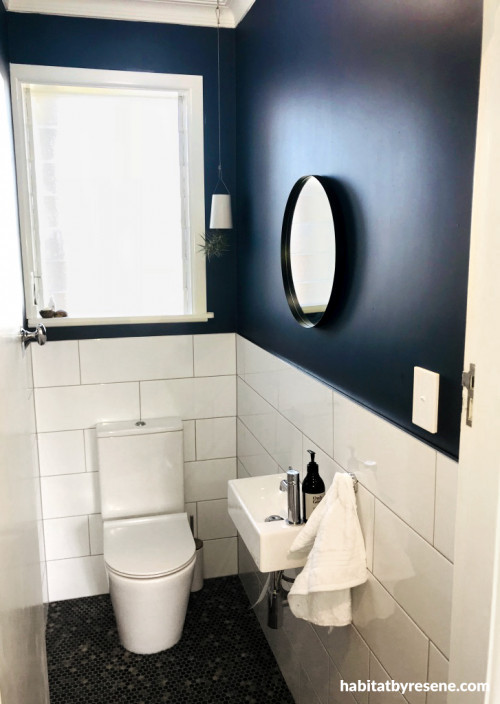 For the small adjacent bathroom, the Waites went for a modern traditional look with a playful mix of tiles, Resene Biscay on the walls and Resene paint in Arctic White for the trim.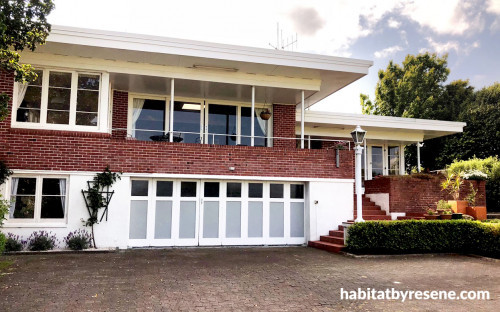 The exterior of the Waites' home in Tauranga, which was built in 1959, painted in Resene Black White.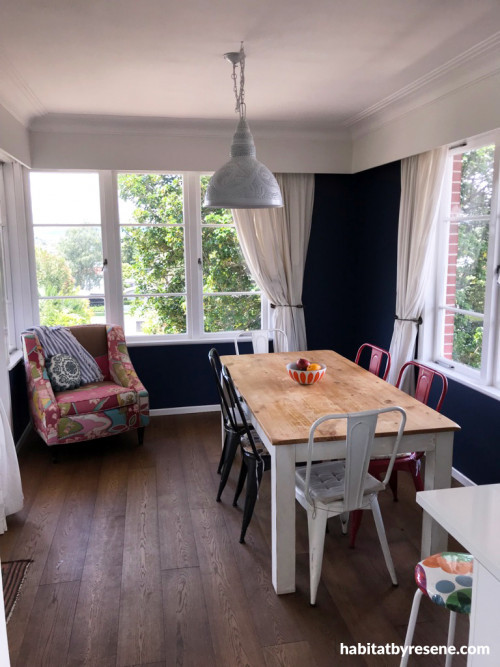 The furnishings in Cushla and Richard's dining room bring in a casual vibe that balances out the formality of the crisply contrasting Resene Biscay and Arctic White trim.
The fabric of the window seat tucked in beside the kitchen pantry, echoes the Resene Biscay in the dining area. The cabinetry, walls, and trim are in Arctic White.








the look
If you're stuck on what
colour to use or need colour
advice, try out the Resene
Ask a Colour Expert service.