►
◄
latest
habitat tv
blog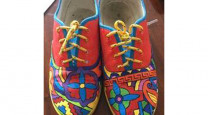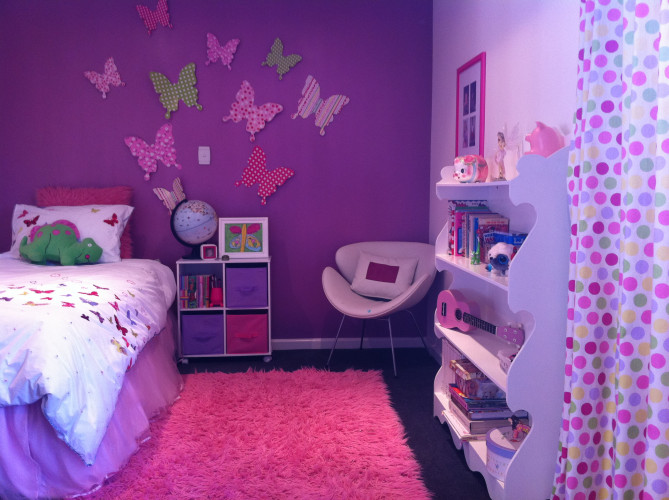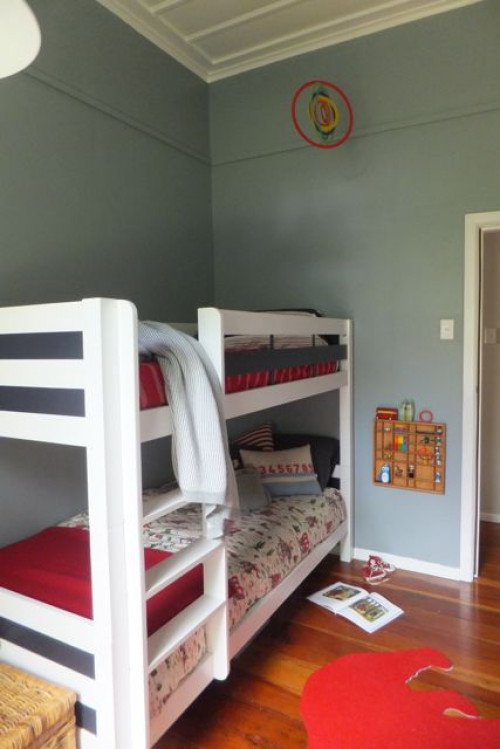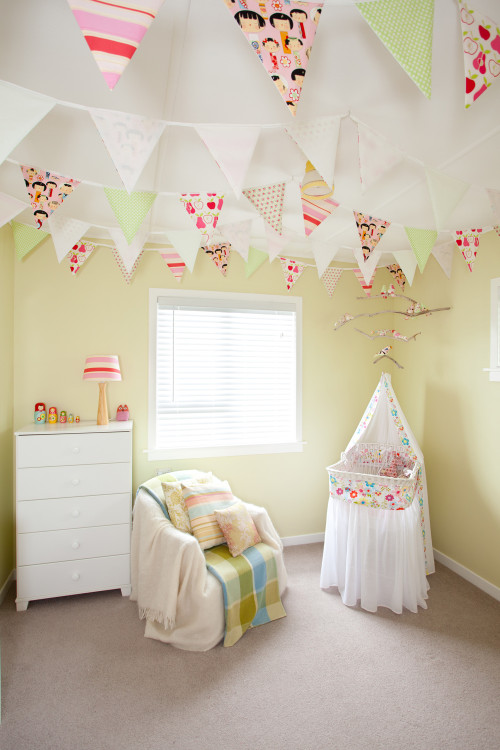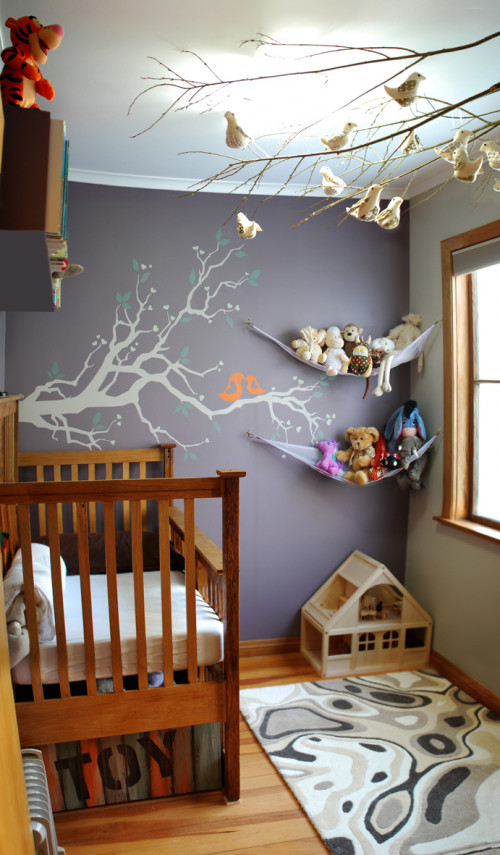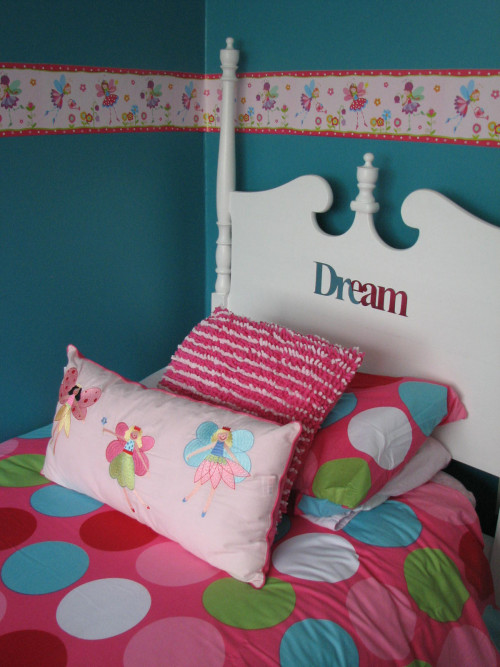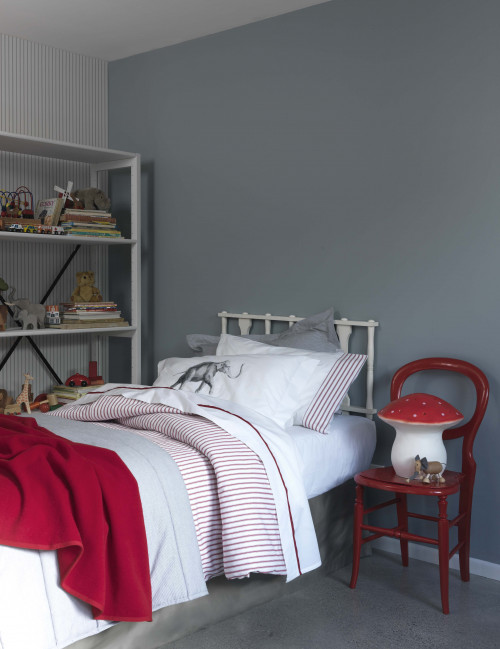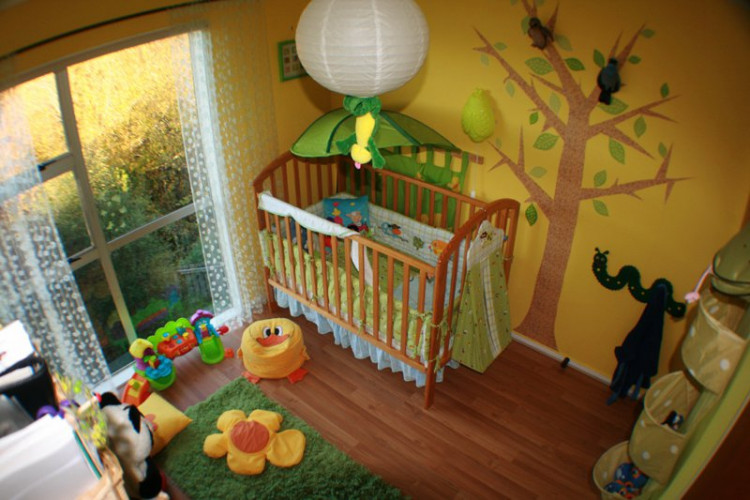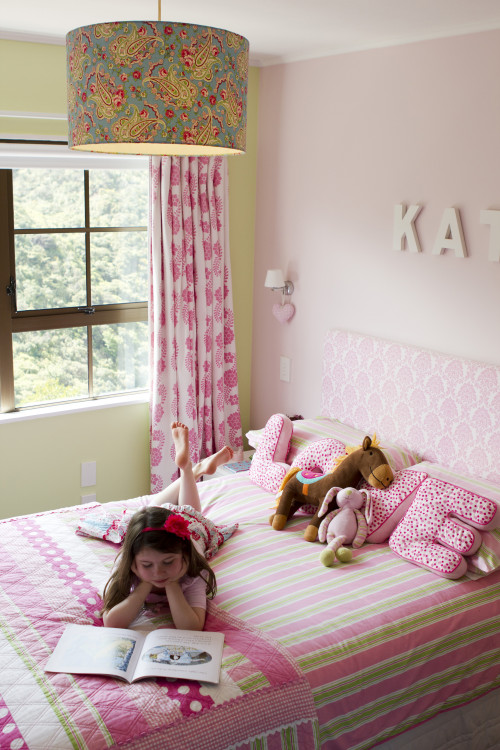 Cutesy or classic – schemes for kids
24 Apr 2013
Do you have a home full of wonderful Resene paint and colour? Send us some snaps by emailing [email protected].
Once upon a time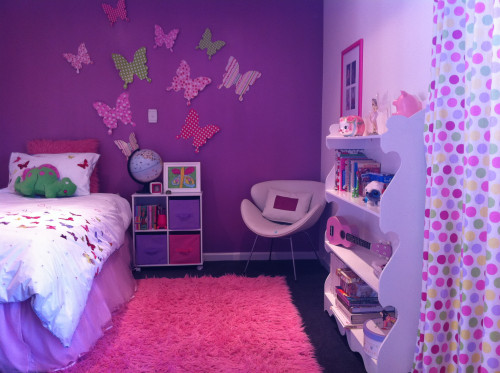 Once upon a time, little girls were indulged with pastel pink fairy or princess rooms. Little boys had blue rooms dressed up with maritime, car or cowboy paraphernalia.
Now few of us have unlimited budgets to splash out on traditional themes that may not last past the next birthday. If we're doing the theme thing, we want it to have a longer life span. Often, we're finding that Resene paint colour is the way to have a bit of fun and add personality and serves as a great backdrop to more thematic but easily changed items like bed-linen, lamp shades, rugs or accessories. This purple bedroom is used by six-year-old Georgette who was fairly adamant that she wanted the fabulous Resene Sugar N Spice, a metallic paint from the Resene KidzColour range. Her dad used a spray gun and a four-step process, involving an undercoat of of Resene Strikemaster, followed by two spray coats of Resene Sugar N Spice and then a final coat of Resene Multishield+ to seal out sticky little finger marks. The other walls are Resene Quarter Spanish White.
We can be playful without having to be childish. The days of using pastels and safe neutrals are gone. Bolder, more stimulating colours are in.
Current colour schemes:
· Fresh and crisp with a lot of aquas and pinks against a white background.
· Violet and lilac being used as a more ageless alternative to pink
· Nautical themes of blue and red remain popular for boys but the blues are mid-toned and muddier.
· Silver, grey and yellow look very cool and techno.
· Black, red and white using Resene Blackboard Paint for a fun feature
· White painted or white-washed furniture
· Clean greens with pale timber furniture, a la the eco look
· Retro schemes of teal, red and tangerine
Romantic themes for still popular for girls with colours such as pink, light blue, lemon and pastels being used in floral patterns, dreamy blossom prints, birds and butterflies.
Colours that symbolise sustainability and nature are becoming more common with lime greens, off-whites and taupes balanced by reclaimed wood, ply and natural finishes.
The vintage trend is big in kids bedrooms – overblown and pretty florals and fabrics, whimsical bed-linen in colours of old rose and faded blue. Strong retro looks for boys include a good selection of cowboy and transport prints in chocolate, yellow and orange. Then there's the whole techno, text talk theme for teens.
Rather than adhering to themes and buying everything at once, people are taking their time. We're discovering gorgeous hand-made toys, exquisite locally made furniture and affordable accessories. It's about adding and layering, mixing and matching to create eclectic looks that are much more interesting than off-the-shelf themes.
Top tip
When choosing colour, buy your bed-linen first. It's a lot easier to find a paint colour to match as there are endless choices in the Resene range. Have fun pulling it together, playing with ideas by creating a storyboard with swatches of fabric and matching it with Resene testpots. Choose three colours - a main colour, and two accents.
Accessorise with…
· String buntings (ready-made or home-made) and flags across the bed, a wardrobe or window.
· Rugs in the same colour palette as your linen but with a different pattern to add interest and warmth in winter.
· As your child grows, ring the changes with fun cushions that tone in with paint colours.
· Add colour accents – maybe to match a feature wall - by painting and updating an old wooden lamp base. Add a drum lampshade in the same fabric as the bedlinen.
· Paint wooden letters that spell your child's name in accent colours using Resene testpots.
Control the clutter
Buy a range of timber or rattan cubes for storage and paint individual pieces in alternating colours. They don't take a lot of floor space and they're handy for stashing toys or clothes. Include both open and closed storage options.
Pinboards keep the bedroom tidy and provide a handy place for school notices, party invitations, cards and photos.
pictures
Photograph complements of Your Home & Garden Resene Colour Home Awards
Blue creates a vintage feel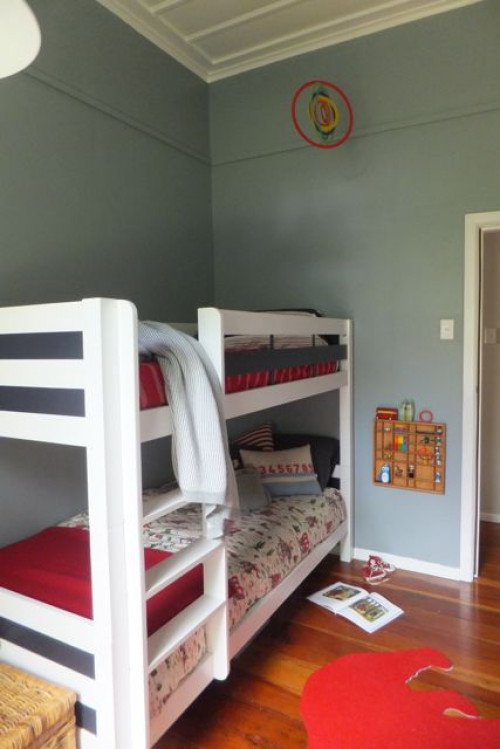 Ollie Higgins' room isn't massive, so his parents wanted a colour which was light enough to keep it feeling spacious. Resene Clouded Blue from the Karen Walker range was chosen and also complements the vintage red trolley and red fire engines, and the tones in the Cath Kidston cowboys and indians duvet. His mum also cut out felt letters and framed the words from Ollie's favourite book The Gruffalo.
pictures
Complements of Your Home & Garden Resene Colour Home Awards
Flagging a new arrival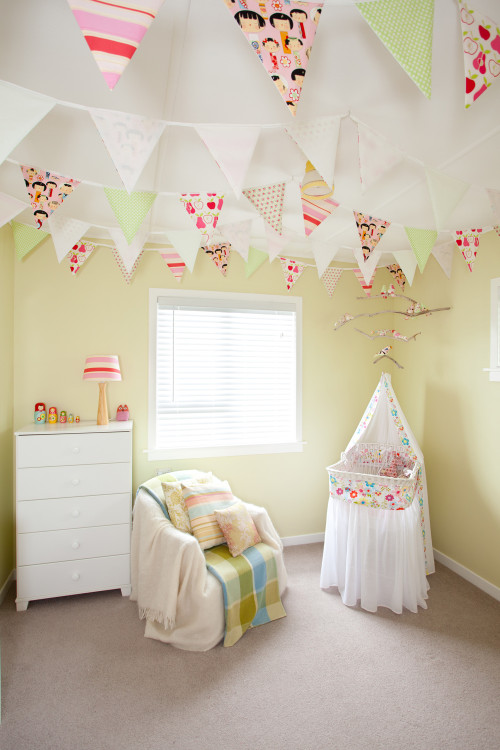 A touch of whimsy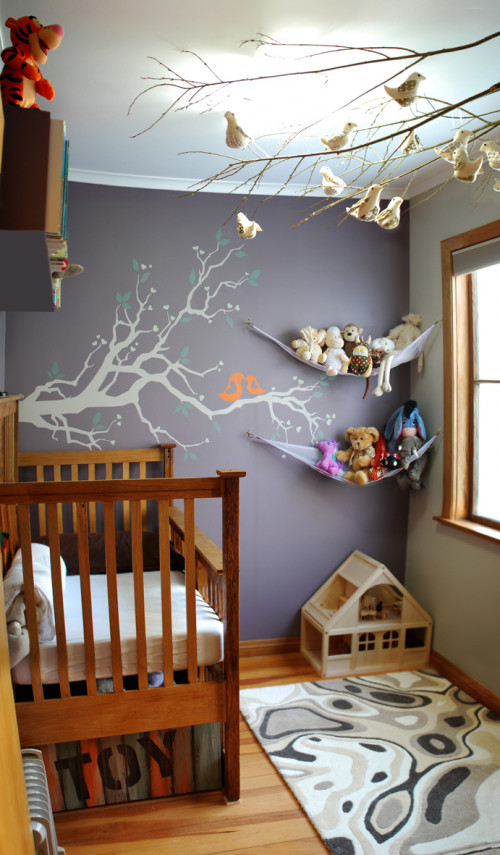 This moody yet whimsical room is a creative endeavour by mum Sacha Lees. The back wall is painted in Resene Innuendo and the side wall in Resene Quarter Napa. The gorgeous tree art is painted using Resene Quarter Napa, Resene Smoky Green, Resene Beryl Green and Resene Clementine Orange. The toy box under the cot was made from plywood then base-coated in Resene Bokara Grey and dry brushed with a selection of colours from the Resene Karen Walker collection for an aged timber look. Sacha added copper nails and stencilling then protected the finish with Resene Aquaclear varnish.
pictures
Complements of Your Home & Garden Resene Colour Home Awards
Totally on trend - choose turquoise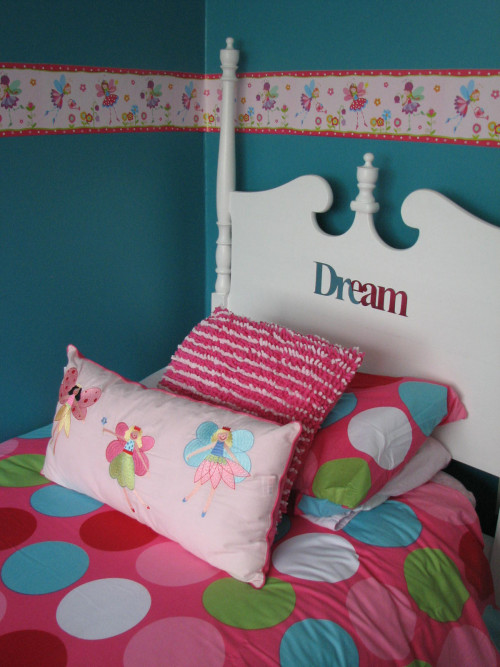 The rich turquoise of Resene Yabbadabbadoo is a bold backdrop for a white headboard in this girl's bedroom.
pictures
Thanks to Rachel and Steve Carran, and Your Home & Garden Resene Colour Home Awards
Red and smoky grey - a great combo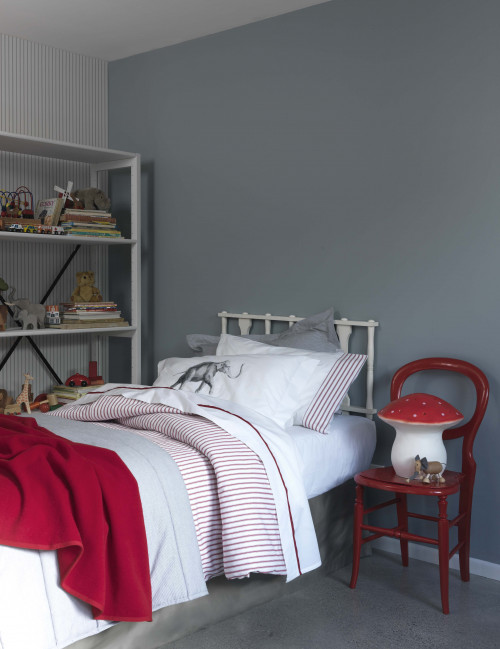 A feature wall in Resene Clouded Blue from the Karen Walker range is the perfect backdrop for Gorgi's Madder Red collection of bed-linen. The skirting board and shelving unit is finished in Resene Wan White and the chair in Resene Red Berry. The wallpaper behind the shelves is from the Norwall Black and White Range (TS28169) by Vision Wallcoverings, available through Resene.
For a little monkey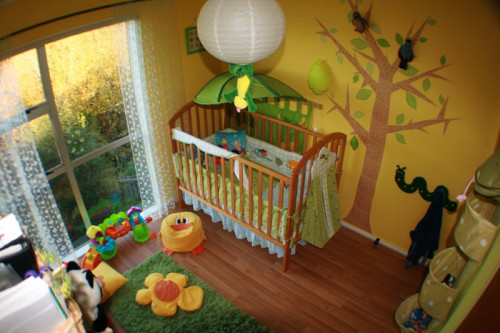 Ales and Zuz Vanek wanted to greet their new son with a fantasy bedroom based on an animal and jungle theme. Choosing a background wall colour of Resene Witch Haze, they painted the tree mural on top and accessorised the room in green.
pictures
Complements of Your Home & Garden Resene Colour Home Awards
Sweet but not sickly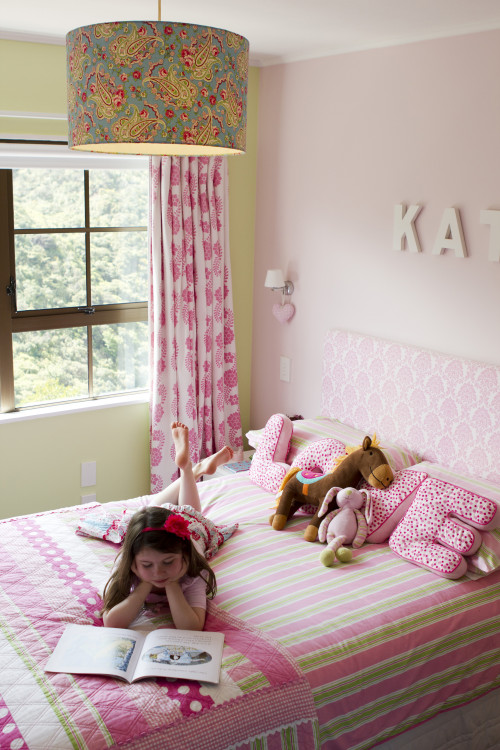 the look
If you're stuck on what
colour to use or need colour
advice, try out the Resene
Ask a Colour Expert service.
the look
If you're stuck on what
colour to use or need colour
advice, try out the Resene
Ask a Colour Expert service.