►
◄
latest
habitat tv
blog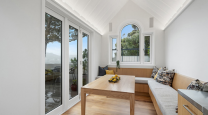 Master Builders' Chief Executive David Kelly shares his tips for building in the challenging climate.

Planning... more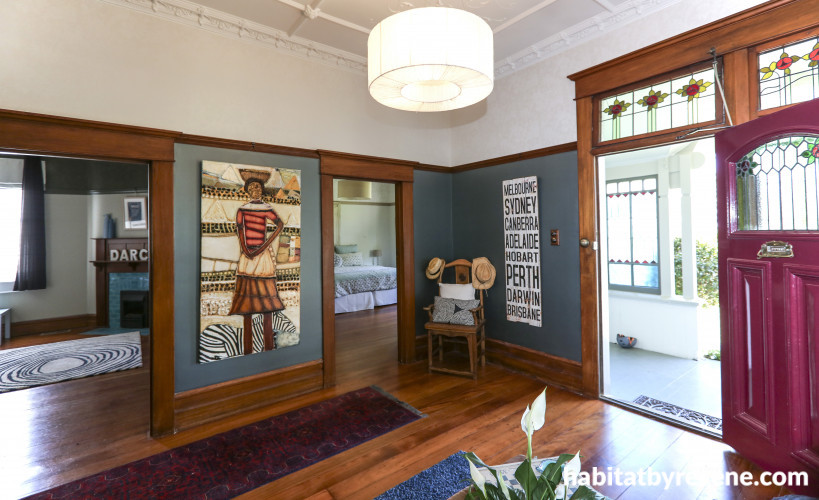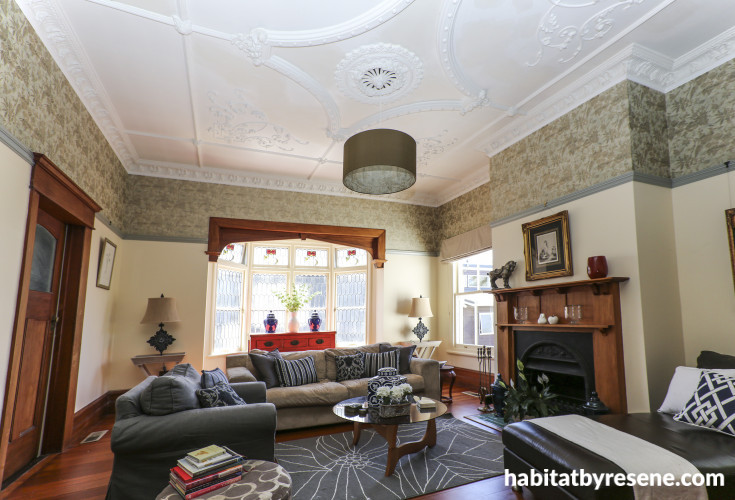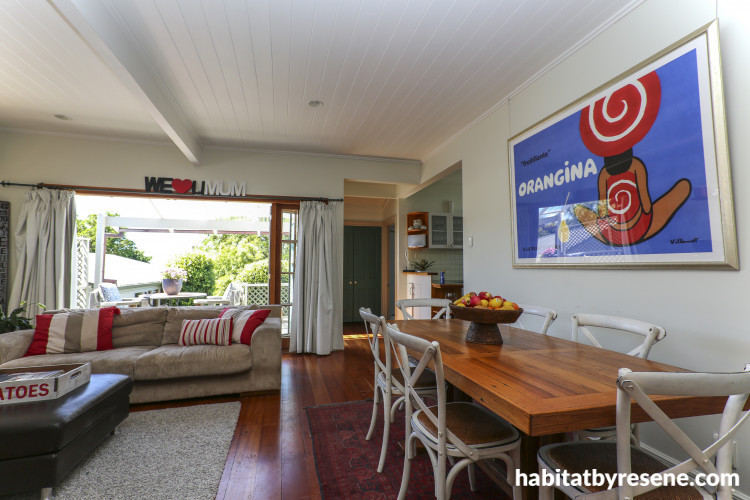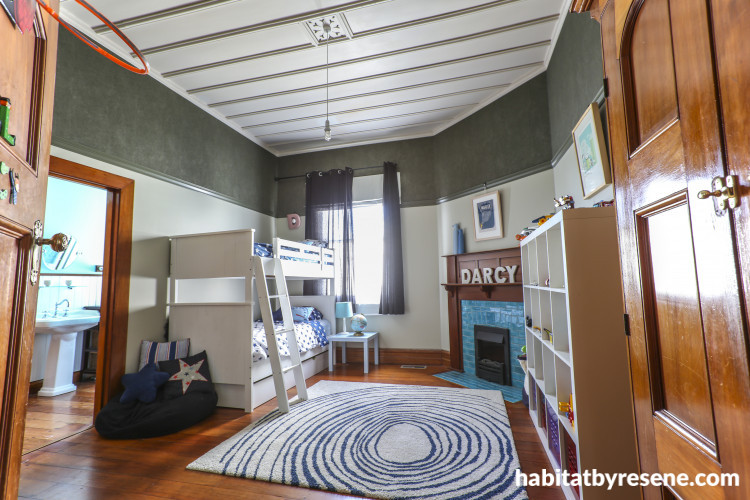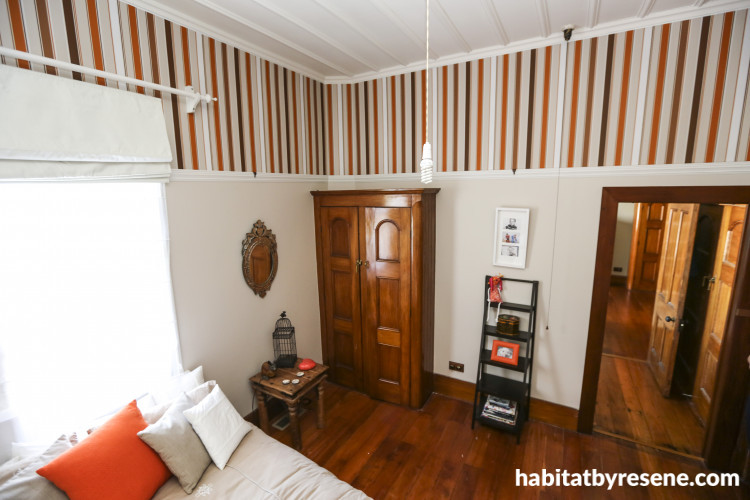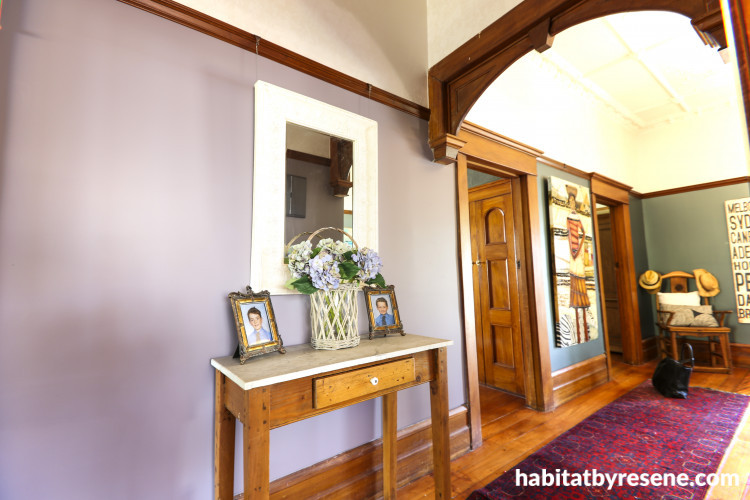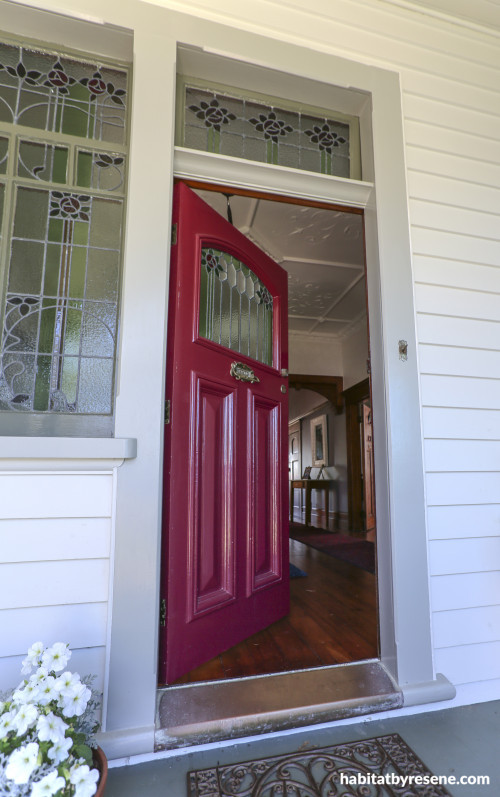 Danny and Lisa's age-appropriate reno
Making sure a gorgeous Edwardian villa was given age-appropriate interior colours without ending up looking like a museum was a challenge taken on by homeowners Lisa and Danny… with some help from Resene colour consultant Nikki Morris.
The Auckland couple wanted to walk the line between traditional and modern, and with a palette of adventurous yet soothing Resene colour, that's exactly what they have done. As Lisa explains, Edwardian villas have a simpler, more pared-back style than Victorian villas. She worked closely with architect Peter Reed on the restoration.
What Resene colours and products have you used, in which rooms, and what inspired those choices?
For the exterior colour scheme, I spent a month riding around the neighbourhood on my bicycle finding and photographing colour schemes and homes I liked, collating them all and analysing them.
For the interior, lots of my inspiration came from interior designer Laura Ashley for her use of tonal colour and texture for a country look, and Tricia Guild for her adventurous use of colour. I also looked through decor magazines to define what styles appealed to me. I like the way you can layer tonal colours and texture to create an elegant, feminine style.
How did you decide on the overall look of the interiors?
I wanted to create a home that is a haven, but also a home that has character, colour and personality in each room. I didn't want to pretend the house was something it's not and turn it into something soulless or modern. It was important to embrace the age of the home and style it with this in mind but not recreate a museum. Traditionally these homes are quite dark, so we played on traditional ideas but in a contemporary way, flipping the wallpaper to above the picture rail and paint below. With such high walls, I could play with patterns and bolder colours. It was great being able to meet with Nikki at Resene and have her help pull all our ideas together.
What part of the house are you most happy with?
Noah's room is my favourite - It started out with a bold orange and green bed that had a tent inspired canopy and also the reference to scouts for the future occupant so inspiration and grew from there. I love how it has this punchy fresh modern feel to it. It's also quite bold! I also think the orange wallpaper (Flex flash Funky from Resene ColorShops) works really well with the Rimu flooring and woodwork which is dominant in our home.

What is your advice for someone trying to achieve a similar look?
Stay away from the neutrals, bold or primary colours and look at softer or tonal colours that have some personality to them. Paint lots of samples and take the time viewing them together in the room. The other colours, e.g. floor, ceiling, and even the light in the room have a huge impact on how the colour you have chosen looks in the setting. Play with texture and don't be afraid to try something different or use colour.
What was the biggest decorating, renovating or building challenge for this project?
Living in the garage for three months! That was not as fun as I thought it would be (I had limited wardrobe options which is not a good look!). Thankfully it was summer. I took on the role of project managing the job and co-coordinating everyone was not the easiest! Next time I would invest in a project manager!
Do you have a favourite colour, and if so why is it your favourite?
I love the sexiness of Resene Rendezvous on the front door! And I also love the Resene Innuendo in the hallway. The hallway is really dark, and when I tried a white in there it didn't lighten the area and looked awful! Nikki helped steer me to something with more depth that helped connect all the rooms together without them being the same.
Published: 20 May 2014
Do you have a home full of wonderful Resene paint and colour? Send us some snaps by emailing [email protected].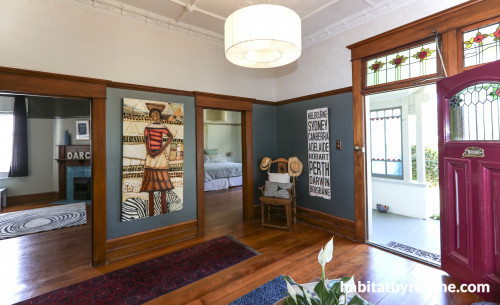 The soothing shade of this Resene Traccia makes a peaceful haven of the vestibule. The wallpaper above is discontinued but try Tendresse wallpaper from Resene for a similar look.
pictures
Thanks to Ben Hoskin Painters & Decorators and Ben Sampson Plastering.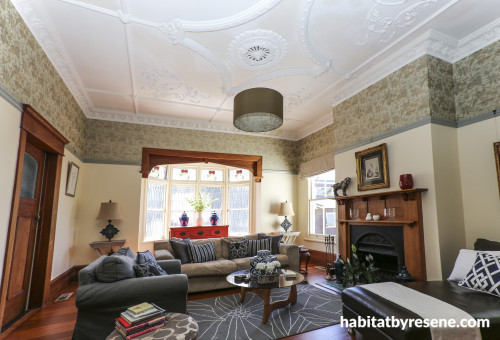 The colour scheme allowed for a dash of contemporary modern that didn't battle with the more classic elements. Textured wallpaper updates the upper part of the living room walls – this is a discontinued wallpaper but Tendresse, available from Resene, will give a similar look. The picture rail is painted in Resene Half Washed Green and a specially mixed colour now called Resene Lisa's Special Mix is on the lower part of the walls.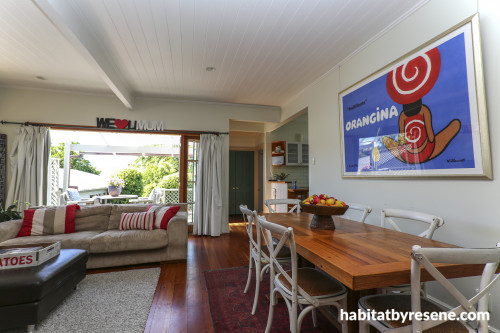 Lisa and Danny's sun-drenched Edwardian Villa was built in the 1900s and boasts a fabulous layout and flow. The walls in this open-plan living, dining and kitchen area are a custom-made Resene Lisa's Special Mix with Resene Daydream used in the kitchen to the right, along with Resene Sherwood Green trims.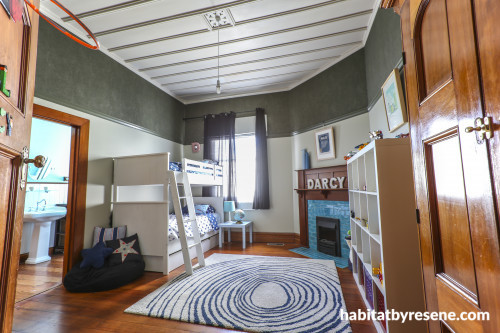 The couple broke tradition by using wallpaper above the picture rail and softer colours in the larger wall space below. Connor's room uses Chacran 46015 wallpaper (from Resene), with Resene Raptor on the picture rail and Resene Linen on the lower part of the wall.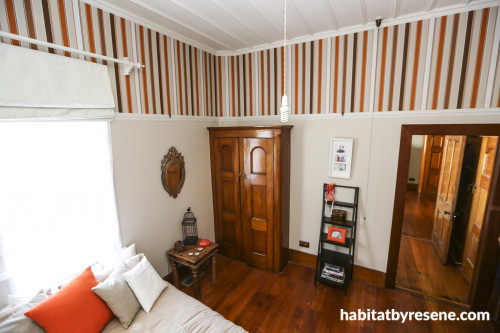 Noah's bedroom is Lisa's favourite because of its punchy modern feel. The bold orange striped wallpaper from The Flex Flash Funky range from Resene complements the tones of the rimu flooring. The lower walls are in Resene Half Sandspit Brown.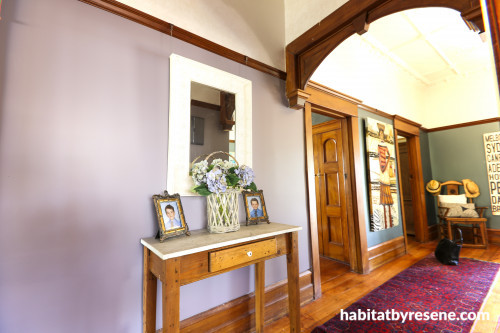 Resene Innuendo in the hallway provides moody warmth as you are led to the sunnier side of the home.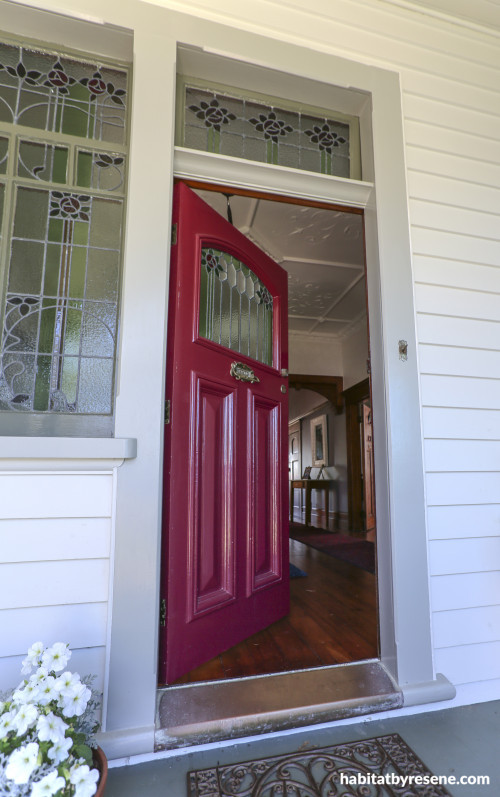 Lisa loves the 'sexiness' of Resene Rendezvous on the front door. It's one of her favourite colours in the house.
Resene Half Sandspit Brown
the look
If you're stuck on what
colour to use or need colour
advice, try out the Resene
Ask a Colour Expert service.