►
◄
latest
habitat tv
blog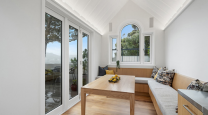 Master Builders' Chief Executive David Kelly shares his tips for building in the challenging climate.

Planning... more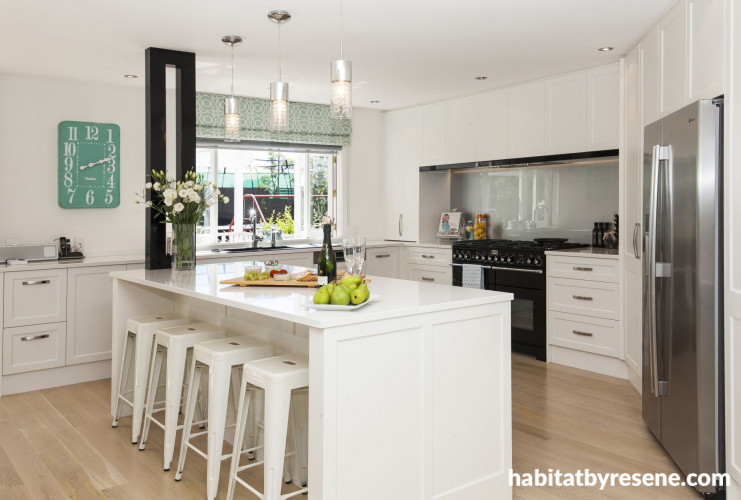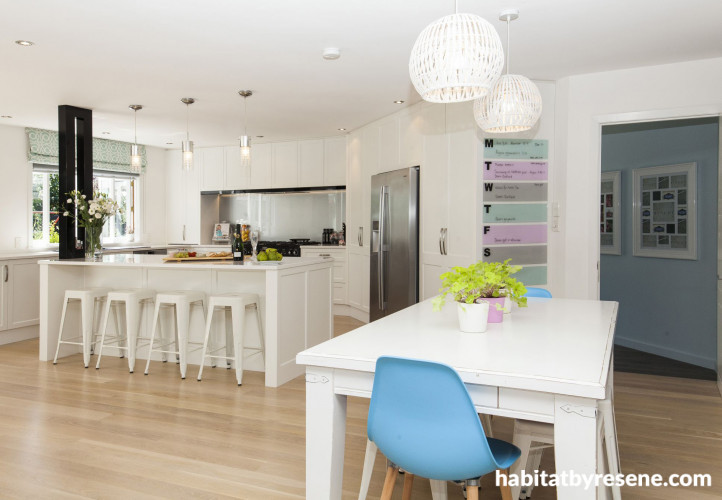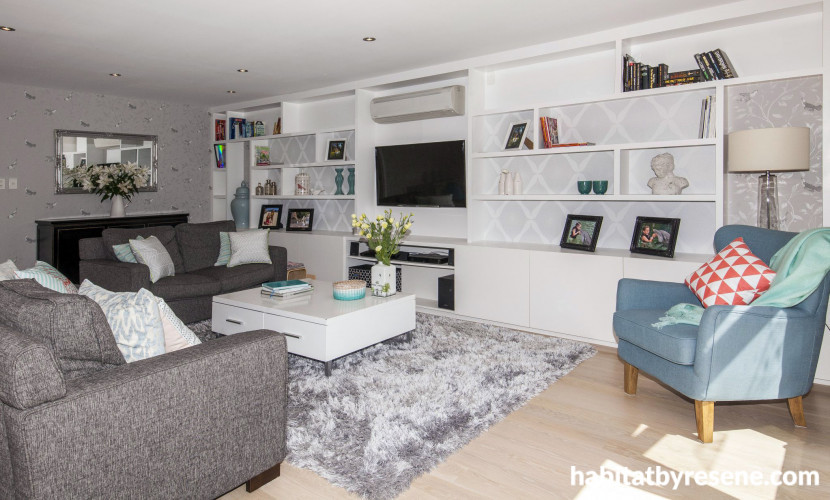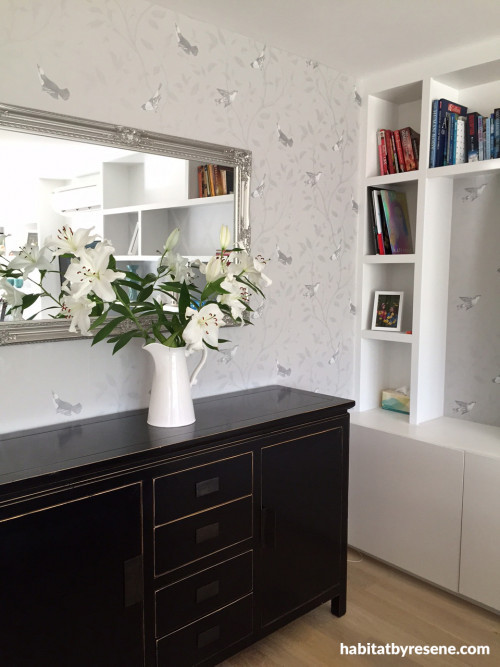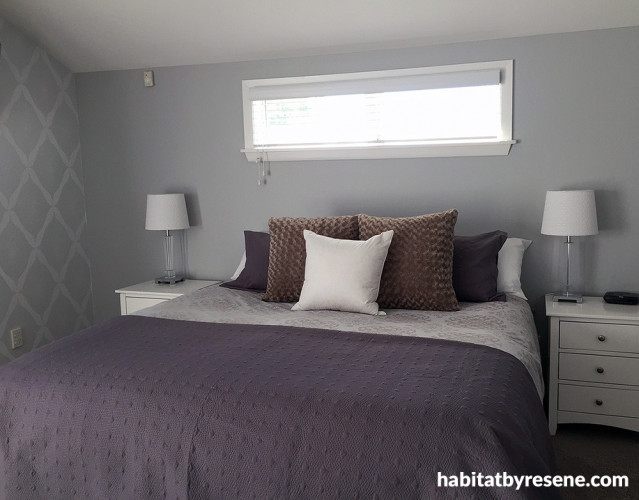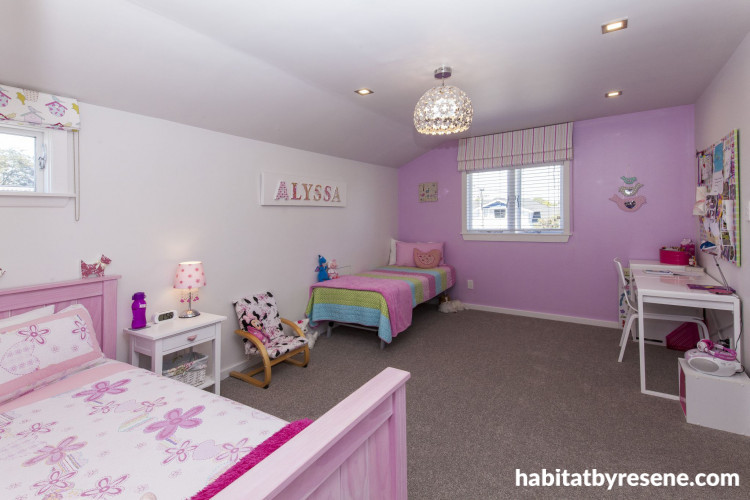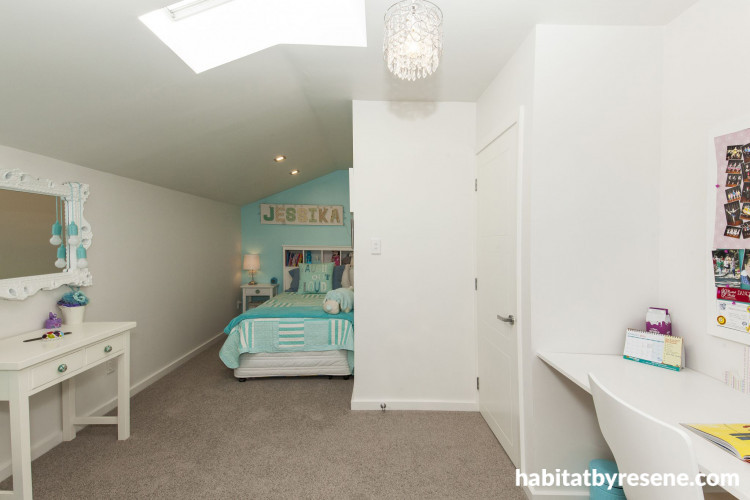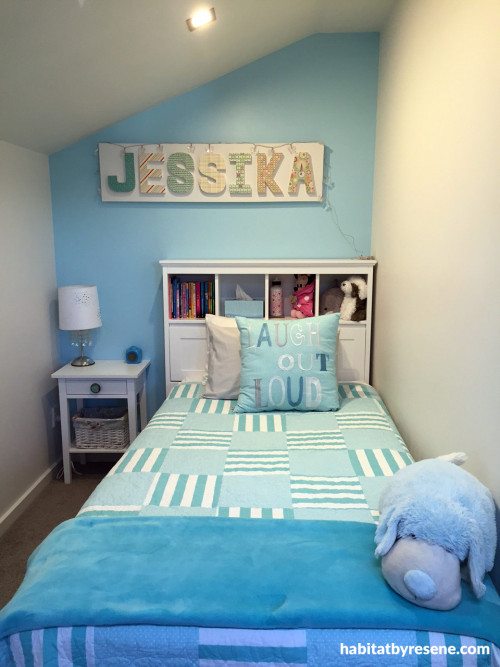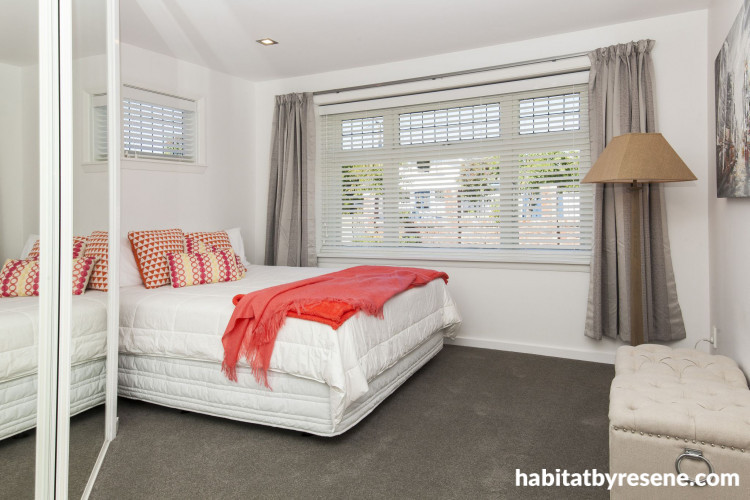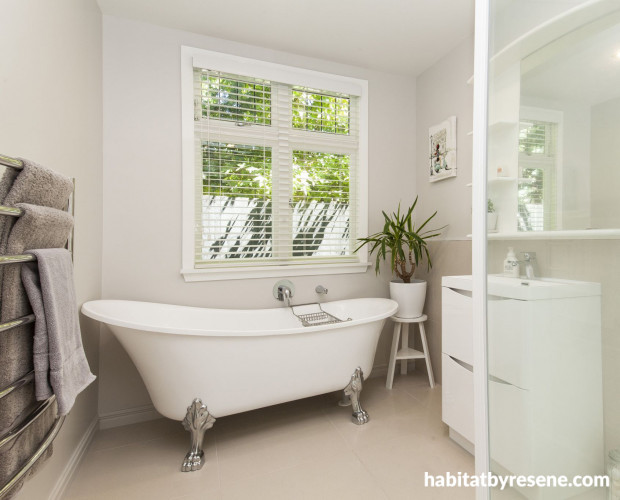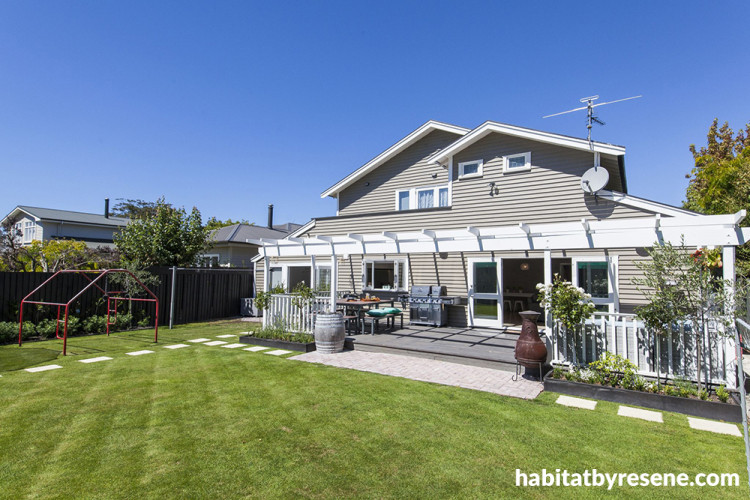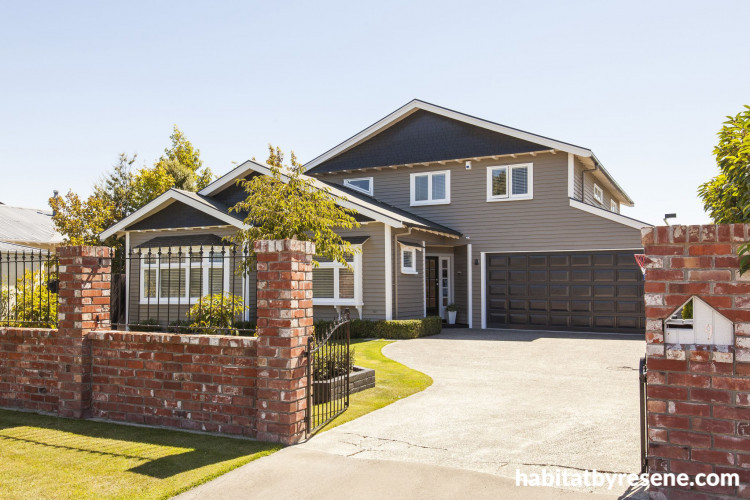 Dennis and Mel's leafy suburban project
When the structure of a home is near perfect when you buy it, there comes a little more freedom (read time and money) to sprucing up the paint work with a fresh palette of Resene colour.
Mel and Dennis live in the leafy Christchurch suburb of Strowan with their two daughters, in an double storey home which was significantly enlarged and altered by previous owners. The couple bought the property in late 2013, and were immediately able to start decorating. Every room was given a fresh lick of Resene paint and each bedroom has its own colour scheme, from the beachy blue Resene Charlotte in nine-year-old Jessika's room to moody grey Resene Silver Chalice in Dennis and Mel's room. The shared living areas, such as bathroom, kitchen and lounge, are brightened up with Resene neutrals. "To me, 'homely' means bright, light and spacious," says Mel.
She talks to us about what inspired the home's overall look.
What are some of the Resene colours and products you've used?
I decided to use more than one neutral throughout the house, including Resene Alabaster, Resene Double Alabaster and Resene Sea Fog. And I wanted to paint out the rimu trims to lighten and brighten the whole scheme.
The kid's bedroom are probably the most colourful in terms of paint. Alyssa has mauve Resene Flower Power as a feature wall, while we painted Jessika's with aqua Resene Charlotte.
Outside, the red-brick pathway needed 'toning down' in order to fit with the house, which we'd painted in grey Resene Triple Napa. We turned to Resene Concrete Stain to transform the path colour to a bleached grey – a far better marriage of the two. We finished with Resene Non-Skid Deck and Path at the front entranceway, for safety.
What was the biggest renovating challenge for this project?
The sheer size of the house proved to be the biggest challenge. Also, the flooring arrived imperfect. There was so much flooring which had to be resurfaced, and it delayed our family's move in date. Although we started redecorating after we took possession in October 2013, we were only able to properly move in five months later.
Top tip: The front door needed stripping before repainting so Mel set Dennis to work, using four litres of Resene Timber Surface Prep, to get a good even surface.
Do you have a favourite colour?
Baby pink has always been my favourite, along with duck egg blue. I've also experimented with feature walls and inserts of Rasch wallpaper, sourced from our local Resene ColorShop.
What is your advice for someone trying to achieve a similar look?
Know what you like, and don't be afraid to ask advice of your Resene ColorShop staff. Carry your Resene Card with you so that you will always have a record of what you have bought. And be patient. Do every job thoroughly without cutting corners. Perfect results are well worth full effort.
Published: 23 Jul 2015
Do you have a home full of wonderful Resene paint and colour? Send us some snaps by emailing [email protected].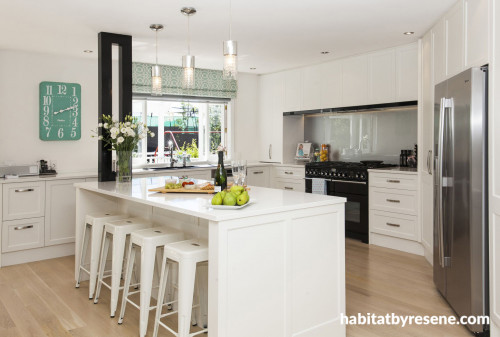 The kitchen is Mel's happy place. A bright, large room perfect for entertaining, made even more so with walls painted in Resene Alabaster.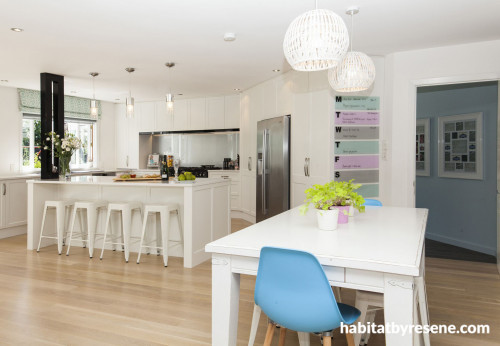 Using near white Resene Alabaster on the kitchen and living room walls allowed Mel to inject punchier colours at her choosing. She made the noticeboard herself with paint by Resene.
You can buy noticeboards of the same look at Chart Noticeboards Ltd, who also make the charts using Resene paint.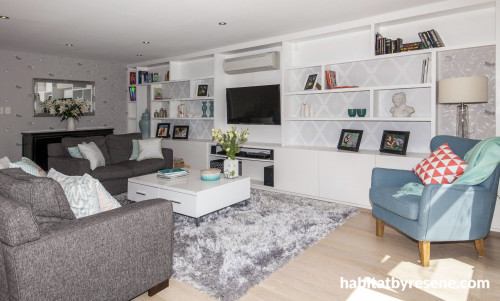 Mel experimented with Rasch wallpaper from Resene to create the mood in the living room, creating inserts for the shelving and feature walls for the rest. The wallpaper is from the Resene Wall Trends III collection, number 268651.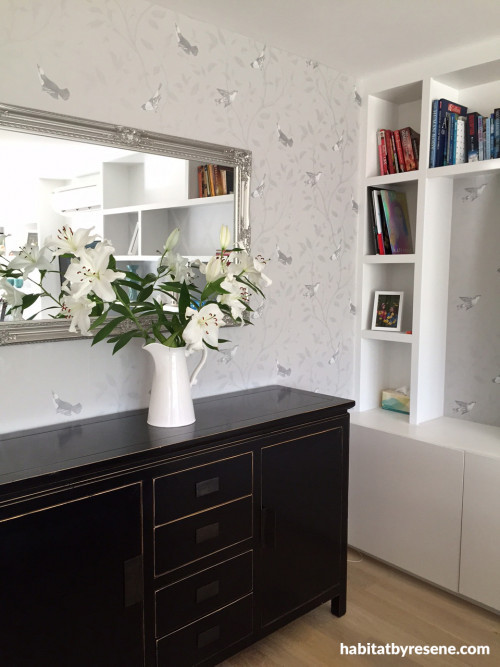 Like the kitchen, a neutral palette was used on the walls and ceiling (painted in Resene Alabaster) to seamlessy allow for stronger colours in the furnishings. The wallpaper is also from the Resene Wall Trends III range, number 798975.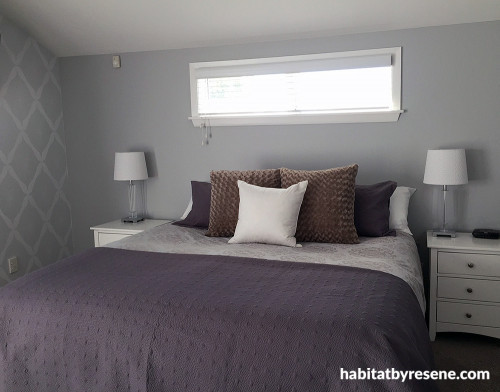 For the main bedroom, Mel and Dennis picked Resene Silver Chalice, a pewter grey.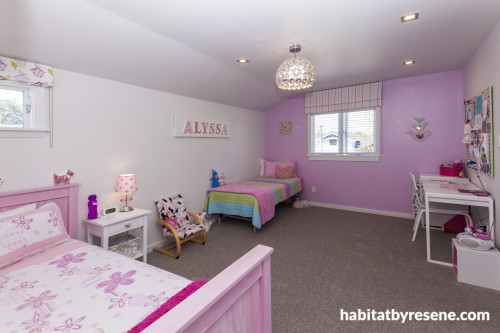 Six-year-old Alyssa's bedroom boasts a feature wall in Resene Flower Power, a joyous fizz of pinked purple – easy to see what her favourite colours are. The rest of the walls are in Resene Sea Fog.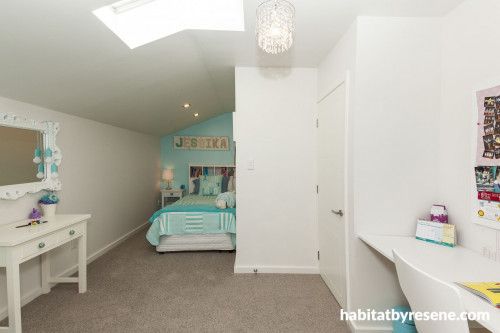 Jessika's room is also painted in Resene Sea Fog, a versatile white with a hint of grey, and a feature wall in Resene Charlotte. Mel has cleverly used an otherwise awkwardly shaped corner to create a nook for Jessika to house her sleeping area.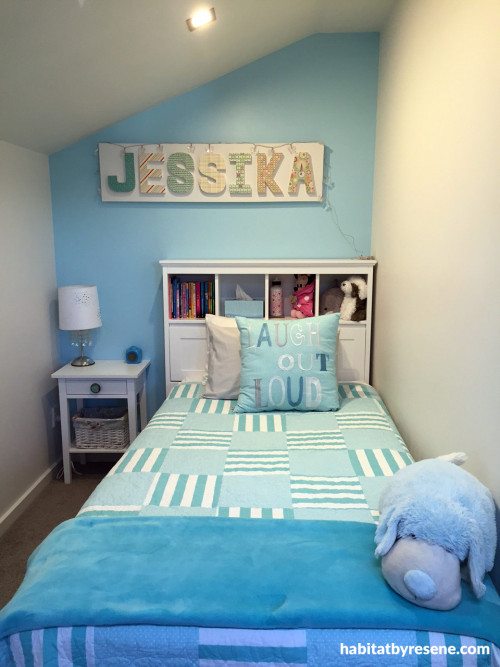 A closer look at nine-year-old Jessika's little nook with a feature wall in Resene Charlotte, a soft sea blue.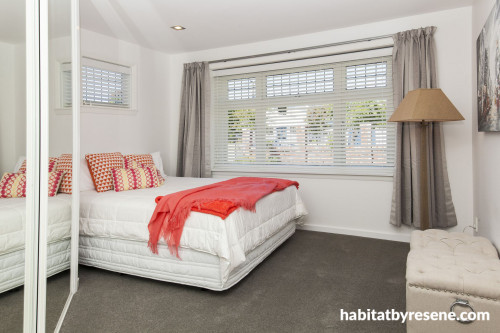 The guest bedroom is kept simple in Resene Alabaster.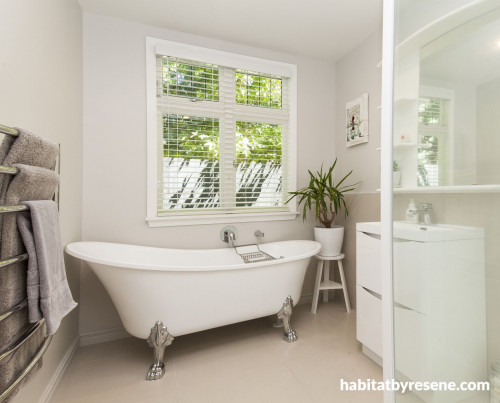 A bathroom in which to escape. Resene Half Cloud is a perfect neutral for this space, an elegant stone beige. Added splashes of greenery make it a peaceful retreat.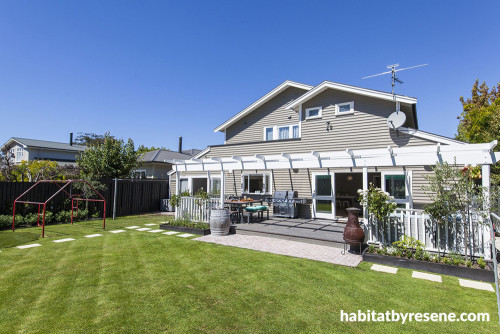 Completing the roomy property is this beautifully kempt back yard, with fabulous flow from kitchen to outside dining area and barbecue. Mel and Dennis chose Resene Triple Napa for the exterior paint colour.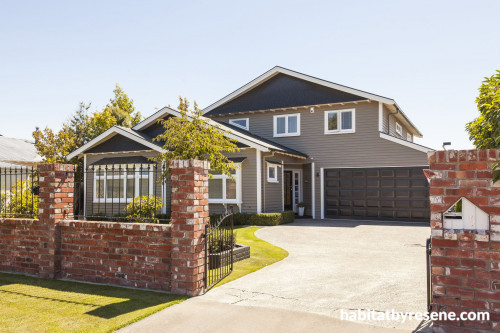 The couple stripped and repainted the front of the house externally themselves. This was done with the help of Resene Timber Surface Prep, which evened out and perfected the look of the solid timber weatherboards.
the look
If you're stuck on what
colour to use or need colour
advice, try out the Resene
Ask a Colour Expert service.