►
◄
latest
habitat tv
blog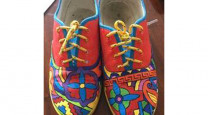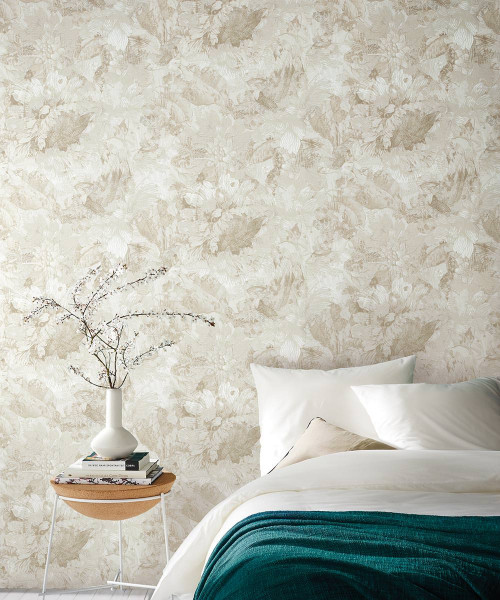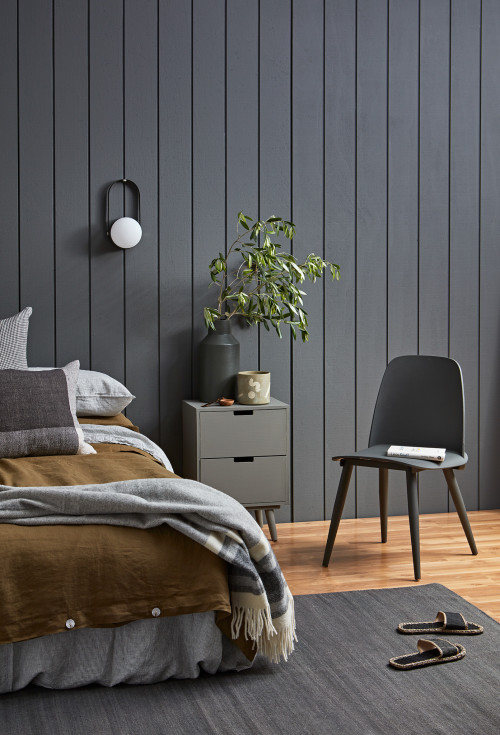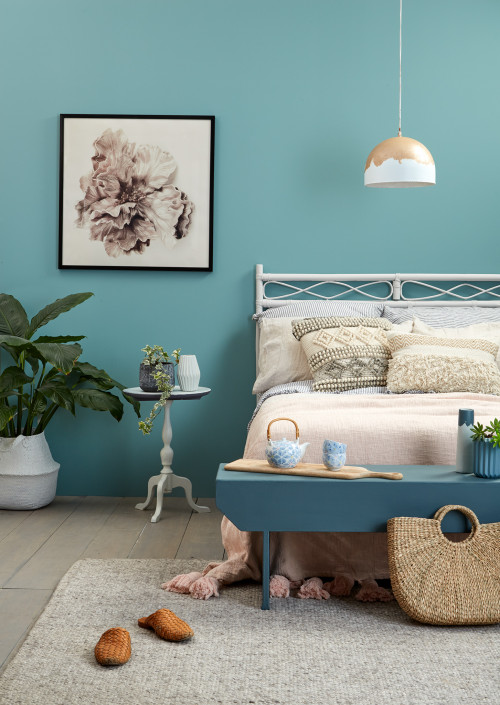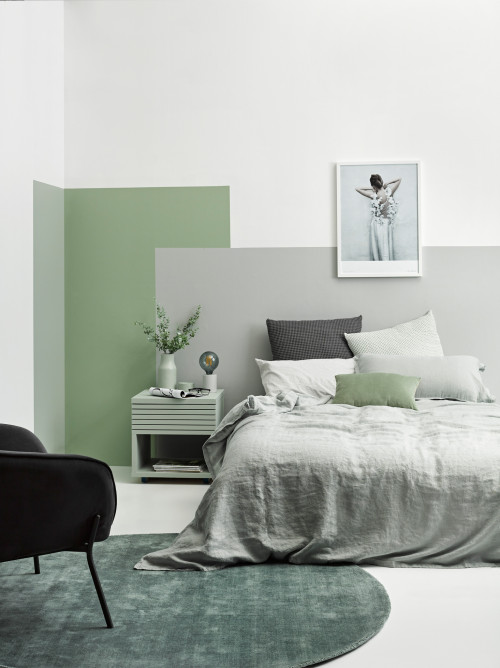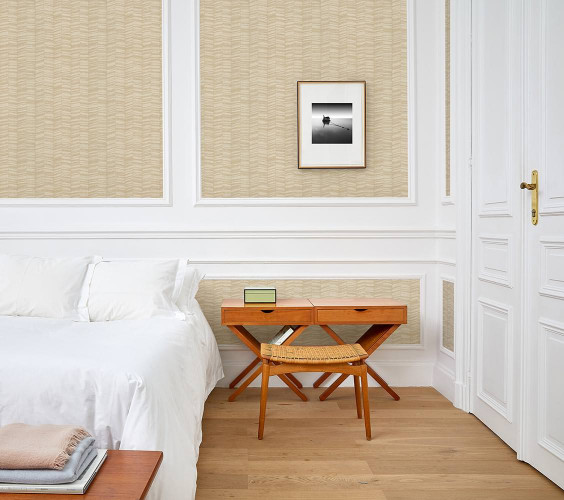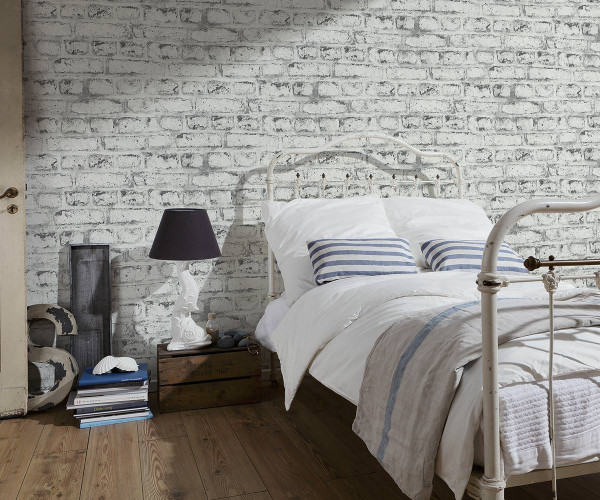 Design your way to a more peaceful slumber
15 Apr 2020
If you've ever had a poor night's sleep, you know how much a lack of shut eye effects your mood and how you function. While dialling down a night time ritual, reducing bedroom screen time and daily caffeine intake have been shown to have positive benefits on getting better quality slumber, the environment you sleep in has impacts on it as well.
If your bedroom isn't set up to soothe, it can be harder to drift off. An ideal bedroom will provide an environment for rest, positivity and relaxation. While it might not be possible to turn yours into a personalised version of a luxe hotel suite, there are a number of ways you can refresh your space to reframe your perspective on comfort – and even small things can have a major impact.
From going all-in on a new mattress to picking the right Resene hue for your walls, here are six ways to help make your bedroom into the ideal sleep retreat.
Invest in a good mattress
When was the last time you replaced your mattress? If you can't remember, chances are it's probably high time you did.
Your mattress is one of the most important elements for getting a good night's rest. While it's recommended to replace it every  7 to 10 years, it's also important to listen to your body ahead of that. Do you have back aches or a general uncomfortable feeling when you're in bed? Are you waking up not feeling rested? Do you get a better sleep when you travel, and not just because you're on holiday? These are all tell-tale signs that something is up with the place you sleep.
When it comes to purchasing something you spend virtually every night on, the choice shouldn't be taken lightly. There are many factors to consider, such as size, sleeping style and support level. Do your research, and when you're ready to buy, choose one from a reputable company. In most cases, you'll get what you pay for so it should be worth the investment.
Do you have a home full of wonderful Resene paint and colour? Send us some snaps by emailing [email protected].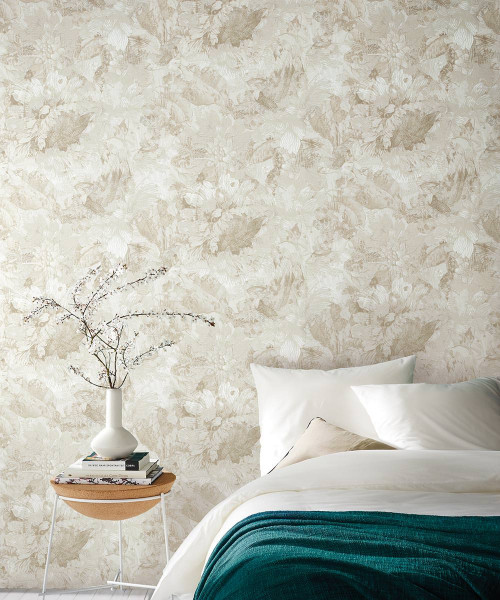 Invest in the best mattress you can afford and be sure to actually have a lie down on it before you make your purchase. Some companies will even let you take it for a limited trial period, just to be sure it's the right fit. Wall in Resene Wallpaper Collection KOS001.
Layer your lighting
If you live in a city, it can sometimes be difficult to cut down on the light pollution from street lamps, nearby storefronts or signage. But finding ways to cut down on unwanted light seeping in at nightwill make falling asleep that much easier. Seek out a window treatment that will obscure outside brightness at night but doesn't block it during the day: Lightweight curtains or Roman shades in a beautiful fabric with blockout lining behind will work a treat.
The Resene Curtain Collection is designed to work with popular Resene colours. The selection includes sheers and solids in fashionable stripes and patterns through to neutrals designed to complement a wide range of colour schemes. Select your favourite Resene Curtain Collection fabric and purchase custom made curtains from your local Resene ColorShop and get them delivered to your home or get your curtain specialist to produce curtains/roman blinds or other drapery to suit. These fabrics are suited for window treatments and other soft furnishing items – and you can even order custom cushions to be made to match.
Inside your room, a mix of table lamps, sconces above your headboard for reading, recessed lights or flush mounts and chandeliers will help give you full control over the situation within your own four walls. Try choosing lower wattage bulbs to keep the mood relaxed, or choose lampshades that diffuse brightness. Dimmers are useful in the bedroom, as are smart bulbs that respond to vocal or phone-app commands to take things down a notch.
Better yet, Resene SmartTouch is an innovative product that can make turning lights on and off so much easier. Rather than stumbling around in the dark trying to find the light switch or twisting yourself into a contortionist trying to reach an awkward switch, your wall can become the switch with Resene SmartTouch. Simply tap the wall finished in Resene SmartTouch to switch the lights on and off.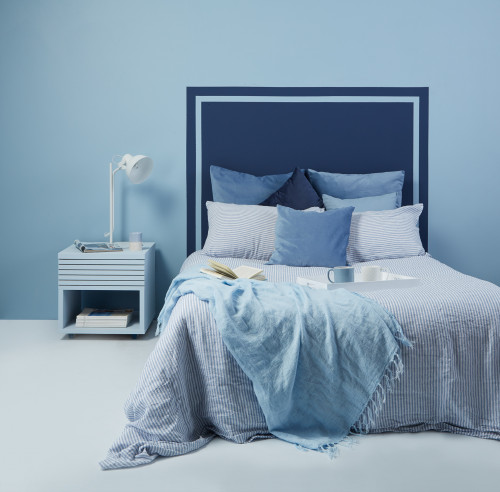 A mix of lighting will help you get the mood you're looking for. Wall in Resene Frozen, painted headboard in Resene Biscay, floor in Resene Solitude and nightstand in Resene Half Spindle.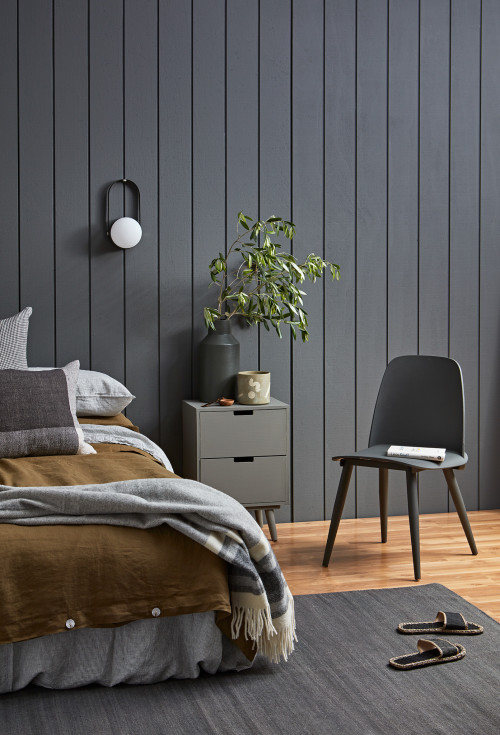 Try a flexible lamp like this one, which can be moved around the room. Wall in Resene Armadillo, floor in Resene Colorwood Natural, chair in Resene Zeus, bedside table in Resene Triple Tapa, vase in Resene Karaka, plant pot in Resene Cargo with hand painted designs in Resene Go Ben and Resene Beachcomber.
Infuse your space with calming scents
Whether it's from a beautiful candle, incense holder or sleek diffuser,  tranquil scents  are great to bring into the bedroom for their stress and anxiety-relievingproperties. Chamomile, lavender, jasmine, cedar and ylang ylang have been said to be particularly soothing scents for helping to wind down.
If you have a green thumb or like fresh flower bouquets, arrange fragrant flowers on occasion to dress up you space. For bonus points, display them in vases painted in Resene paint colours that coordinate with your room.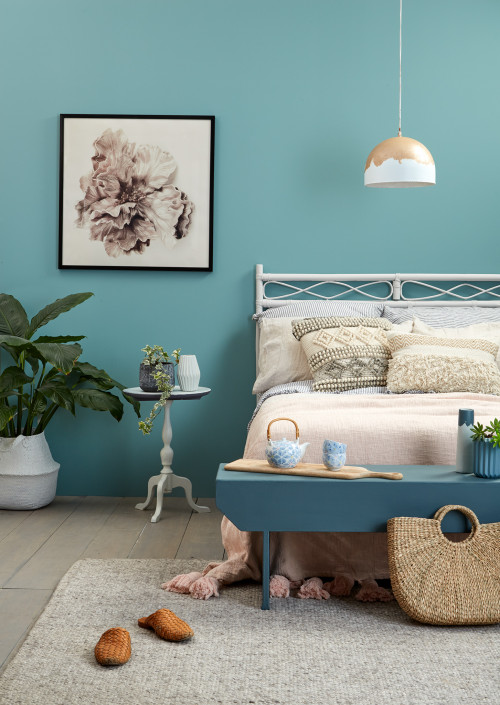 Fresh greenery and flowers can help bring soothing vibes to your bedroom. Wall in Resene Juniper, floor in Resene Colorwood Mid Greywash, headboard in Resene Dover White, bench in Resene Balderdash, side table in Resene Double Sea Fog (top and stand) and Resene Hammerhead (underneath), painted vases in Resene Double Sea Fog (on nightstand) and Resene Balderdash (on bench), large basket with plant in Resene Double Sea Fog and pendant lamp in Resene Double Sea Fog and Resene Rose Gold metallic.
Love your linens
Bedding is crucial to good sleep and the design of the room, but the boundless options for  sheets  can be dizzying - so do your research on what will be most comfortable for your sleep style.
The best sleep temperature for most people is reportedly around 18 degrees. It's important to consider bedding that will help you reach that ideal, so try  cooling sheets like percale, bamboo or stonewashed linen if you tend to 'run hot' and something warmer like flannel if you often get chilled. Rather than focusing too much on thread count, it's important to go for a set you find comfortable and soft, a preference which can vary from person to person.
If you prefer light coloured bedding, white and ivory sheets in hues like Resene Half Merino and Resene Double Pearl Lusta are classics and make the bed feel clean and crisp. Choosing a set with a subtle detail or edging can make them more interesting if you prefer more character.
Remember, the area around your bed is almost as important as the bed itself. Adding a lush rug underfoot offers a soft-landing pad, and means cosy feet never meet a cold floor straightaway.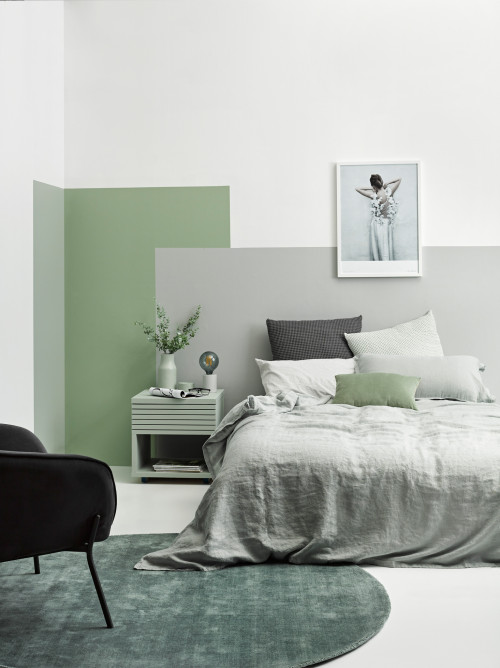 Pile your bed high with soft linens and warm your floor with an area rug for added comfort. Wall and floor in Resene Alabaster with colour block painted wall feature in (from left to right) Resene Helix, Resene Peace and Resene Silver Chalice, bedside table in Resene Helix, vase in Resene Peace and lamp base in Resene Silver Chalice.
Decompress by decluttering
Reducing clutter and upping your organisation game go hand-in-hand with sleep quality as it can help to reduce anxiety. Find homes for books and knick-knacks, get a big enough hamper and bring in baskets or underbed storage bins as needed to make sure everything in your space has its place so it'll be harder to litter clothes on the ground. As for electronics, try to check them at the door. That also means no TVs in the bedroom, either - some distance may offer the disconnection you didn't know you craved. (But if you must, consider making it concealable, perhaps in an armoire or behind a screen.)
And, as much of a morning chore as it can be, a done-up bed is much more enticing to crawl into at the end of the day.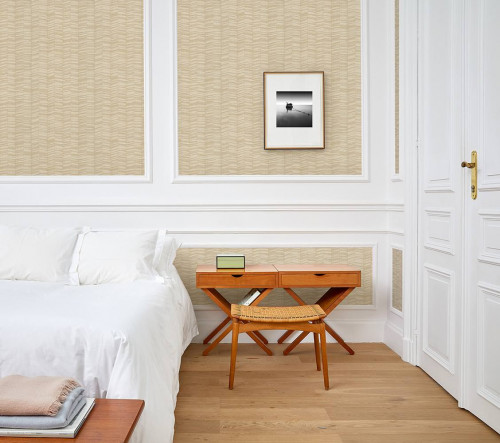 Pare down your possessions to up your bedroom's relaxation factor. Wall panels in Resene Wallpaper Collection MO1501. Pair with bring white trims and doors in Resene Alabaster and timber floors stained in Resene Colorwood Uluru to get a similar look.
Spring for soothing colours
Your bedroom's colour scheme will not only set the mood for your furniture and accents, but it can also have an emotional affect – which can in turn impact your sleep. Soothing colours aren't always light colours, either. Depending on your preference, it could mean playful and bright, moodier and contrasting, or layered tonal hues.
If you want something easy-going and versatile, colours like blush or white will do such as Resene Soothe or Resene Sea Fog. Alternatively, darker colours like emerald green, navy and soft black offer a cosy and calming effect. Resene Deep Teal, Resene Coast and Resene Bastille are all great options for creating cocooning spaces.
If you'd prefer something that offers more pep for mornings, yellow and even red in small doses can work well. If that sounds like you, look to favourites options like Resene Tulip Tree, Resene Bardot, Resene Dynamite or Resene Pohutukawa.
If you tend toward more traditionally calming hues like shades of blue, ivory, teal, mauve, and grey, try Resene Bounty, Resene White Linen, Resene Retro, Resene Hurricane or Resene Atmosphere.
When deciding which is the right hue for you, visit your local Resene ColorShop to pick up a few Resene testpots in shades you find appealing. Paint the entire contents of each in two coats on an A2 piece of cardboard, leaving a border around the edges. Then, move each 'swatch' around the room at different times of the day and evening and concentrate on how each makes you feel. Viewing a larger area of the colour in the actual lighting you will see it in will help you get a better idea of what the full room will ultimately feel like before you commit to it.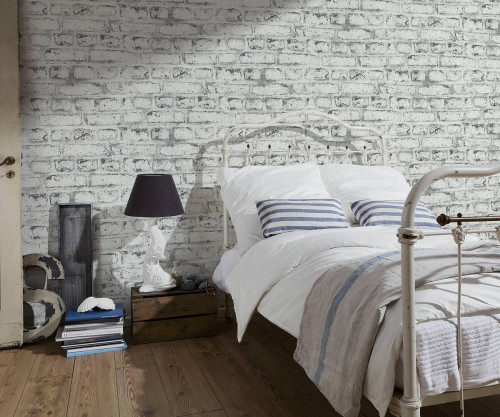 What feels soothing to one person might not to another, so go with your gut and consult others you share a room with before deciding on your final colour palette. Wall in Resene Wallpaper Collection 362802.
styling Gem Adams, Annick Larkin, Vanessa Nouwens
images Bryce Carleton, Wendy Fenwick, Melanie Jenkins