►
◄
latest
habitat tv
blog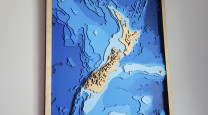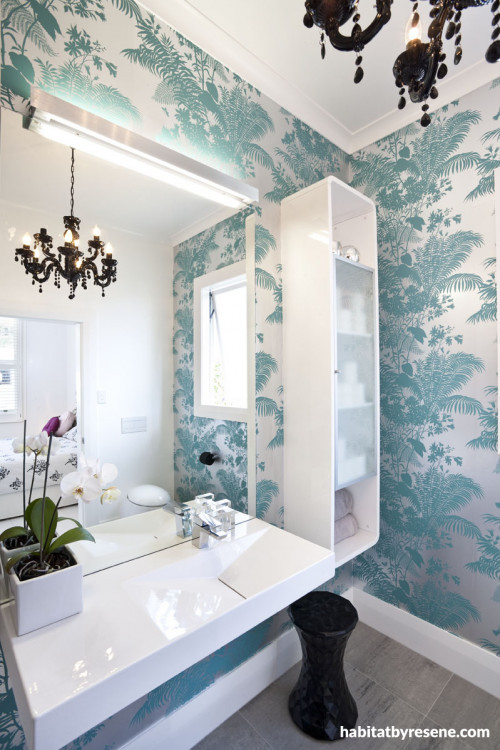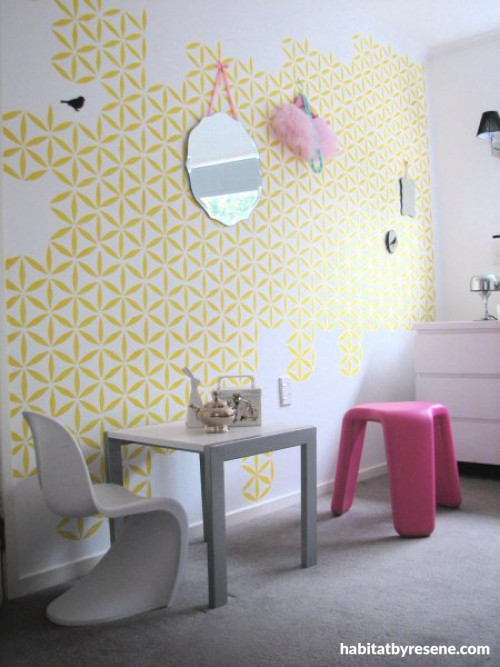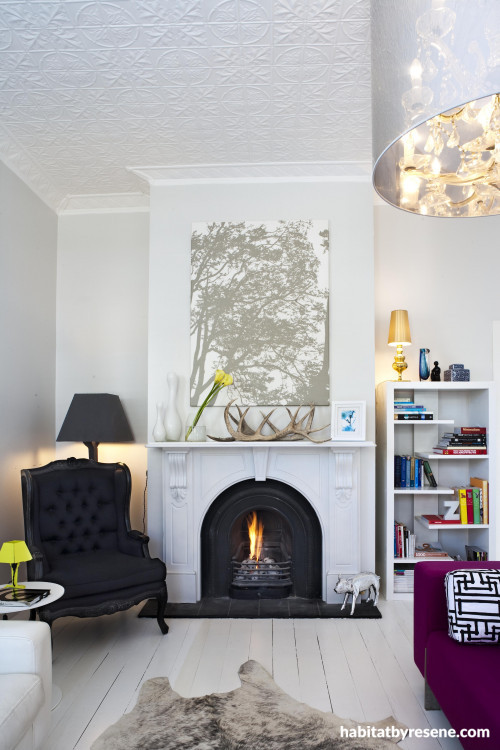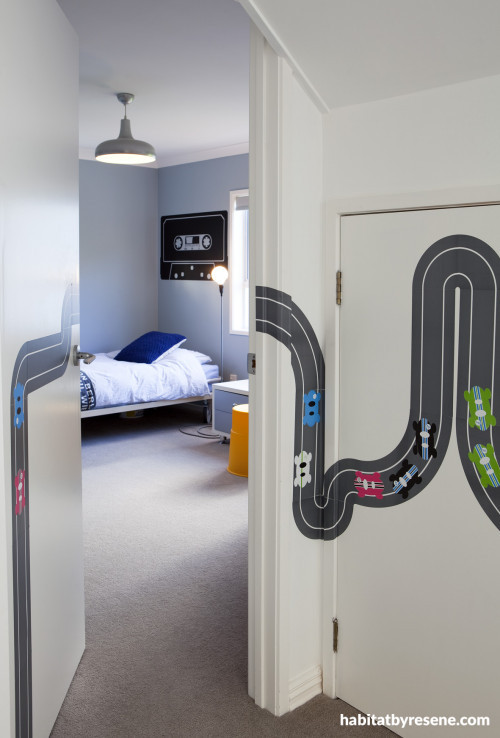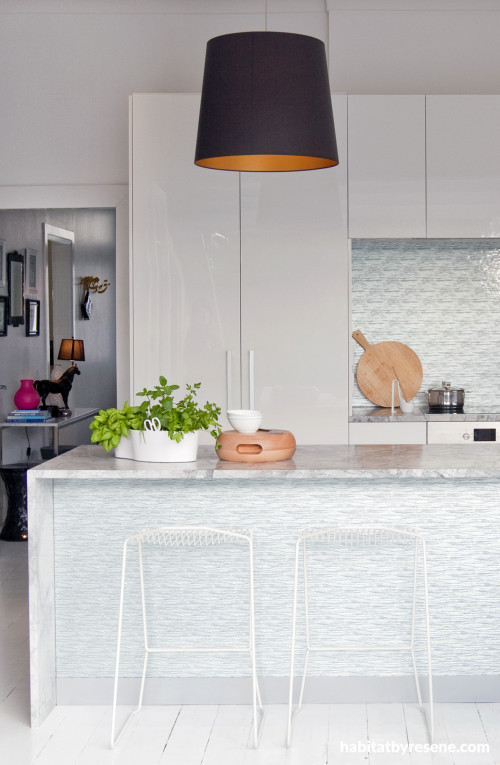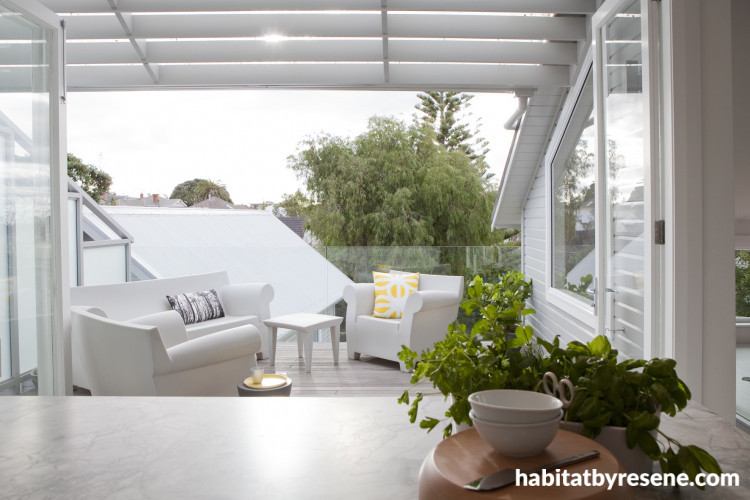 Rhys and Wanda's Dramatic Hand-Stencilled Walls
With its boldly patterned walls and bright accent colours, the elegant interior of Rhys and Wanda's Devonport villa is a visual delight. It took a major renovation to get it this way, though. When the couple bought the old house two years ago, it was "a bad mix of 80s and 90s additions, and desperately needed a light, fresh and modern touch". Luckily Wanda, an interior designer, could see past the outdated veneer and wood panelling to the wonderful original features of the 1910 villa, with its soaring stud height, north-facing aspect and ornate pressed ceiling. So, they set to work sanding floorboards, repainting walls, gutting the old kitchen and bathroom, removing panelling and creating a mezzanine level for a new dining room.
After all their hard work, it's hard to know which room is the most stunning. Wanda has a passion for bright paint and bold wallpaper, and has used them throughout the house for dramatic effect. Metallic emerald wallpaper depicting tropical palms adorns the bathroom walls, a patterned black matte-and-metallic Resene Vision wallpaper gives an edgy elegance to a wall between the kitchen and dining room, and a wallpaper depicting a forest in wintertime adds interest to the stairwell. Wanda painstakingly hand-stencilled a wall of her daughter Zigi's bedroom using bright yellow Resene Wild Thing, and painted a life-size red deer on the wall of the children's playroom. Even the front door is painted bright Resene Monza red!
To keep all this colour and pattern from feeling too overwhelming, the remaining walls have been painted with Resene Wan White from the Karen Walker paints collection. Wanda used a brighter white, Resene Alabaster, on the ceilings, to highlight the ornate pressed pattern.
What did you want to achieve with the renovation?
Turning the unloved old house into a fresh, light, contemporary home.
What was the biggest challenge?
Convincing the floor sanders to paint the floors white!
Which space do you get your greatest satisfaction from?
Definitely the 'gallery style' kitchen with bi-fold doors, which now opens onto the outdoor deck overlooking the garden, opening up the whole area.
What is your advice for someone trying to achieve a similar look?
Get some professional advice, be bold when selecting colours, furniture and accessories (take a chance!) and plan as much detail as possible, to avoid any nasty surprises. It will all pay off in the end, so enjoy the ride.
Why did you make these colour choices?
I chose neutral cool whites to freshen and open the space, and mixed them with a hint of black to make the most impact against the white floorboards. I chose red Resene Monza in high gloss for the front door (and the hand-painted deer) because I wanted it to be a bold statement. Pairing Resene Monza with Resene Silver Chalice and Resene Alabaster created a classic yet modern look for a contemporary villa.
What is your favourite thing in the house?
The "Light Shade Shade" chandelier by Moooi, hanging in the living room. It is a great take on a traditional chandelier, with a modern illuminating shade, highlighting the ceiling. The entire look and feel of the house is captured in this chandelier: traditional character with a modern twist.
What are you planning to do next with your home interior?
We recently sold this house and have just moved to Sydney! We are looking forward to renovating our new home - watch this space!
Published: 02 Nov 2014
Do you have a home full of wonderful Resene paint and colour? Send us some snaps by emailing [email protected].
A home full of colourful surprises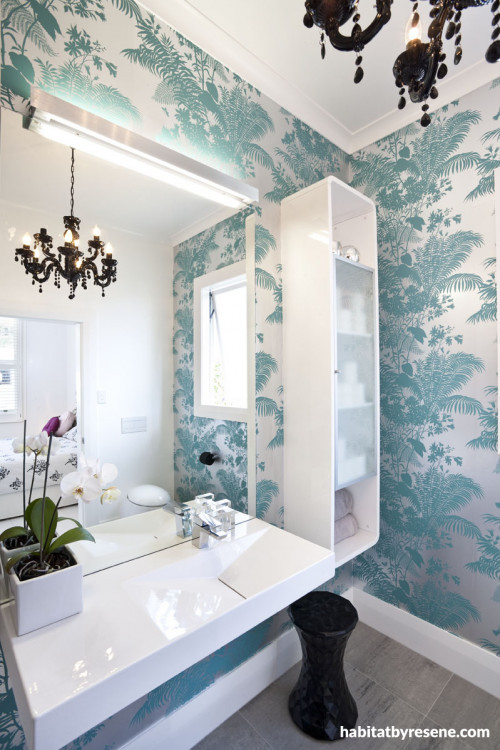 Metallic emerald wallpaper depicting tropical palms adorns the bathroom walls.
pictures
Interior Designer: Wanda Szychowska at DeCe Design www.decedesign.com.au Get the look Exterior decks bear the brunt of the weather and are often left bare to the ravages of nature. You can keep your deck looking good for longer by protecting it with a stained finish, like waterborne Resene Woodsman Decking Stain. Stains are easy to apply with minimal surface preparation. As the stain weathers you can quickly wash the deck with Resene Timber and Deck Wash, then stain it again to restore the colour.
Wonder wall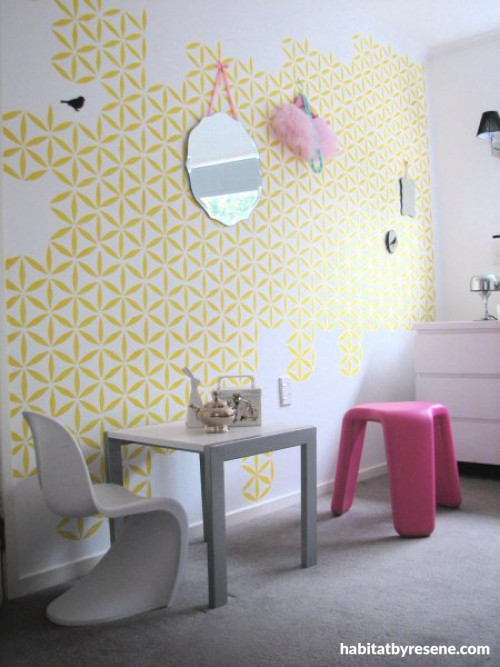 Wanda used Resene Wild Thing paint and a stencil from Paper Room to create this geometric pattern on Zigi's bedroom wall. The white background paint is Resene Alabaster.
Spot the hidden chandelier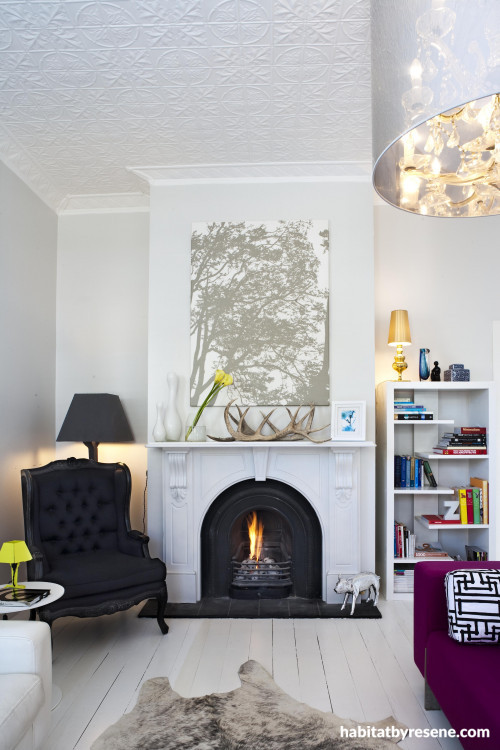 The white living room (walls painted Resene Wan White from the Karen Walker paints collection; ceiling, floor and trims painted Resene Alabaster) is punctuated by a magenta sofa, black antique-style wing armchair and Wanda's favourite chandelier-in-a-lightshade, the "Light Shade Shade" by Moooi. The mantelpiece and antlers were bought on-line, while the artwork above is Marimekko fabric stretched across canvas. Wanda bought the bookcase on-line and spraypainted it with Resene Alabaster paint.
Little boy blue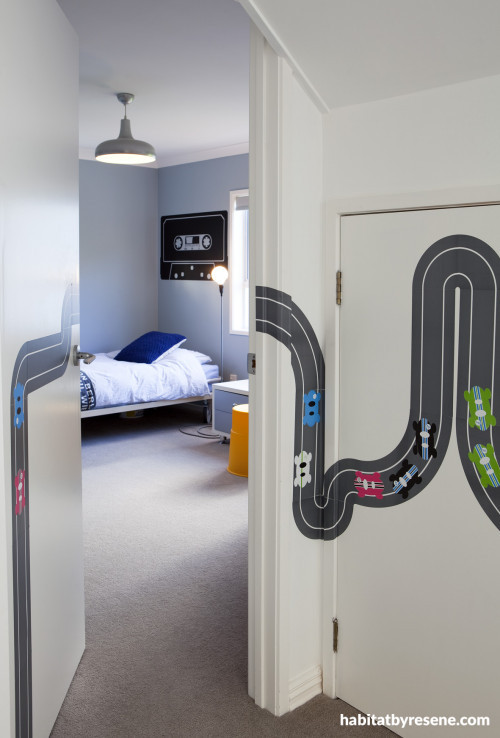 Oskar's bedroom is painted with Resene Casper and decorated with wall decals from Paper Room.
Shimmering splashbacks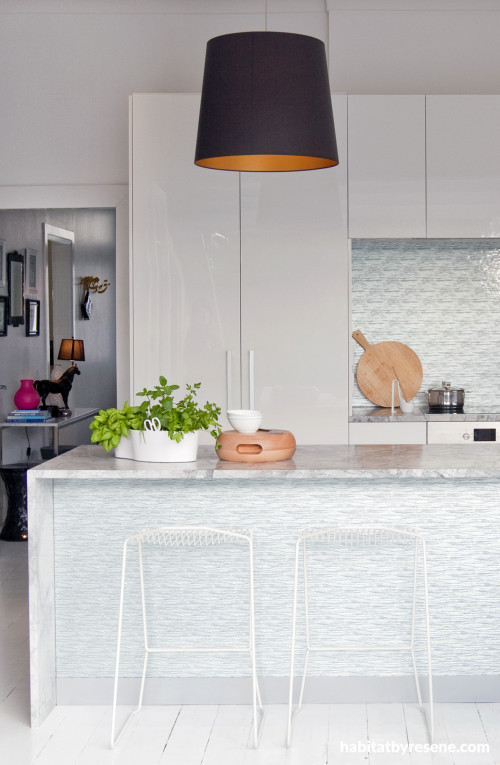 The new kitchen features textured glass splashbacks over Resene Silver Chalice paint. The granite benchtops have a marble vein look which contrasts with the glossy white cabinetry. White bar stools from Simon James Design and a light shade from Bo Concept complete the look.
Al fresco living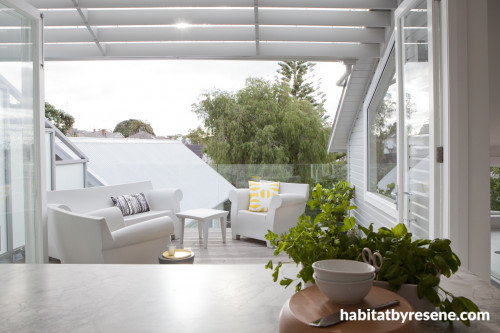 The deck, stained with Resene wood stain, has been turned into a second living area with stylish outdoor furniture from Kartell.












the look
If you're stuck on what
colour to use or need colour
advice, try out the Resene
Ask a Colour Expert service.