►
◄
latest
habitat tv
blog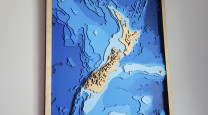 The dream of the 80s is alive in these four throwback rooms
The 80s heralded a raft of brave new styles full of glitz, glam and electropop hues. Though the economic times that inspired those trends have changed, a revival of bold colours, geometric patterns, rattan, macramé and brass have crept back into our homes – and with understandable reason. Many are craving a sense of playfulness in their living spaces to counter the lacklustre white, taupe and grey-based neutral palettes that have endured for the past two decades.
Here, we look at four contemporary rooms that have captured the essence of the 80s in a way that still looks current in today's context.
Better in blush
Published: 26 Jun 2019
Do you have a home full of wonderful Resene paint and colour? Send us some snaps by emailing [email protected].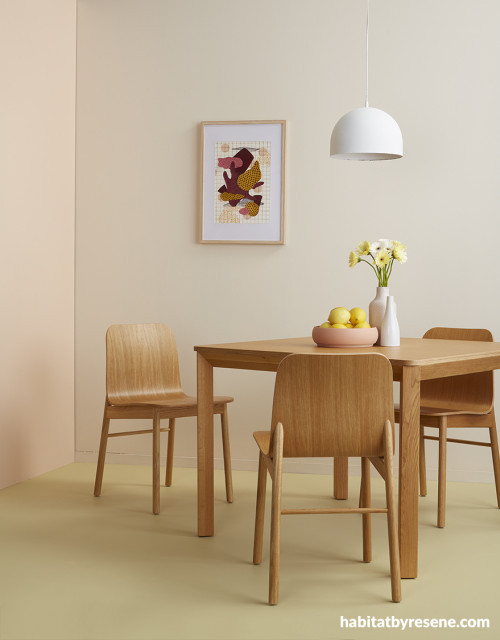 In this 80s throwback dining area, the back wall is painted Resene Despacito, the front return wall is in Resene Soulful, the floor is in Resene Yuma, the pendant lamp is in Resene Alabaster, the flower vase is in Resene Ethereal and the bowl full of lemons is painted Resene Just Dance.
Pastel hues were one of the most defining features of the 1980s, and they have certainly made a strong comeback in recent years. However, today's pastels have been updated with muddier tones that complement shades of grey, leading to looks that feel much more sophisticated.
Pastel greens, like Resene Aura and Resene Kandinsky, and peachy corals, like Resene Just Dance and Resene Sunbaked, are reminiscent of the 80s but with less of the intensity that was typical of that time. Now, mint green has made way for sage, like Resene Peace, and baby blues have been replaced with dustier shades, like Resene Raindance. This is also replicated with pinks and oranges, where decorators are looking to colours like Resene Shilo and Resene Shabby Chic, or Resene Clockwork Orange and Resene Twisted Sister.
Palettes based on pastel pinks and yellows, in particular, were an 80s staple. In this dining area, these retro colours have been brought together once again but in a contemporary yet cheerful way. The wall at the right is painted Resene Despacito, the wall on the left is in Resene Soulful, the floor is painted Resene Yuma, the pendant lamp is in Resene Alabaster, the flower vase is in Resene Ethereal and the bowl full of lemons is painted Resene Just Dance.
On the wall, an 80s-style collage was created with little more than a few Resene testpots and adds a level of interest that makes the space really shine. Two coats of Resene Cleopatra, Resene Smoulder, Resene Love Me Do, Resene BFF and Resene Soulful were painted onto sections of heavy white cardstock and allowed to dry fully before being doodled on with a series of black polka dots and squiggles using a permanent marker. Wavy, freeform shapes were then cut out at random and glued on to a stiff cardboard background, which was given an oh-so-80s grid treatment with a fine-lined black pen. The result is one-of-a-kind yet very easy to replicate yourself.
Stockists: Tilt Square Dining Table and Aspen Chairs from Città.
Make it Memphis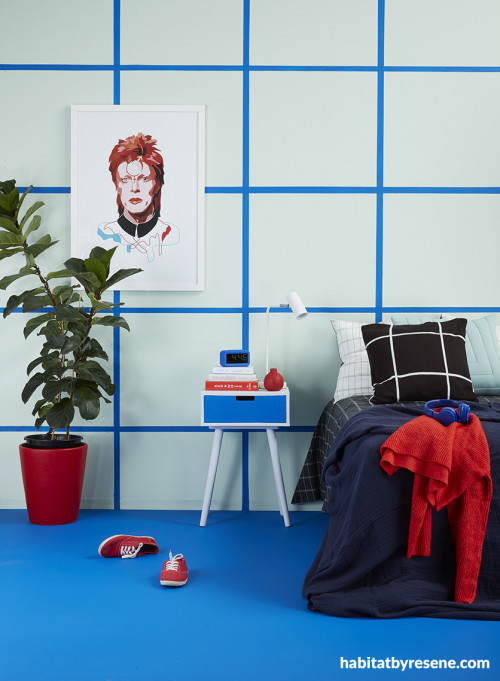 In this Memphis-throwback bedroom, a grid wall effect was created using Resene Kandinsky and Resene Wet N Wild. The floors are also painted Resene Wet N Wild, the plant pot and vase are painted Resene Jalapeno, the bedside table is in Resene Secrets with a drawer in Resene Wet N Wild, and the lamp and picture frame are painted Resene Half Black White.
The high point of the 80s was the post-Modern Memphis movement. Propagated by Ettore Sottsass, the look was all about intense clashing primary colours, blocky shapes, angular geometrics and loud patterns. Today, many young designers are riffing on these designs, updating the look using patterns and shapes – and Memphis-inspired geometrics are popping up everywhere as accessories and textures embrace the trend for bold shapes.
The key to pulling off this kind of look today is to create a balance of colour and pattern with enough simplicity to keep the scheme from overwhelming. While the hues should be bold, it's best to stick to two or three main colours and then mix in one or two neutrals. Although the scheme will be pulling its inspiration and theme from the 80s, these limitations will help the space feel more like a tribute rather than being stuck in a time warp.
This throwback bedroom pays some serious homage to the Memphis movement. The walls are painted Resene Kandinsky with a grid in Resene Wet N Wild. The easiest way to achieve the effect is to paint the wall in two coats of Resene Wet N Wild first, then mask off the grid using painter's tape before painting a couple of coats of Resene Kandinsky over top. The tape can be carefully removed once the wall is touch dry. Invest in good quality tape for the best results and use a utility knife along the edges of the tape for extra clean lines if you are concerned about the top layer of paint lifting.
The grid pattern has also been taken on to the duvet cover, pillow and cushions to create a sense of repetition while Resene Jalapeno on the plant pot and vase plays off the artwork and ties the whole look together.
Stockists: Bowie Art Print by Anna Mckay from Endemic World; bedding, cushion covers and jumper from H&M.
Shape up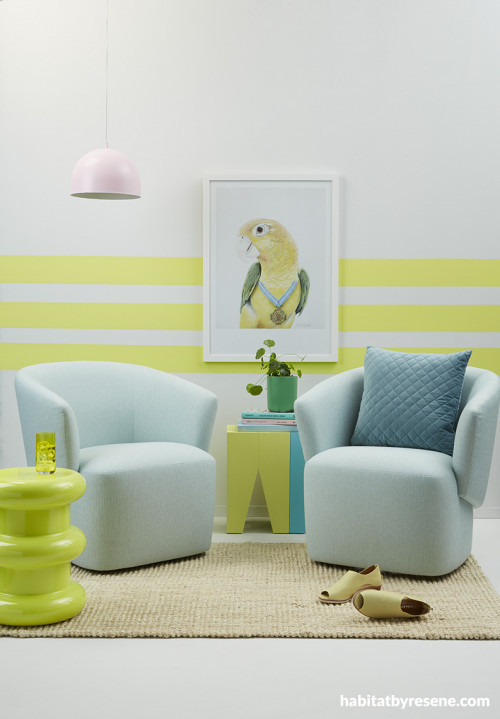 Stripes of Resene Honeysuckle, a canary yellow reminiscent of the 80s, light up the Resene Alabaster walls of this revival lounge. Accents like Resene Princess (on the lamp), Resene Away We Go (on the plant pot), and Resene Yes Please (on the right-hand peg stool) add to the energy of the space.
Nothing says 80s quite like electropop neon, but you don't have to take them from top to bottom to get a great effect. Consider half-and-half walls with just the bottom portion painted in a bold colour, or try a diagonal. In an otherwise neutral space, details like painted door jambs can really pop in colours like Resene Eye Candy, Resene Adrenaline or Resene Sebedee and completely change the energy of a room.
A simple setup, like this one with retro-contemporary statement furnishings, is given plenty of space to shine with Resene Sea Fog walls and flooring, but it's the undeniably 80s Resene Honeysuckle paint effect that really defines the space. In a hue that would likely overwhelm if it were used on the entire wall, these stripes instead bring just enough colour while packing in plenty of personality.
Electric aqua like Resene Yes Please on the stool, Kelly green like Resene Away We Go on the plant pot and poppy pink like Resene Princess on the pendant lamp all have an equally 80s flair to them, each playing off the parrot art print to create a cohesive vibe instead of fighting against one another. Less vibrant details, like the faded blue of the quilted cushion and the natural fibre floor rug, provide balance and grounding to keep the brighter colours from overpowering.
Stockists: Parrot Print by Margaret Petchell from endemicworld; Hewitt Armchairs, Pegg Stools, Albion Floor Rug from Freedom Furniture; Pilastro Stool from Kartell; Mulberi cushion from Furtex.

Keep on rollin' on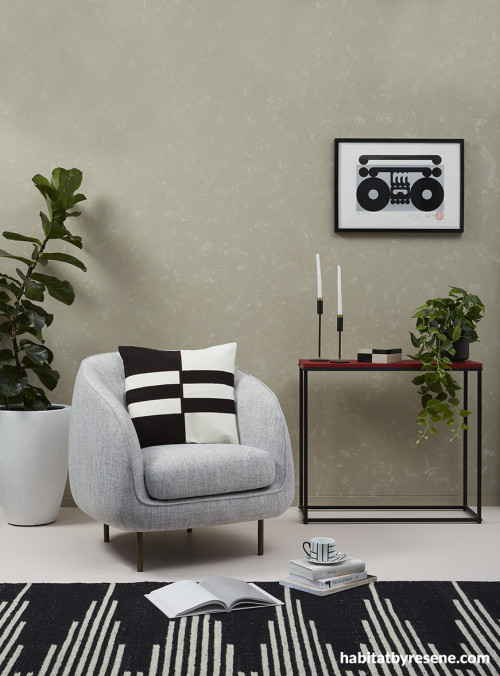 This rag rolled wall was created by painting two basecoats of Resene Napa and then layering on Resene Eighth Stonewashed and more Resene Napa until the right balance was reached. The result is soft, perfect for a reading nook like this one. The floor is painted Resene Ethereal, the console is painted Resene Dynamite, the large plant pot is painted Resene Half Black White and the small plant pot is painted Resene Noir.
Rag rolling was a popular paint effect in the 80s, but – as this space proves – it can look great in a modern space when it's been done well and with carefully selected colours. The mottled textured wall effect in this room was created by hand. First, the walls were painted with two coats of Resene Napa. Then, using a crumpled absorbent cotton-knit rag – cut from an old t-shirt – Resene Eighth Stonewashed was ragged over top. To soften the effect, a second rag was used to dapple Resene Napa over areas with the most contrast.
Classic black and white accessories, including the picture frame and small plant pot in Resene Noir and the large plant pot in Resene Alabaster, create a harmonious sense of repetition throughout the room. The floors, painted Resene Ethereal, and the red table top, painted Resene Dynamite, break things up and add visual interest while the fun boombox artwork ties the colour palette together into a single focal point.
Stockists: Pana Paka Screen Print by Weston Frizzell from endemicworld; Tubbi Chair in Moda Grey and Mikro Floor Rug from Freedom Furniture.
styling Laura Lynn Johnston, Kate Alexander
images Bryce Carleton