►
◄
latest
habitat tv
blog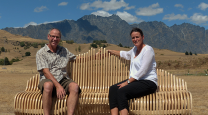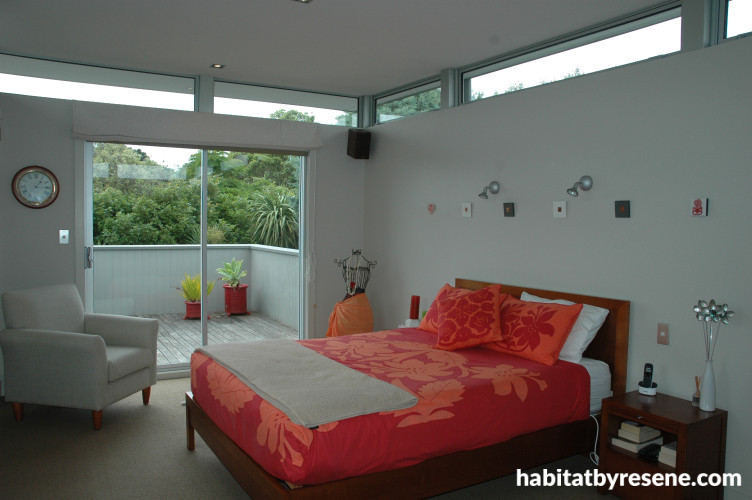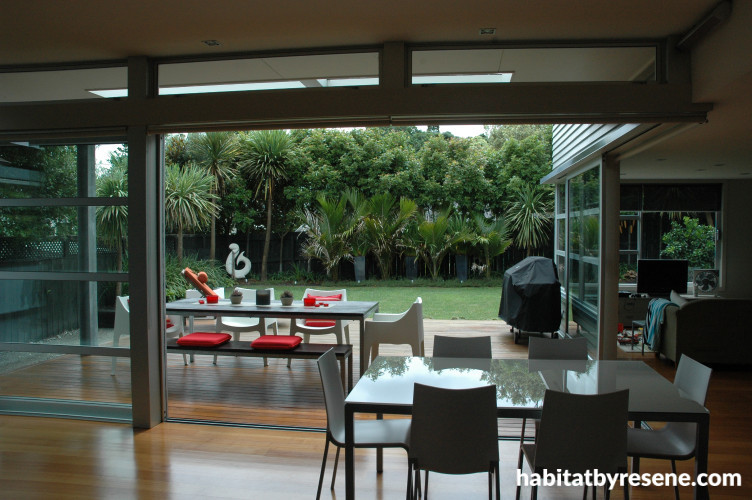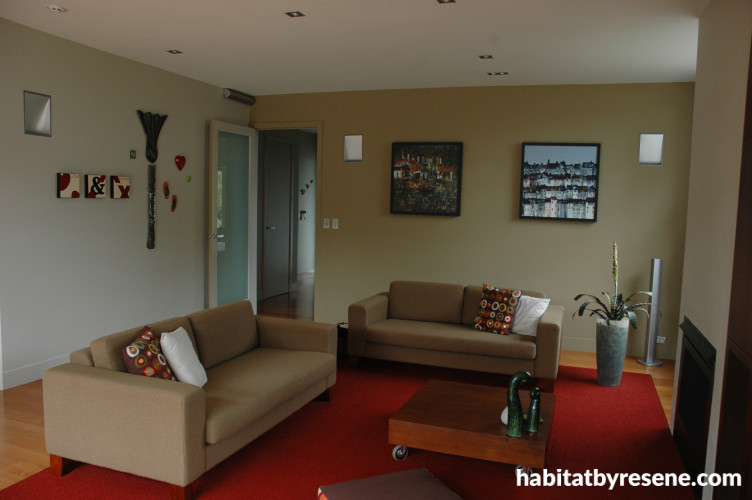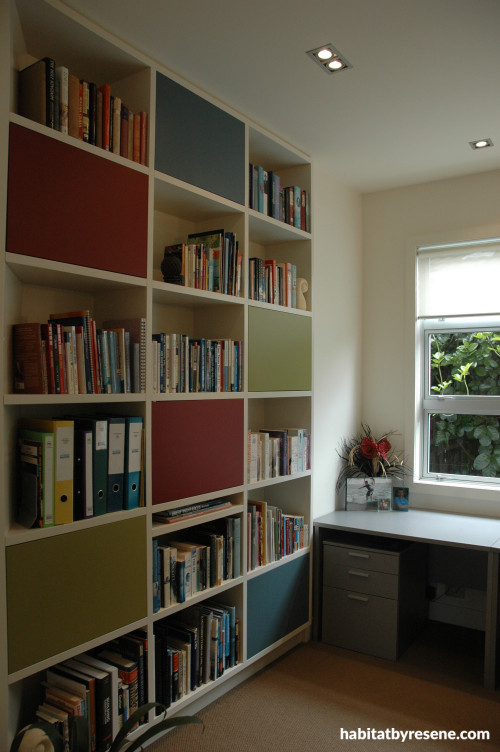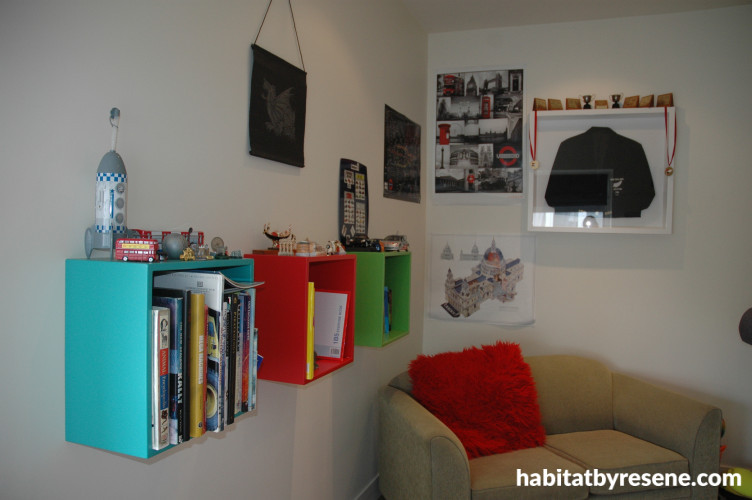 Michele's Dream House
Published: 10 Feb 2011
Do you have a home full of wonderful Resene paint and colour? Send us some snaps by emailing [email protected].
A home of many colours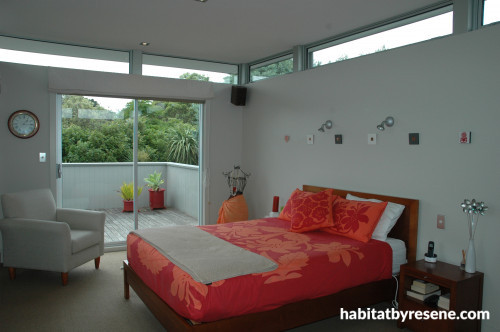 Michele has lived in her "bungalow with a contemporary twist" for 8 years – the longest she has ever lived in a house, and testament to the fact that it is perfect for her. Her love affair with the house began far more than 8 years ago, though – before that, she lived directly across the road, coveting the north-facing back garden and day-dreaming about how good it would look if it were renovated.
"The house had been tenanted and mistreated, so we approached the landlord and persuaded him to sell it to us," Michele explains. Inspired by the modern trend of renovating old bungalows and villas, she braved "the council, the cost, and moving out for 8 months," in order to transform the unloved old bungalow into her dream house.
Not one to go for an all-white look, Michele says that she was inspired by the native plants in the garden when she chose Resene Half Bison Hide and Resene Colins Wicket for the walls: "We wanted to feel as though the living areas were an extension of the garden." Even the brighter colours on the bookcase in the study, like Resene Red Berry and Resene Highball, are in keeping with this botanical theme. For the child's bedroom, nature was left behind in favour of some fun, bold colours.
How would you describe your 'design style'? Contemporary. We wanted an uncluttered look without being minimalist, lots of storage built in (anything to avoid dusting!), lots of light and generous, well-defined living spaces.
What did you want to achieve with your interiors? Large spaces with distinct purposes, a relaxing décor and easy living. We didn't want anything like the traditional "front lounge" in a bungalow that never got used – which is what we had in our previous house. And the outdoor space was just as important to us as the indoor spaces.
What was the greatest success in the renovation? The greatest success was that it delivered on our vision – we were pushed out of our comfort zone by our architect, which was probably the biggest triumph. It was a great partnership as we got all the spaces and rooms in the places we wanted them but the architect was able to add design elements that we would not have identified by ourselves. The result was a home which surprised us and delighted us.
Which space do you get your greatest satisfaction from, and why? There is no particular space which is more pleasing that any others, although it is always great to join our dining table and outside table together on the back deck for a big party or gathering.
What is your advice for someone trying to achieve a similar look? The one thing that guaranteed success of the project was the scrapbook we compiled at the architect's suggestion, showing all the pictures we could find of design elements, colours, joinery looks, feels of rooms, etc. It was the best way to express what we wanted to achieve. The architect was able to take the scrapbook and develop a design around it which delivered everything we wanted, and more. We wanted a 'dream house' that incorporated all of the best features in a house – and that is what we got.
pictures Architect: Graeme Wrack at Brown Day Architects http://www.brownday.co.nz/
Going with the flow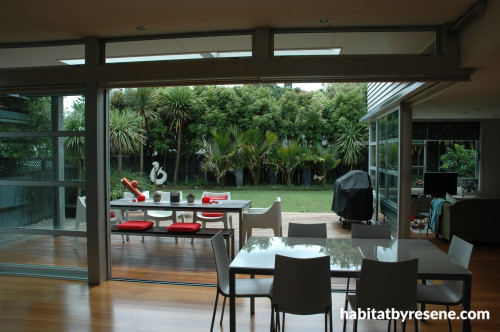 Much to Michele's delight, architect Graeme Wrack achieved the ultimate in indoor-outdoor flow with this alteration to the back of the house, which allows the living area and deck to become one. Michele loves to join the tables together for large dinner parties.
Rolling out the red carpet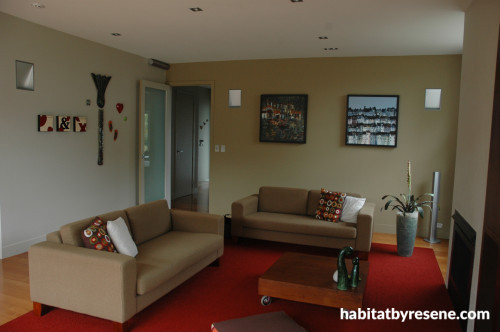 The Resene Half Joanna ceiling, Resene Half Bison Hide walls and Resene Colins Wicket feature wall in the living room, are designed to reflect the native plants surrounding the house and complement Michele's art collection.
Thinking outside the square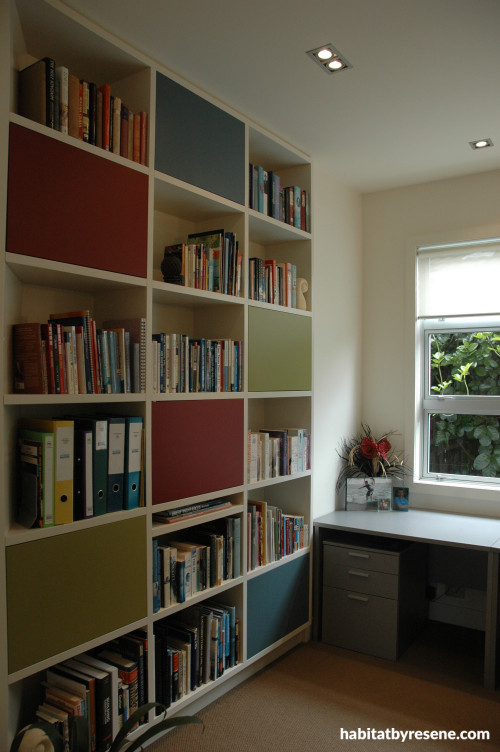 The coloured bookshelf not only brightens up the study, but cleverly hides messy paperwork with its press-to-open panels.
Bright idea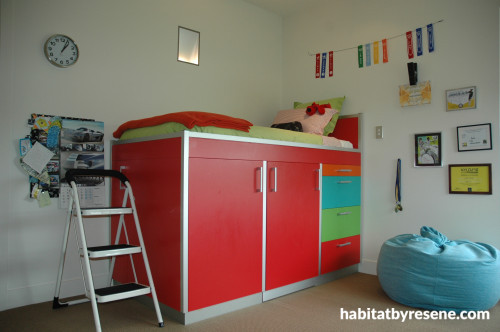 Michele's father made this bunk bed for her son Sam. As well as being fun and funky, it provides a huge amount of storage space.
Colour cubes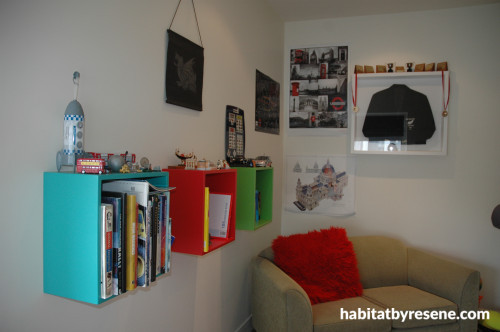 These bright shelves were made to match the bunk bed. When Sam is older, Michele is considering painting them black or silver.
the look
If you're stuck on what
colour to use or need colour
advice, try out the Resene
Ask a Colour Expert service.