►
◄
latest
habitat tv
blog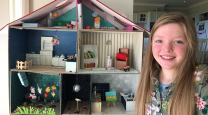 Easy ways to reclaim the old as new and incorporate upcycling into your décor
With the shared responsibility of environmentalism becoming mainstream these days, the interest in sustainable furniture and décor has skyrocketed. Not only are production methods evolving, helping to reduce the waste of some manufacturing methods, but there is also an uptick in making old things new again. Resene paint is a great avenue for embracing upcycling in a way that's sure to work with your colour schemes and preferences. Often all it takes is a couple of testpots for a total transformation.
The growing popularity of vintage furniture and upcycled décor – especially among younger generations – has now become mainstream. After all, if you're looking to decorate in a way that's kind to the planet it makes sense to leverage items you already own. Failing that, the next best thing is to use things that someone else no longer needs, then make them your own.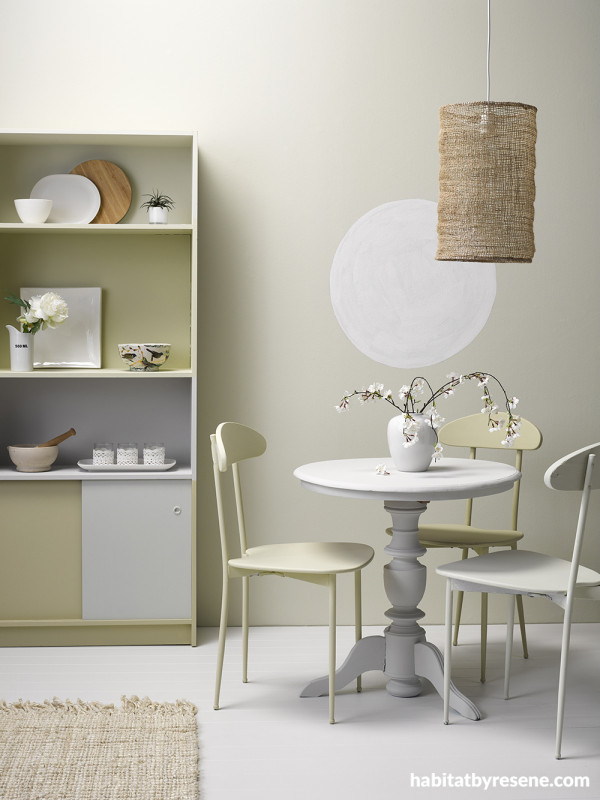 Paint your vintage finds in matching colours for a beautiful cohesive look. These second-hand chairs and shelving unit have been coated in Resene Miso, Resene Secrets,
 Resene Quarter Coriander and Resene Thistle. The walls are in Resene Quarter Coriander with a Resene Alabaster painted feature.
Finding new ways to work pre-loved furnishings and materials into your home is a great way to create a unique space full of personality. And, often all it takes is a fresh coat of paint or wood stain to make something old new again.
Start simple in the kitchen by revitalising worn utensils or chopping boards by painting the handles; complex neutral Resene White Linen looks chic combined with timber. Bring a set of coasters into the now by using painter's tape to create stripes or other shapes; try a tonal effect using lighter and darker versions of one base hue, such as seagrass Resene Earthstone, rustic green Resene Frontier, earthy green Resene Flax and grey-green Resene Finch.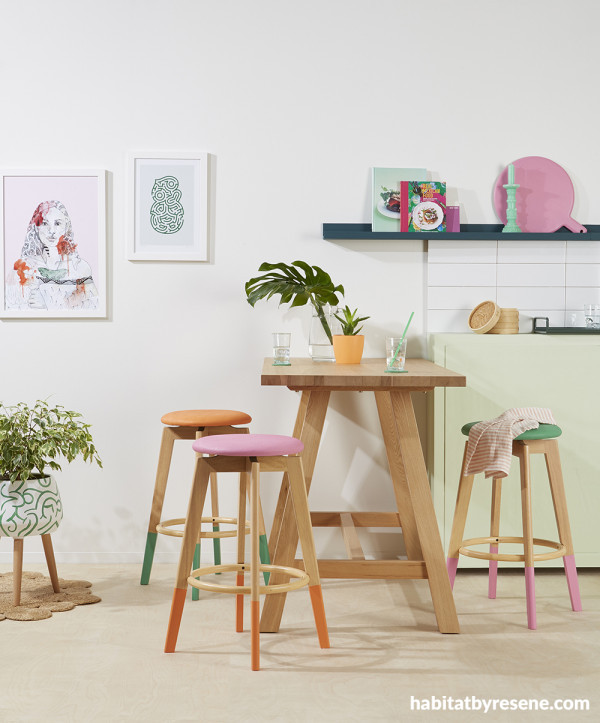 Forget ditching furniture that is looking a bit tired – get creative instead. Give the legs and tops of shabby stools a lick of paint – yes, even if they have a fabric cover – in punchy on-trend colours like Resene Away We Go, Resene XOXO and Resene Party Zone. Wall in Resene Rice Cake, plywood floor finished in Resene Aquaclear, cabinetry in Resene Aura, ledge in Resene Atlas, 'maze' pattern on planter in Resene Away We Go and small plant pot (on table) in Resene Party Zone.
Turn wooden boxes into floating shelves on a wall; paint inside and out or use wallpaper to line the base that'll be the backdrop for your display – Resene Wallpaper Collection HAN100417818 is beautiful teamed with oceanic blue Resene Wavelength and foam pink Resene Ebb. Rework crates into storage for children's rooms in bold brights such as red Resene Havoc, energetic yellow Resene Turbo, bold blue Resene Endeavour and vivid green Resene Bingo.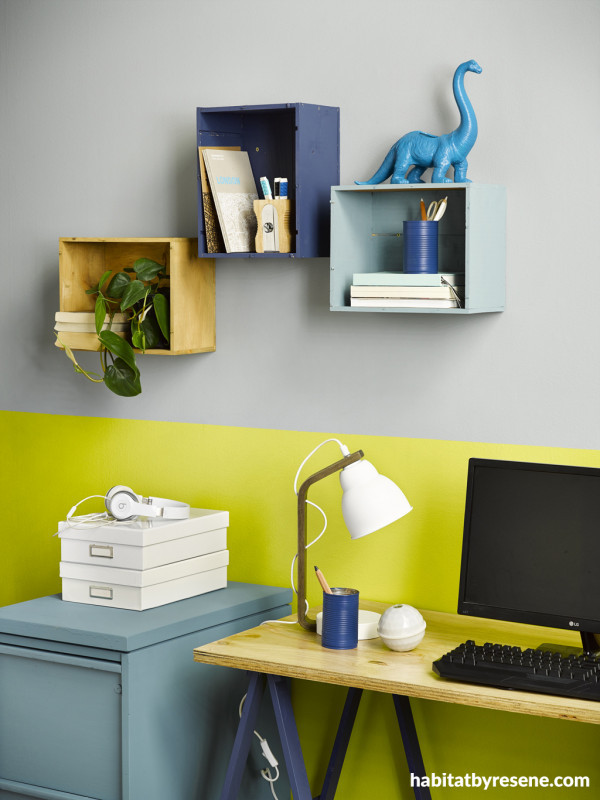 Upcycle wooden crates into useful wall storage by affixing them above your workspace. Wall in Resene Dusted Blue with stripe in Resene ASAP. The filing cabinet and shelf crates complement in Resene Seachange, Resene True Blue and Resene Whirlwind.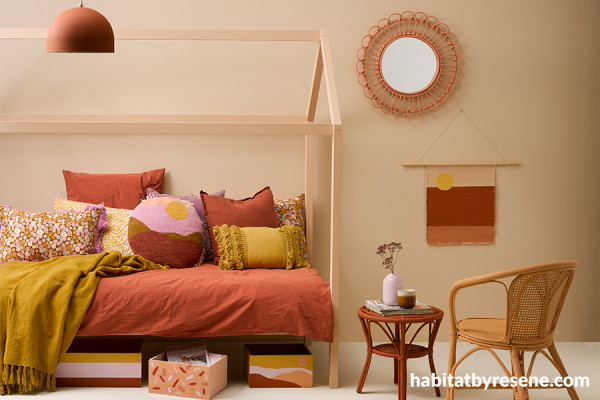 Resene Moccasin, Resene Just Dance, Resene Twilight, Resene Santa Fe and Resene Apache were used to dress up these otherwise unused wooden boxes so they coordinate with the theme of the room. Make sure you sand down any splintered edges to protect little fingers before you paint. Wall in Resene Bone, floor in Resene Blanc, bed in Resene Cashmere, table in Resene Moccasin, mirror in Resene Just Dance, vase painted in Resene Twilight, mirror in Resene Just Dance and chair in Resene Kalgoorie Sands.
Choosing vintage and upcycled furnishings puts to use items that already exist. It also pays homage to the craftspeople of a bygone era and embracing quality that has stood the test of time. If it's clearly been made with skill and quality materials, the colour shouldn't hold you back from an item you're drawn to – all an older item needs to make it new again is some light sanding and fresh paint. Either keep it simple with a single colour with a favourite Resene testpot or pick up a few, give your creative side free reign and try your hand at painted patterns or unexpected colour combinations
This vintage bench was given an update in Resene Chorus Line and Resene Quarter Pearl Lusta, it now perfectly ties this room's soft and understated classic colour scheme with walls in Resene Moonlight and the floor in Resene Grey Olive. The coat hook and picture frame have also been given a fresh look in Resene Quarter Pearl Lusta. Baskets in Resene Grey Olive (large) and Resene Influential (small).
While every project has its own nuances, the prep basics remain the same. Always check the furniture to see if it needs repairs and give it a good clean. Furniture that has already been painted can often be painted directly with your new chosen colours. However, if the surface is very smooth, sand it first or apply Resene Waterborne Smooth Surface Sealer to give your topcoats something to hold onto. When it comes to choosing your topcoats, opt for a sheen level that fits the style of your piece – Resene Enamacryl for a sleek gloss look, Resene Lustacryl semi-gloss for a touch of sheen while being more sympathetic to the imperfections of older pieces, Karen Walker Chalk Colour from Resene ColorShops for a matte finish or opt for Resene testpots if you need many colours but only a small amount of each.
For timber outdoor furniture, treat and remove existing mould by prepping with Resene Moss & Mould Killer, then wash with Resene Timber and Deck Wash or for already painted furniture, Resene Paint Prep and Housewash. Then finish in your choice of topcoat – Resene Enamacryl gloss, Resene Lustacryl semi-gloss or Resene Lumbersider low sheen. The higher sheen levels will make your colours seem brighter and cleaner – ideal when you want a bright colour to make a statement. For a more velvet finish choose a lower sheen finish such as Resene Lumbersider.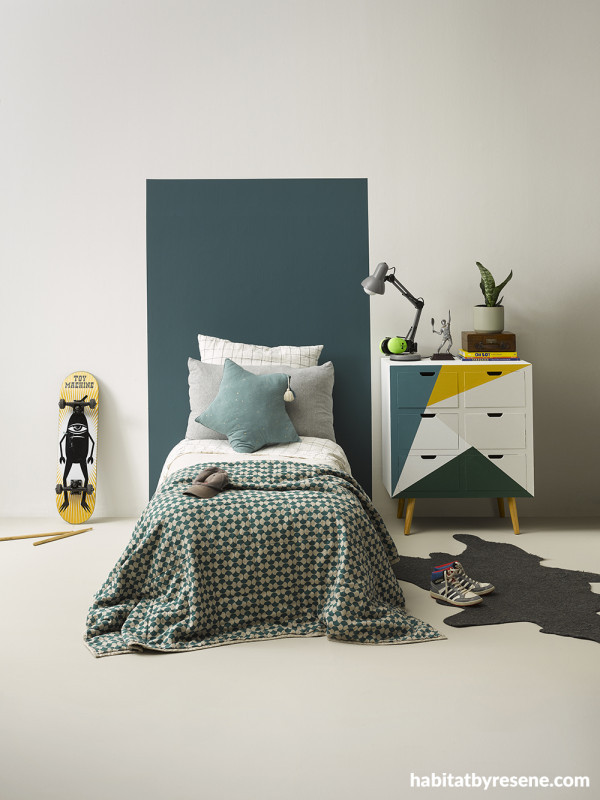 Painting a piece of furniture with a cool pattern, like this dresser in Resene Bismark, Resene Permanent Green, Resene Thumbs Up, Resene Alabaster and Resene Truffle, is a great way for a teenager to express their character in their room. Best of all it can be easily achieved and can be painted over when their tastes change or they leave home and you need to rehome the furniture in another space. Wall in Resene Sea Fog, painted headboard feature in Resene Fast Forward and floor in Resene Truffle.
Top tip: Paint cabinet doors when open and closed to be sure you get the front, back and hinges and don't miss any drips. Turn chairs upside down initially, then approach them from all angles. Dressers will benefit from you taking the drawers out to paint separately.
A large part of the joy of vintage – especially handmade – pieces items is in the story and relationships behind them. Discovering the remarkable history behind an object can be thrilling and often makes us appreciate it even more.
Vintage items promote a calm and a lived-in feel. Worn pieces with a well-loved patina make us feel relaxed about how we live in our homes, reminding us that nothing is too precious. Without having to worry about an item getting dinged or scratched, these pieces bring a sense of ease and acceptance of the natural aging of things.
Top tip: Chalk and matte finishes are an on trend option for rejuvenating furniture. Try Karen Walker Chalk Colour and Wax from Resene ColorShops to bring an artisanal vibe to your upcycling project.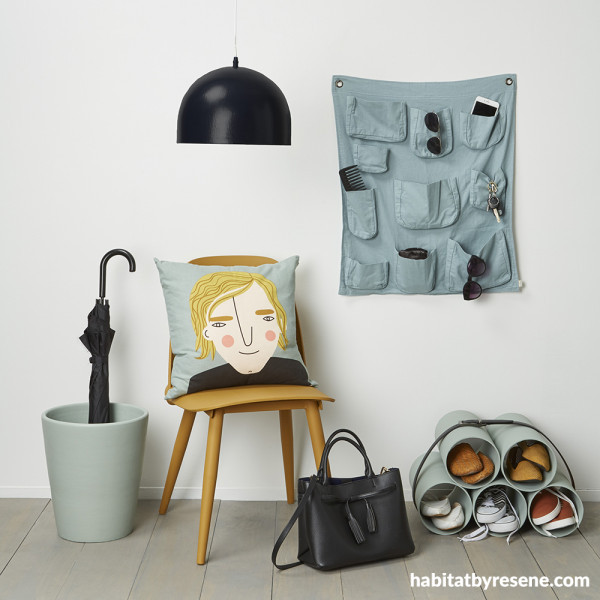 Create this clever shoe storage solution which you can make yourself by painting PVC drainage pipe or mailing tubes in Resene Pewter and strapping them together with a long belt, ribbon or even coloured duct tape. Wall in Resene Alabaster, flooring in Resene Colorwood Mid Greywash, chair and vase Resene Cleopatra, plant pot from Kmart painted in Resene Pewter and pendant lamp painted in Resene Jaguar.
Upcycled furniture can be a powerful ally for combatting a feeling of 'sameness'. These pieces are often rare and unique on their own, but they also allow for experimentation and personalisation. With a touch of paint or a simple reupholstery job, you can turn a drab thrift find into a covetable collectible.
Always have your eyes peeled, because a gem might just pop up where you least expect it. While vintage shops are sure to turn up goodies, second hand charity shops are also goldmines for this sort of thing. If there's a particular item you've got your heart set on, set up a keyword alert on Trade Me so you'll be the first to know about new listings. And remember to let friends and family know you're keen on any pieces they no long need.
When we face a great deal of uncertainty over what's to come, items that favour authenticity and imperfection bring a human touch into our home. Take your time to collect, upcycle and layer antiques into your home and if you have one that no longer brings you joy why not pass it onto a friend or family member for them to redecorate it and make it their own.
styling Kate Alexander, Claudia Kozub, Laura Lynn Johnston, Annick Larkin, Vanessa Nouwens, Megan Harrison-Turner
images Bryce Carleton, Melanie Jenkins
Published: 23 Sep 2020
Do you have a home full of wonderful Resene paint and colour? Send us some snaps by emailing [email protected].