►
◄
latest
habitat tv
blog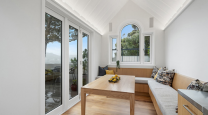 Master Builders' Chief Executive David Kelly shares his tips for building in the challenging climate.

Planning... more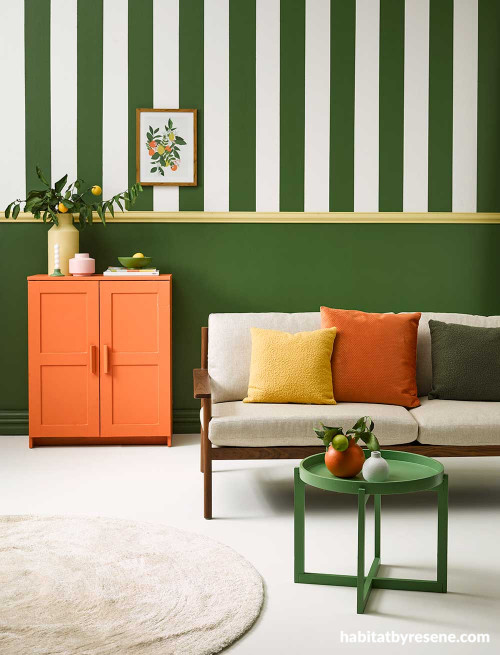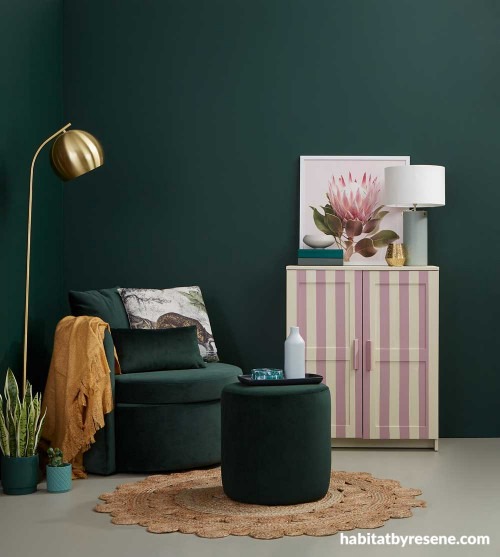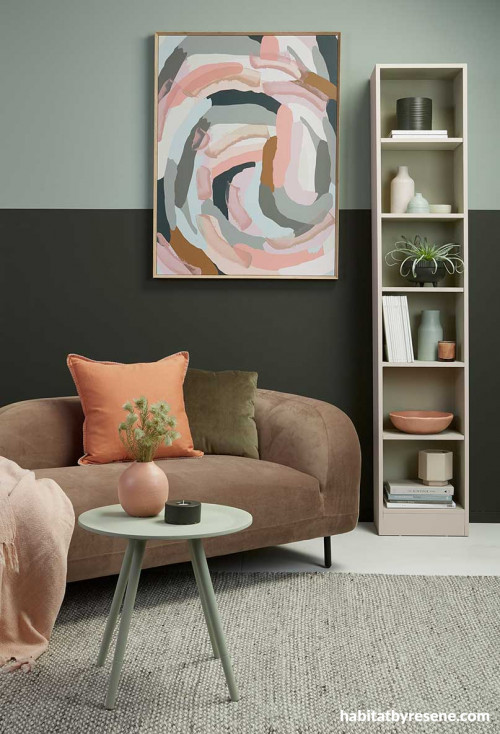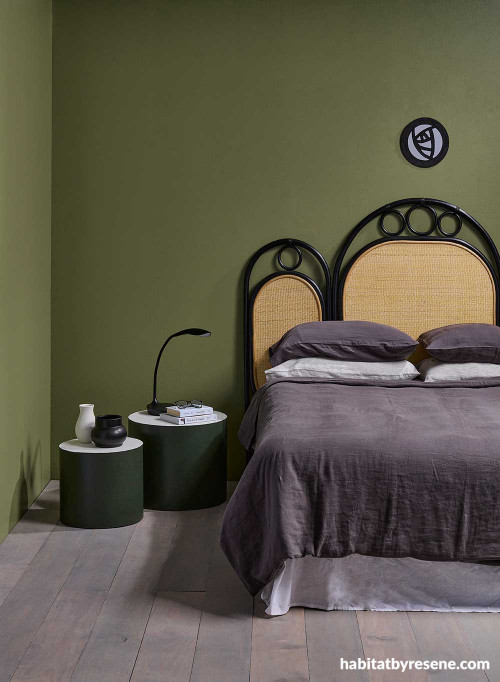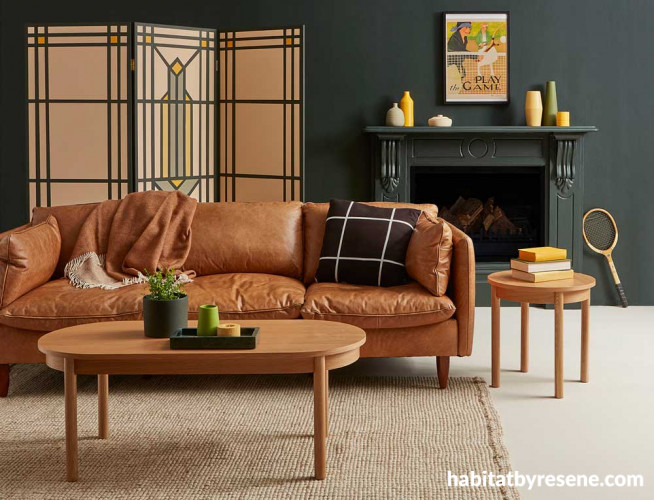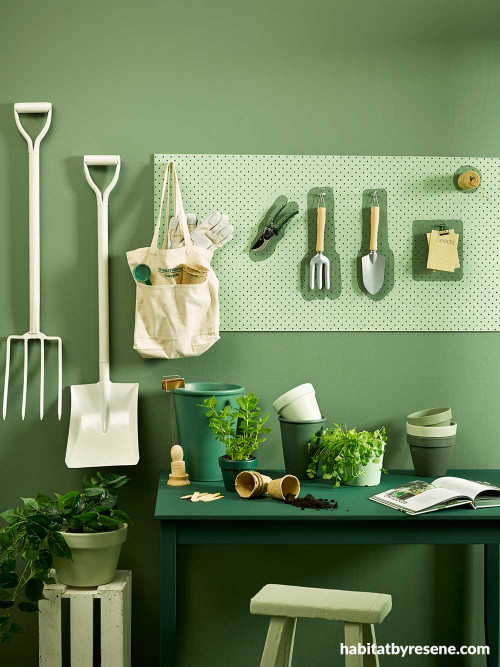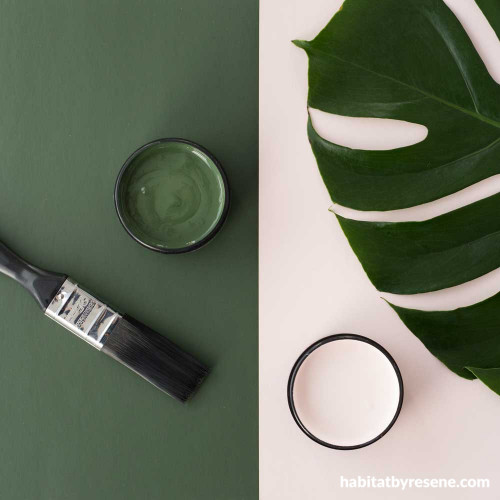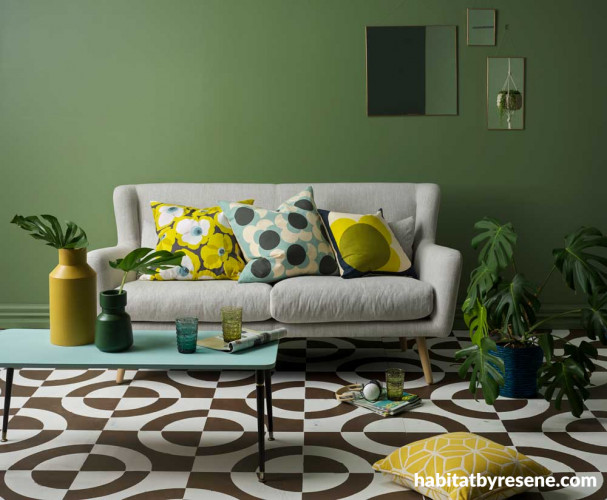 Eight Resene dark greens and how to use them
Green is a colour that can evoke powerful emotion, it's a dominant colour in nature associated with renewal and life and so represents harmony, balance and peace. And who doesn't want to bring that into their home?
So, all the shades of green are ideal for spaces you want to relax in, living rooms, bedrooms, bathrooms and chill zones. The Resene colour palette has a huge range of greens, so there's plenty of choice. Here are eight favourite colours that are on trend and have that calming, uplifting vibe.
Resene Clover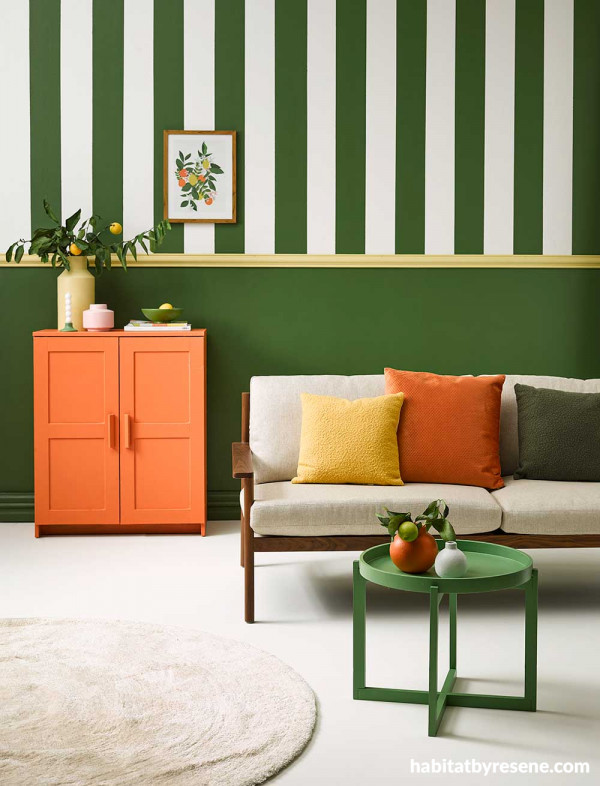 Lemons, limes and oranges are a popular motif in interiors at the moment. Base of wall to dado is in Resene Clover, dado rail trim in Resene Chenin and stripes in Resene Clover and Resene Rice Cake with floor in Resene Rice Cake. Large coffee table in Resene Dingley, cabinet and round vase on coffee table in Resene Smoke Tree, small vase on coffee table in Resene Midwinter Mist, large tall vase with lemon branches in Resene Chenin, candlestick holder in Resene Dingley, pink vase in Resene Paper Doll and bowl on books in Resene Green Leaf. Sofa from Città, cushions and art from Kmart, candles from Superette. Project byVanessa Nouwens, image by Wendy Fenwick.
About this colour:Resene Clover is a pastoral green field, serene and calm.
How to use it: Make it a foundation for other colours, either as a feature wall or as the grounding colour on the lower half of a wall.
Complementary colours: We've paired it with Resene Dingley on the coffee table, a fairytale forest green or look for a deeper tone in Resene Deep Teal, a clean blue green, aptly named.
Best friend neutral: Try it with Resene Quarter Surrender, an ephemeral cool silver neutral, too grey to be considered blue. Resene Quarter Rice Cake is a noodle coloured neutral, very slightly green in hue. Try Resene Quarter Rice Cake with green toned beiges, murky grey browns or green yellows.
Resene Palm Green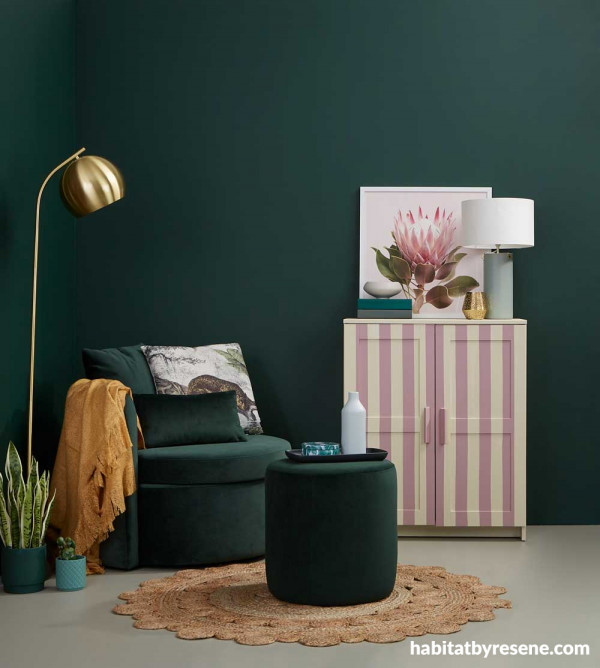 In this moody lounge the traditional, deep mossy hue of Resene Palm Green on the walls is perfectly matched to the green velvet chair and ottoman. The floor is in Resene Greige and the striped cabinet is in Resene Double Spanish White and Resene Vintage. Large plant pot in Resene Palm Green, velvet chair, cushion and ottoman from Contempa, lamp from Freedom, throw, artwork and brass tealight holder from Kmart.Project by Annick Larkin, image by Bryce Carleton.
About Resene Palm Green: It's an old college green, traditional and mossy.
How to use it: Choose this colour to bring a rich, luxurious vibe to interiors and add drama with a feature wall in a lounge. Go bold in a study on all four walls, for a traditional and comforting vibe.
Complementary colours: If you're looking to a complementary colour for deep green, Resene Rustic Red is a deep blue-based maroon red, robust enough to counter the strength of Resene Palm Green.
Best friend neutral: Resene Surrender, a silver grey, is a great partner often described as simple and distinguished. It suits whites and charcoals and cool hard colours.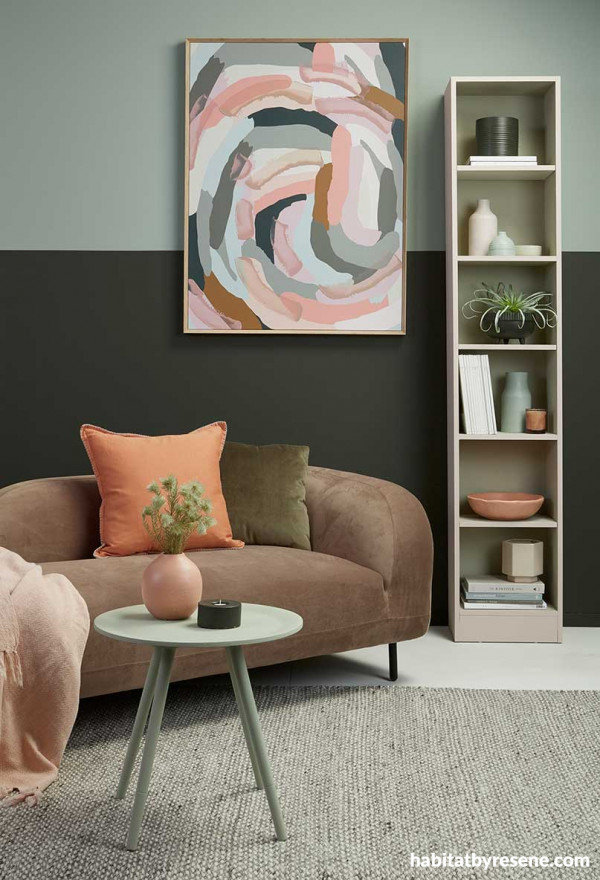 The top half of the feature wall is painted Resene Pewter and the bottom half is in Resene Karaka, floor in Resene White Pointer. Coffee table: Resene Bud. The outside of the tall bookcase is painted Resene Soothe, inside is painted Resene Eagle. Within the bookcase, an assortment of vases, bowls and planters have been painted Resene Karaka, Resene Pewter, Resene Soothe, Resene Bud and Resene Just Dance. Hamel Floor Rug from Freedom Furniture, Soho 3-Seater in taupe, Soho daybed in taupe, green velvet cushion, all from Contempa, cotton velvet rectangle cushion cover in Thistle from Citta, small and medium hexagonal pots from Kmart. All other props are stylist's. Project by Vanessa Nouwens, image by Bryce Carleton.
About this colour:Resene Karaka is a rainforest green, muddy, masculine and intense and often seen on exteriors, rooves and fences.
How to use it: We've brought it indoors to create a grounding base, solid and strong, paired with Resene Pewter for lightness. Both are from the Resene Classic Collection, a selection of favourite Resene colours that people are drawn to time and time again.
Complementary colours: For accents that complement the depth of colours above try Resene Barn Red, a warm red inspired by the traditional colour seen on farms, or head for a cooler palette with Resene Tao Grey, a sophisticated grey, full of depth.
Best friend neutrals: Working with those forest tones, you could select Resene Midwinter Mist, a cool pale grey with overtones of ephemeral dampness. Resene Quarter Friar Grey is a hessian and hemp taupe, that brings in cooling tones.
Resene Finch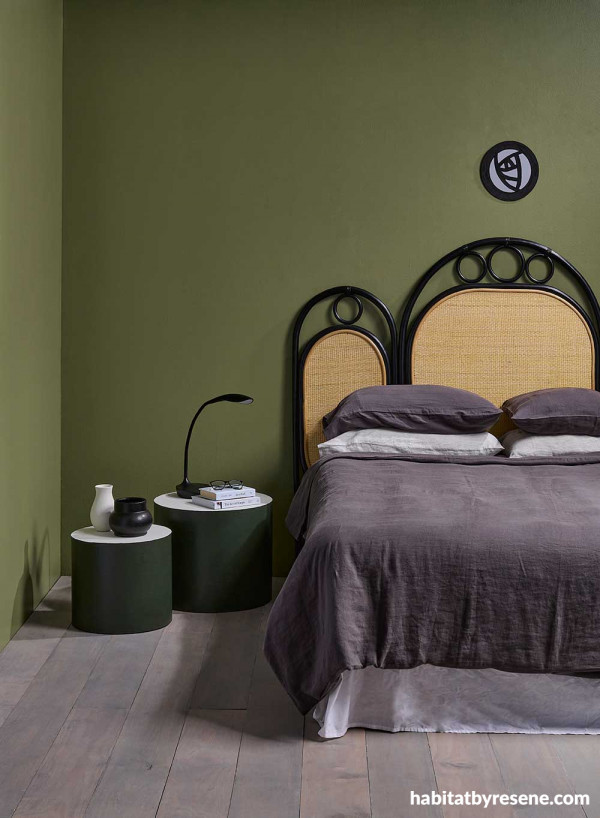 In this Art Deco-inspired bedroom the walls are in Resene Finch. Floor in Resene Colorwood Mid Greywash, drum tables in Resene Black Forest (sides) and Resene Green White (tops). Plant pots and vases in Resene Nero and Resene Olive Green. Paris Headboard in Black/Natural from The Cane Collective, duvet cover in Pepper, Sove Linen pillowcases in pepper and pinstripe, striped linen throw from Città, black LED touch lamp from Lighting Direct. Project: Laura Lynn Johnston, image: Bryce Carleton
About this colour:Resene Finch is a lichen grey green, shadowy and placid. Colours like this are soft and restful.
How to use it: Create a restful atmosphere with its dusty tones, making it ideal for a bedroom, or a study. It suites an Art Deco theme teamed with muted, sombre colours.
Complementary colours: If you're looking for a complementary colour to the darker greens try Resene Green White, a pellucid green with yellow tones. Or go for contrast with a punchy red like Resene Volcano, a moody burgundy red, lavish and sensual.
Best friend neutrals: Pair with off-whites and hues with sandy tones like Resene Paris White, a polished white with a hint of light green or Resene Rum Swizzle, a pale yellow oxide with a slight green tinge.
Resene Midnight Moss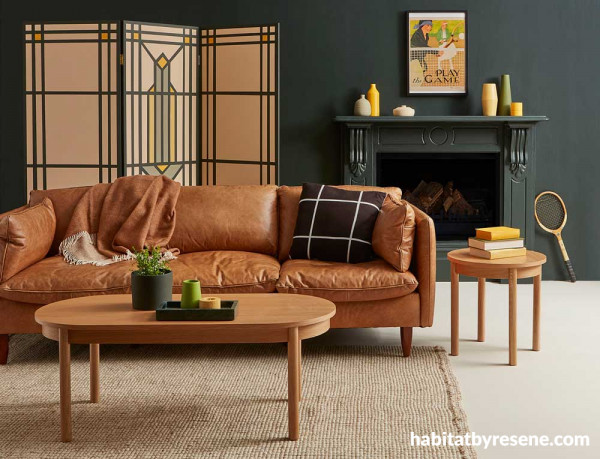 Using the colours of the forest in this lounge, the wall and fireplace are both in Resene Midnight Moss. Floor in Resene Half Fossil, door in Resene Leather, folding screen in Resene Tequila with 'leading' in Resene Midnight Moss and coloured 'stained glass' in Resene Bandicoot,Resene Rob Roy and Resene Lightning Yellow. Plant pot in Resene Black Forest, vases in Resene Leather, Resene Rob Roy,Resene Clover, Resene Sushi, Resene Lightning Yellow and Resene Bandicoot, painted books in Resene Lightning Yellow,Resene Clover and Resene Rob Roy and coaster in Resene Half Fossil.Sofa, rug, side table and coffee table from Freedom, throw from Città, mug by Fiona MacKay from Public Record, 'Play the Game' tennis poster from Pictorem, marble tray and grid cushion from H&M Home. Project by Laura Lynn Johnston,image by Wendy Fenwick.
About this colour:Resene Midnight Moss is a deep forest green, rich and moody, and one of the hottest colours to decorate with today.
How to use it: Take a deep, rich green like this and use it as the hero in a room. It works well as a feature wall, in living or bedroom areas, or a study.
Complementary colours; Fire up the heat with Resene Red Berry, a vivid primary red or head for the blues with Resene Deep Teal, a clean blue green.
Best friend neutrals: Try Resene Atmosphere, an almost silver grey, airy and cool, or Resene White Thunder a shadowy, cool-toned grey.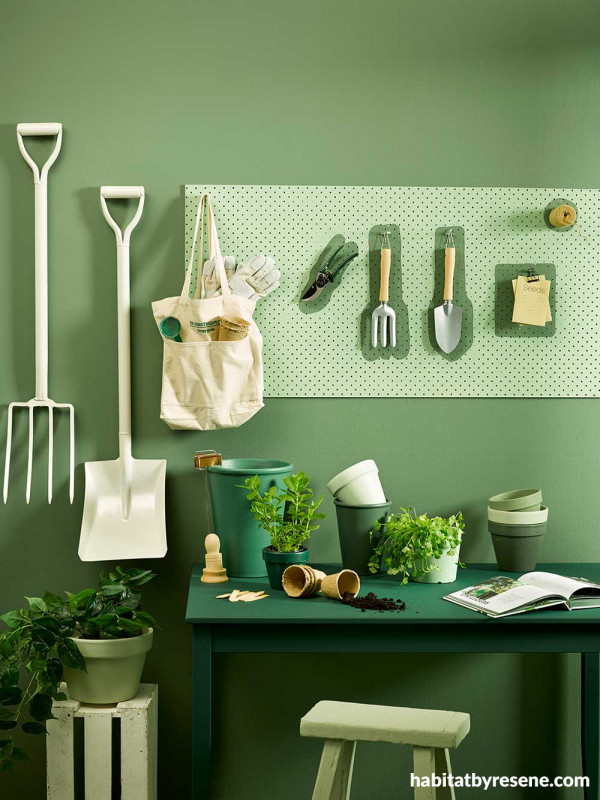 A potting shed with pizzazz! Walls and floors in Resene Rivergum, table in Resene Palm Green,stool in Resene Bud and pegboard in Resene Nourish with tool outline in Resene Rivergum. Pots painted in Resene Nourish,Resene Bud,Resene Palm Green, Resene Rivergum, Resene Secrets, Resene Peace, Resene Middle Earth, Resene Paddock, Resene Mangrove and Resene Spanish Green and crates painted in Resene Rice Cake. Tools and growing kit, gloves, string, fork and trowel, seed packets, biodegradable pots all from Bed Bath & Beyond, spade and fork from The Warehouse, bag from The Aromatherapy Company. Project by Vanessa Nouwens, image by Bryce Carleton.
About this colour:Resene Rivergum is a water green, softly shadowed with depth, setting a calm and reassuring vibe.
How to use it: We've used it to add style to a workspace, and it could add freshness to a child's room, or spring tones to a kitchen or dining area.
Go for a complementary colour in Resene Ironsand, a smoky brown grey, or Resene New Denim Blue a charcoal blue to layer depth and complexity.
Best friend neutral: Pair it with subtle neutrals like Resene Merino, a slight off white or Resene Half Concrete to create a cool and restful atmosphere.
Resene Seaweed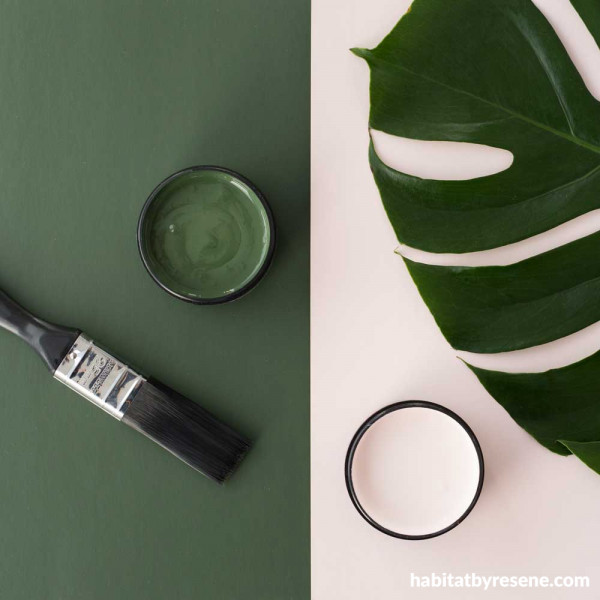 Resene Seaweed and Resene Vanilla Ice complement each other. Project by Amber Armitage, image by Melanie Jenkins.
About this colour:Resene Seaweed, is a bitter olive brown, heavy and deep, with tones of ochre.
How to use it: Green is a constant choice in workplaces and for good reason – it evokes balance and harmony. The strength of this colour works well in an office, bedroom or workspace.
Complementary colours: We've paired it above with Resene Vanilla Ice, a sorbet of Neapolitan pink, elegant and simple. Adding this complementary colour brings an element of fun and lightness.
Best friend neutral: Resene Black White is chalky and soft. With a cool, grey base, this is a favourite for those going for a minimalist aesthetic and is Resene's top-selling paint colour. Alternatively, pick up the tones of the greens with Resene Rice Cake, a green-edged white. It is sharp and clean, providing a compelling springboard for bolder colours.
For a complementary colour try Resene Triple Merino, a complex neutral amalgamation of bone and ash, modest and peaceful.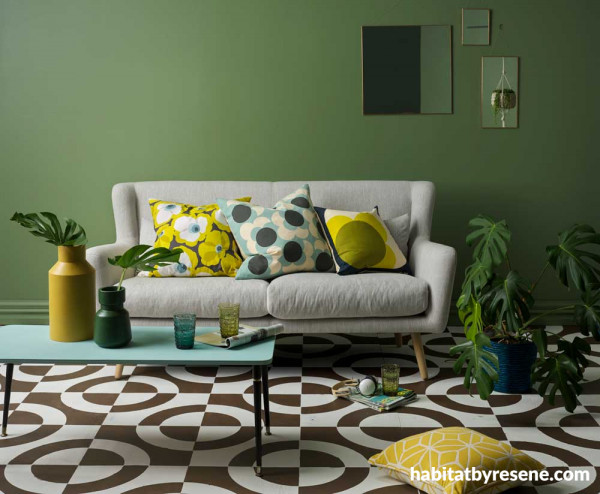 The 1970s was an era of hippy culture, mellow homespun looks, shagpile carpets and the lava lamp. This 70s -inspired living room, features vibrant colours with a stencilled floor in Resene Lignite and Resene Quarter Cararra, walls in Resene Paddock, hanging shelf in Resene Barometer, coffee tabletop in Resene Unwind, tall vase in Resene Intrepid and short vase in Resene Seaweed. Project by Claudia Kozub, image by Melanie Jenkins.
About this colour:Resene Paddock is an unusual wistful mid-grey green pastoral and pleasant.
How to use it: Bring on the fun with this colour by using it in dining and living areas. It's a lively green that will bring energy to a room.
Complementary colours: It partners well with citrus colours so try Resene Bitter Lemon, a bright canary yellow green, fresh and free or go for a deeper tone, Resene Lemon Ginger, a deep and spicy mustard yellow green.
Best friend neutral: Try Resene White as a crisp and fresh white, or Resene Double Concrete, an urban grey developed from high-rise silhouettes.
Regardless of the green you choose you can be confident that it will suit all seasons, bringing a little nature and harmony into your home to enjoy every day.
Published: 16 Dec 2021
Do you have a home full of wonderful Resene paint and colour? Send us some snaps by emailing [email protected].