►
◄
latest
habitat tv
blog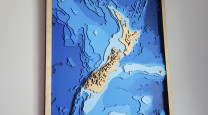 Elegance in monochrome: The timeless beauty of the 'mullet' home
When it comes to their home design, the perfect analogy for Simon and Katrina's home would be the iconic "business at the front - party at the back." Their beloved 1930s bungalow proudly stands as a testament to history, facing the street with a dignified charm. In the rear, a new addition, playfully nicknamed the 'mullet,' takes centre stage. It is unapologetically contemporary while maintaining a deep respect for its historical counterpart.
The brilliant designer behind this transformation, Tobin Smith from COMMON, elaborates on the project's essence: "The 'mullet' addition adds a much-needed third bedroom to the existing bungalow; a primary bedroom retreat for the occupants, offering space between them and their now teenage daughter. The addition unlocks a previously underutilised portion of the section, an area rich with afternoon sunlight in an established garden setting."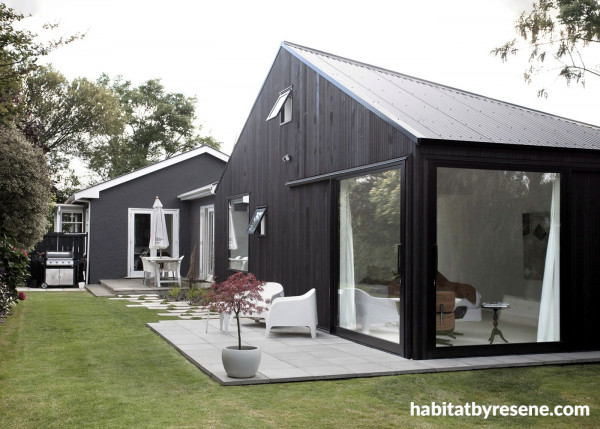 The elevated floor level of the original bungalow gracefully carries through the new transition link, creating a seamless blend between old and new, while the new primary bedroom gracefully descends via large sliding doors to a private terrace. The exterior is stained in Resene Woodsman Pitch Black.
One of the most striking features of this home is the carefully selected colour scheme, chosen by Tobin and the homeowners, artistic Katrina and garden-loving Simon. The exterior of the house, painted in Resene Pitch Black, allows the building forms to meld seamlessly into the surrounding landscape, providing a stunning contrast.
"The dark exterior colour palette is inverted internally, with a beautiful profusion of white," Tobin explains. "This light, bright choice maximises internal illumination and complements the carefully chosen furniture and art pieces."
Every inch of the interior exudes an explosion of white, with Resene Black White on the walls and Resene Alabaster on the trims and doors. Even the existing timber flooring now dons a coat of paint in crisp Resene Black White, embodying a fresh beginning and making way for Katrina and Simon's vibrant and trendy décor.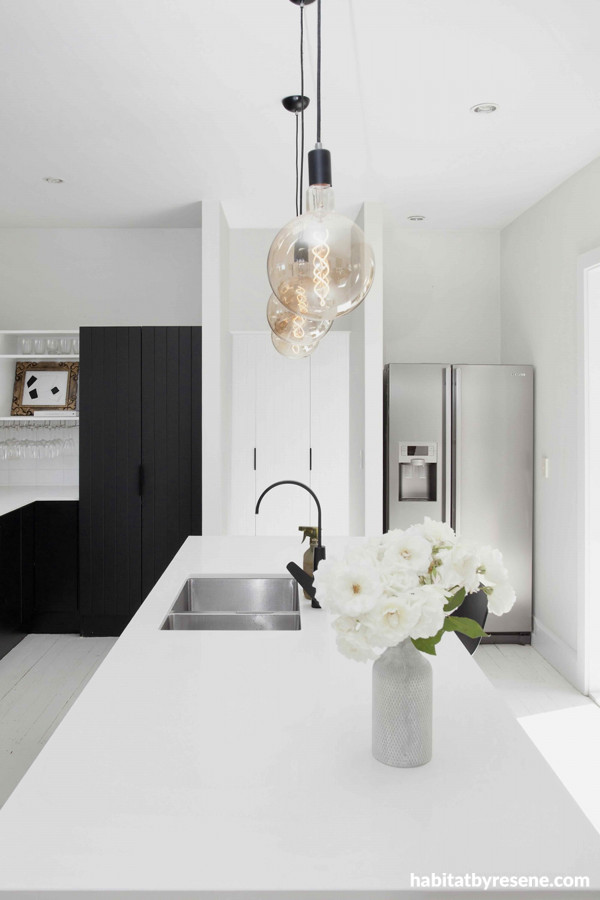 The heart of the home is a dreamy scene. The kitchen is bright and welcoming with Resene Black White on walls and ceiling, with trims in Resene Alabaster. Contrasting dark cabinetry and fixtures provide continuity from the exterior, creating a neutral home that exudes sophistication and quiet luxury.
Tobin's clever design choices continue to shine inside the home. New internal joinery elements, including kitchen fronts and primary bedroom joinery, have been crafted from raw v-grooved MDF, a tribute to the 1930s joinery style. Katrina and Simon, demonstrating their dedication to the project, hand-painted these elements on-site, offering both a nod to the past and a cost-effective solution to manage the project's budget.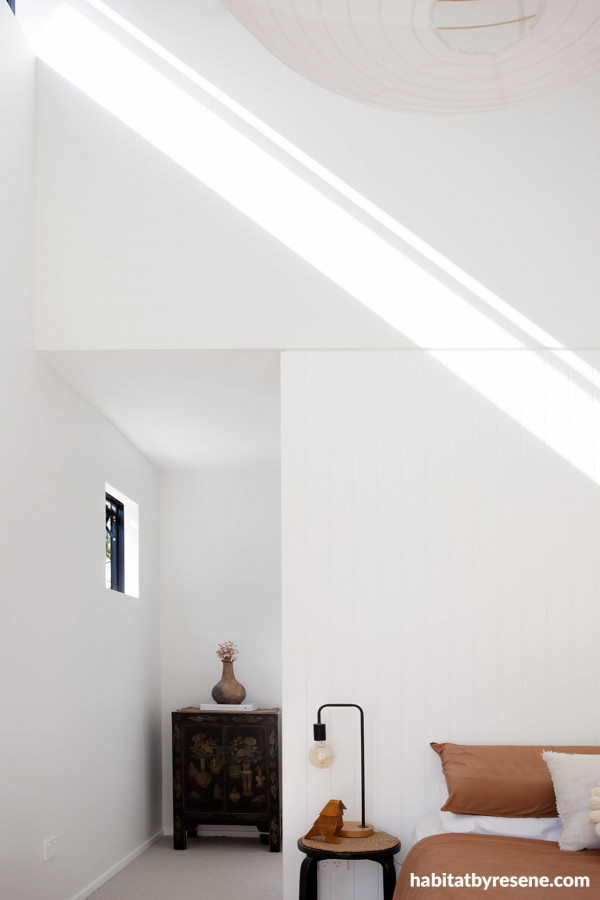 As the sun beams through the skylight, it highlights the beauty of Resene Black White on the walls, a timeless and crisp white. Trims painted in Resene Alabaster.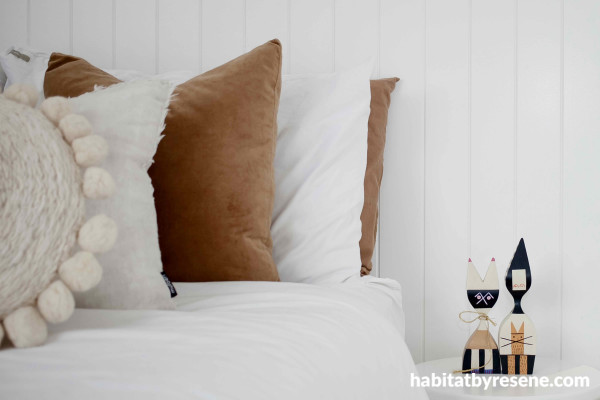 The clean white of Resene Black White allows accessories and colours to shine through in décor – a great choice for when you want to regularly change your accessories.
The 'mullet' addition is dressed in natural cedar, stained in Resene Woodsman Pitch Black, beautifully contrasting the black-painted stucco plaster of the existing bungalow. These distinct yet complementary colour choices highlight the different eras of construction, celebrating their uniqueness while harmonising their tonal palettes.
A small, glazed transition link elegantly separates the new addition from the existing bungalow, serving both a visual disconnect externally and a privacy barrier internally. The walls are painted in Resene Black White, with trims in Resene Alabaster and the exterior is a stunning contrast in Resene Woodsman Pitch Black which frames the view of the landscaped garden.
Katrina and Simon's home is more than just a renovation, it's a masterclass in blending the past with the present, light with dark and history with modernity. This project received a well-deserved Canterbury Branch NZIA Award in the Housing - Alterations and Additions category.
Tobin's artistic sensibility, combined with Resene's versatile whites and neutrals palette, has created a true work of art. This home is a monochromatic masterpiece that will continue to inspire and awe for years to come.
design Tobin Smith, COMMON
images Katrina Anderson
Top tip: If you're planning on decorating with white, you'll discover a wealth of Resene 'whites', with varying touches of yellow, green, brown or grey to turn them into a huge cast of interesting shades. The best place to start is with the Resene Whites & Neutrals collection, which is home to a host of whites as well as darker neutral colours – greys, beiges and blacks.
More than any other colour, whites and off-whites are influenced by other elements in the room. If you have off-white walls and a lot of green accessories, expect your walls to take on a green look. Use a strong blue rug or furniture, and your walls will pick up on the blue. You can use this to your advantage. For example, if you have rich, reddish timber floor that you find a bit overpowering, using a cool white on the walls (with a grey or green base) will diffuse the effect of the floor. Find more tips and tricks in habitat plus – Whites and Neutrals.
Published: 17 Oct 2023
Do you have a home full of wonderful Resene paint and colour? Send us some snaps by emailing [email protected].






the look
If you're stuck on what
colour to use or need colour
advice, try out the Resene
Ask a Colour Expert service.