►
◄
latest
habitat tv
blog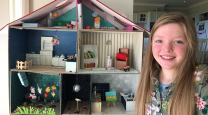 Emma and Peter's beautiful bungalow reno well worth the wait
In late 2007, needing more space for their growing family, Emma and Peter purchased an arts and crafts bungalow in Auckland's Mt Albert neighbourhood. "Even though the house needed work, we could definitely see the potential. We immediately fell in love with the home's architecture and we were looking forward to the renovation journey,"says Emma. Unfortunately, their renovation plans would have to wait as the family were relocated across the Tasman with Peter's job. After returning to Auckland in 2014, the renovation finally began; and a neutral palette of Resene paint colours were used inside and out to complete their home's contemporary new look.
The couple engaged Auckland architectural firm Rogan Nash to do the concept drawings. "We found working with Kate and Eva great from the start – they seemed to really like the house and loved the original features just like we did," explains Emma. These features included matai timber floorboards, dark wooden doors and timber architraves that would all bereturned to their former glory using Resene Colorwood English Walnut timber stain.
Once the architectural plans were finalised and consents had been granted, the project took just over six months to complete. Kate and Eva didn't project manage the build as Peter's father and brother are both builders, so the couple took advantage of the family expertise. However, they did provide the Resene paint colour recommendations for both the interior and exterior of the house. In the family living room, Kate and Eva suggested the rich earthy green wall colour of Resene Fervent Green, giving the room a cosy and restful vibe. "Initially I thought "you have to be kidding" but then Pete said, "well everything else they have suggested has been great so let's go with it" and now it is our favourite aspect of the house," says Emma.
As for the rest of the house, the couple chose touse a neutral paint palette throughout,opting for Resene Half Pearl Lusta on the walls, Resene Alabaster on the ceilings and Resene Colorwood English Walnut wood stain on the architraves, doors and skirtings. The warm white walls were a deliberate choice as Emma and Peter have a large collection of wall art - much of it painted by Emma's mother, well known NZ artist Anne Rush. "I love to add pops of colour through art, rugs and cushions," explains Emma.
The couple have followed the same design principle outside allowing their garden's mature planting to pop against the home's exterior. On Eva and Kate's recommendation the couple used classic Resene Taupe Grey on the weatherboards, paired with the elegance of Resene Albescent White on the exterior window trims. For the front door, Resene Jaguar in a gloss finish was chosen for a stately and stylish contrast. The new corrugated iron roof in Ironsand completes the polished palette.
The original house had little in the way of storage, so Eva and Kate designed the timber cabinetry in the kitchen, dining and living areas,which pairs perfectly with the Resene Half Pearl Lusta wall colour. "We absolutely love the contrast," explains Emma. "The timber cabinetry looks fabulous against the white backdrop, but for a practical standpoint, it also hides a million messy things."
It is a luxury to be able to be able to renovate and decorate, but what is more important to Emma and Peter, is that this home is practical and works for the family who live in it. The Resene colour palette chosen for this home is easy to live with, will stand the test of time and gives a nod to the original era of this house. A home definitely worth waiting for.
Published: 15 Apr 2020
Do you have a home full of wonderful Resene paint and colour? Send us some snaps by emailing [email protected].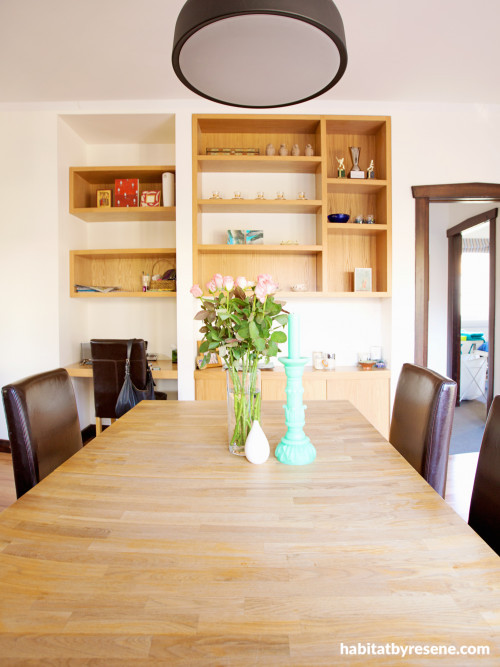 Kate Rogan and Eva Nash, the couple's architects, designed the custom timber cabinetry and shelving units in the living room. Emma loves how the warm timber tones pair beautifully with the warm white wall colour of Resene Half Pearl Lusta and Resene Alabaster on the ceilings. Architraves in Resene Colorwood English Walnut wood stain.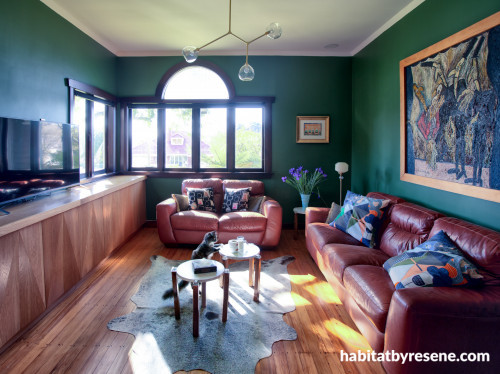 Resene Fervent Greenwas chosen for the walls of the family living room, creating an intimate and inviting space that immediately evokes a feeling of calm and relaxation. Resene Fervent Green is from an older colour collection and can still be tinted for you at your local Resene ColorShop. Or try Resene Palm Green for a current alternative. Resene Alabaster applied on the ceiling brings contrast and light to the space.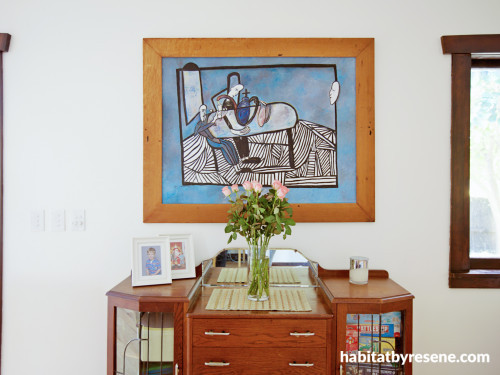 Resene Half Pearl Lusta was deliberately chosen to create a 'pure' space in which the couple's large collection of art could be experienced without distraction.The ceiling is painted in Resene Alabaster.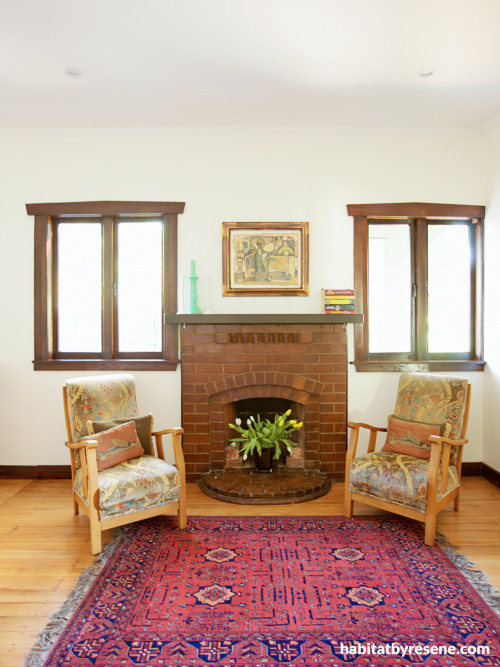 The original timber features were one of the drawcards that led Emma and Adam to purchasing this home. The window frames have been painstakingly refurbished, coloured with Resene Colorwood English Walnut timber stain to return them to their former glory. The walls are painted in Resene Half Pearl Lusta and the ceiling is in Resene Alabaster.
Emma likes to add pops of colour through rugs, soft furnishings and art which is why she opted for a neutral interior wall paint colour, Resene Half Pearl Lusta with ceilings in Resene Alabaster. Try adding accents in Resene Bondi Blue and Resene Mexican Red to get a similar vibe.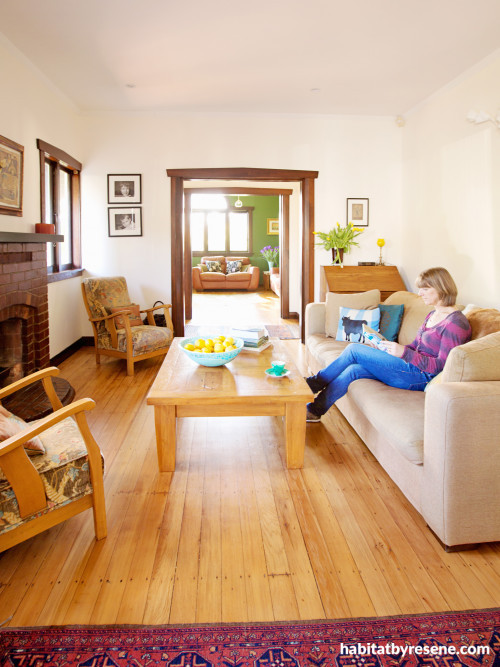 Resene Colorwood English Walnut timber stain allows the original timber architraves and window frames to remain a striking feature of this home.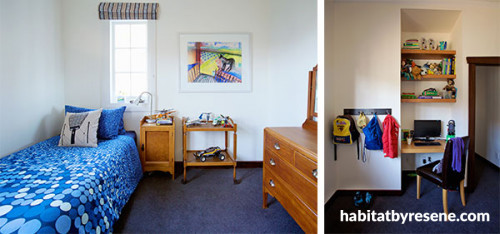 Preferring to add colour through art and soft furnishings, Emma chose to keep the boys' bedrooms simple in terms of paint colour. Resene Half Pearl Lusta continues into these spaces, along with Resene Colorwood English Walnut timber stain on the skirting boards, doors and frames. Try bringing in pops of Resene Wet N Wild and Resene Vibe and go for flooring in Resene Baltic Sea for a similar look.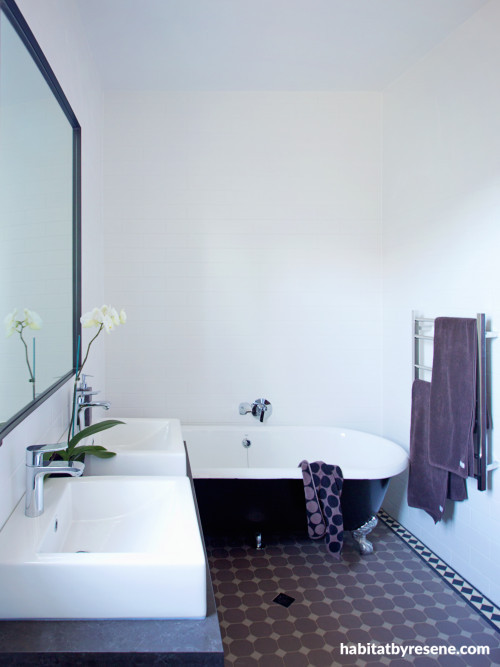 A refurbished clawfoot bath painted in Resene All Black adds drama and elegance to this beautifully renovated bathroom. Walls painted in Resene Half Pearl Lusta and ceiling in Resene Alabaster, combined with Resene Colorwood English Walnut timber stain on the trims, ensure this home has a cohesive interior design throughout.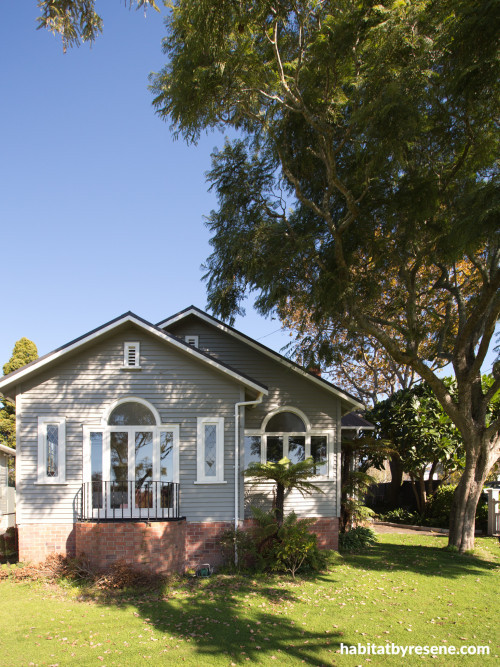 Emma and Peter's architects, Kate Rogan and Eva Nash, suggested the elegant exterior colour combination of ReseneTaupe Grey weatherboards, Resene Albescent White trims with a new Ironsand roof, which allows the natural elements and mature planting to pop.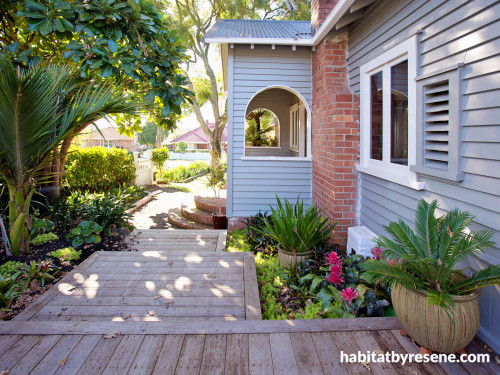 Resene Taupe Grey weatherboards trimmed with Resene Albescent White make for a fresh-looking exterior that allows the gorgeous garden that surrounds Emma and Adam's home to shine.
images  Emma MacDonald,  FotographicNZ