►
◄
latest
habitat tv
blog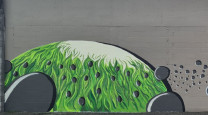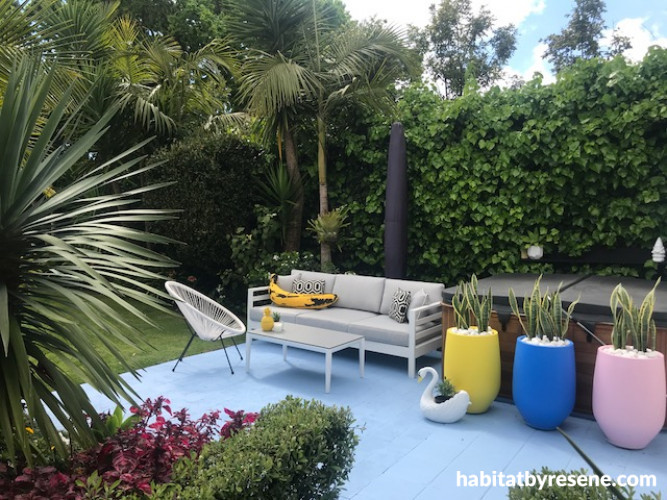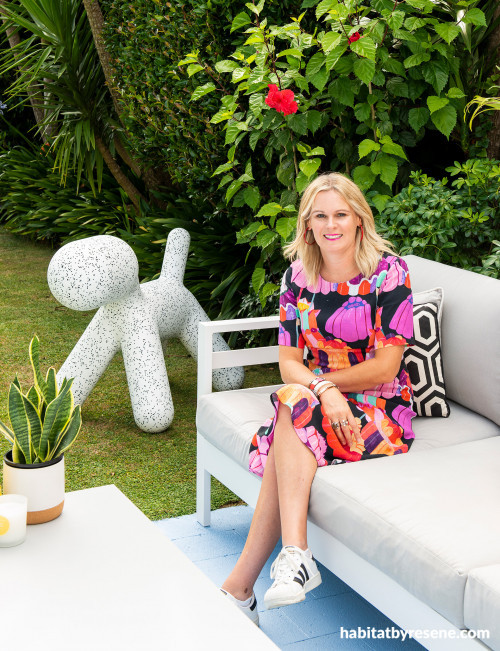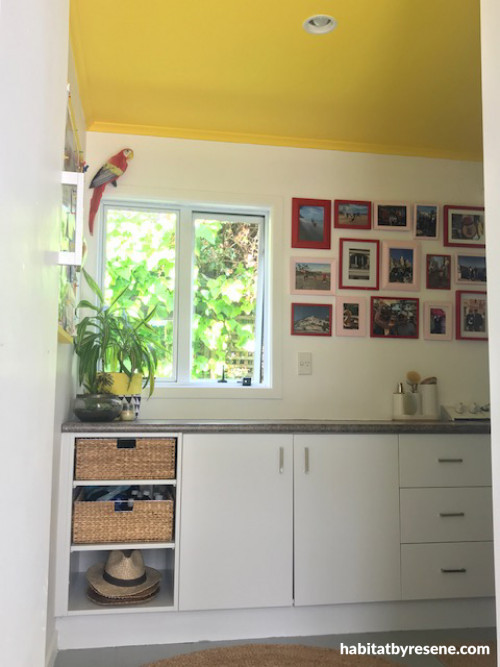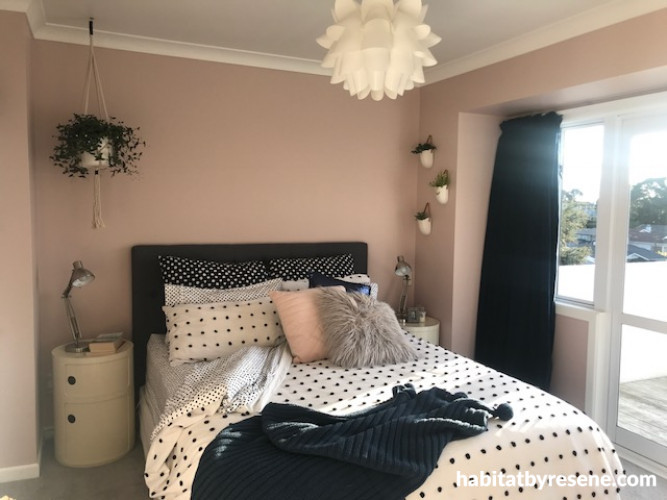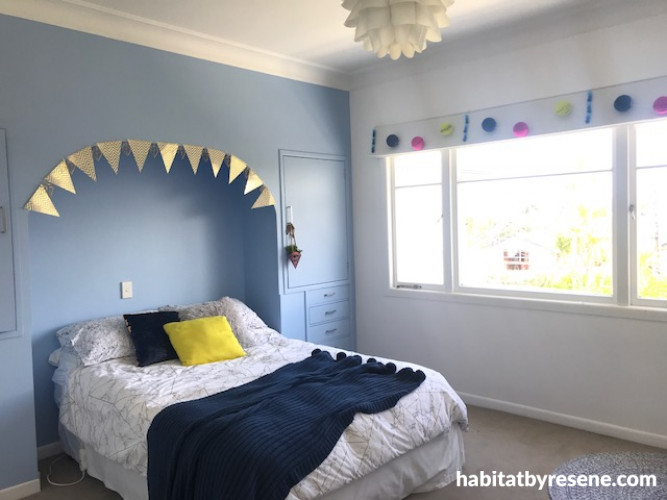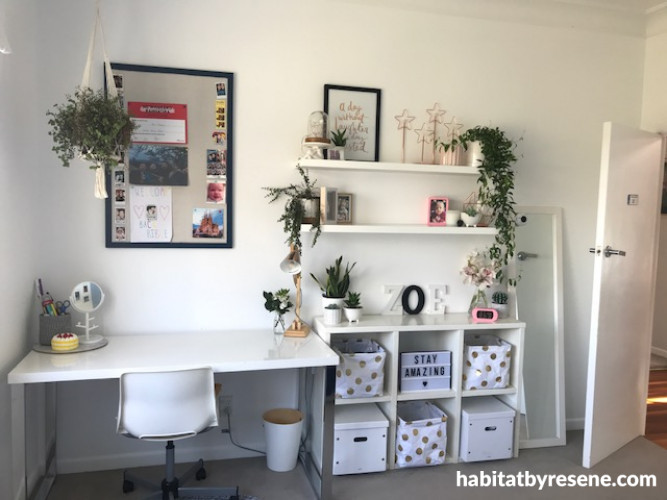 Erina and Matt's fearlessly colourful family home
With an unashamedly eclectic home and an eye on budget, designer Erina Emery and husband Matt have created a fun and colourful home for their family.
Clad in white stucco, the house stands on an elevated site at the edge of Heritage 1 Zone in Epsom, Auckland, where old villas transition into more eclectic styles. It appears to be Art Deco but was actually built in 1948. Its previous owners described it as French Deco and Art Stucco but whatever it is, it has an appealing Californian vibe enhanced by the couple's choices of bright and breezy Resene colours.
The house had already been extended when Matt and Erina moved in 11 years ago. They loved the place despite its aberrations - notably the intriguing angles and spaces created by a second-storey addition – and the textured plaster internal walls. Says Erina: "It looked like the inside of a Greek restaurant. We had to move out while it was removed."
The couple intended to renovate straight away but with three children, busy lives and a love of travel including a year spent in Spain, major renovation plans have remained on hold.
Adding colour couldn't wait, however. Says Erina: "When we first moved in every room needed to be changed. I created a mood board for each space to ensure that once completed each room would link and create balance. I have a very eclectic style and love colour, so each space started with the paint colour then I matched curtains and fittings"
She has no favourite colour or space although finds the dusty pink of her bedroom very relaxing and peaceful, and says bright yellow makes her feel alive and happy.
Erina says the home is well-built and has great bones; it's functional and spacious and most reflects her interior design philosophy that a home tells the story of those who dwell within. This family's story is clearly defined by its love for things that captivate: that are colourful, kitsch and fun.
She makes using bold colour look easy and advises not to be afraid of using colour. But do plan, and get Resene testpots and sample your colours to ensure they are correct. A good tip is to paint onto a A4 piece of paper and then move the colours around the space at different times of the day."
The Emery house has already gained notoriety, appearing in interior design magazines and winning colour awards. Recently Erina won the Your Home and Garden Resene Colour of the Month award for the patio which opens out from the sunroom and nine years ago she took out a Supreme Award for her bathroom and dining room refurb. Simply You magazine has also photographed the home.
The patio colours, with pavers in Resene Polo Blue and pots in Resene Half Turbo (yellow), Resene Mariner (blue) and Resene Princess (pink) were inspired by a trip to Bali where Erina saw a similar scheme and adapted it to their sunny north-facing garden. The cute white polyethylene guard dog in the garden is by Magis and was bought from Matisse.
Erina's décor philosophy here follows the 'smoke and mirrors' technique and how to make things look good on a budget. She loves mixing new with old for the charm and depth it creates, then come splashes of humour and colour plus a nod to fashion; her former career.
Collections and art are another source of joy and fun for the couple. Matt's main current passion is Maori history and art forms Erina has a thing for bugs and taxidermy.
The modern white light fittings featuring in several rooms came from Ikea; a steal at $20 each. The roman blinds made from striking Aztec-inspired fabric in the dining room beside the bright yellow Resene Turbo feature wall were found on the same Ikea shopping spree in Singapore.
Standouts for this home: its originality, lack of pretention and huge sense of fun. The Emerys aren't sure whether they'll end up doing their major renovate or simply relocate. At the moment, they're still enjoying their home, filling it with heart and soul – and colour.
For more of Erina's work, see www.erinaemery.com.
Published: 02 Oct 2019
Do you have a home full of wonderful Resene paint and colour? Send us some snaps by emailing [email protected].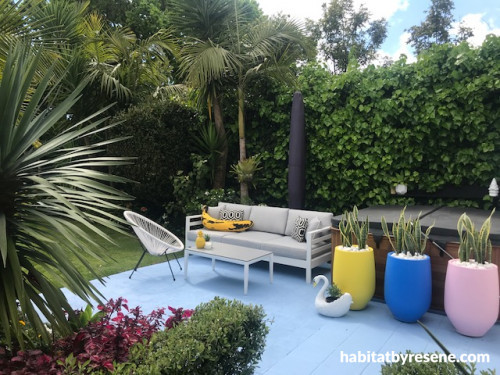 The space that won a recent Your Home and Garden Resene Colour of the Month award, a patio inspired by a visit to Bali and featuring pots painted in Resene Princess (pink), Resene Half Turbo (yellow), Resene Mariner (blue) and pavers in Resene Polo Blue.
The house has indeterminate origins but has a fun Miami look with its plastered exterior walls. Erina painted the pavers in sky blue Resene Polo Blue. Use Resene Walk-on paint for these types of projects.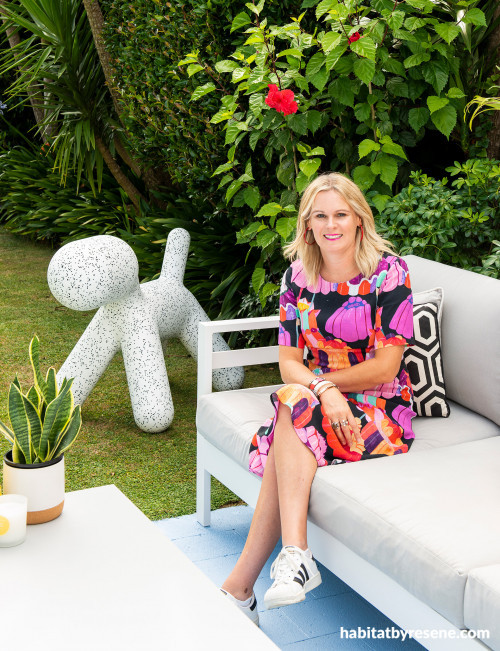 Erina's love of colour and fashion sense are obvious. She now works as an interior designer.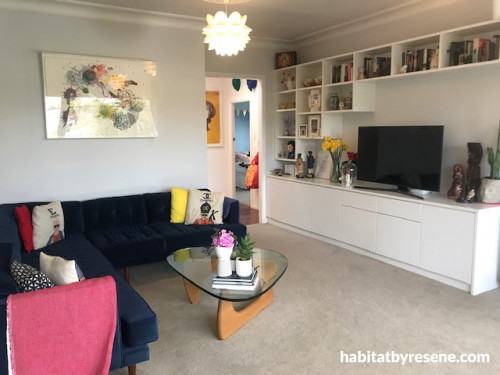 Resene Alabaster is used as the main neutral throughout the house interior.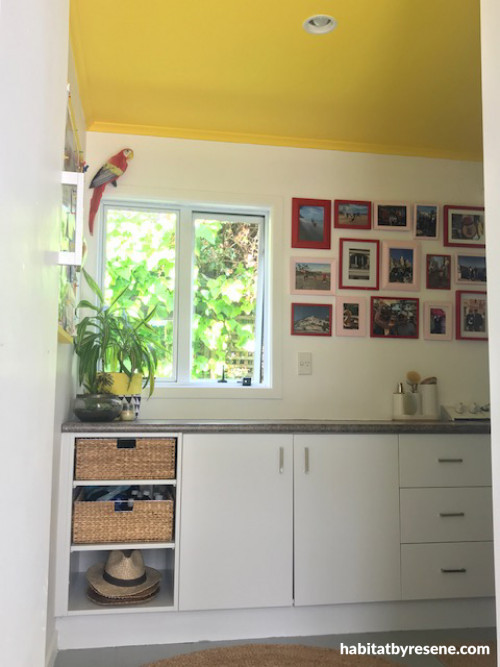 The house has unexpected pops of colour, including a laundry ceiling in Resene Turbo. Erina says the colour makes her feel alive. The cabinets are painted in Resene Eighth Stack, and the photo frames are painted in Resene Poppy (red) and Resene Pink Lace.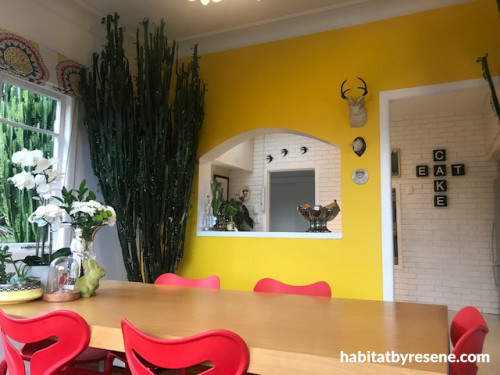 More Resene Turbo surrounds the only remaining arch from the original house.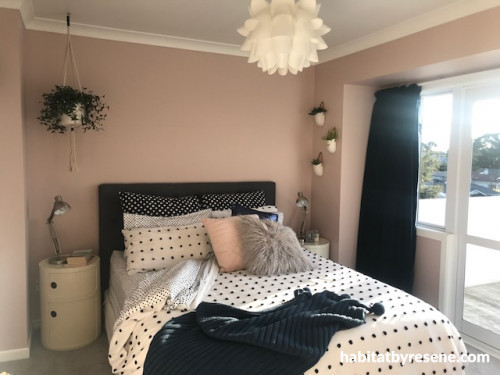 The relaxing master bedroom has walls painted in Resene Blanched Pink from the Karen Walker Paints collection.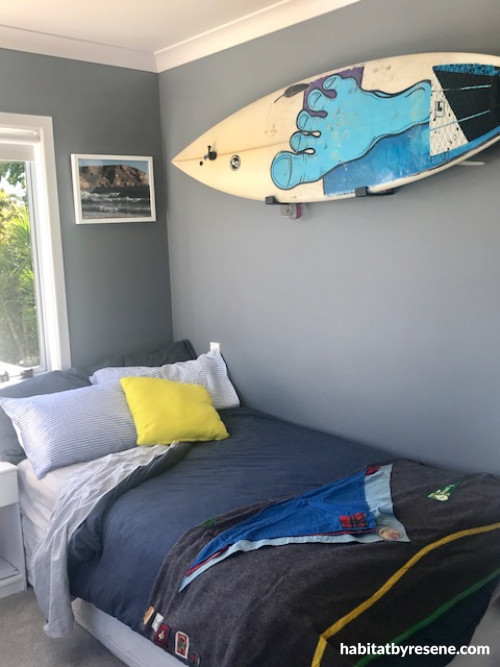 Son Mason gets walls painted in Resene Raven, and an eye-catching piece of surfboard art.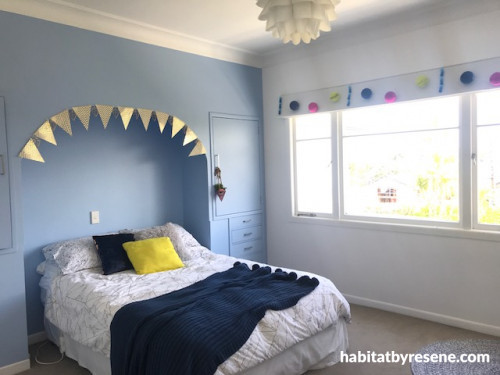 Daughter Zoe bucks the gender stereotypes with a bedroom feature wall painted in soft blue Resene Time Out.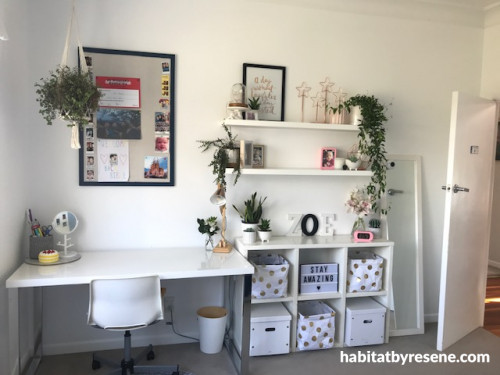 To define the study zone in Zoe's bedroom the same colour palette was used across the furniture and accessories to complement the walls painted in Resene Alabaster.






















the look
If you're stuck on what
colour to use or need colour
advice, try out the Resene
Ask a Colour Expert service.