►
◄
latest
habitat tv
blog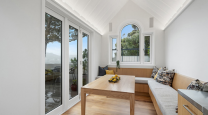 Master Builders' Chief Executive David Kelly shares his tips for building in the challenging climate.

Planning... more
Exterior inspiration: Patio perfection in a 1930s bungalow
Old world charm and colourful contemporary character meet at Rachel and Steven's 1930s Auckland bungalow, which they share with their two children, Elias and Ivy. While open plan living may be the norm for many new build and renovated home layouts these days, Rachel and Steven fell completely in love with the composition of their character bungalow and its clearly defined areas. They left its ornate high ceilings, panelled walls, dado rails and floor plan intact and uplifted it with a considered selection of Resene paint colours and a layered mix of vintage and contemporary décor.
"Each room has its own personality and style which gives the house a real sense of authenticity," says Rachel.
When it came to the bungalow's exterior, they took a similar approach by opting to retain its charming façade but refreshing its painted surfaces. To complement their eye-catching terracotta roof, they went for Resene Quarter Silver Chalice for the stucco, Resene Villa White for the doors, trims and awning and Resene Shark to add contrast to the fascia and windowsill details.
But when it came to the garden and patio, much more significant changes were in order.
"When we bought the bungalow, the garden was completely different. It had been beautifully landscaped, but it unfortunately didn't suit us for various reasons. Firstly, it had a spa pool and water feature, and we had very young children. Secondly, it was full of tropical plants – many of which had vicious spikes or thorns," says Rachel.
She estimates that they removed at least 90% of the plants before replacing them with native varietals. They also removed the spa pool and water feature and built a deck in their place. "We wanted a garden that we could all relax in and that our children could play in without supervision."
One of the things the family likes most about the yard are the different levels. "We built the deck on the upper level, and when you sit up there with the palm trees hanging overhead and the parakeets nesting above, it feels like you are floating on your own private little island. The different layers really give the yard a sort of resort feel."
Steven and Rachel are both big fans of creating 'zones' or delineated spaces both indoors and out – after all, that was a driving factor in maintaining the original layout when they renovated the inside of their home. "We adore the separation of the new garden. The garden was designed to suit the era of the home, so it has a distinctly art deco feel to it with lots of curves and rounded edges." The retaining walls were also given a stucco finish to coordinate with the look of the exterior, however, these were painted Resene Stack to provide subtle contrast.
It seems as though the new garden design ended up suiting even more of their lifestyle than they originally anticipated. Thanks to its flowing curves, the family's trampoline fits perfectly into a nook at the end, nestled under a canopy of puka trees that keep it beautifully cool in the summertime.
"One Christmas," Rachel recalls, "we bought our daughter Ivy a wonderful little playhouse and conveniently, next to the deck, we had a set of stairs that we hardly ever used so we positioned her 'clubhouse' at the top of them to create her own private entrance."
Rachel says that her family has spent an enormous amount of time in the garden since the update. Steven loves relaxing in the hammock hung between the palm trees while she prefers to lounge in the shade on a beanbag, on the lower level where she can drift in and out of the house with ease. "We've entertained a lot in the garden, and it's been the most wonderful space to have lots of friends over for barbeques."
While deciding on new colours for your home can seem overwhelming, Rachel settled on hers by investing in a selection of Resene testpots. "Try out many, many testpots," she recommends, "and, test patches of the same colour in different areas so that you can see what it looks like in different lighting." Judging by how great the bungalow looks now, her efforts clearly paid off.
Patio perfection
Get your patio in top shape for entertaining family and friends for summer barbeques with Resene Deep Clean. It's a simple, safe method of keeping all your outdoor areas free from moss, mould, algae and lichen. Simply spray it on paths, patios, decks and other exterior concrete, timber and painted surfaces and leave Resene Deep Clean and nature to do the work.
Style tip
Adding one or more contrasting accent hues to support your base colour scheme is the ticket to really making your exterior shine. If you have a terracotta roof like Rachel and Steven's, bring a similar colour down into your garden by painting accents in one or more of these earthy Resene tones to create repetition in your scheme.
Making old new again
Before you get stuck in to repainting an old stucco or cement exterior, make sure the surface is properly cleaned and in good repair. Start with Resene Bio-Cleaner, which is a quick and easy way to clean outdoor surfaces to get them ready for painting. Then, use Resene Brushable Crack Filler. It's a convenient way to deal with small cracks in concrete buildings up to 2mm wide, which may still be cyclically moving up to 25%. The crack must be wide enough to fill with the Resene Brushable Crack Filler, depending upon the crack width multiple coats may be needed to achieve a flush finish. Prime hairline cracks with Resene X-200 before topcoating with your Resene finish.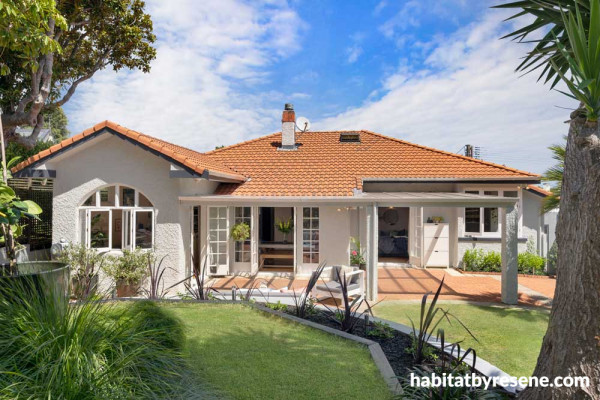 Rachel and Steven's renovated bungalow looks good as new and has charm to spare following a total update and new landscaping. Stucco exterior in Resene Quarter Silver Chalice, doors, trims and awning in Resene Villa White, fascia and sill details in Resene Shark and retaining walls in Resene Stack.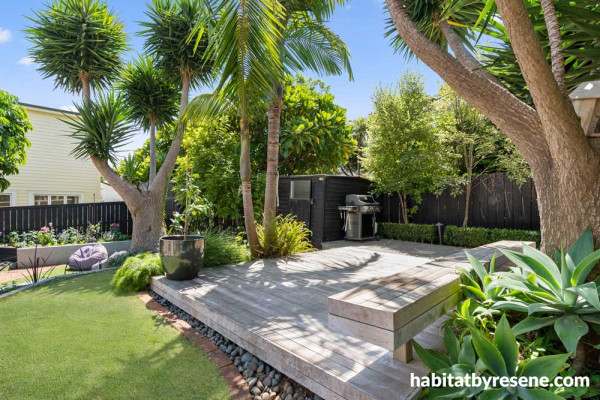 The bungalow's backyard is broken down into a number of distinct zones, a strategy that's very effective for getting the most out of your outdoor space. Whether the kids want to jump on the trampoline or mum and dad want to entertain a crowd, there's a place for everyone to enjoy the yard the way they want to. Fence and shed in Resene Ironsand.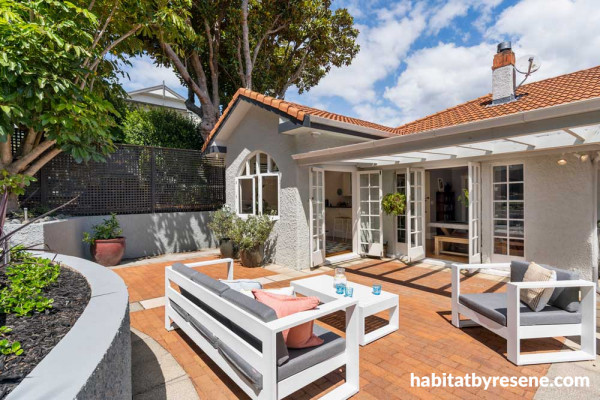 Rachel and Steven's bungalow allows for plenty of indoor outdoor flow and multiple seating options. Exterior stucco in Resene Quarter Silver Chalice, fascia in Resene Shark, doors, trims and awning in Resene Villa White, retaining walls in Resene Stack and fence in Resene Ironsand.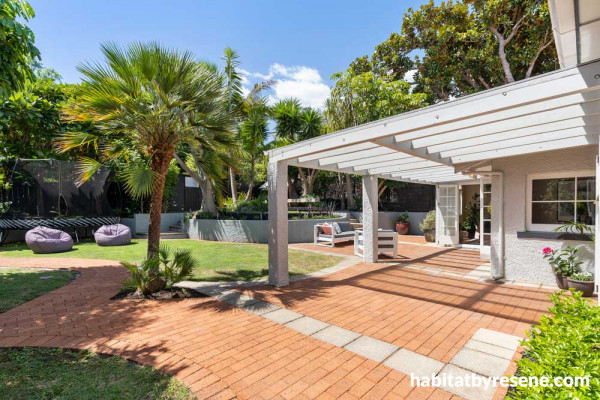 Steven and Rachel's backyard is a beautiful example of how delineating multiple 'zones' for entertaining, relaxation and play mean the space can be enjoyed in different ways, at different times, by different people. Awning, doors and window in Resene Villa White, sill details in Resene Shark, stucco in Resene Quarter Silver Chalice, retaining walls in Resene Stack and fence in Resene Ironsand.
Do we need photo credits?
Published: 16 Dec 2020
Do you have a home full of wonderful Resene paint and colour? Send us some snaps by emailing [email protected].
Resene Quarter Silver Chalice
the look
If you're stuck on what
colour to use or need colour
advice, try out the Resene
Ask a Colour Expert service.