►
◄
latest
habitat tv
blog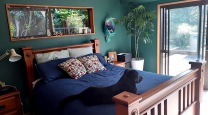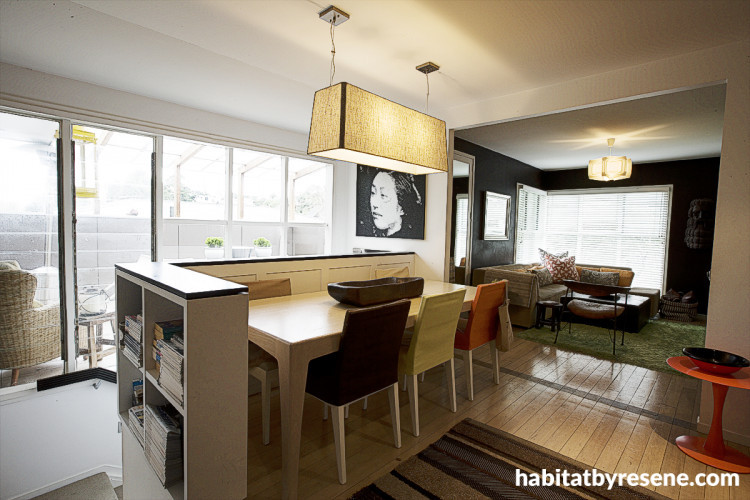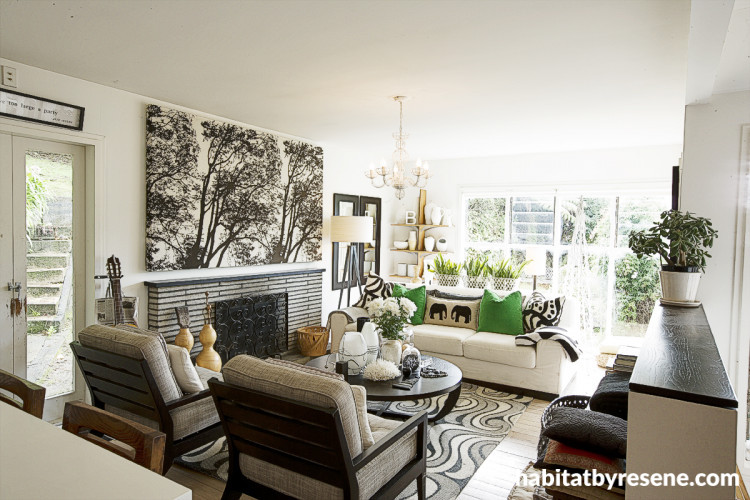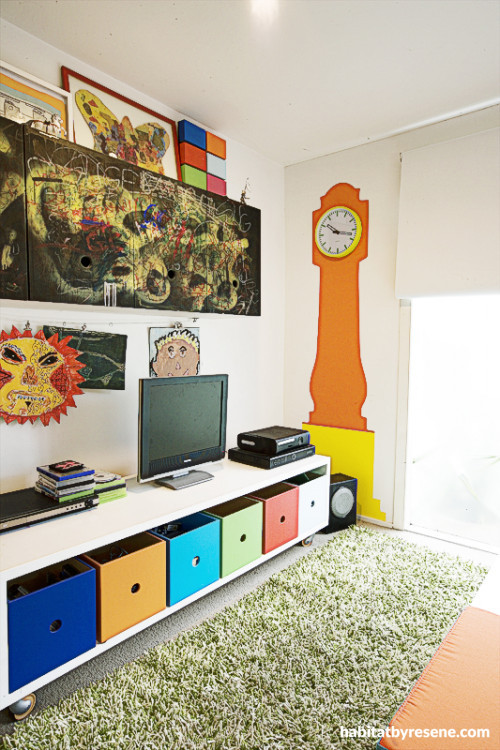 Stuart and Melissa's Finely Feathered Family Nest
Published: 07 Jul 2011
Do you have a home full of wonderful Resene paint and colour? Send us some snaps by emailing [email protected].
A design duo fill their home with colour and personality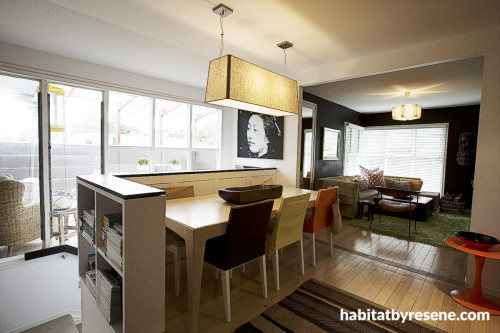 It's hard to believe that when Stuart and Melissa bought their stylish home, it was badly dated and in a state of disrepair. Having been used as a rental property for many years, "the house looked pretty jolly frightening before we renovated," recalls Melissa. The exterior was painted pale pink; the interior was fluorescent yellow, and the original 1950s layout was still intact - "lots of little rooms and no flow."
While their children were unimpressed, Stuart and Melissa (who both design furniture for their own stores, Apartmento and Meluka) could see the house's potential. Together, they designed a completely new layout for the house. The triple garage downstairs became a laundry, bathroom and three bedrooms, while upstairs the walls of two tiny bedrooms were removed to enlarge the living room, which now comprises a dining area and two separate sitting areas. Stuart originally trained as an industrial designer, so he was able to do all of the architectural drawings himself, while his brother, a builder, did much of the main structural work.
The result is a home that feels spacious and fits Stuart and Melissa's family perfectly. "It's certainly not a large house, but it works well," reflects Melissa. Daughter Prudy's bedroom, painted in bold green Resene Bilbao, is the smallest room, but Stuart custom-built her a bunk bed that fits a desk underneath, to maximise space. The two boys, Monty and Harry, have large bedrooms, and while their walls are painted in neutral colours, they are covered in bold art and bright decals. Upstairs, Stuart and Melissa's love of furniture and design is self-evident, and while they may favour clean, modern designs, there is also an abundance of colourful art and beautiful objects.
How would you describe your interior design style? Pretty eclectic really. We like classic pieces mixed up with a bit of vintage, things given to us by our folks and bits and pieces we've picked up over the years. We like a very layered look.
What was the biggest challenge with the renovation? Maximising the space but still keeping within the original footprint.
What was the greatest success? Putting a roof over our deck area - it really has given us an extra room, and is probably one of the most utilised areas of the house now that the kids are getting older.
Which space in the house do you get your greatest satisfaction from? We get a lot of satisfaction from our kitchen - it's a great common area. We wanted it to feel more like a bar than a kitchen, so we added the big mirrored splashback that also helps give the illusion of more space.
What is your advice for someone trying to achieve a similar look with their home interior? Take it slowly; it takes a while to make a house feel like a home. Make sure you add lots of personal touches, bits and pieces that mean something to you like kids artwork, treasures you've collected, flowers and candles. Rooms should have soul.
Why did you make these colour choices? We like a fairly neutral palette so that we can inject a bit of colour with accessories and soft furnishings, and Resene Alabaster is perfect for this. We chose stronger colours like Resene Bilbao and Resene Livid Brown for the smaller rooms for a slightly more dramatic, punchy look.
What is your favourite thing in the house? The Apartmento salon chairs - they are timeless classics.
The editor's pick of the comments this week will win a STEP from Meluka, valued at NZ$170. Meluka will courier it to you anywhere in New Zealand.
pictures Photography by Dallas Pickering http://dallaspickering.com/ Furniture from Apartmento http://www.apartmento.co.nz/furniture and Meluka http://www.meluka.co.nz/ Get the look: If you have lots of artworks to display, choosing a hue with a hint of black or grey in it, such as Resene Alabaster, Resene Sea Fog or Resene Black White, works well to give a subtle backdrop without resorting to pure white, which can often look a bit chilly. Children's rooms are a great place to experiment with colour - it generally only takes 4 litres to paint all the walls, or 1 litre for a feature wall, so you can make a dramatic transformation very quickly and relatively inexpensively compared to most other decorating options - and when they grow older or you want to sell the house you can easily repaint the walls if needed.
Bright ideas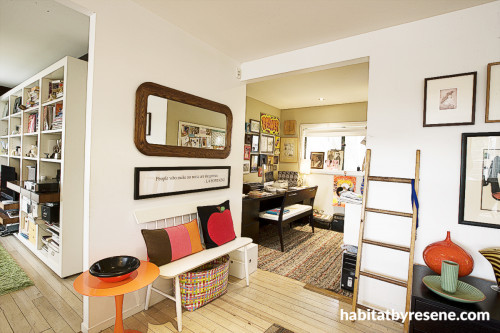 Off the main living area, an office is painted in Resene Akaroa.
Get comfortable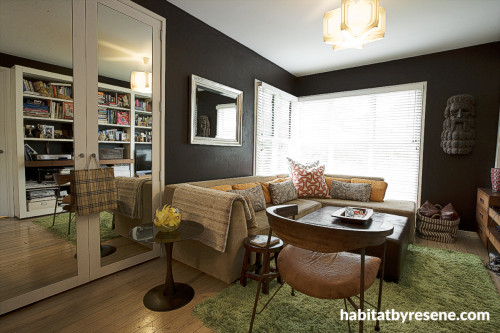 At one end of the L-shaped living room, a relaxed seating area is created with comfy sofas, a TV, shelves full of books and a feature wall painted with Resene Livid Brown from the Karen Walker Paints collection.
Take a seat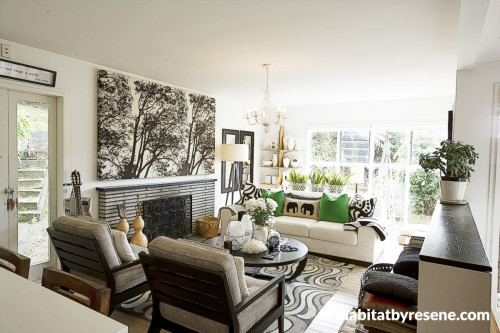 At the other end of the L-shaped living room, a more formal seating area adjoins the kitchen "bar", where Stuart and Melissa love to entertain.
To sleep, perchance to dream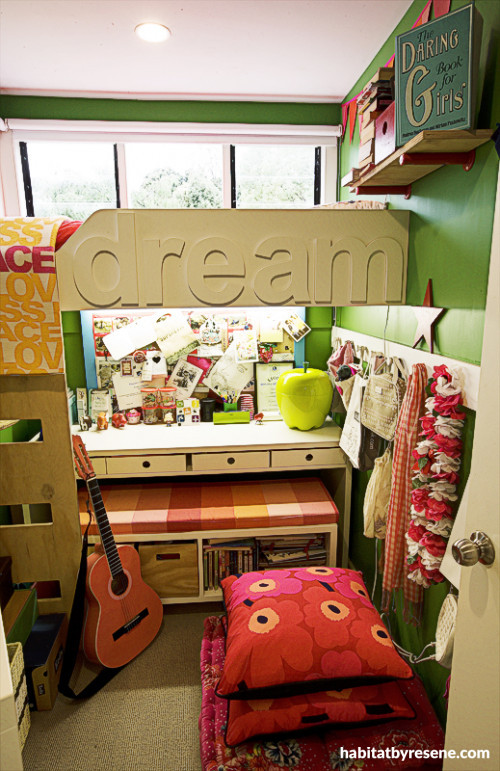 Prudy chose Resene Bilbao for her bedroom walls.
Play time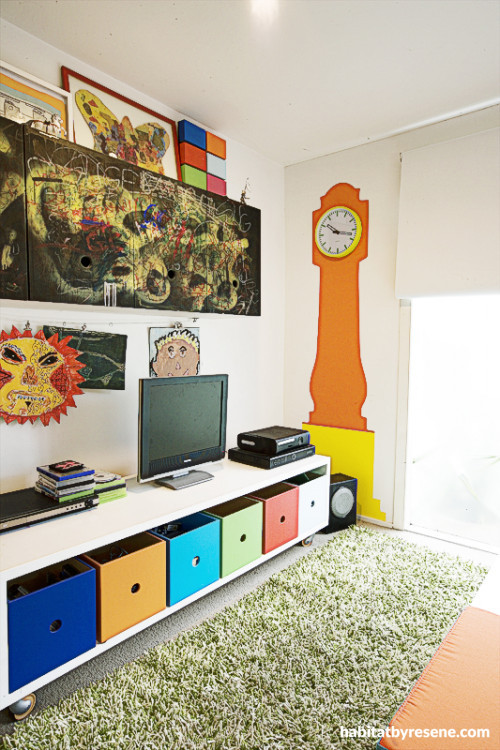 A real clock has been added to a wall decal in the brightly decorated kids-only lounge.
the look
If you're stuck on what
colour to use or need colour
advice, try out the Resene
Ask a Colour Expert service.