►
◄
latest
habitat tv
blog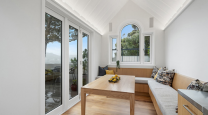 Master Builders' Chief Executive David Kelly shares his tips for building in the challenging climate.

Planning... more
Fight off the winter blues with these six warm Resene hues
Even though the end of the cold weather is nearly in sight, it's awfully hard to close your eyes and picture yourself soaking up the sun on a beach when you're being stung by icy wind, rain or snow. If you're feeling a bit impatient for winter to be over and your imagination isn't up to the task of 'mind over matter', tap into the power of colour science and paint your walls, floor or furniture in a gorgeous warm Resene blue instead.
Pablo Picasso once said, "colours, like features, follow the changes of the emotions." He was just one of many artists and designers that understood that colours can evoke different moods and feelings long before research supported the idea. A colour often found in nature, people frequently describe blue as being calm and serene. But certain shades, especially those with yellow or green undertones, can also be warming, comforting and evocative of tropical waters.
From misty and airy through to cosy and cocooning, we've rounded up some of our favourite warm Resene blues to decorate with – plus, some helpful top tips for how to use them in your home.
Resene Link Water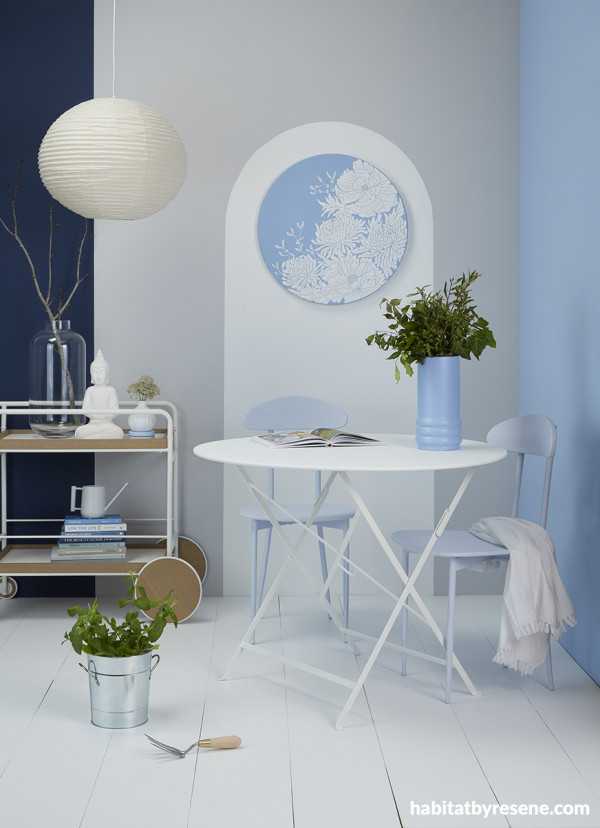 Walls in (from left to right) Resene Bunting, Resene Flotsam and Resene Polo Blue with arch and floor in Resene Alabaster, chairs in Resene Link Water, large vase in Resene Time Out and bud vase in Resene Frozen. Table from Jardin, trolley from BoConcept.
Not every powder blue is warming, but Resene Link Water gets its warmth from a hint of lilac. It works wonderfully with warm periwinkle, rich navy blue, delicate grey and crisp white such as Resene Polo Blue, Resene Bunting, Resene Flotsam and Resene Alabaster. These colours have been used to create a unique paint effect to showcase an original artwork by Hannah Jensen, one of many artists who paints her works using Resene products. The hero hue of the piece is a serene, clear, contemplative blue, Resene Time Out – which has also been used on the large vase. It's worth pointing out that while this blue is cooler than the others in the room, that doesn't mean it can't be blended with warmer ones.
Top tip: Incorporate fresh plants or greenery in your space as a year-round reminder of warmer weather housed in vessels painted with Resene testpots in hues that match or coordinate with your colour scheme. If your thumbs aren't the greenest, bring in faux plants instead.
Resene Wishing Well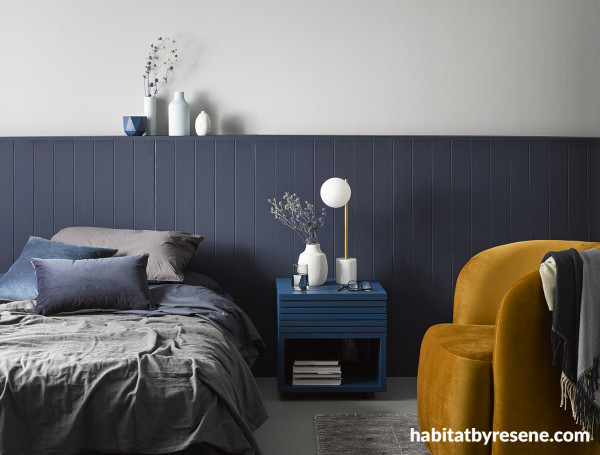 Wall in Resene Quarter Emerge with tongue-and-groove panelling in Resene Indian Ink, floor in Resene Half Chicago, nightstand in Resene Wishing Well and vases in (from left to right) Resene Wishing Well, Resene Remember Me, Resene Mystery and Resene Poured Milk. Chair from Contempa, rug from Freedom, throw from Furtex, bedding from Freedom and Furtex.
Resene Wishing Well is a bold, eye-catching sapphire that proves even a little colour can go a long way in adding warmth to a space. In this bedroom, it serves an important design purpose. The jewel tone is steeped with a strong dose of yellow in its base, which allows it to bridge the chromatic gap between the gold velvet chair and the greyed off accent blues that ground the space. Even though Resene Wishing Well is a statement colour in its own right, it doesn't fight for attention in this palette and looks particularly chic in front of tongue-and-groove panelling in a sophisticated inky hue like Resene Indian Ink supported with understated greys like Resene Quarter Emerge and Resene Half Chicago.
Top tip: Textural textiles that are soft to the touch like velvet, wool and stonewashed linen can bring even more warmth to a bedroom or living room.
Resene Bluetooth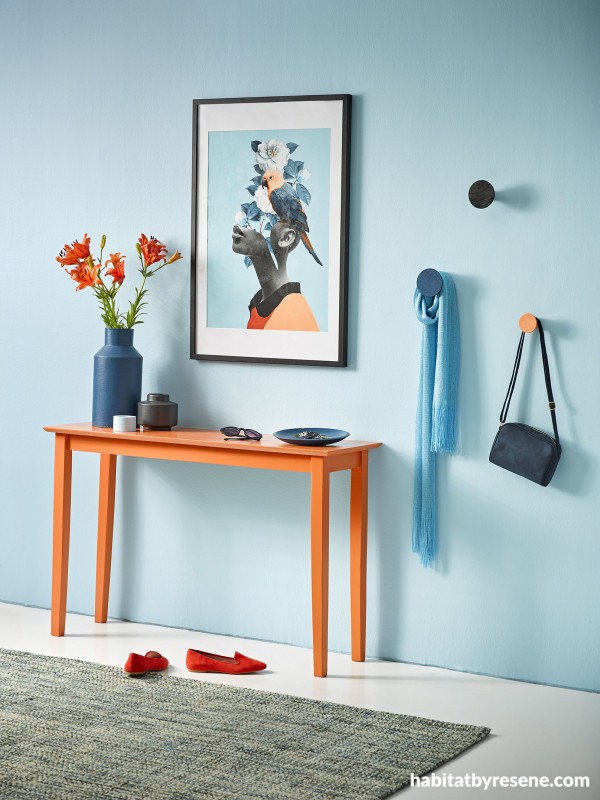 Wall in Resene Bluetooth, floor in Resene Alabaster, table in Resene Jailbreak, large vase and bowl in Resene Wishing Well, short vase in Resene Noir, candleholder in Resene Slipstream. Rug from Freedom, artwork from Pop Motif.
A fresh blue that's young at heart, there isn't a gloomy day out there that can't be cheered up with Resene Bluetooth. It's a spectacular choice for a complementary colour scheme, which is when you build a palette using two hues that are opposite one another on the colour wheel. In the case of blue, that's orange. Try Resene Bluetooth with an equally fresh white on the floor, such as Resene Alabaster, and a statement piece of furniture in attention-grabbing Resene Jailbreak as the base of your palette. Then, layer in small accessories a softer orange like Resene Japonica, a deeper warm blue like Resene Wishing Well and a few pops of black in Resene Noir for a space that screams spring.
Resene Bismark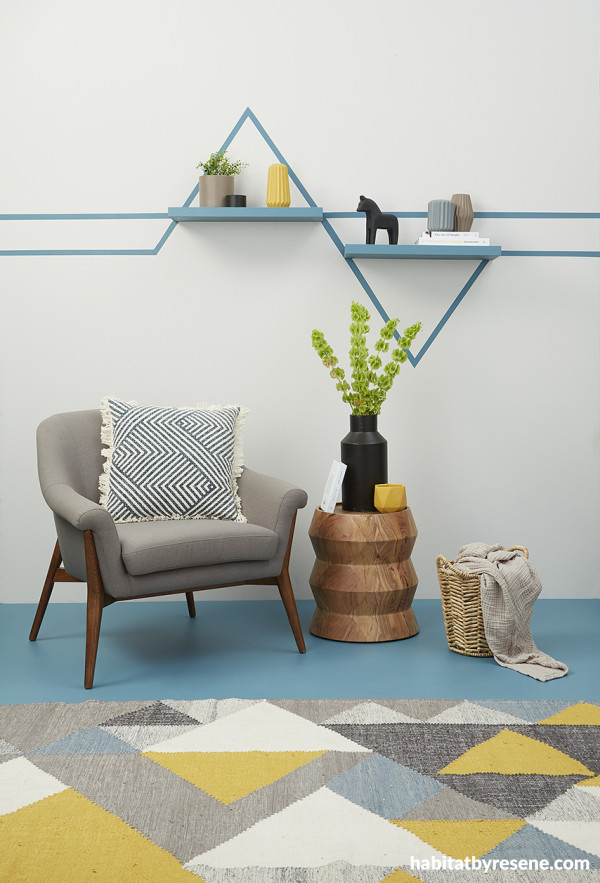 Wall in Resene Quarter Truffle with painted design and shelves in Resene Bismark, floor in Resene Bismark, large vase in Resene Nero and small vases in Resene Pizza, Resene Dune and Resene Dusted Grey and candleholder and horse ornament in Resene Nero. Chair, cushion, side table and rug from Freedom.
There are few blues that say 'ocean' quite like Resene Bismark. While it can look incredible as a main wall colour, it's a sensational choice for flooring – especially if you like your walls fairly neutral. Resene Bismark has also been used to echo the triangular shapes seen on the rug, side table, cushion and basket as a simple-to-create painted wall design that turns a pair of floating shelves into a room-defining feature. Play up Resene Bismark's yellow-green undertone with accents in scumptious gold like Resene Pizza complemented with warm neutrals like Resene Quarter Truffle, Resene Dune and Resene Dusted Grey for a fashion-forward look.
Resene Ziggurat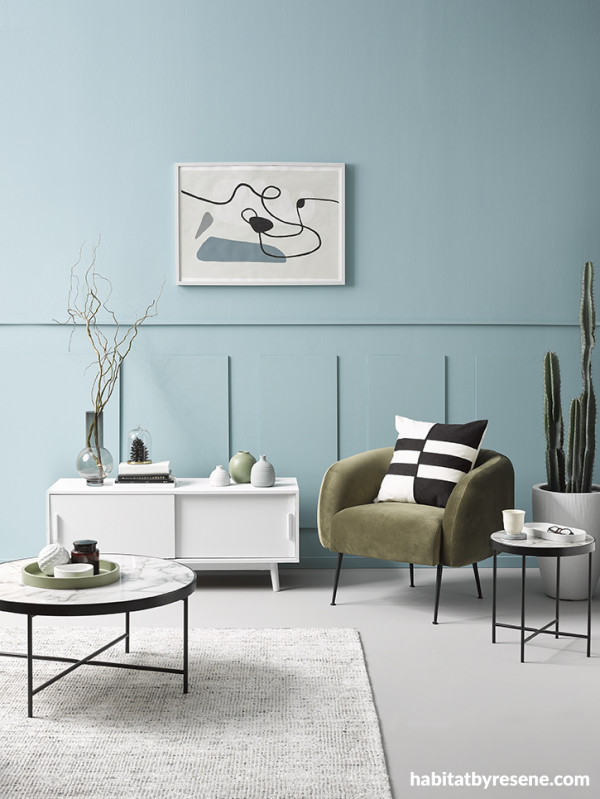 Wall in Resene Ziggurat, floor in Resene Mountain Mist, sideboard and large cactus pot in Resene Alabaster, tray in Resene Finch, vases in Resene Alabaster, Resene Wilderness and Resene Half Duck Egg Blue and DIY artwork in Resene Celeste, Resene Rolling Stone, Resene Nocturnal, Resene Blue Bayoux and Resene Alabaster with frame in Resene Half Duck Egg Blue. Chair from Contempa, coffee table, side table and rug from Nood.
Gorgeously greyed, soft and warm, Resene Ziggurat is the full package of everything you'd want in a blue for your walls. It's at the darker end as far as mid-range tones go, which makes it a fantastic candidate for layering in high-contrast neutral furnishings in crisp whites like Resene Alabaster and ashy blacks like Resene Nocturnal and a statement piece in Resene Olive Green. Finish the look with accessories in an array of soft blues and greens such as Resene Wilderness, Resene Finch, Resene Half Duck Egg Blue and Resene Celeste.
Top tip: When buying new furniture that doesn't come as a set, pay special attention to legs. If you get stuck choosing between the right leg shape versus the right leg colour, opt for the best shape – you can always paint them to match.
Resene Biscay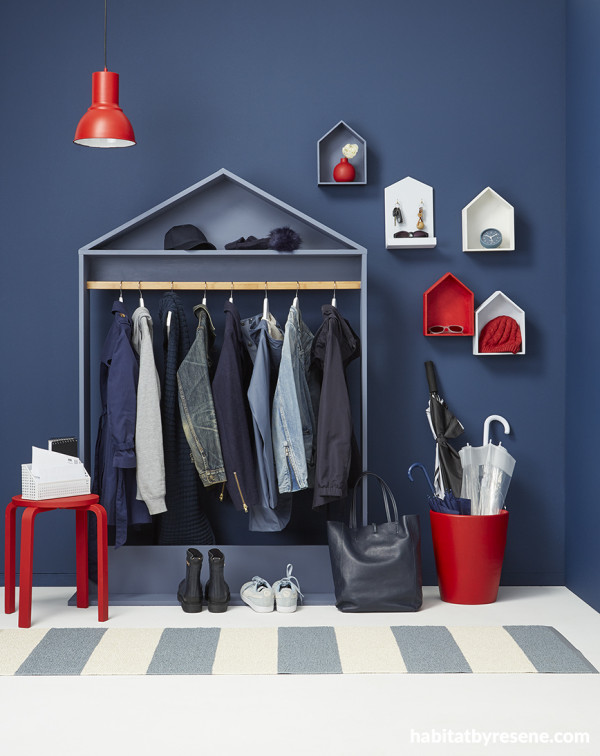 Walls in Resene Biscay, floor in Resene Sea Fog, coat rack in Resene Hammerhead , shelves in Resene Hammerhead , Resene Sea Fog, Resene Dynamite and Resene Breathless and pendant lamp, stool, bud vase and umbrella stand in Resene Dynamite.
While the shade may be stormier than the others that made our list, Resene Biscay has plenty of warmth to offer. When used on the walls and ceiling, the deep rich tone has a cocooning effect on your space. For balance and levity, go for a white with a hint of grey on the floor such as Resene Sea Fog. For a classic nautical or Hamptons inspired space, complement the pairing with a classic red and a denim blue like Resene Dynamite and Resene Hammerhead along with striped textiles.
With its calming qualities and nature inspired hues, blue is a versatile interior colour. Be inspired to add a splash to your home. More blue ideas here
styling Kate Alexander, Laura Lynn Johnston, Claudia Kozub, Vanessa Nouwens
images Bryce Carleton, Melanie Jenkins, Wendy Fenwick
Published: 19 Aug 2021
Do you have a home full of wonderful Resene paint and colour? Send us some snaps by emailing [email protected].
the look
If you're stuck on what
colour to use or need colour
advice, try out the Resene
Ask a Colour Expert service.