►
◄
latest
habitat tv
blog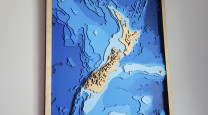 First impressions count: Tips and ideas for irresistible curb appeal
They say first impressions matter, and when it comes to your home, its curb appeal sets the stage for what lies beyond. The exterior of your house is the first thing that greets visitors and passers-by, making it essential to make a statement that reflects your unique style and personality. Whether it's a bold front door, contrasting colours or stunning wood stains, with the help of Resene products and tips, you can transform your home's exterior into a stunning masterpiece.
A splash of colour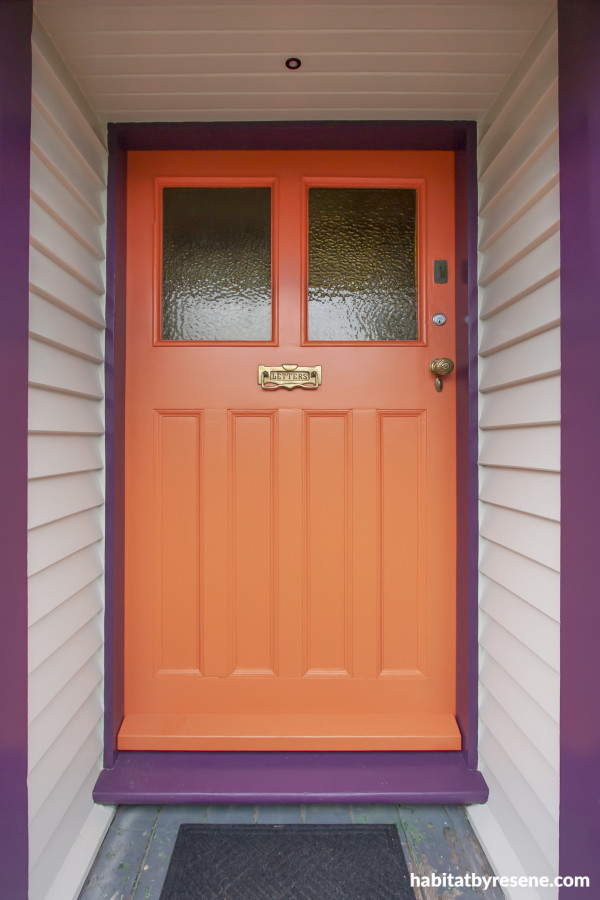 This wonderfully welcoming front door is painted in Resene Jailbreak, with trims in Resene RSVP and weatherboards in Resene Linen. Design by Callidus Architects, image by Aramani Brouwer Photography.
One of the easiest and most impactful ways to enhance your home's curb appeal is through the strategic use of colour. Whether it's for your entire exterior or just for a bold front door, there are so many ways to create a vibrant home. Consider painting your front door and trim in a contrasting colour to make it pop. A vibrant, welcoming door can be a focal point that draws the eye and creates a warm atmosphere. This front door is painted in Resene Jailbreak, a bold orange with a great ability to attract attention, with trims in Resene RSVP, a moody red violet.
If you're loving orange for a front door option, try Resene Rose Of Sharon or Resene Ecstasy. For complementary trim shades, try a bright blue like Resene Endeavour or a vibrant green like Resene Sushi. For added drama, why not explore the Resene metallic and special effect range and add a touch of luxury to your entryway!
Use a gloss finish like Resene Enamacryl for your bold front door colour to make the colour pop.
The allure of darkness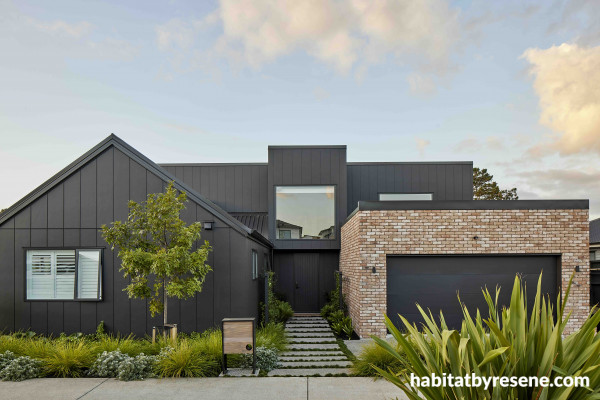 The earthy charcoal shade of Resene Element was the perfect choice for this modern new build. Design by Michael Cooper Architects, build by Sentinel Homes, cladding from James Hardie.
If you're thinking about painting your exterior a dark shade, it is certainly a great option to add curb appeal, giving off a sense of sophistication and drama, while also working well with many other colours and textures such as brick, wood and greenery. Resene Element on this home works well with light concrete paving and is a perfect foil for the feature brick work used both inside and out. While the home has a stripped-back industrial minimalist style, comfort sure wasn't sacrificed for this design statement.
Other popular exterior colours include Resene Nero, a deep inky black, Resene Foundry, a shadowy warm charcoal, and Resene Ironsand, a smoky brown grey.
Tip: Consider using Resene CoolColour technology in your chosen dark shade to reduce heat build-up. This innovative technology helps the paint reflect more heat so it doesn't get as hot as the normal colour would. This will help keep your home looking good for years to come.
Timeless elegance
This delightful villa is painted in Resene Half Alabaster, with trims in Resene Alabaster, roof in Resene Gull Grey and front door in Resene Moccasin. Design by Jess Driver, image by Taylor Wilson.
There's a timeless elegance in an all-white exterior. Crisp, clean and classic, white facades exude sophistication and charm. To achieve this look, Resene has a wide range of whites and off-whites that you can use for your home's exterior. Consider using varying strengths of a colour for a subtle contrast that adds depth, such as Resene Black White on exterior weatherboards and Resene Eighth Black White on trims and detailing. For warmer whites, try Resene Merino on weatherboards and Resene Quarter Merino on trims.
Tip: Enhance the curb appeal with Resene Lumbersider Low Sheen, a durable and weather-resistant exterior paint that maintains its beauty year after year. Add a higher sheen finish to your trims with Resene Lustacryl for a crisp finish.
Illuminating wood stains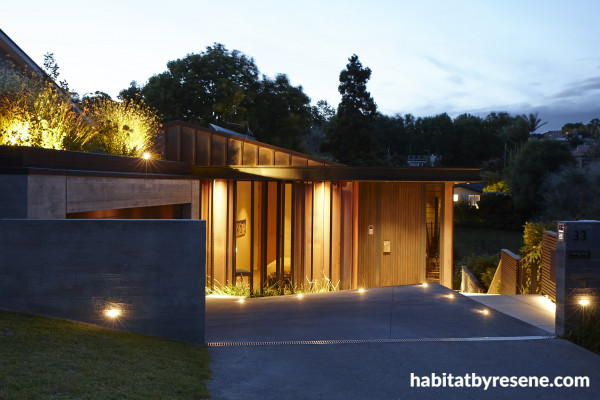 This natural and earthy toned home, inspired by New Zealand native forests, is painted in Resene Armadillo, with timber joinery in Resene Zeus and cedar door, cladding and soffits in Resene Woodsman Crowshead. Design by BVA Studio, image by Jackie Meiring.
Outdoor lighting can do wonders for curb appeal, especially in the evening. Install stylish outdoor light fixtures along your pathway, near the entrance and around the garden. With Resene's range of exterior paint finishes, you can even paint your light fixtures to match your home's colour scheme seamlessly. Wood stains look even more appealing when highlighted by well-placed lights. The dark shade of Resene Woodsman Crowshead is made warm and welcoming with the help of up and down lighting. Using a wood stain will also help to accentuate the natural grain of the wood on your home.
Try other popular dark wood stains like Resene Pitch Black and Resene English Walnut or opt for a lighter shade like Resene Uluru or Resene Pickled Bean.
Statement features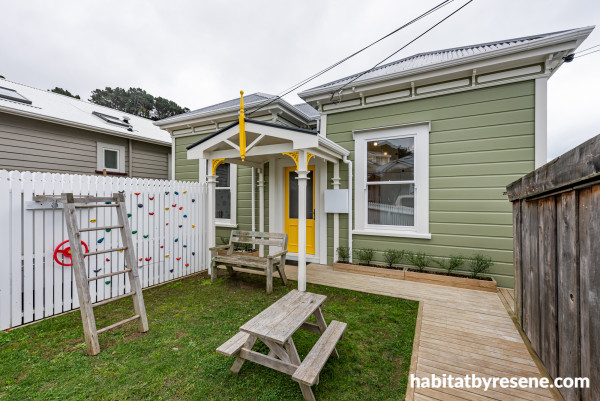 Resene Flax was painted on the exterior weatherboards of this villa, with joinery and trims in Resene Villa White and the original fretwork and the front door in eye-catching Resene Bright Spark. Decking is stained in Resene Woodsman Heartwood. Design and image by Russell Allen.
If you're looking to turn your villa into a kerbside marvel, then check out this home where the colour scheme was all about referencing the villa aesthetic while blending with the bush and landscape. It shows respect to traditional villa colours through limiting the colour palette and highlighting the original detailing. The exterior is painted in Resene Flax, drawing inspiration from the flora on neighbouring Mt Victoria in Wellington. Resene Flax has a depth of tone that reads well from the street and complements the decking and grass area in the yard. Along with a bright, happy front door, painted in Resene Bright Spark, this home is now welcoming with a friendly presence from the street. The whole exterior refresh has lifted the house from an old villa to one with real presence.
Let your villa's original fretwork and detailing stand out. Try opting for a neutral exterior colour like Resene Black White or Resene Double Sea Fog, and painting fretwork in a gentle green like Resene Green Smoke, a gorgeous ochre brown like Resene Whiskey Sour or a grey slate blue like Resene Balderdash.
From choosing the perfect colour to adding the finishing touches, Resene offers a wide range of options to suit your style and needs. Make the most of your home's first impression and create an exterior that leaves a lasting impact. Start your curb appeal journey and watch your home become the envy of the neighbourhood!
For more advice on painting or refreshing your exterior, visit your local Resene ColorShop or Ask a Colour Expert online.
Remember to follow habitat on Instagram to get the latest inspiration for your home!
Published: 10 Oct 2023
Do you have a home full of wonderful Resene paint and colour? Send us some snaps by emailing [email protected].