►
◄
latest
habitat tv
blog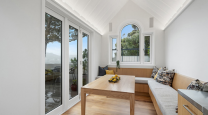 Master Builders' Chief Executive David Kelly shares his tips for building in the challenging climate.

Planning... more
Five fun home renovations you can do in a long weekend
Make the most of the Easter weekend with these quick and effective home renovations. With four days up your sleeve and your choice of Resene products you can transform your teen's bedroom into a delightful woodland or create a cosy reading nook in a cluttered corner. With bold bathrooms and elegant entranceways, backyard bars and fences with finesse, there's a project for everyone this long weekend.
Make a grand entrance
Nothing says relaxed beach style more than a range of soft blues, pale greys and seafoam whites Front door painted in Resene Blue Night with trims and doorframe in in Resene Alabaster. The weatherboards are Resene Half Periglacial Blue bench seat in Resene Coast, storage box in Resene Poured Milk other pots in Resene Slipstream and Resene Grey Seal.
Open up to the idea of giving your entrance way a makeover. It's the first thing your guests see when they arrive in your home and sets the tone for the rest of your house. Painting your front door a bold shade such as Resene Blue Night will give your home street appeal and it's a job that can be done in only a few hours – perfect with guests arriving for a long weekend. This bold door is paired with weatherboards in Resene Half Periglacial Blue, trims in Resene Alabaster and a bench seat in Resene Coast to set the scene for a home with coastal charm.
Top tip: Use a gloss finish, such as Resene Enamacryl or Resene Super Gloss, for your front door to make the colour pop.
Through the front door, it's easy to make an impact by making the entranceway sophisticated, welcoming and clutter free by contrasting dark colours with a white wall. This wall is painted in Resene Black White, with the floor, trellis and plant drawer base painted in Resene Nero. The grey potplants and drawer cubbies provide a middle ground between the two bold colours and are painted in Resene Double Merino. Do a bit of upcycling and turn an old drawer into a tiered plant holder. Don't forget to place a watertight lining in each drawer to protect the furniture. Bringing plants inside connects your garden and home, making the transition between outdoor and indoor living seamless.

The crisp wall is in Resene Black White and contrasts nicely with the floor and trellis in Resene Nero. The drawer frame is in Resene Nero, while the drawer fronts and pot plants are painted in Resene Double Merino, Resene Atmosphere and Resene Quarter Gravel. Accessories are stylist's own. Project by Megan Harrison-Turner. Image by Melanie Jenkins.
Walking in a winter woodland

The wall of this woodland room is in Resene Eighth Joss and the tongue-and-groove panelling provides forest hues in Resene Finch. The rich floor colour adds warmth and is painted in Resene Digeridoo with the bedside table, canopy peg and ladder in a lighter Resene Redwood. The baskets provide colourful storage and are painted in Resene Farenheit. DIY animal masks are painted in Resene Hairy Heath, Resene Doeskin, Resene Sambuca, Resene Black Forest and Resene Nero. Cushions, duvet, lamp and throws from Citta, rug from Nood, calico cotton from Spotlight. All other items are stylist's own. Project by Laura Lynn Johnston. Image by Bryce Carleton.
Spend some quality time as a family this weekend and help your teen create a wooden wonderland in their bedroom. Two tone walls are a great way to add character and interest to a room. The tongue-and-groove panelling in Resene Finch is a lichen grey green that goes perfectly with the pale taupe wall in Resene Eighth Joss. Choosing muted tones for your teen's room means they can update the room as their tastes evolve, just change up the décor and bedspread. Use warm tones for your furniture, such as Resene Redwood, to enhance that forest feel. Often less is more when it comes to themed rooms, so stick to two or three main wall and floor colours that complement each other and add interest with your décor instead.
Stop and Square

Bathroom walls are the perfect blank canvas for a little creativity. This one is painted in Resene Eighth Black White with the Mondrian grid painted in Resene Blackjack with colourful blocks in Resene Jalapeno, Resene Aviator and Resene Galliano. The timber floorboards keep the room looking warm and are painted in Resene Colorwood Mid Greywash. Shelf in Resene Blackjack, duckboard in Resene Black White and vase in Resene Half Black White. Accessories are stylist's own. Project by Megan Harrison-Turner. Image by Bryce Carleton.
Guests coming to stay over the long weekend? Give the guest bathroom a quick update with with this bold wall straight from a Piet Mondrian painting. A bathroom wall is often the perfect blank canvas to express your creativity and doesn't need to be boring. Make a splash with this colourful grid outlined in a clean, dark Resene Blackjack. Use bright shades of primary colours such as Resene Jalapeno, Resene Aviator and Resene Galliano for a colour palette that is simple but effective. Be sure to vary the sizes of your squares and paint them using painter's tape as a guide to achieve straight lines. If you've got extra time, try painting or staining the bathroom floor too. This bathroom's timber floorboards have had a lick of Resene Colorwood Mid Greywash to create a soothing feel and keep the room feeling warm.
Book it in

Keep your book nook looking fresh with walls in Resene Duck Egg Blue and floor in a slightly darker shade of Resene Inside Back. The door frame is in Resene Black White and the shelves are in Resene Passport. The round planter is in Resene Native and the small plant pot is in Resene Grass Hopper. The basket planter is painted in Resene Half Evolution. Pillowcases from Bedouin Societe, vase from House Doctor, throw, pot plants, basket and rug from Freedom Furniture. Project by Claudia Kozub. Image by Melanie Jenkins.
We all have those pesky corners in our homes that fill up with unnecessary clutter. This quick book nook hack is the ideal improvement to help you become shelf aware and clear a space for some me time. Read the room and define your book nook space using a calming colour that supports concentration, such as Resene Duck Egg Blue. Even if it's just a small corner of a much larger room, creating an outline with paint will help the area feel well established. A good way to create a sense of cosiness is to keep your furniture low. Replace tall chairs with comfortable cushions on the floor. Set up your bookshelves at just above waist height and paint them in neutral colours. These shelves are a subtle addition in Resene Passport and create a connection between the crisp Resene Duck Egg Blue and the vibrant houseplants. Finish off the nook with a cosy patterned rug and get reading.
Raising the Bar

This outdoor wall is in Resene Triple Merino, with a screen in Resene Kashmir Blue to add a pop of colour. The breeze blocks create a versatile seat and are painted in Resene Triple Merino. The boards are in Resene Tiri and the trolley and woven tray table are in Resene Indian Ink. The planter boxes are painted in Resene Smokescreen with dots in Resene Indian Ink. The medium pot plant is in Resene Alabaster, while the smaller pot plant is painted in Resene Kashmir Blue. Accessories are stylist's own. Project by Kate Alexander. Image by Bryce Carleton.
Decks are a great long weekend project. Turn your deck into a conversation corner by creating a garden bar using a screen painted in Resene Kashmir Blue and a seat built from breeze blocks and a plank, painted in Resene Triple Merino. Decorate with planters painted in Resene Smokescreen with spots in Resene Indian Ink. The moveable trolley, painted in Resene Indian Ink, makes it easy to switch this area up from garden bar into a family zone for boardgames or barbeques.
On the fence

Homeowners Joanne and Chris spiced up their fence by creating this vertical garden painted in Resene Lumbersider tinted to Resene Nero.
This creative fence will have your garden on the up and up – and best of all it's a project that can be completed from start to finish in a weekend. Homeowners Joanne and Chris' fence is a great example of how you can create space in your garden and keep your boundary from looking too stark. You can make this garden wall using planks of plywood or by simply attaching premade planters in a fun layout. A dark fence is a bold statement that provides an excellent backdrop for the bright greens in your plants, giving your garden greater depth. This fence is painted with Resene Lumbersider tinted to Resene Nero. Resene Nero has inky blue undertones that make it an excellent alternative to black and a flattering companion to your colourful plants. This tiered system is also great for herbs and you can arrange them according to their need for sunlight.
Published: 31 Mar 2021
Do you have a home full of wonderful Resene paint and colour? Send us some snaps by emailing [email protected].