►
◄
latest
habitat tv
blog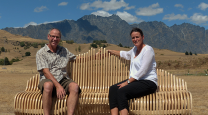 Five ways with wall panelling to jazz up any room
The simple addition of wall panelling can transform a space, offering a classic look. Adding texture and height to a flat wall is a creative, on-trend way to refresh a dated room and it doesn't have to break the bank. We have five ways you can get the wall panelling look in your home.
Where wall panelling began
The most basic wall panelling structures have been around since the time of classic Roman and Greek architecture, but it wasn't until the 17th and 18th centuries that the interior feature really made its mark. English craftspeople decked the homes of the upper class with natural wood panels, which added intricate design elements to private houses. Richly carved mouldings were also used to enhance door frames, fireplace mantels and staircases. In the Victorian era, elegant wainscoting was at the forefront. Although modernised now, wall panelling remains a fantastic way to add detail and sophisticated pattern to a room.
Be bold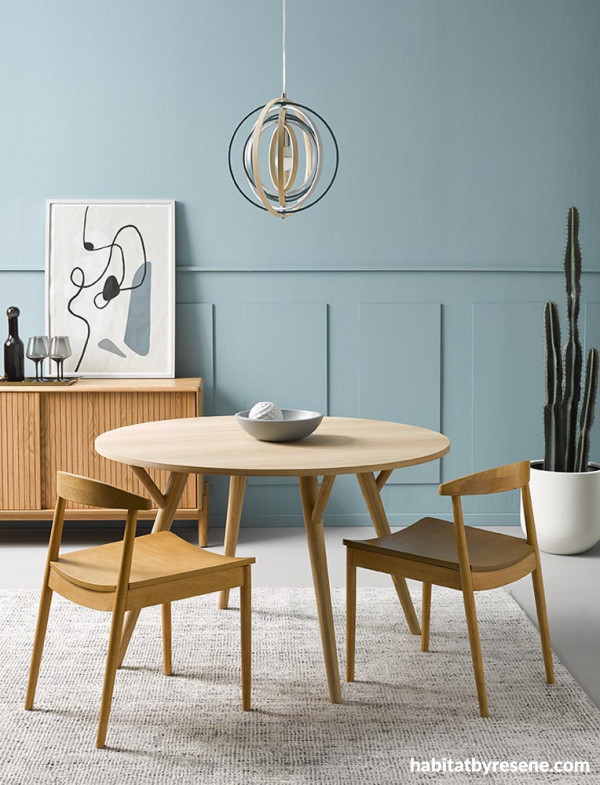 If you have a long span of wall, such as in an open plan living/dining room or hallway, you might be at a loss for how to make it interesting. Add tongue-and-groove panelling or wainscoting, which have both recently resurfaced as trends. Be it timber or MDF, this option adds to the natural shape of a room. Panelled wall in Resene Ziggurat, floor in Resene Mountain Mist, tall plant pot in Resene Alabaster. DIY abstract artwork in Resene Celeste, Resene Nocturnal,Resene Rolling Stone, Resene Blue Bayoux and Resene Alabaster with frame in Resene Half Duck Egg Blue, bowl (on table) in Resene Nebula, ball ornament in Resene Half Duck Egg Blue and bentwood light fixture in Resene Half Duck Egg Blue, Resene Blue Bayoux and Resene Rolling Stone. Dining table, chairs and rug from Freedom Furniture, lamp from Mitre10. Project by Laura Lynn Johnston, image by Wendy Fenwick.
Wall panelling is a fantastic way to dip your toe into more daring design choices. It's no surprise it looks so effective – the subtle repeating pattern is easy on the eye. It allows you to introduce raised textural detail that isn't too in your face and makes a room look more expensive. Let wall panelling inspire bright and creative use of colour. Why not create a new look in a dining or living space with panelling and a brand new hue to really make your new wall feature pop? Accent and feature colours can be bold and cheerful, adding life to any space. Use bright statement colours, like sunny Resene Galliano to create an eye-catching feature wall. Bright colours do wonders to energise a neutral colour palette. Try a splash of classic Resene Red Berry with a grey interior palette.
Try a half-panelled wall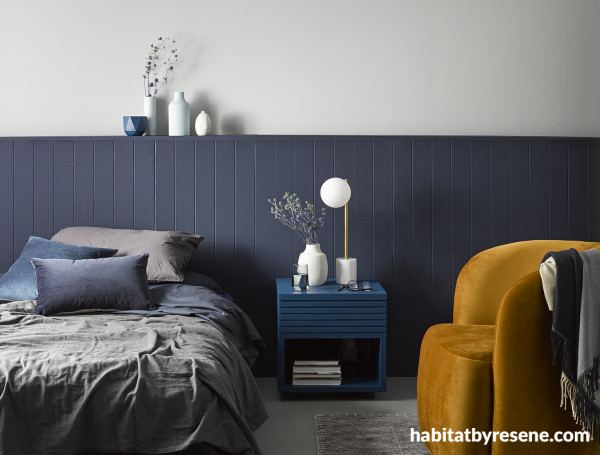 Cloudy greys and moody blues are layered in this sophisticated master bedroom, with paneling on the lower half of the wall. Walls in Resene Quarter Emerge, panelling in Resene Indian Ink, floor in Resene Half Chicago, nightstand in Resene Wishing Well, white vases in Resene Poured Milk, short, angular vase in Resene Wishing Well, skinny vase with twigs in Resene Remember Me, rounded hex vase in Resene Bluetooth and taller wider vase in Resene Mystery. Quilt, rug and sapphire cushion from Freedom, throw and navy cushion from Furtex, armchair from Contempa, vases from Indie Home Collective, side table (painted Resene Wishing Well) from Freedom. Project by Claudia Kozub, image by Melanie Jenkins.
Panelling just the lower half of a wall is an interior look that dates back centuries. The design was originally undertaken to protect walls in hallways from dents and damage. A growing number of homeowners now are including wainscoting to create shelving, hide insulation or simply as an alternative to skirting boards. Including half wall panelling ideas into your home will instantly offer a a charming feature that can be as modern or classic as you'd like.
Covering the lower half of a wall will provide a new look as well as long-lasting durability – what more could you want. It's a great way too to introduce colour without committing to an entire wall in a bolder shade. Be daring and try wall panelling in shades like Resene Guardsman Red, Resene Blue Night, Resene Seaweed or Resene Moroccan Spice.
Top tip: Unsure how to find the right height in a room for your panelling? Take your cue from existing furniture like your bed frame or bedside table. Aim to finish any panelling design a few inches above it so it prevents the space from looking squashed or cramped.
Batty for battens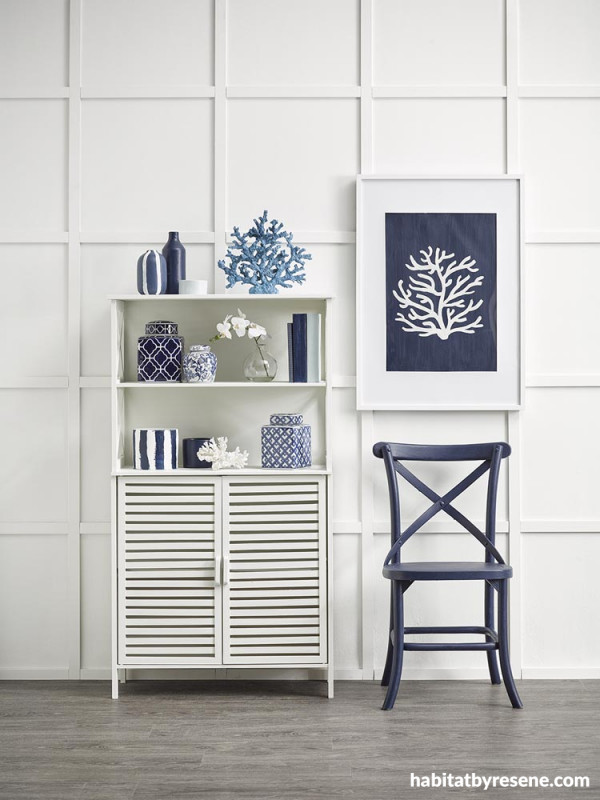 Battens stun in this beachy, Hamptons style hallway. Walls in Resene Black White, flooring in Resene Colorwood Dark Ebony, cabinet in Resene Merino, cross back chair in Resene Blue Night, plant pot in Resene Blue Night, pot in Resene Black White with stripes in Resene Blue Night, painted books in Resene Blue Night and Resene Halcyon, medium-size vase (with white stripes) in Resene Biscay with stripes in Resene Black White, tealight holder in Resene Halcyon, coral in Resene Black White and DIY artwork in Resene Blue Night and Resene Merino. Picture frame from Kmart, chair from Johnston Imports/Ji Home. Project by Vanessa Nouwens, image by Wendy Fenwick.
Battens are a classic look that add a touch of sophistication in any shade and won't date quickly. Battens and panels can be easily attached to walls using screws before painting or to avoid the hassle of filling nail holes simply use construction glue.
Don't be afraid to be creative with your battens and create drama with diagonal designs, or keep things traditional with batten arrangements that mimic classic panelling. The upward placement of the battens directs the eye upward and then across, creating a sense of space. For a chic, fresh and neutral look, try painting battens in the same colour as your wall in hues like Resene Pearl Lusta, Resene Spanish White, Resene Rice Cake or Resene Half Alabaster. For subtle contrast use a semi-gloss like Resene Lustacryl on your battens so they are accentuated against walls finished in Resene SpaceCote Low Sheen.
Play with height and texture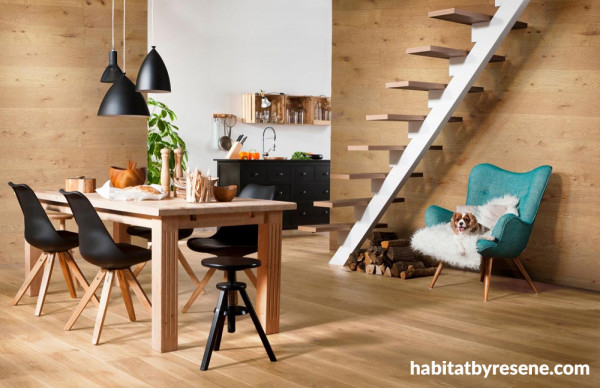 Try a faux wall panel look and warm up a room with Resene Wallpaper Collection XXL4-027. Paint chairs in Resene Black for a striking look and adjacent walls in Resene Black White.
Wallpaper can be a fantastic way to add a panelling effect without the hassle of pulling out hammers and nails. Think about playing with textures - add a wood grain or concrete look - and proportions. As a general rule, panelling be it wallpaper or wood to the 3/4 mark in a room will make a space feel cosier. Panelling slightly lower is better suited to a living or dining area where chairs are likely to be pushed against walls.
Keep in mind too taking panelling to about half a metre of the wall height is a great contemporary option too, as opposed to having skirting boards.
Certain colours in combination with panelling can fool the eye that your room is much more spacious than it is. Pale blues and greens create a calming atmosphere that simultaneously enlarge and brighten a space. Combinations like creams and icy blues are some of the best for making a space appear bigger. Try creamy shades like Resene Eighth Thorndon Cream, Resene Quarter Pearl Lusta and Resene Rice Cake (LRV 85) alongside icy blues such as Resene Breathless and Resene Cut Glass.
Play with contrast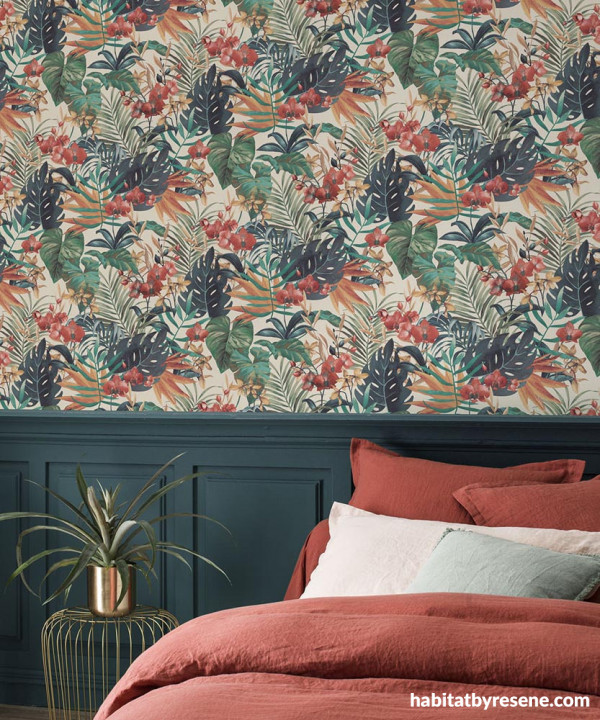 Resene Wallpaper Collection 833126 takes inspiration from the lower wall panelling. Ground the panelling by painting it in deeper tones like Resene Deep Teal or Resene Bunting to help a room feel cosier.
Nothing is more satisfying in a room than a balanced colour palette. If you're using wallpaper, a central colour can be pulled from a pattern and applied in different places across the room. This way, a cohesive and chic look is created. Spice up a panelled look with an interesting Resene wallpaper hung above it. Take panels to the halfway mark and identify your main hue you'll continue below in paint. Pink wallpaper tones look wonderful with Resene Rock Blue and Resene Blue Night. Blue tones in wallpapers contrast well with Resene Pavlova and Resene Rainee.
Top tip: Consider the scale and proportions you want to create in your home before installing panelling. As a rule of thumb, smaller rooms will benefit from smaller scale panelling. Know that panelling can be overwhelming if used in too small a room, especially if you have low ceilings. Opt for the halfway look if this is the case. Larger scaled panelling effects look best in rooms with taller ceilings.
Not only do wall panels offer a contemporary and fresh look, they can also be incredibly practical. Need help hiding some insulation or marks/chips on a hallway wall? Welcome in wall panelling. View the Resene Multifinish colour collection at your local Resene ColorShop or reseller for colour ideas to get you started, whether you're after a warm and inviting tone or a chic and sleek look.
Published: 14 Jul 2022
Do you have a home full of wonderful Resene paint and colour? Send us some snaps by emailing [email protected]ene.co.nz.
Resene Half Duck Egg Blue
the look
If you're stuck on what
colour to use or need colour
advice, try out the Resene
Ask a Colour Expert service.