►
◄
latest
habitat tv
blog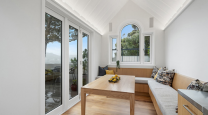 Master Builders' Chief Executive David Kelly shares his tips for building in the challenging climate.

Planning... more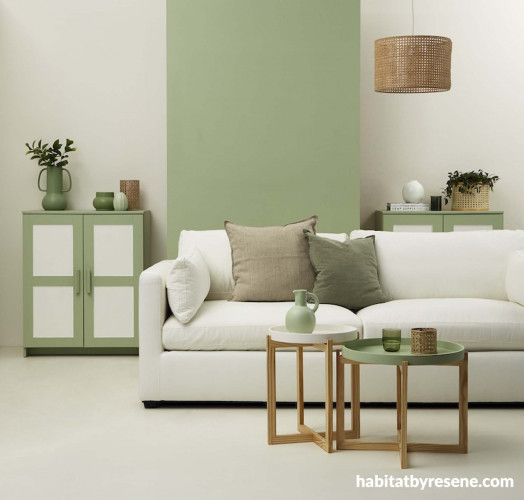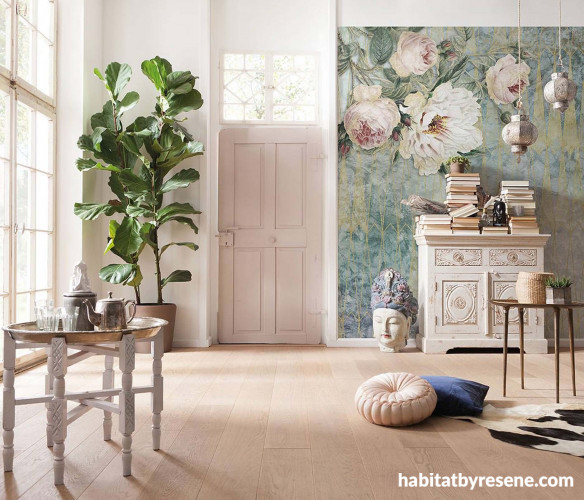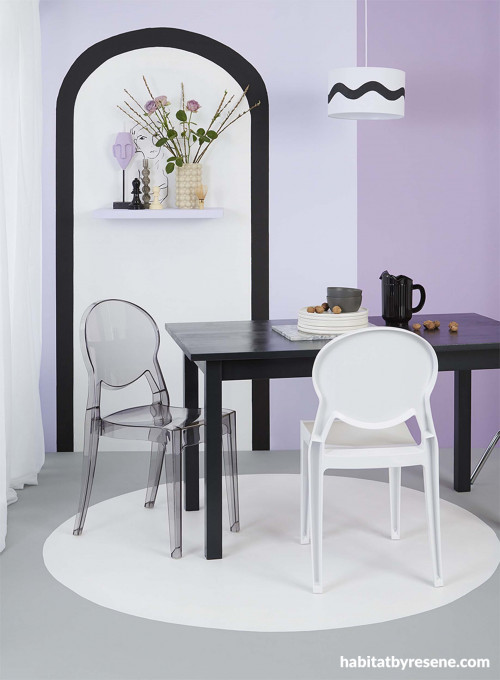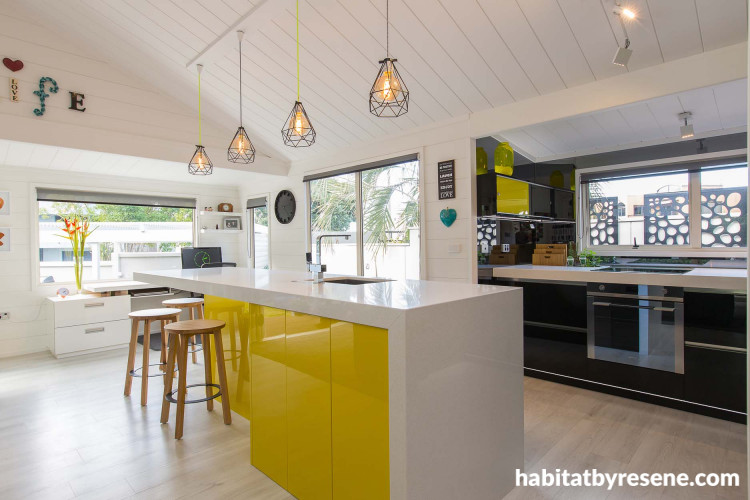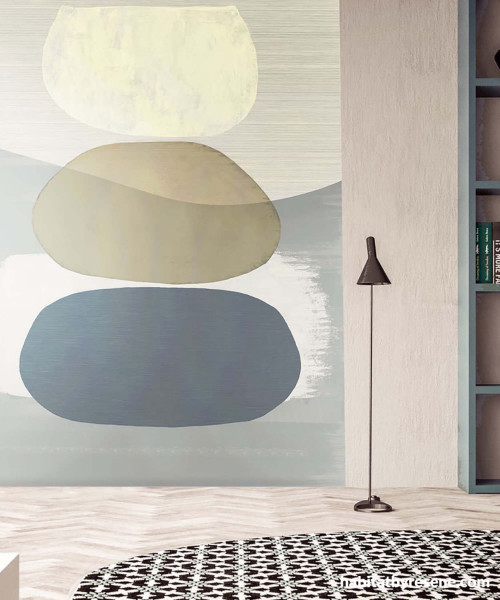 Fresh interior colours to warm up your home for spring
Welcome the early days of spring by inviting fresh colours into your home. There's nothing better than a crisp spring day and the fragrance of blossoming flowers carried on the warm breeze. Bring that feeling into your home through energetic Resene greens, blossom pinks and sunshine yellows.
Introducing vibrant elements into your colour scheme is a sure-fire way to fill your home with the joys of spring. Creating a spring colour scheme doesn't necessarily mean painting your walls an entirely new colour. Let your ideas blossom with upcycled furniture, pops of colour and elegant feature walls for an equally impressive room makeover.
Spring in your step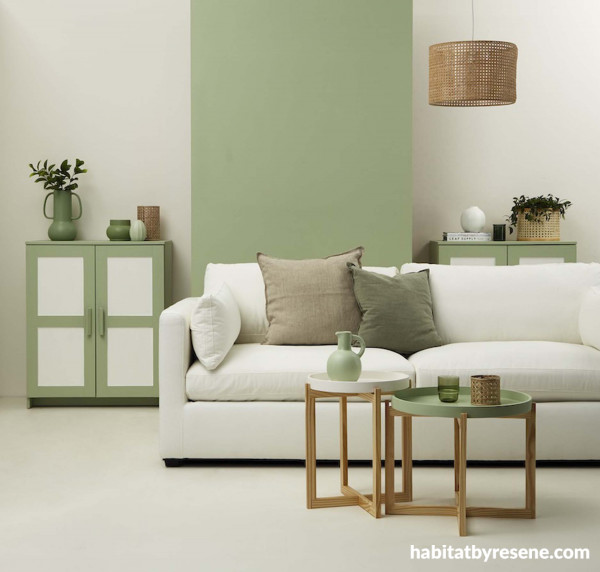 This spring lounge pairs neutral walls in Resene Eighth Fossil and floor in Resene Quarter Fossil with feature wall in Resene Norway. Coffee table and cabinets in Resene Norway with inner door panels in Resene Rice Cake and small coffee table in Resene Quarter Fossil. Sofa from Freedom. Project by Vanessa Nouwens. Image by Bryce Carleton.
Keep your home in mint condition with this warm green colour palette. Spring greens differ greatly from other green tones and are some of the easiest greens to incorporate into a colour scheme. Spring greens are muted, light greens that are almost pastel in nature. Think new unfolding leaves or fresh herbs from the garden. Spring greens such as Resene Norway or Resene Spring Green are perfect accents for white or cream living spaces. Add a touch of nostalgia by bringing in retro cabinetry and coffee tables or incorporate timber and rattan features to add warmth and ground the look. Bring the outdoors in with leafy green sprigs from your garden and pop them in an upcycled vase. These will add height and interest to the space and, unlike fresh flowers, they'll last longer.
Flower on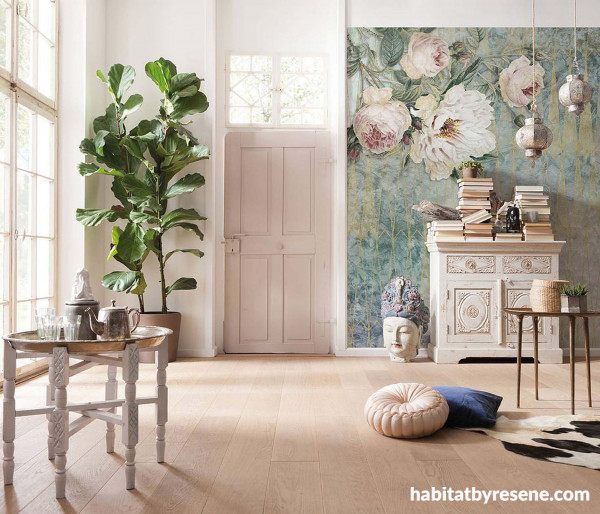 This vintage space springs to life with a feature wall in Resene Wallpaper Collection P020-VD2. Try pairing it with surrounding walls in Resene Alabaster and flooring stained in Resene Colorwood Natural.
With great flowers comes great design. Immortalise those spring vibes in your home with a beautiful mural, such as Resene Wallpaper Collection P020-VD2, and introduce larger-than-life flowers that will bloom all year round. Wallpapers such as this are perfect for feature walls or used in small doses for maximum impact. This wallpaper's muted teals, spring greens and dusty pinks make it the perfect companion to pre-existing vintage furniture or walls painted in warm whites and creams, such as Resene Villa White or Resene Alabaster. Introduce light timber features or large indoor plants to create a seamless connection to the natural world and keep the space feeling fresh.
I lilac like that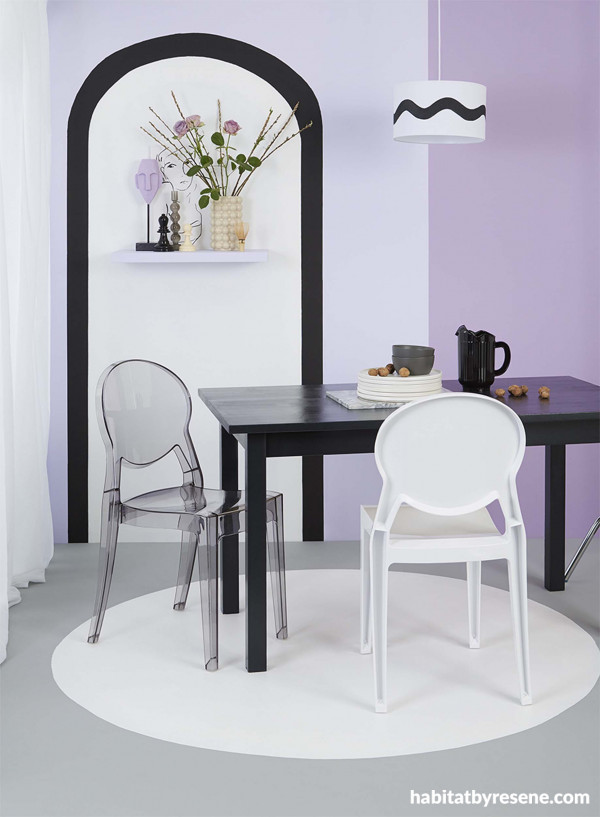 Vibrant and energetic, this dining room features walls in Resene Dreamtime (left) and Resene Mozart (right) with a Resene Black arch and Resene Alabaster inner. The floor is in Resene Half Stack with circle in Resene Alabaster and the table and lamp are in Resene Blackjack. Project by Kate Alexander. Image by Bryce Carleton.
If you have a blossoming passion for colour trends, then you might want to take a closer look at lilac. Currently a trending colour palette, muted pink, purple and lilac are making a resurgence and what better time to embrace these bold hues than springtime? Pair pale bold Resene Mozart walls with more softer colours such as light Resene Duck Egg Blue or muted green Resene Soft Apple. This will create a wistful, romantic space which you can then dress up with elegant furniture in Resene Blackjack or continue the pastel palette with a pale blue sofa or coffee table. For an extra pop of energy, incorporate accents in sorbet yellow such as Resene Drover. Lilac and yellow are complementary colours and when paired together in a space they will create warmth and a feeling of serenity.
Ray of sunshine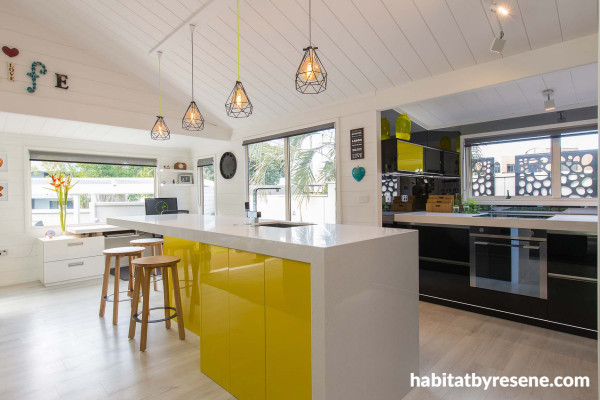 Designer Tracy Murphy updated the kitchen in her Lockwood home with walls in Resene Half Merino and a vibrant centrepiece in Resene Spotlight.
Let the sunshine in and colour your home with the happiest colour, yellow. Yellow interiors don't need to be mellow and there are a few design hacks to keep brighter yellows, such as Resene Spotlight, from overwhelming the space. The key is to use yellow in small doses, add an accent here or a feature wall there to infuse the room with warmth. To create a fresh and cheerful space in your kitchen or dining room, pair bright Resene Spotlight with crisp whites such as Resene Half Merino. If a boost in mood isn't enough to convince you yellow is a winner, Pantone chose bright yellow 'Illuminating' – similar to Resene Energy Yellow – as a 2021 colour of the year and described it as "a bright and cheerful yellow sparkling with vivacity, a warming yellow shade imbued with solar power."
Big and bold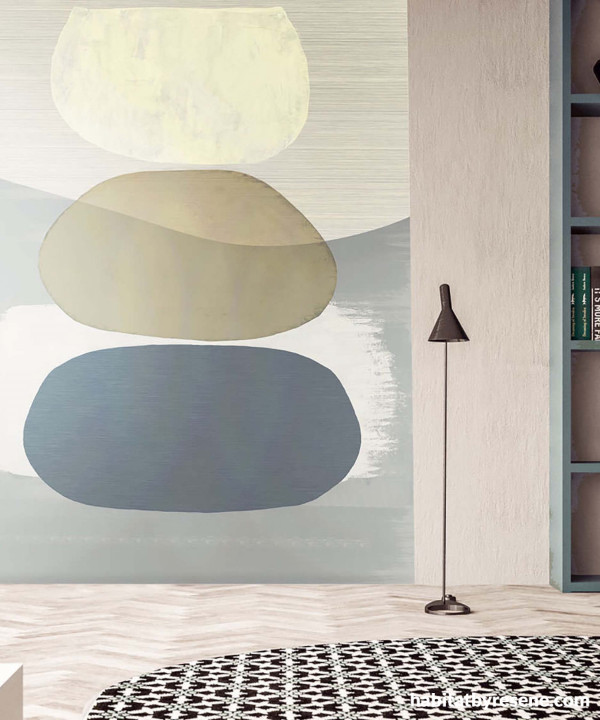 Resene Wallpaper Collection E395892 creates a bold and interesting feature wall in any living or office space.
Your interiors don't need to be overflowing with florals or filled with fresh greens in order to embrace the spirit of spring. Resene Wallpaper Collection E395892 is a weathered abstract that introduces the warmth of spring through muted tones that are perfect for any modern home. Reminiscent of pebbles on the beach, this moody wallpaper will bring your monochromatic space to life with hues that can be easily teamed with black and white, grey, blue or beige painted décor. With a base of subtle grey, Resene Wallpaper Collection E395892 creates a steady and constant atmosphere that can be enhanced through timber features or surrounding walls in grey blue Resene Bluff or warm Resene Half Pavlova.
Spring into action with Resene's wide range of renewing colours. Whether it's a garden oasis or a tranquil beachside picnic you're after, Resene has an atmospheric colour for any occasion.
Published: 16 Sep 2021
Do you have a home full of wonderful Resene paint and colour? Send us some snaps by emailing [email protected].
the look
If you're stuck on what
colour to use or need colour
advice, try out the Resene
Ask a Colour Expert service.