►
◄
latest
habitat tv
blog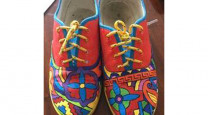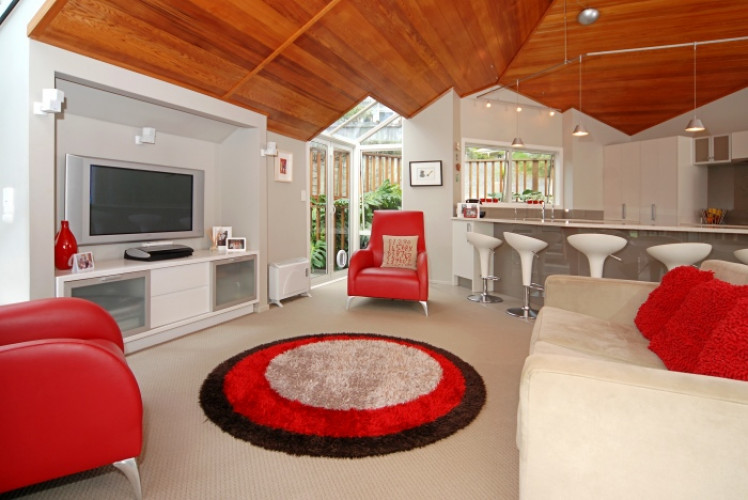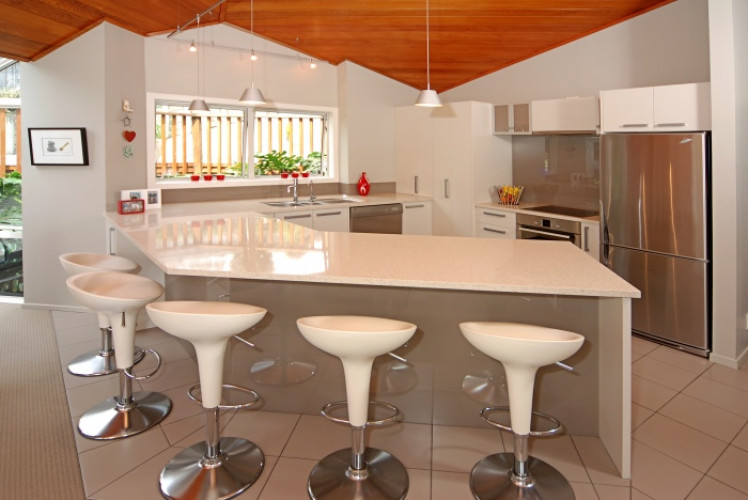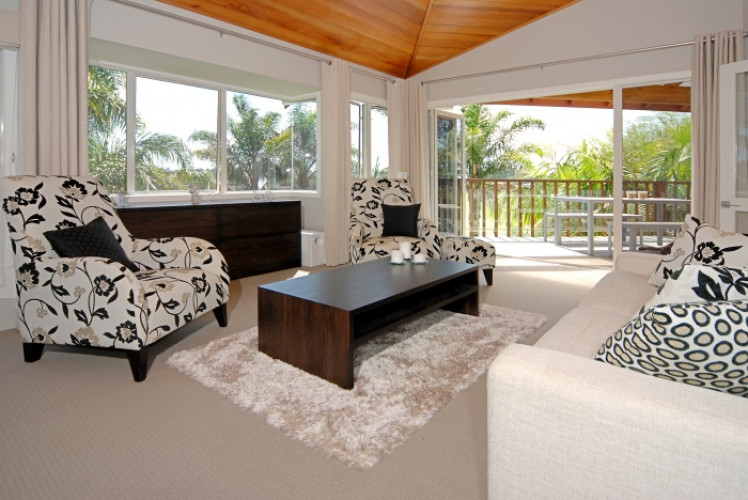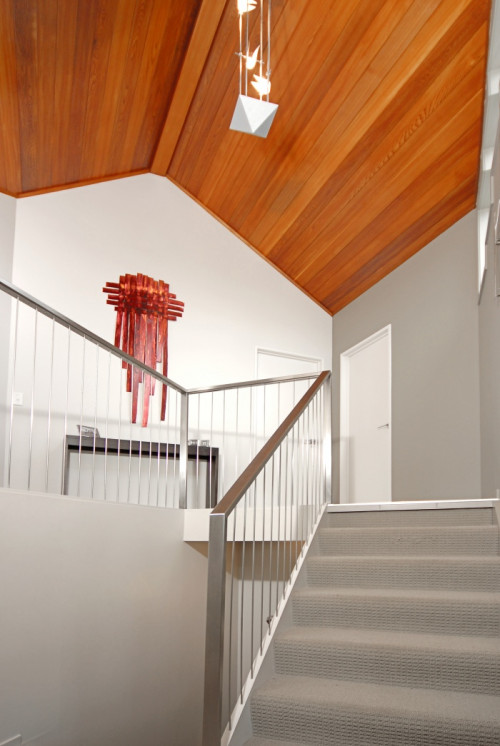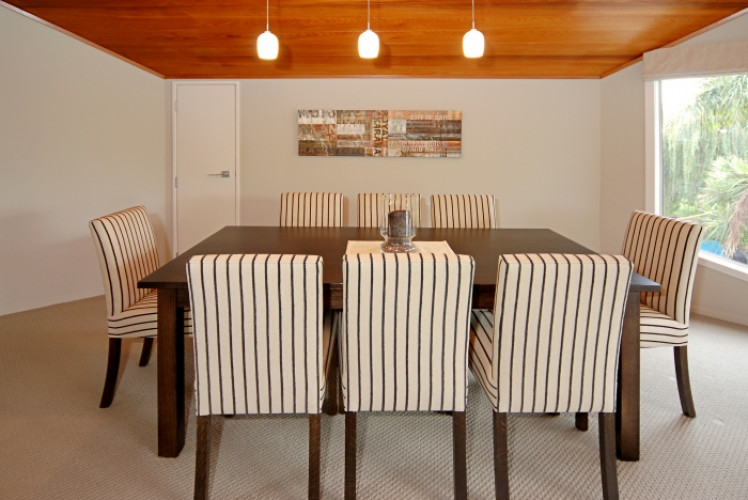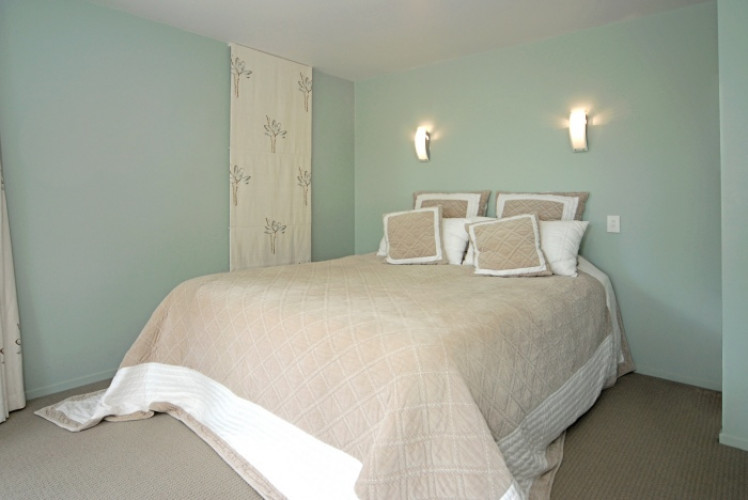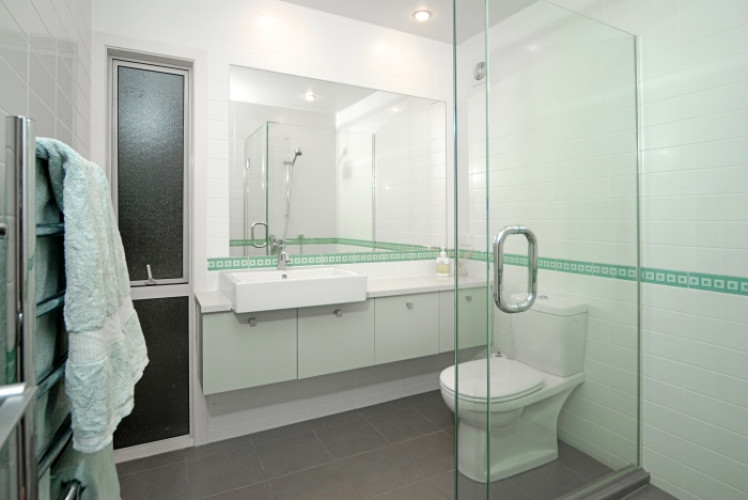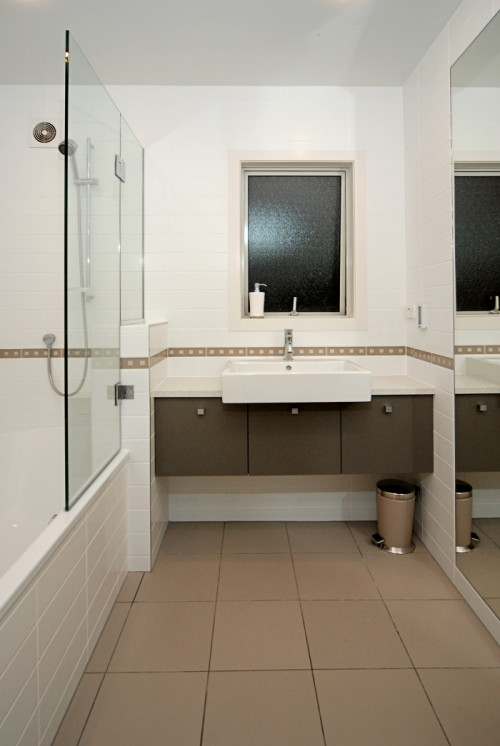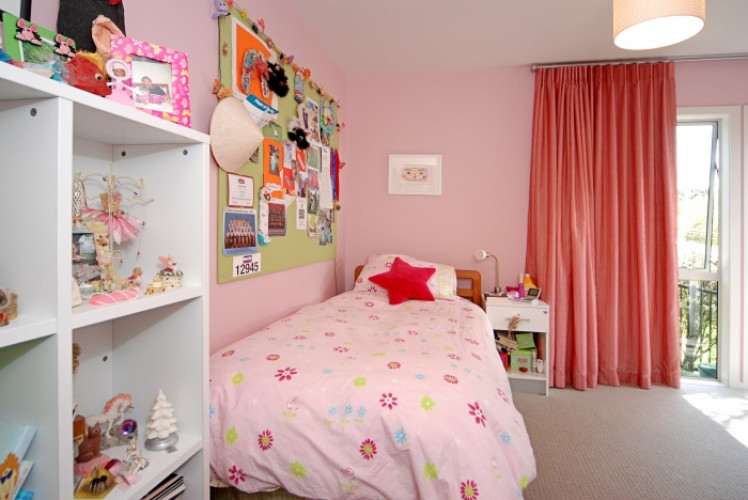 Graham and Denise's "Fresh and Simple" Modern Renovation
03 May 2012
Do you have a home full of wonderful Resene paint and colour? Send us some snaps by emailing [email protected].
From 80s pinks and peaches, to modern neutrals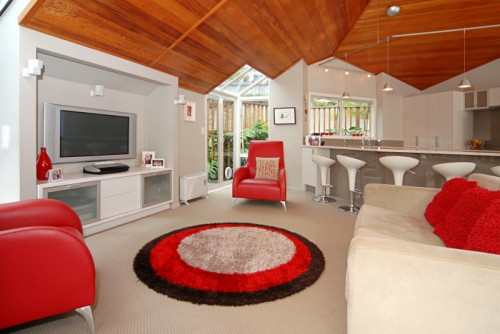 When you buy a house that was built in the late 80s, and hasn't been renovated since, it should come as no surprise to find it decorated as Graham and Denise's was, with pink carpet, apricot bathrooms and lots of varnished woodwork. Although it was a modern, architecturally designed home, the decor had dated, so Graham and Denise asked interior designer Amanda Neill to give it a makeover.
What first attracted you to the house? The architectural design, and the fact that it was positioned on the park with all-day sun.
What did you want to achieve with the renovation? We wanted to update the kitchen and bathrooms, and bring the whole house into the new millennium. The original window joinery was European style, heavy plastic joinery, which was starting to break down as it wasn't suited to the Southern hemisphere's high UV exposure. We wanted to replace it with new joinery that wasn't so heavy and obvious. Overall, we wanted a simple, modern look that was easy to live with.
What was the biggest challenge? Deciding whether to plaster over the cedar ceilings in the entrance and living spaces. We decided against it and are pleased with our decision. As the house has a lot of glass we feel that the cedar ceilings give it warmth and character. In some places, the wood did have to go, though - like in the entrance stairwell, where we removed the timber balustrades and replaced them with stainless steel ones, which has given it a much more modern look.
What was the greatest success? The kitchen and living area. Amanda successfully enlarged the kitchen work space, which was not easy as there are many different angles in the house. The family room became more user-friendly by removing the dining table and replacing it with a large breakfast bar. And the lounge became less of a fish bowl by removing an internal window at Amanda's suggestion.
What is your advice for someone trying to achieve a similar look? Consult with a professional interior decorator to save time, money and headaches. Go with your gut instincts when it comes to choices along the way.
What colours did you use? With Amanda's advice, we chose paint colours that felt fresh and easy to live with. The entrance, stairwell and downstairs hallway are Resene Half Tea. The feature wall is Resene Stonewall. The kitchen, dining and lounge are Resene Half Napa. The downstairs bathroom and en suite bathroom are both Resene Sea Fog. The master bedroom is pale green Resene Bel Air, Paige's bedroom is pale pink Resene Gelato, and the boys' bedroom is soft green Resene Coriander. All of the ceilings are Resene Sea Fog.
pictures Interior design by Amanda Neill at Designworx www.designworxnz.co.nz Get the look: When you have a whole house to decorate, it can be difficult to visualise what the colour scheme will look like when finished, particularly if it's a complete departure from the current colour scheme. An easy way to see what it will look like is to use Resene EzyPaint, a virtual painting programme that you can load your picture into and recolour it to see how it would look with your chosen colour palette. It's a handy way of test-driving your colour before you try it out with Resene testpots. You can download Resene EzyPaint free from www.resene.com/ezypaint.htm.
Raising the bar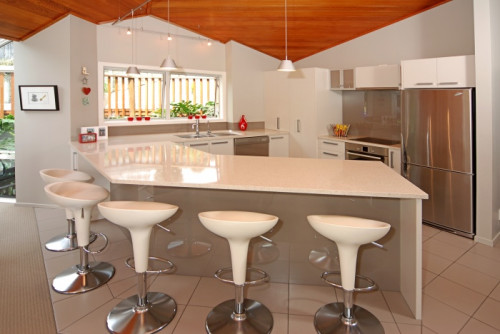 The kitchen has been enlarged, and the family room (painted Resene Half Napa) has become more user-friendly by removing the dining table and replacing it with a large breakfast bar.
Neutral ground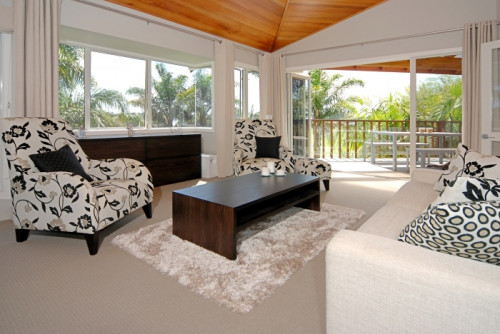 Neutral shades like Resene Half Napa have replaced 80s pinks and peaches.
How to make an entrance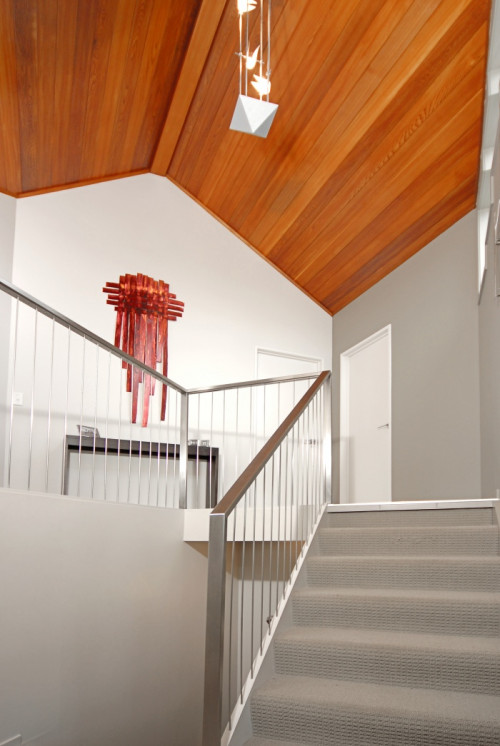 The entrance has been modernised by replacing the timber balustrades with stainless steel ones. The walls in the hall and entrance have been painted in Resene Half Tea, except for the walls on the right, which are painted in Resene Stonewall.
Take a seat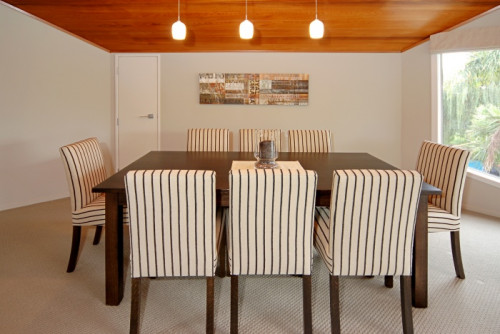 The dining room, painted Resene Half Napa.
The green room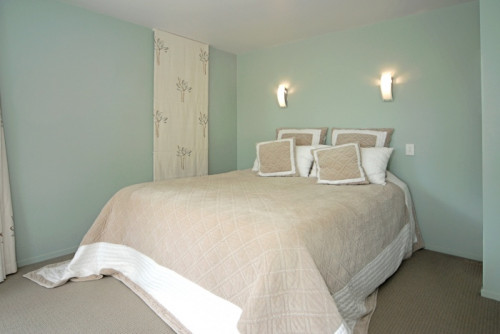 The master bedroom has been painted in soft, pale green Resene Bel Air.
On the tiles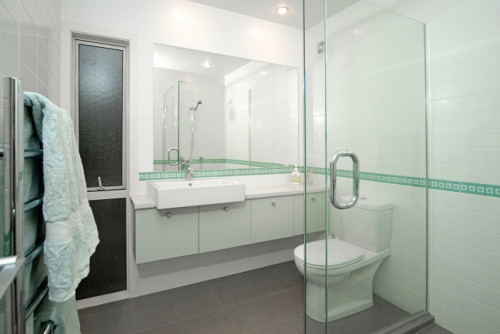 The en suite, painted in Resene Sea Fog, has pale green accent tiles to match the master bedroom's Resene Bel Air walls.
Elegant neutrals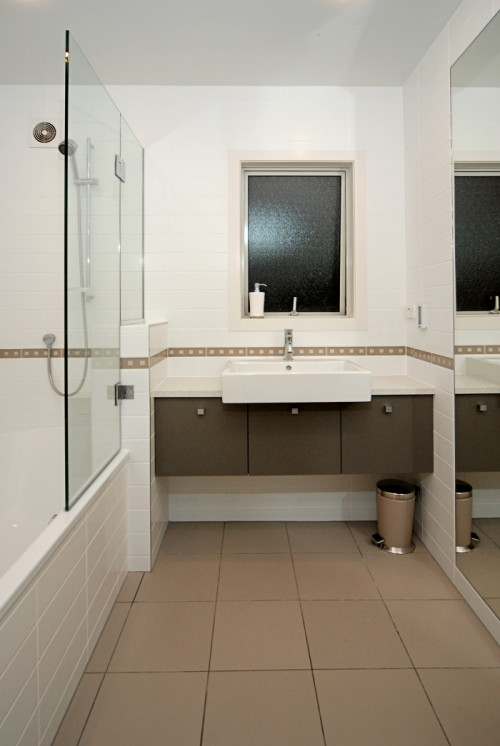 The downstairs bathroom, painted in Resene Sea Fog.
Tickled pink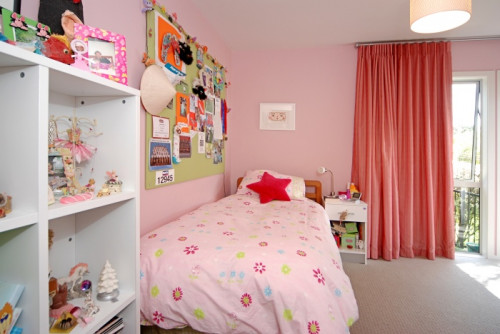 Daughter Paige's bedroom, painted in Resene Gelato, bucks the house's neutrals trend, but reflects the girly tastes of its inhabitant.
the look
If you're stuck on what
colour to use or need colour
advice, try out the Resene
Ask a Colour Expert service.