►
◄
latest
habitat tv
blog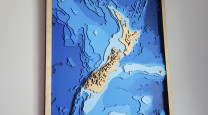 From historic hotel to home: Neil Finn-House's amazing apartment renovation
Neil Finn-House, CEO of Mitre 10 MEGA in Dunedin, embarked on an exciting journey to transform his 130-square-metre, three-bedroom apartment in Central Dunedin. This apartment, a part of a former hotel built in the 1880s, was a treasure trove of character and potential. Neil's daughter, Yvie Grace, a talented designer, played a pivotal role in the project. Together, they turned this space into a beautifully decorated home using an array of Resene colours and textures.
Neil's motivation for renovating was clear: he sought a central city apartment close to the Octagon with character, space and the opportunity to put his personal touch on it. What he found was a project of epic proportions that included heating installation, new carpets, Philips Hue Lighting, demolition of walls and a complete overhaul of the kitchen and bathroom. Neil described it as a "total upgrade", and rightly so.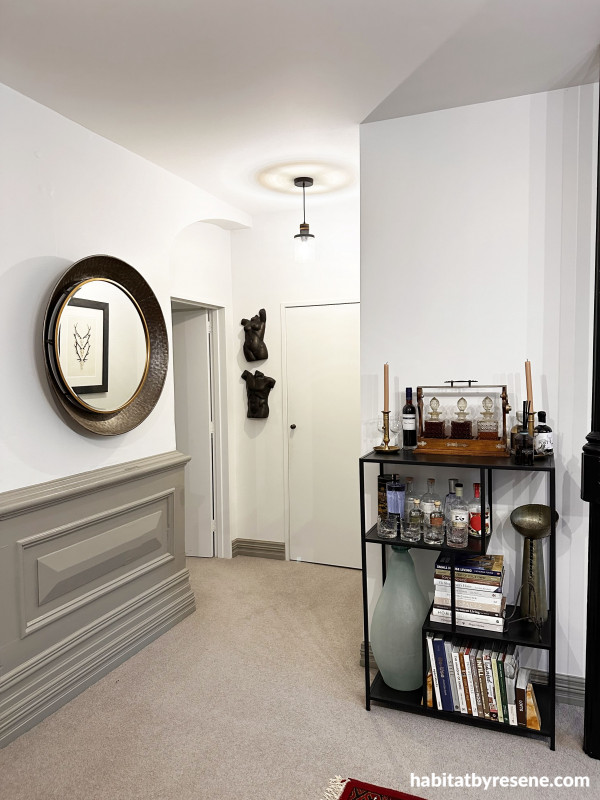 Throughout Neil's home, the walls were brightened by painting them with Resene Black White. A complementary shade of Resene Friar Greystone was used on the lower wood panelling. The ceiling is painted in Resene Eighth Black White and trims in Resene Snow Drift.
The colour choices throughout the apartment were influenced by both Neil and Yvie's creative visions. Neil admired the resilience of Resene paints and highlights the mirrored glass splashback in the kitchen, painted with Resene Copperhead on the reverse side. This choice not only added a touch of elegance but also created an illusion of space, making the small kitchen feel more open and inviting.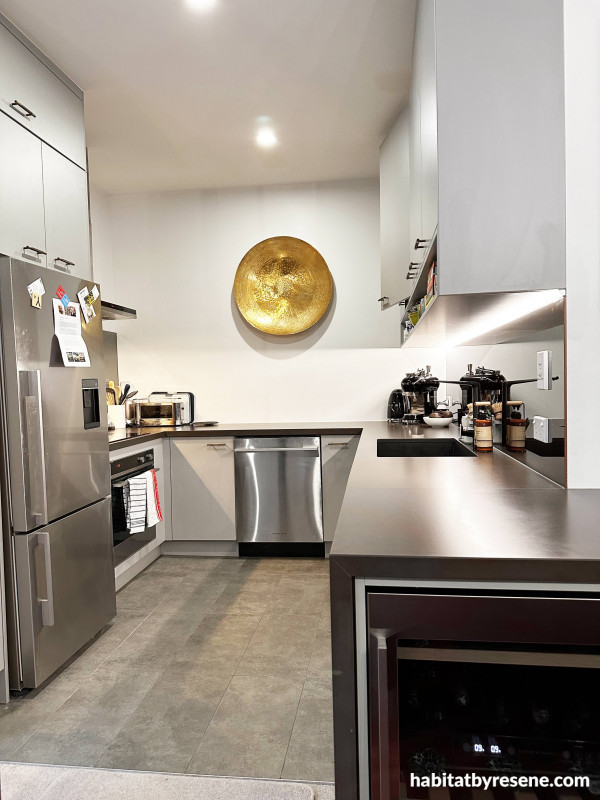 The custom splashback in the kitchen features Resene Copperhead, a brilliant fiery blend of warmth, on the reverse side of the glass. The walls are painted in Resene Black White, with the ceiling in Resene Eighth Black White and trims in Resene Snow Drift.
In the bathroom, Neil opted for Resene Catskill White on the walls, a serene choice that exudes cleanliness and sophistication. The bathroom cupboards were upgraded with Resene Charade to match the new vanity, and they harmoniously complement Resene Catskill White, with matching handles to complement the new taps and shower set.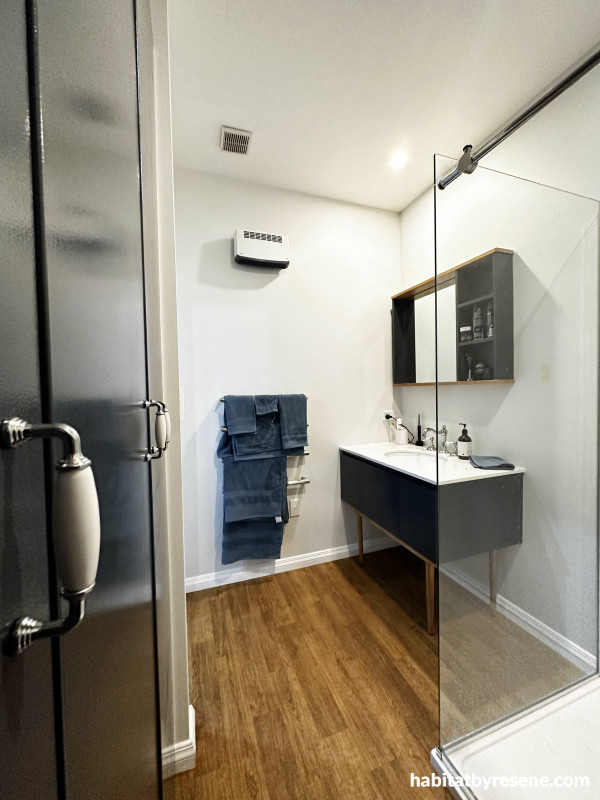 The dark blue grey of Resene Charade was chosen for the bathroom cupboards and vanity, with matching handles and walls in Resene Catskill White. Ceiling in Resene Eighth Black White and trims in Resene Snow Drift.
The Victorian and industrial aspects of the apartment's architecture were a central theme in the design. The pillars in the lounge, stripped back to the metal and painted again with Resene Black, were a testament to this theme, though it came with its challenges, including removing layers of lead paint accumulated over 150 years!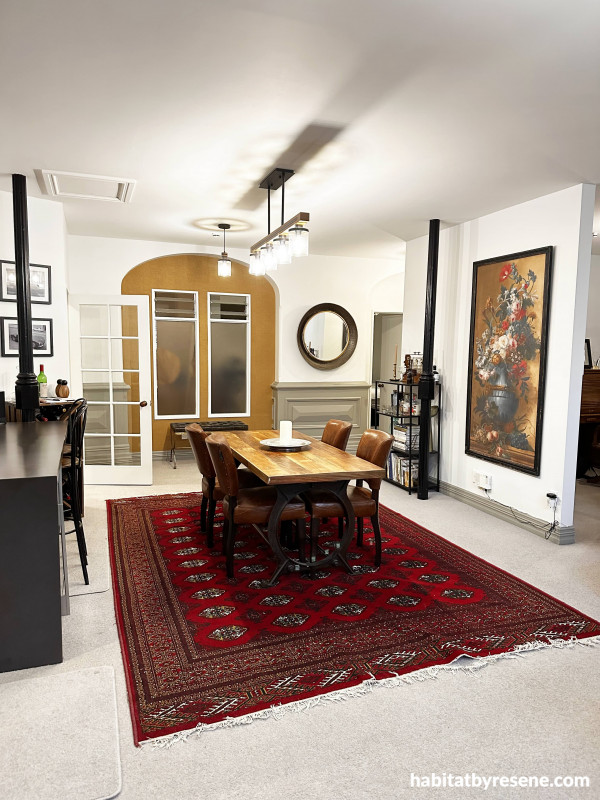 The neutral shade of the walls in Resene Black White allows for Neil's bold and brilliant décor to take centre stage. The metal pillars are painted in Resene Black, ceiling in Resene Eighth Black White, trims in Resene Snow Drift and panelling in Resene Friar Greystone.
Yvie's design perspective was equally crucial. She employed colours to create a warm yet industrial atmosphere, with walls in Resene Black White and ceiling in Resene Eighth Black White.
"I worked on a paint counter for four years and sold hundreds of litres of Resene Black White," Yvie says. "I used to say to customers that it was Resene's 'magic white'. While a warm white might make a blue look green or a cool would clash with a blue… I was able to hold up Resene Black White against any colour on any palette and it beautifully complemented it. It was perfect when someone didn't want to change their furniture or have the white clash with wooden flooring in one room and charcoal carpet in another. There's no better white in my opinion."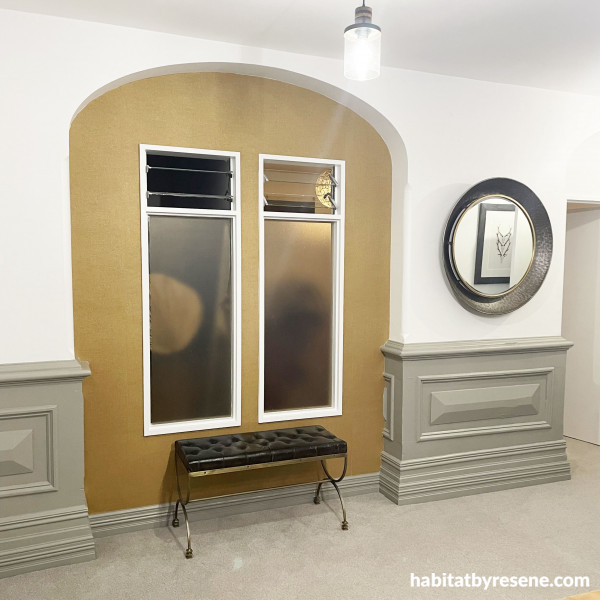 A stunning feature in the lounge is the archway, which now adorns a golden textured pattern with Resene Wallpaper Collection FOL1004, adding a touch of luxury and refinement. The wooden panelling is painted in Resene Friar Greystone, walls in Resene Black White and ceiling in Resene Eighth Black White.
In the master bedroom, Resene Crisp Green from the Karen Walker Paints range adorns the arches, adding a refreshing burst of colour, while the spare bedroom features Resene Half Doeskin. The original wooden panelling in the living area and bedrooms received a handsome coat of Resene Friar Greystone and Resene Snow Drift respectively, perfectly complementing the apartment's character.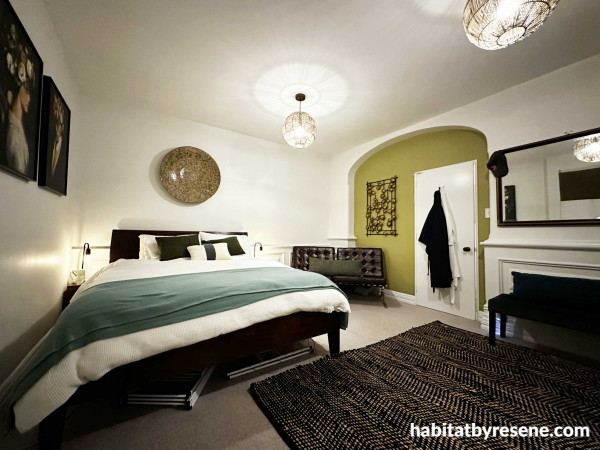 The master bedroom is bright and fresh with pops of green in décor and the vibrant arch painted in Resene Crisp Green from the Karen Walker Paints range. The walls are in Resene Black White, ceiling in Resene Eighth Black White and trims in Resene Snow Drift.
"My favourite part of my job is bringing my client's visions to life," Yvie says. "I'm not someone that tries to put my style on to others, so I didn't really decide as much as I just listened and created what he couldn't describe but knew he wanted."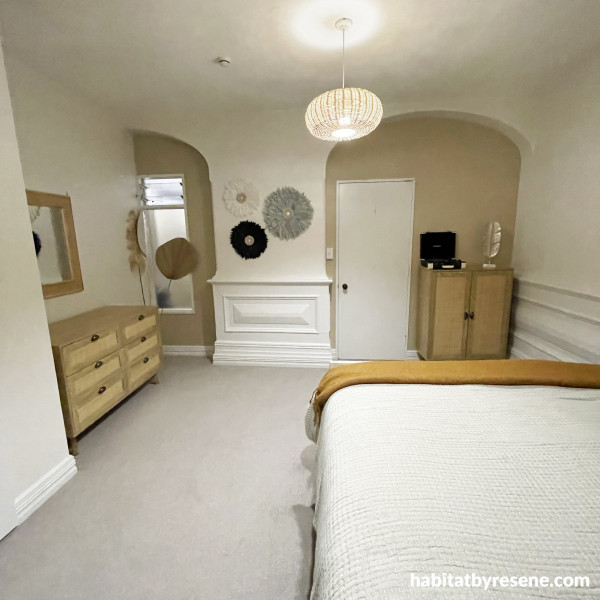 Using the existing arches as features throughout the home is a great way to highlight existing details and make them special. In this room the arches are painted in Resene Half Doeskin, which works well with Resene Black White on the walls. The ceiling is in Resene Eighth Black White and trims in Resene Snow Drift.
Neil and Yvie's collaboration resulted in a home that deftly balances character, quality and functionality. The project was not without its challenges, including the devious lounge pillars and unexpected surprises in the bathroom's framing. Neil emphasises the importance of quality trades, thorough planning, and project management to stay on budget and maintain high-quality standards.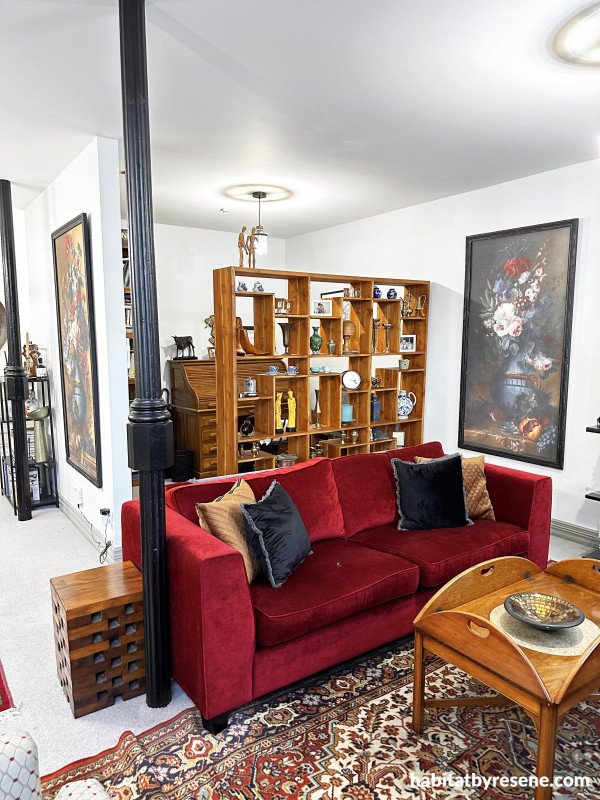 The pops of rich red and brown through décor give a nod to the history of the building. Resene Black White creates a fresh open space to display Neil's personal belongings and furniture. Beams painted in Resene Black and ceiling in Resene Eighth Black White.
One of Neil's favourite Resene colours is Resene Charade, used in the bathroom, while Yvie has a soft spot for Resene Dizzy Lizzy, "I had it on my walls as a little girl and the name is so fun," Yvie says.
Neil's apartment showcases the transformative potential of colour and design, turning a historic space into a decorated home that beautifully blends character, quality and style.
design Yvie Grace
images Neil Finn-House
Top tip: If you're looking to refresh a historic building, but want to honour the heritage and history of the space, take a look at Resene's Heritage colour schemes, which allow you to recreate the authentic colours of traditional homes and builds. It is important to note that the range of colours used in the past was somewhat limited and changes between periods were gradual. Not every early homeowner may wish to recreate the exact colour shades of another era, but for those who do, this is an ideal starting point. For more advice on colour selection, visit your nearest Resene ColorShop or reseller for samples and charts, or Ask a Resene Colour Expert online today.
Published: 10 Oct 2023
Do you have a home full of wonderful Resene paint and colour? Send us some snaps by emailing [email protected].










Resene Eighth Black White












the look
If you're stuck on what
colour to use or need colour
advice, try out the Resene
Ask a Colour Expert service.