►
◄
latest
habitat tv
blog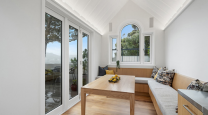 Master Builders' Chief Executive David Kelly shares his tips for building in the challenging climate.

Planning... more
Functional or fashionable? Bold batten ideas to inspire your interiors
Batten down and get ready for an elegant design hack to embellish your interiors. Gone are the days of battens being solely used for fastenings and functional purposes. Now, battens paired with bold Resene paints and wood stains are a hot trend in the interior design world, transforming walls into grand spaces and resurrecting forgotten corners. Battens are best friends with bright pops of Resene colour and can introduce warmth into a room as well as adding texture to your walls.
Battens and panels can be easily attached to walls using screws before painting, or to avoid the hassle of filling nail holes simply use construction glue. Be bold with your battens and create drama with diagonal designs and quirky random lengths or keep things traditional with batten arrangements that mimic classic panelling. Whatever your style, here's five fabulous ideas to help you get batty with battens.
Go against the grain

This cosy lounge has walls in Resene Colorwood Sheer Black with battens in Resene All Black and floor stained in Resene Colorwood Natural. The crisp sideboard and coffee table are in Resene Snow Drift and the pillar and the pendant light are in Resene Black White. Bloom 3-Seat Sofa in Sand from Nood, Home Republic Tierra Rust Rug from Adairs, throws and cushions from Citta. Project by Laura Lynn Johnston. Image by Wendy Fenwick.
Go wild with wood in your interiors this winter. Don't reserve your timber features for the floor, a wood-stained wall can be just as fabulous. Create a moody space with darker wood stains such as Resene Colorwood Sheer Black or add a sense of drama with even deeper batten features in Resene All Black. This batten pattern is simple and loose, and the open negative spaces create the illusion of depth in the room. For a lighter summery look, try a timber wall stained in Resene Colorwood Natural with battens in foggy Resene Barely There. This will brighten the space and work well with any white or cream décor and furniture.
On the move

This room's rosy atmosphere is created with a wall and battens in Resene Cashmere. The floor in Resene Colorwood Natural warms up the space. Rug, chair, cushion, lamp, and tables from Freedom Furniture. Project by Amber Armitage. Image by Mel Jenkins.
What better way to transform a stagnant colour palette than with a flurry of movement? The arrangement of your battens is the perfect place to get adventurous and this modern asymmetrical design is a great way to bring a light-hearted sense of fun to any room. The upward placement of the battens directs the eye upward and then across, creating a sense of space. Tapering the battens and making the number less towards the bottom of the wall creates a focal point and is the perfect place to position statement pieces of furniture. To enhance this sense of movement, use warm and uplifting colours such as Resene Cashmere or Resene Wax Flower. Warmer colours such as Resene Red Berry or Resene Tulip Tree have a vibrant energy of their own which is accentuated when paired with textures such as battens.
Pass on the batten

Classic and contemporary combine in this alpine room with upper wall in Resene Zen and lower wall in Resene Woodland. Furniture from Cittá. Project by Amber Armitage. Image by Wendy Fenwick.
Keep tradition going with a classic batten arrangement. Your living room is the perfect place to create a traditional yet atmospheric space with a two-toned batten feature wall. The vertical arrangement of the battens gives you the freedom to get creative with paint, allowing you to introduce a bold lower wall colour without the space feeling smaller. When choosing your feature wall colour palette, choose an off-white or a light, neutral tone for the upper wall such as Resene Eighth Truffle. Let your imagination – and paint brush – run wild on the lower level, with luxurious reds, blues or greens such as Resene Woodland. Be sure to tie in your feature wall to the space by painting a vase, lamp or coffee table in the same colour to ensure the overall tone of the room flows nicely.
Waffle on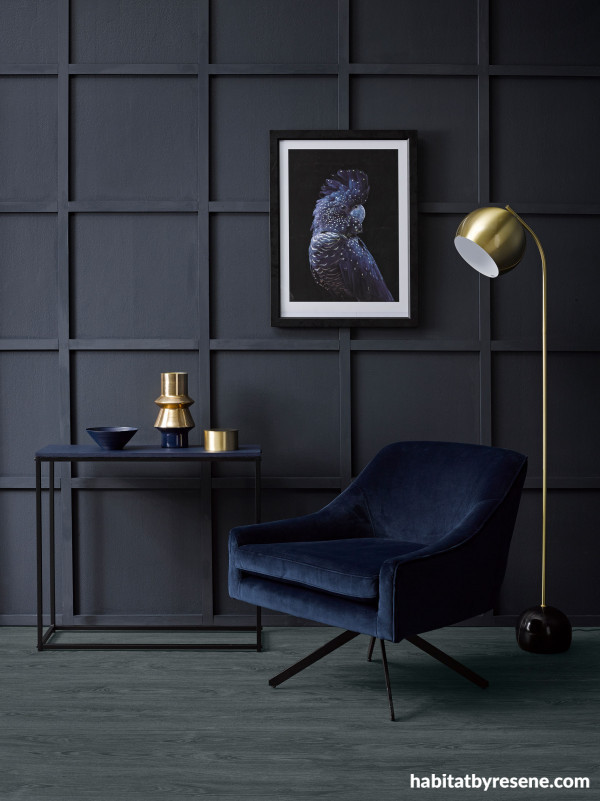 This moody Resene Twilight Zone wall uses a grid of battens to create a unique feature. The floor is in Resene Colorwood Mid Greywash over Resene Colorwood Crowshead, while the table is in Resene Indian Ink. Velvet chair from Nood and lamp from Freedom Furniture. Project by Vanessa Nouwens. Image by Melanie Jenkins.
Get off the grid of lacklustre walls and create a geometric wonder in your living room or reading nook. This square batten design is great for smaller spaces or rooms with imperfect walls. The revitalising pattern hides marks and scrapes by creating both sideways and upward movement that keeps your eyes busy. Walls such as this one are most effective when painted in deep, moody colours such as Resene Indian Ink. Darker colours will help the wall recess into the background while the battens catch the light. Finish your wall design with some square picture frames that fit inside the battens to create a unique and funky centrepiece in the room.
Bed and batten

Meg & Dan's master bedroom paired a relaxing feature wall in Resene Stack with bright Resene Black White on the surrounding walls, trim and ceiling. The Resene Wallpaper Collection CR75502creates a delicate touch of nature.
If you want further proof that battens are on-trend interior must-haves, look no further than this season of Three's The Block. This bedroom is a great example of how to keep it interesting in the bedroom when it comes to design. An elegant floor to ceiling batten wall incorporates an elegant projected headboard. The horizontal lines in the arrangement ensure that this protrusion continues the flow to the upper wall. As bedrooms are smaller than main living areas, be careful not to overwhelm the space with too much bright colour and movement. With the extended batten headboard creating texture, opt for a deep neutral colour such as Resene Stack or Resene Stonewall. Finish the look with accent lighting to highlight the battens and surrounding walls and trim in crisp Resene Black White.
Published: 22 Jul 2021
Do you have a home full of wonderful Resene paint and colour? Send us some snaps by emailing [email protected].
the look
If you're stuck on what
colour to use or need colour
advice, try out the Resene
Ask a Colour Expert service.