►
◄
latest
habitat tv
blog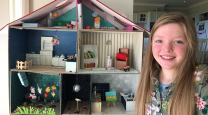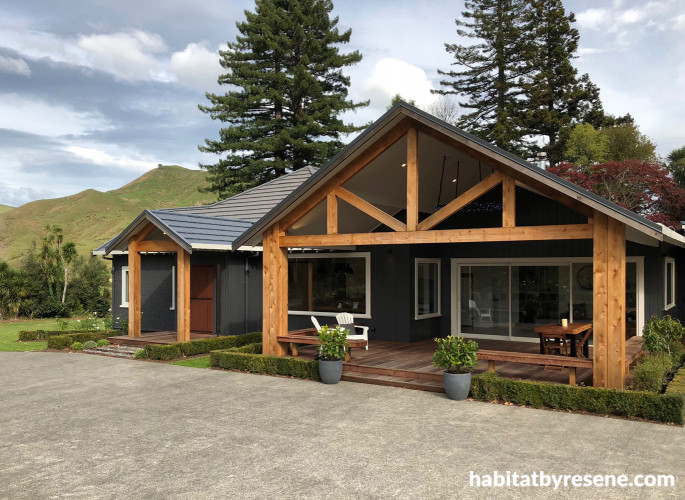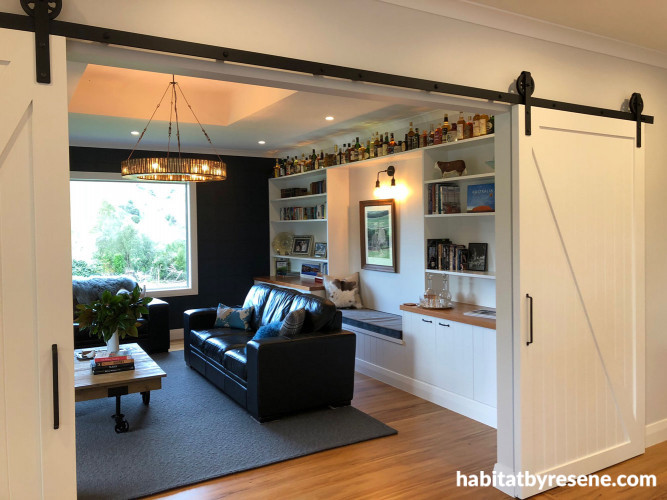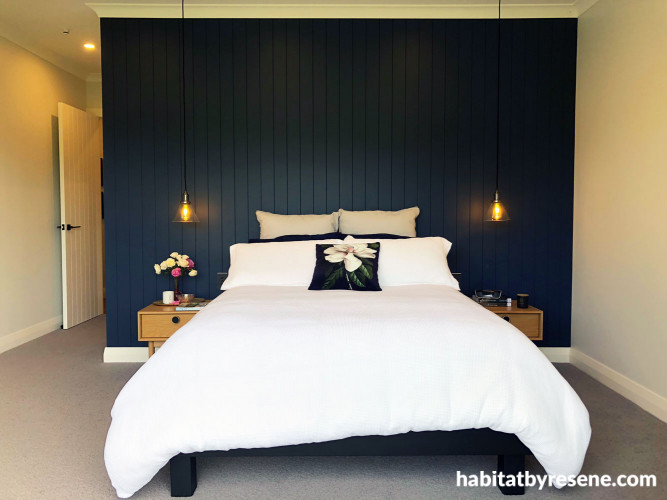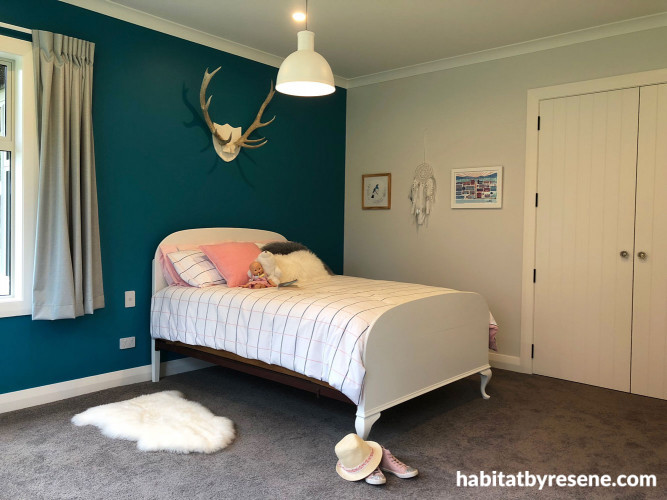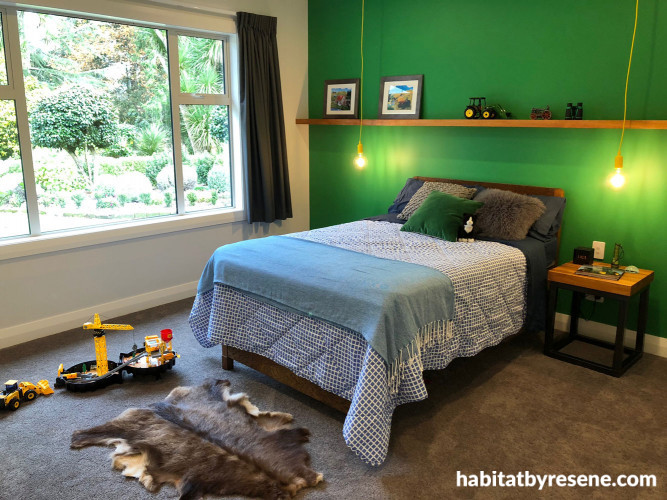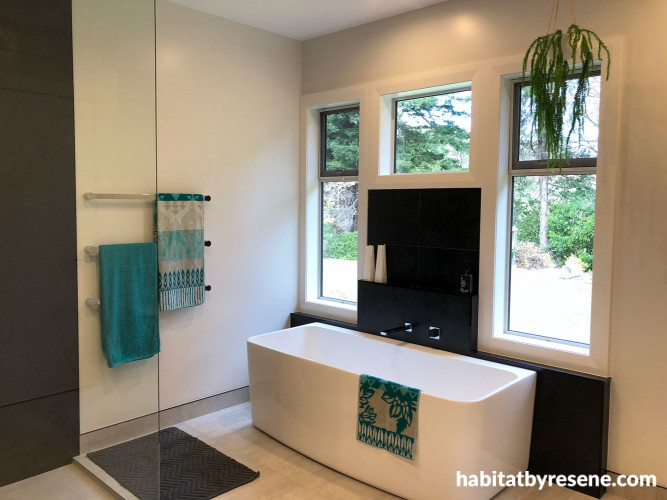 Gemma and Sam's fabulous farmhouse renovation
It's always exciting to see the renovation of an old farmhouse, and this Gisborne home is no exception. Built in the 1930s, and recently given a makeover, it has retained its farmhouse charm (including original rimu floors), mixed with a modern colour scheme of Resene neutrals in the shared living areas and fun Resene colours in the bedrooms.
The home belongs to Sam and Gemma Hain, and was built by Sam's grandfather in 1936. During its lifetime, it had undergone minor renovations before the couple completely renovated it in 2017. They live in the beautiful modern farmhouse with their two kids, Tom (5) and Lilla (8).
Gemma tells us more.
How did you decide on the overall look of the interiors?
The beautiful big redwood truss and pillars out the front really dictated the interior style of the home. We wanted to create a modern industrial barn house feel with a touch of nature and glamour. We were so lucky to have a significant supply of matai wood which we milled from two fallen trees about five years prior. It was a real joy to be able to bring that timber into our home creating warmth.
It was also exciting to find the beautiful rimu flooring when the carpet was lifted. It is also part of the history and story of the home.
Our children had a big say in the look of their bedrooms, especially the colours, and they have turned out really well. The green and yellow in Tom's bedroom represents John Deere (the tractor brand) and the teal has long been a favourite colour of Lilla's. She requested the antlers and being from a farm we could manage that.
The family whisky collection was the starting point when designing the formal lounge. Being able to find the perfect wallpaper for this room in our local Resene Colorshop store was such an exciting moment.
What part of the house are you happiest with?
I couldn't possibly pick a room, but we feel that we achieved the original goal of having a warm home that was more connected with the outside. The large windows are a real feature. I love that when you are inside, you almost feel that you are outside.
What is your advice for someone trying to achieve a similar look?
Take your time, do your research and ask questions. And make use of Resene testpots. Paint large squares of paper using the testpots or use Resene A4 drawdowns – look at them in the rooms they are to be used in at different times of the day and on sunny and overcast days. A winner will reveal itself.
Click here to order A4 drawdown swatches from Resene or view the colour library at your local Resene ColorShop. You can also order these swatches through your local Resene ColorShop.
What was the biggest challenge for this project?
Getting started. We weren't confident that we knew what our style/design taste was let alone what it was called. Eventually our agreed style emerged and we identified some key words to use when searching and we were away. Once you get a few design and decorating elements locked in, the rest flows.
Do you have a favourite colour, and if so why is it your favourite?
I love Resene Baltic Sea. It's dark and moody but also warm, especially when paired with Resene Titania painted on the window trims and garage door.
Top tip: If you are using a dark exterior colour, remember to ask for Resene CoolColour paint. It reflects more of the sun's UV, protecting the paint and the cladding by minimising heat stress and potential damage.
Is there anyone else you would like mentioned?
We had a fantastic team of people working with us to bring our dream into reality. Bain Construction were fantastic to work with and our foreman Leyton Peters was a true perfectionist. Similarly, our painter Paul Muncaster worked tirelessly as a one man band plastering and painting the whole interior and exterior. He has very high standards which made for a flawless finish. The joinery was all done by Traue Joinery. The bathroom vanities and kitchen bench top are beautifully crafted. Pamela Hall of iD Workshop offered interior design advice and reassurance at various times along the way.
Published: 14 Jun 2018
Do you have a home full of wonderful Resene paint and colour? Send us some snaps by emailing [email protected].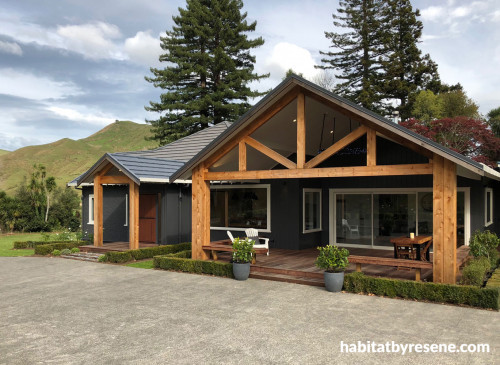 After much research for the perfect black and white combo for the exterior, Gemma and Sam found their dream colour scheme in Resene Baltic Sea (black) and Resene Titania (white).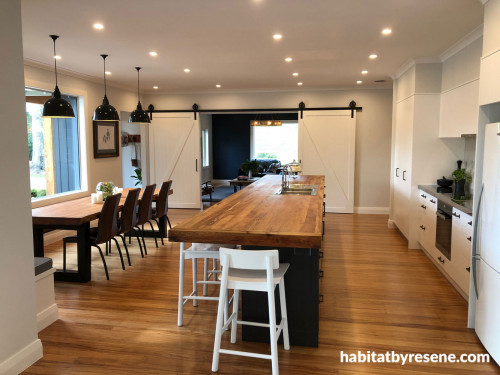 The interior of this Gisborne farmhouse is predominately painted in Resene Double Black White with trims painted in Resene Half Black White. Homeowner Gemma loves the colour combination, as it's light and bright without feeling precious and uptight.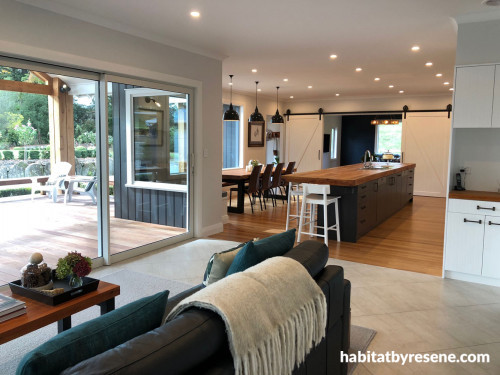 When it came to renovating the home, Gemma and Sam wanted to create a modern industrial barn feel. The kitchen features original matai wood from when the home was built in 1936. The walls are painted in Resene Double Black White with trims painted in Resene Half Black White.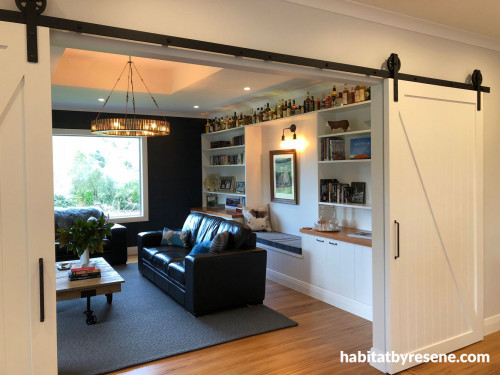 For the design of the formal lounge, the family whisky collection was the starting point of the design. They found the perfect faux leather wallpaper from the Resene Wallpaper Collection (design 576436) to complement the collection. The ceiling is painted in Resene Double Black White and the trims are painted in Resene Half Black White.
Gemma chose Resene Dark Side for the feature wall in the master bedroom – a dark, smoky blue that works perfectly on the grooved panels and with the black bed base.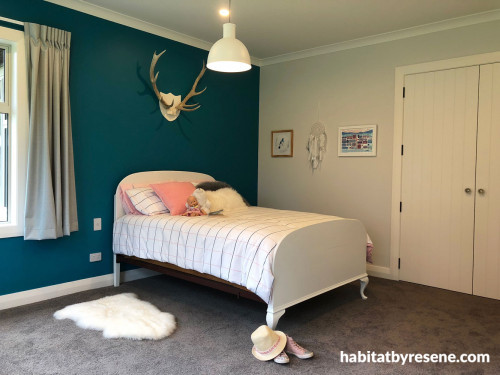 Eight-year-old Lilla chose teal Resene She'll Be Right for her bedroom. It looks stunning with Resene Double Black White on the other walls. Gemma loves that it's fun and bright and mixes well with soft pinks.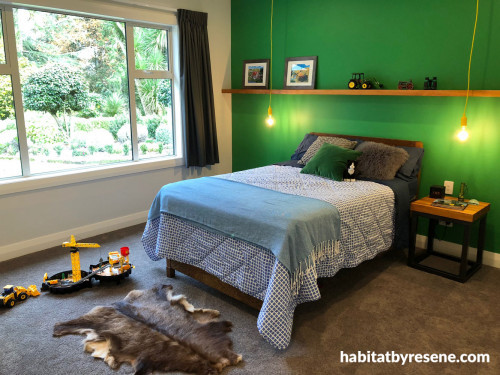 Five-year-old Tom wanted to bring the John Deere green into his bedroom, finding it in Resene Left Field used here as a feature wall. The rest of the walls are painted in Resene Double Black White with trims painted in Resene Half Black White.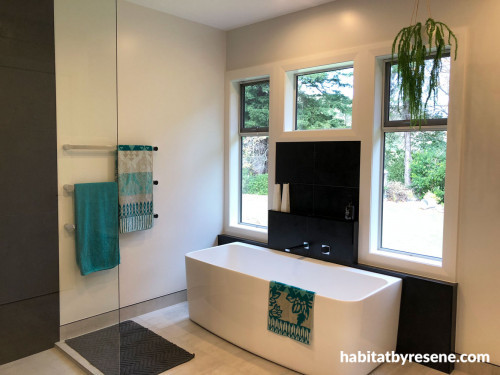 Resene Double Black White on the walls and trims painted in Resene Half Black White create a calming contrast in the bathroom and other shared living areas of the home.

The farmhouse before the renovation (left) and after. It's now painted in Resene Baltic Sea with trims in Resene Titania.
Resene Double Black White
the look
If you're stuck on what
colour to use or need colour
advice, try out the Resene
Ask a Colour Expert service.