►
◄
latest
habitat tv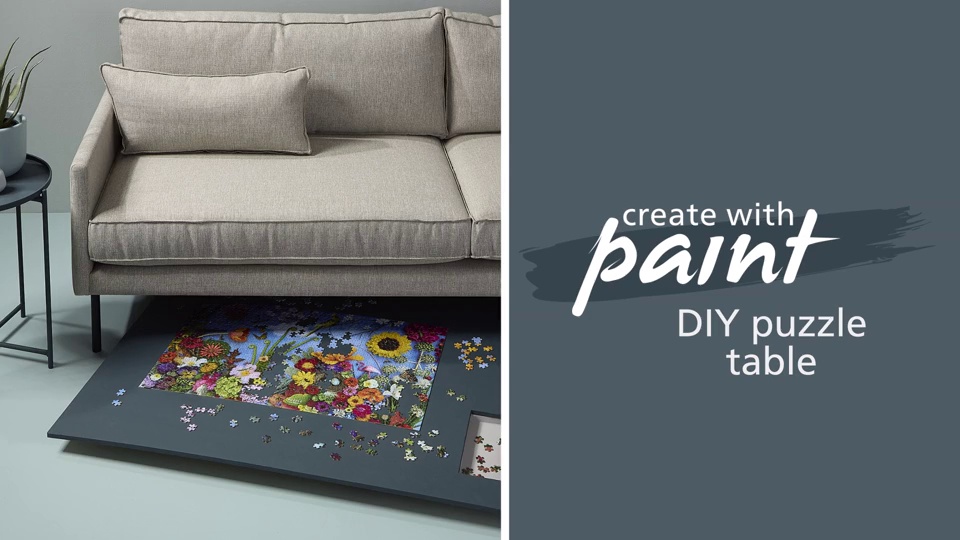 blog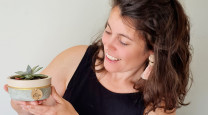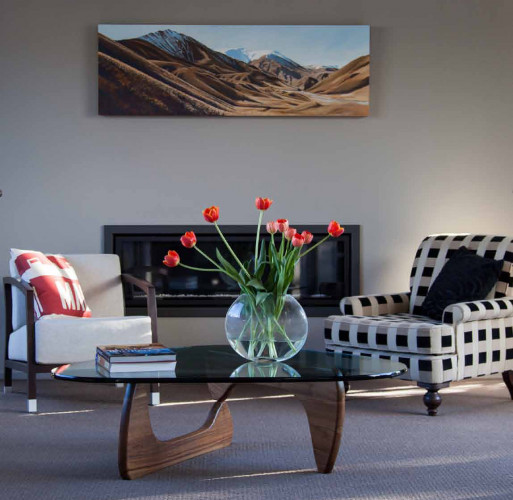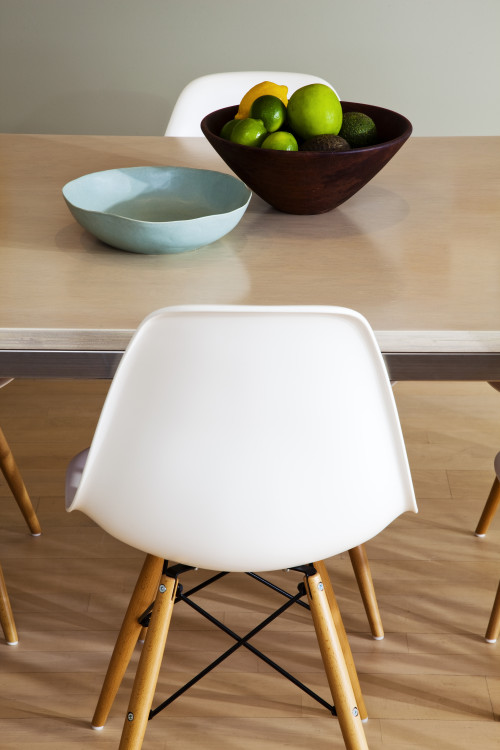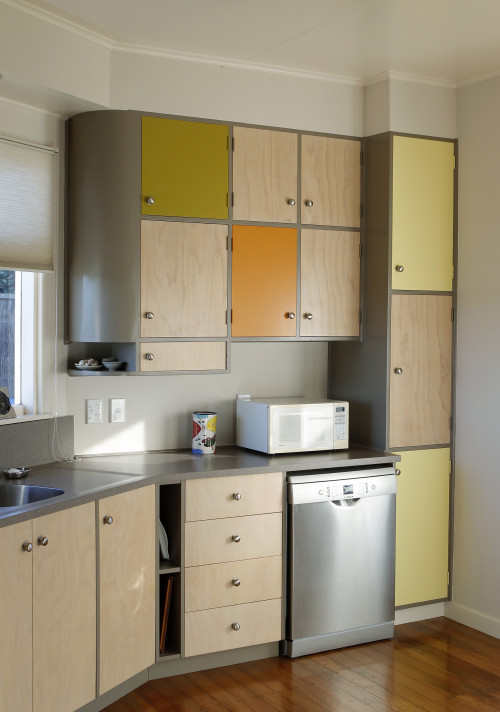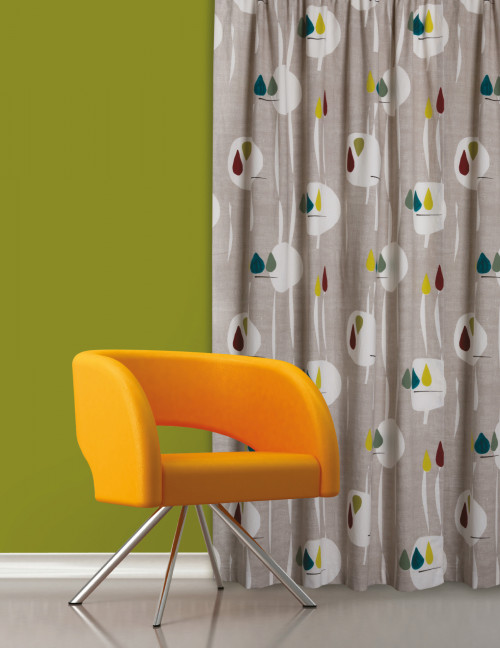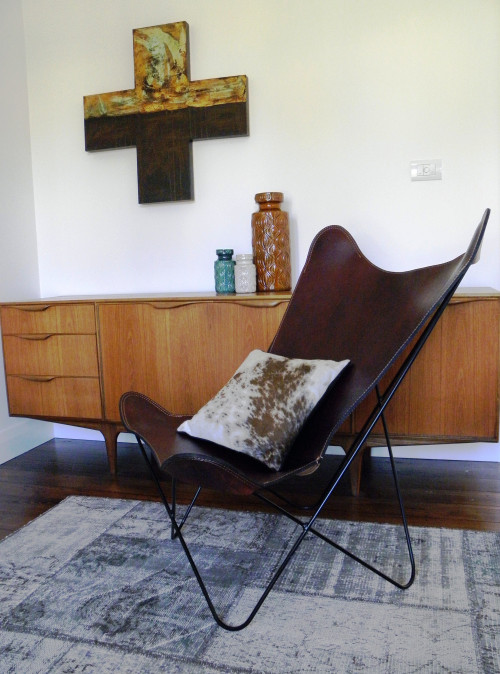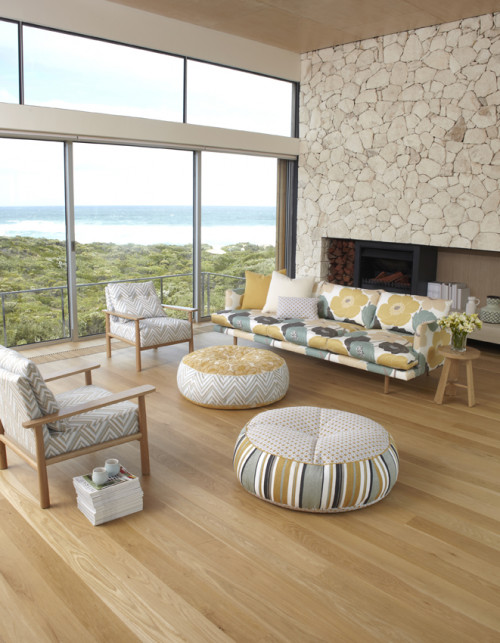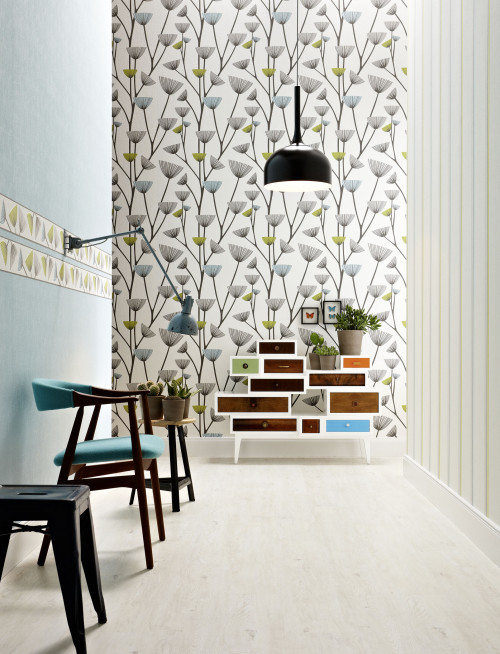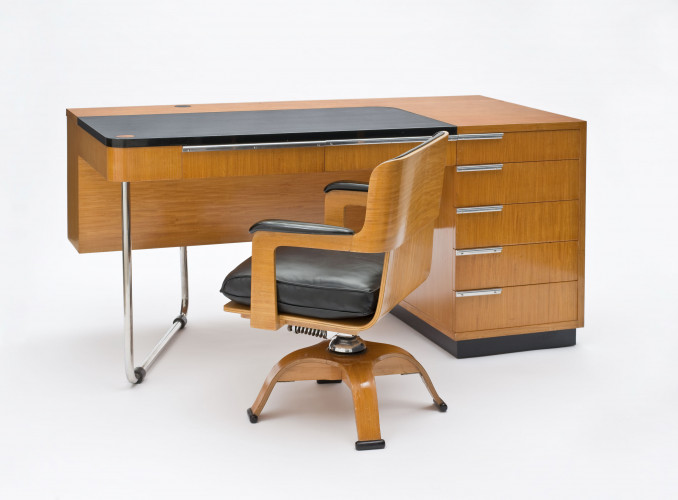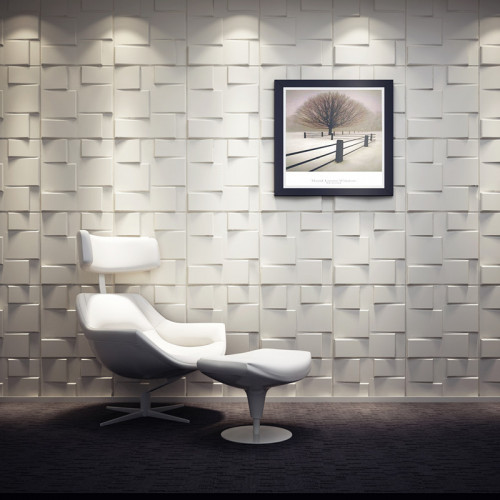 Get the mid-century modern look
Published: 18 Jul 2013
Do you have a home full of wonderful Resene paint and colour? Send us some snaps by emailing [email protected].
Go retro and have some fun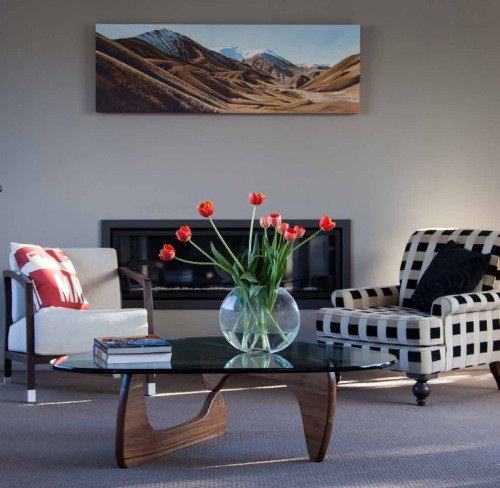 Mid-century design hits the mood of the moment. It's always been popular amongst the architectural set for its clean lines and arty quirkiness but now many more homeowners are appreciating this casual yet beguiling style… and the Resene colours that can enhance the look: tangerine (Resene California), teal (Resene Seeker), avocado (Resene Impromptu) and mustard (Resene Zion).
It's a style that answers our current passion for upcycling furniture and saving all of those lovely 1950s pieces like chrome-legged, Formica topped tables and sleek, splayed-legged sideboards that some of us (ahem!) remember from our family homes. At this end of the world, the mid-century modern look sits comfortably alongside our casual beachy lifestyle; many of our best-loved baches never actually left the mid-century look behind.
Pared down and open
And the architecture of the time is perfect for modern-day Antipodean lifestyles with its big emphasis on open-plan living, pared-down styling, feature walls in natural materials, large windows and good indoor-outdoor flow.
Mid-century modern roughly spans the period from the late 1930s to 1965 so encompasses late Art Deco influences through to pop-art 1950s looks. Some current interior looks may be anchored in this era but also scoop in some of the looks of the 1970s – leather poufs, rattan hanging egg chairs, shaggy rugs and earnest pottery. As with any decorating style, there's no need to be slavish. It's about what you love and what works in your home.
They're still classics
Many key furniture designs of the day have been popular since they were created – the classic Charles and Ray Eames curved ply or plastic molded dining chair, for example. These pieces were made to be mass-produced as designers believed that their creations should be available to all not just a select few. They're clean lined with subtle craftsmanship and are simply finished. Other influential names from the time are Frank Lloyd Wright, Eero Saarinen, Mies van der Rohe and pretty much all of Scandinavia.
We have our own classic looks from this era in Crown Lynn pottery and swans, Backhouse and Danske Mobler furniture, and John Crichton's mosaic-topped tables.
The fabrics were graphic, often with a screen or block printed look in fun colours. They featured quirky geometric shapes, or large stylised florals.
Another place to immerse yourself in the look is at the Auckland Art Gallery, which is currently hosting the California Design 1930-1965: Living in a Modern Way exhibition, celebrating mid-century design. California saw an explosion of mid-century design as its population snowballed from 1930s onwards. The exhibition runs until late September and has many wrap-around events (like the collection of long-boards that my surfie husband is keen to see, and the collection of Barbie dolls that he won't be so keen on).
Get the look with…
· Open, simple design with good proportions – no clutter
· Organic, curvy shapes and natural materials
· Bold, saturated colours. Aside from those mentioned above try Resene Guggenheim, Resene Tweet, Resene Smashing, Resene Butterfly, Resene St Kilda, Resene Renew and Resene Kereru
· Colour-blocking
· Graphic fabrics with a screen-printed look or textured knubbly fabrics
· Plywood and mid-toned timber furniture
· Natural materials such as stone or timber used as architectural features
pictures
Interior designer Alexandra Blair has given a very sophisticated look a mid-century look with a timber-armed chair, long fireplace, reproduction Noguchi coffee table and walls in Resene Heathered Grey.
Spanning the ages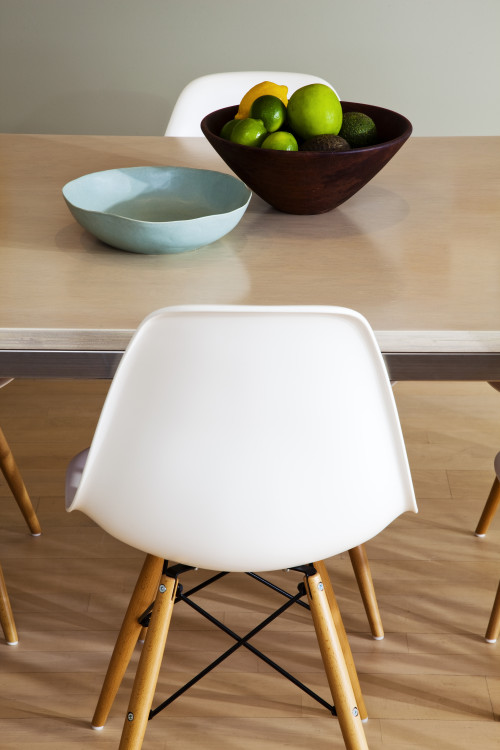 A reproduction Eames chair was used in a house designed by Trinity Design. The wall is Resene Tana.
pictures
Photography by Jeff Bass
Go graphic with colour blocking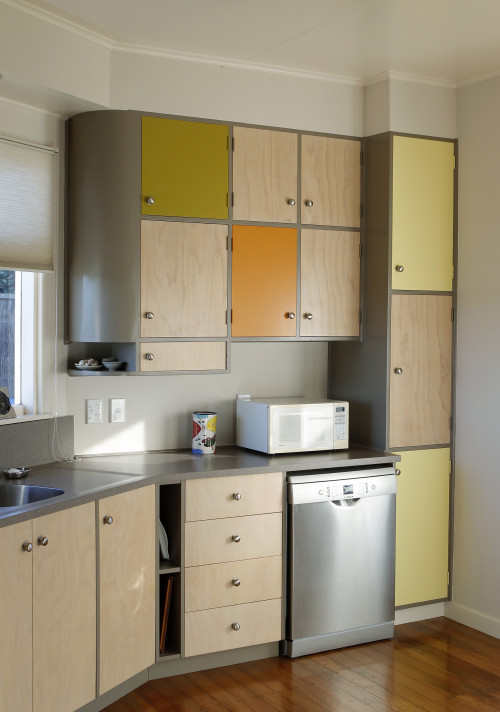 A winner in the Your Home & Garden / Resene Colour Home Awards, this kitchen uses colour-blocking on plywood cabinets with Resene Rock Salt from the Resene Colorwood interior wood stains range, Resene Flashback (orange), Resene Moonbeam (yellow), Resene Alibi (green) and walls in Resene Solitaire. The stain is finished in Resene Aquaclear and the grey Melteca is Velveteen.
Remember avocado green?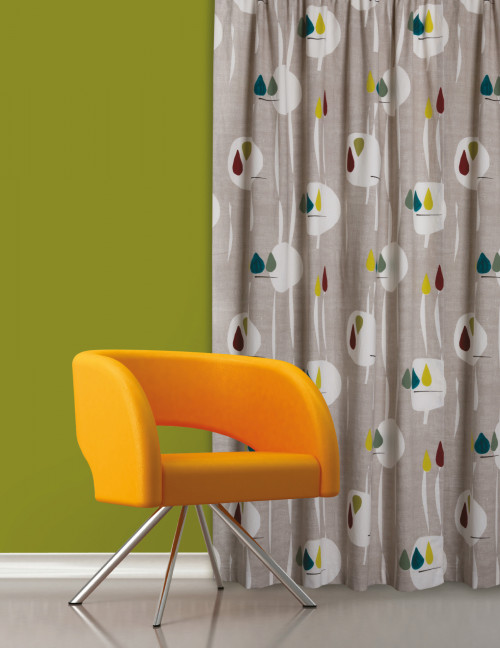 Avocado green, seen here as Resene Kombi walls, was a big colour for the mid-century modern look. The curtain is from the Resene Curtain Collection Abstraction in Flame.
A classic with its original twist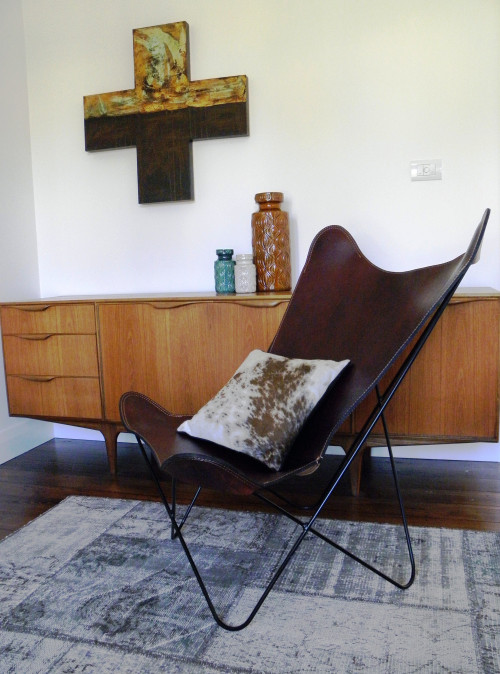 This current interpretation of the butterfly chair uses the original's true Argentinian look with a leather cover (colour Bordeaux). The walls are Resene Black White. Chair available from Flutter Design.
Scandinavian influences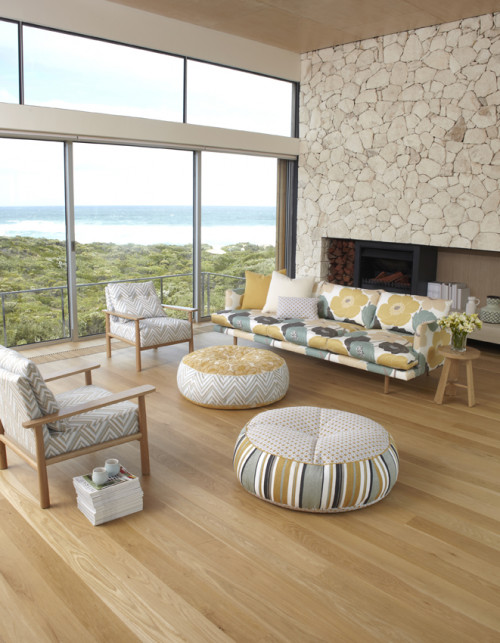 Scandinavian design heavily influenced the mid-century look with its pale timbers, walls of glass, furniture made by the likes of local company Danske Mobler and natural features such as the stone fireplace wall. The fun Marimekko-style fabric is from the Nordic collection by Warwick Fabrics.
A Kiwi classic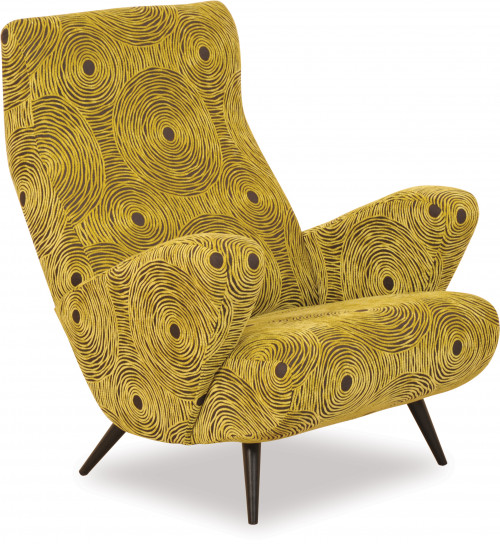 A Kiwi mid-century modern icon, the Ken chair made by Danske Mobler.
Graphically whimsical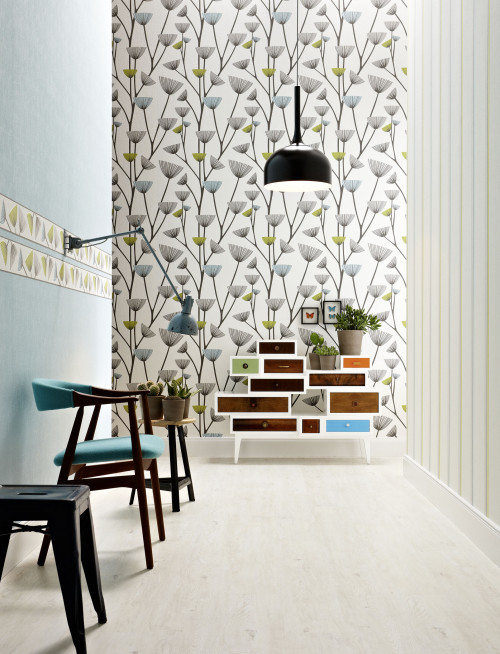 Graphic block prints were popular, interpreted in this wallpaper from the Manhattan collection (code 2692-18) available through Resene.
California calling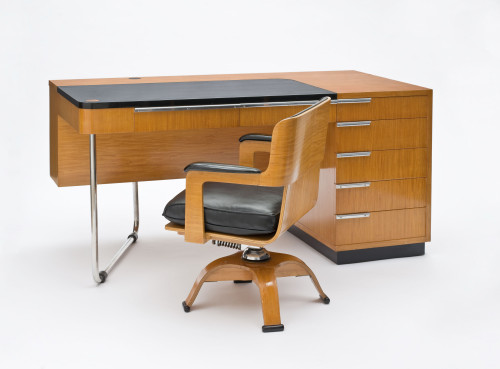 This desk and chair designed by Kem Weber, c 1938, are part of the superb California Design 1930-1965: Living in a Modern Way exhibition, showing at the Auckland Art Gallery until September 29. The collection includes mid-century furniture, furnishings, homewares, house design, toys, clothing and graphics.
Try a textured feature wall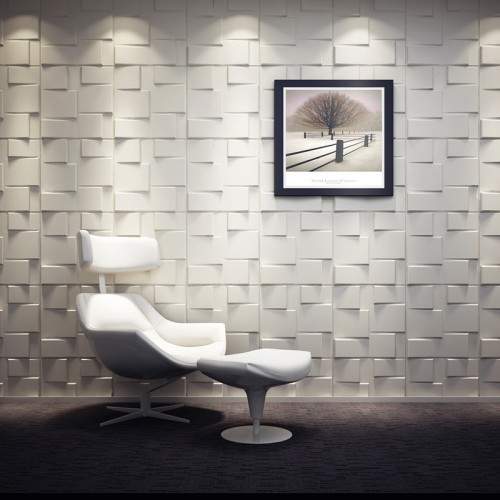 Geometric texture is big for the mid-century modern look. This wall is actually Enspire bamboo panels, pattern Rubic, which are then painted – you can get the look with Resene Double Sea Fog.
the look
If you're stuck on what
colour to use or need colour
advice, try out the Resene
Ask a Colour Expert service.