►
◄
latest
habitat tv
blog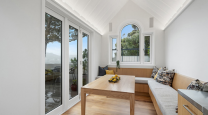 Master Builders' Chief Executive David Kelly shares his tips for building in the challenging climate.

Planning... more
Get the most out of outdoor living with the colours of your favourite travel destinations
An outdoor space is like having an extra room in your house, and with all the time spent at home lately, those lucky enough to have a patio or deck can look for ways to maximise it. No matter how small, there is plenty you can do to improve it… and Resene's paint palette and the Resene Woodsman wood stain range are a fast route to transformation.
Try decorating your outdoor living space in a way that brings home the energy of a favourite holiday destination. Channelling everything that you love about that holiday location through your décor can have added benefits, helping you to mentally 'switch off' when you step outside. For some, that means adding the hot colours of the Mediterranean, or maybe it's the cooler, calmer tones of a Bali retreat – and it's all channelled through the paint colours.
A cool change to create harmony and serenity

Framing and enclosing a space and adding climbing plants is a beautiful and atmospheric way to bring shelter from the elements. The pergola is painted in Resene Lumbersider tinted to Resene Sea Fog, which gives a fresh appearance and ensures its structure and substrate are protected against the elements. Tongue-and-groove wall in Resene Nebula and timber decking stained in Resene Woodsman Uluru, which allows the natural grain of the wood to show through. Large amphora vase in Resene Sea Fog, medium amphora jug in Resene Eighth Tea, tall plant pot in Resene Eighth Tea, medium plant pots in Resene Cloud, tiny amphora vase in Resene Yucca. Sofa and armchair from Poynters, monument coffee table and side table from King, throw from Città, fan palm from Freedom. Project by Laura Lynn Johnston, image by Melanie Jenkins.
If you're aiming for a serene and harmonious space, take inspiration from the colours of nature, with cool greens and subtle blues like Resene Sea Fog, Resene Quarter Tea and Resene Cloud, brought to life with heavenly blue greens like Resene Nebula and Resene Yucca. Add in green plants with strong, structured shapes like fan palms, monsteras, yuccas and dracaenas which will function as sculptural art and pop against the Resene colour palette. Go one step further and specify Resene CoolColour if you're using darker colours to help reflect more heat. Resene Nebula is a very pale green grey which is ideal for weatherboards to help your home blend with its natural environment. Add Resene Sea Fog to the mix with structural details such as windowsills, pergolas or painted outdoor furniture to create a soft seaside palette. These cool colours calm the senses and will have you dreaming you're on a sunny Greek island.
Top tip A Resene CoolColour looks like a normal colour but thanks to special pigment technology it reflects more heat, so it doesn't get as hot as a normal colour would. Resene CoolColours are created by replacing the standard carbon black pigment that absorbs heat and light with a unique pigment that enables much of the infrared portion of the sun's energy to be reflected.
Try paint effects to create a sun-washed, southern Mediterranean vibe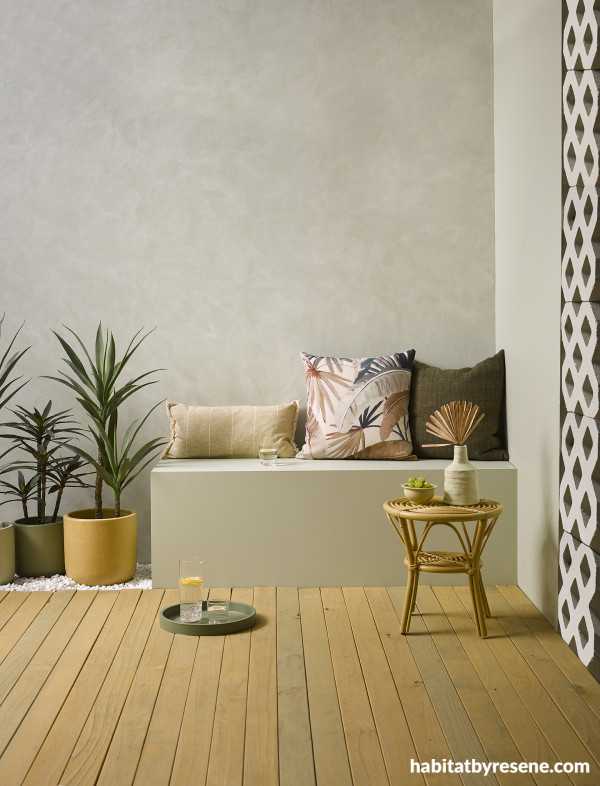 The walls on this outdoor patio have been painted in Resene Aspiring with Resene FX Paint Effects medium coloured with Resene Moon Mist. These, combined with the textured and visually interesting element of the stacked breeze blocks on the left, painted in Resene Moon Mist, bring life and pattern to the outdoor space. Deck is in Resene Woodsman Uluru, a waterborne wood stain combining timber protection with the most natural appearance possible. The breeze blocks are not only a visual element but also provide privacy without blocking all light from the space. Table and large plant pot in Resene Teak, smaller plant pot in Resene Siam, tray in Resene Flax and DIY striped painted throw in Resene Yuma and Resene Flax, vases in Resene Thistle and Resene Eagle and tealight holder in Resene Bitter. Rug from Mocka, cushions from Adairs and Allium, carafe and tumbler from Città.Project by Vanessa Nouwens, image by Wendy Fenwick.
The south-of-France look pulls together sun-washed colours and the texture and patina of age on building materials. Since we don't have hundreds of years to work up that look, we can speed things up using Resene FX Paint Effects medium to give a limewashed effect. This visual design feature is a unique alternative to traditional wall coverings and is especially suited to outdoor areas where surfaces are often rougher.
Back in the 90s paint effects were overdone, but today's palette is subtle, creating gentle gradations of colour, that evoke the effects of time over decades, which can be done in a couple of afternoons.
Make a mood board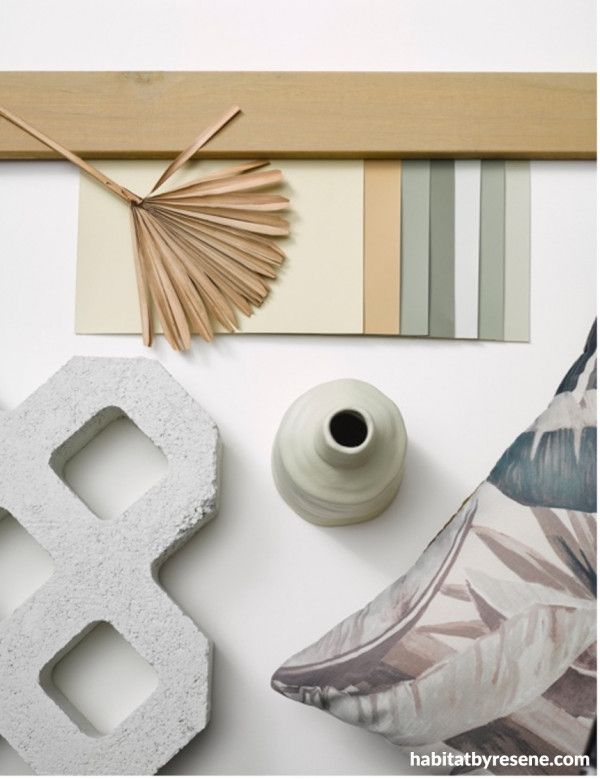 Create a mood board, layering your tonal palette. Resene Alabaster on the background is a grey-toned white which is a go-to colour for stylists and designers. Resene A4 drawdown paint swatches in (from left to right) Resene Yuma, Resene Teak, Resene Flax, Resene Siam, Resene Aspiring, Resene Bitter and Resene Earthstone, decking in Resene Woodsman Uluru and breeze blocks in Resene Moon Mist and vase in Resene Aspiring. Cushion from Allium interiors. Project by Vanessa Nouwens, image by Wendy Fenwick.
For an alternative colour palette, take inspiration from furnishings such as the purple-toned palm print cushion. Keep the base elements the same – walls in Resene Aspiring with paint effect in Resene FX Paint Effects medium coloured with Resene Moon Mist, bench seat in Resene Aspiring and decking in Resene Woodsman Uluru. Introduce dusty purples and blues through the accessories such as Resene Flotsam and Resene Raven with brighter pops of Resene Abbey Road and Resene Alluring. The result will have a brilliant sense of depth from the darker hues and will appear cooler thanks to the naturally cool undertones of those blues.
Blue hues paired with soft greys call up an oasis of serenity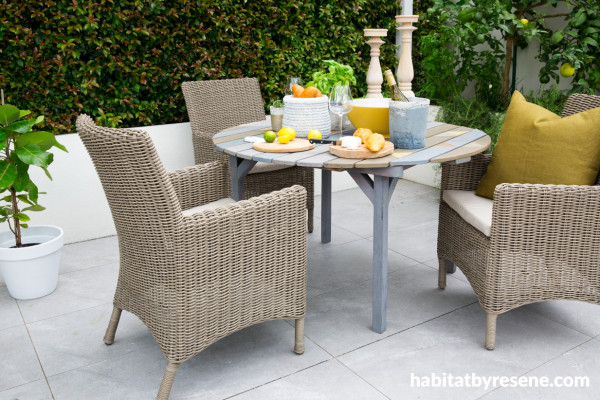 Take one table anduse Resene Woodsman wood stains to create a French-style chic atmosphere. This table is painted and stencilled in Resene Waterborne Woodsman Limed Gum, Resene Waterborne Woodsman Limed Ash and Resene Colorwood Whitewash, with highlights of Resene FX Metallic in Resene Spark and Resene Gold Dust. We've used Resene Resitex on the ice bucket exterior for a textured finish and Resene Sandtex, perfect for a sandstone effect, in Resene Double Stack and Resene Alabaster. The two small herb pots are in Resene Resitex and Resene Sandtex in Resene Alabaster, Resene Gravel, Resene Gold Dust and Resene Alabaster.The braided pot has a Resene Delta basecoat and topcoat of Resene Alabaster coloured with Resene FX Paint Effects medium. Chopping board handle in Resene Alabaster, plaster walls in Resene X-200 acrylic weathertight membrane tinted to Resene Triple Rice Cake and terracotta pot in Resene Alabaster. Cushion from James Dunlop Textiles. Project by Greer Clayton, image by Larnie Nicolson.
Paint can add character to more than just walls. Take a simple pine outdoor table and jazz it up with limewashed effects and soft colours, using the Resene Waterborne Woodsman range. It's designed to colour timber, while still allowing the natural grain of the timber to show through and is the perfect way to add colour to new or previously stained timber without losing its natural essence. The range also offers exterior wood stain colours in traditional, limed and bright hues. This is a great way to upcycle tired old timber tables and capture that French-chic look at the same time.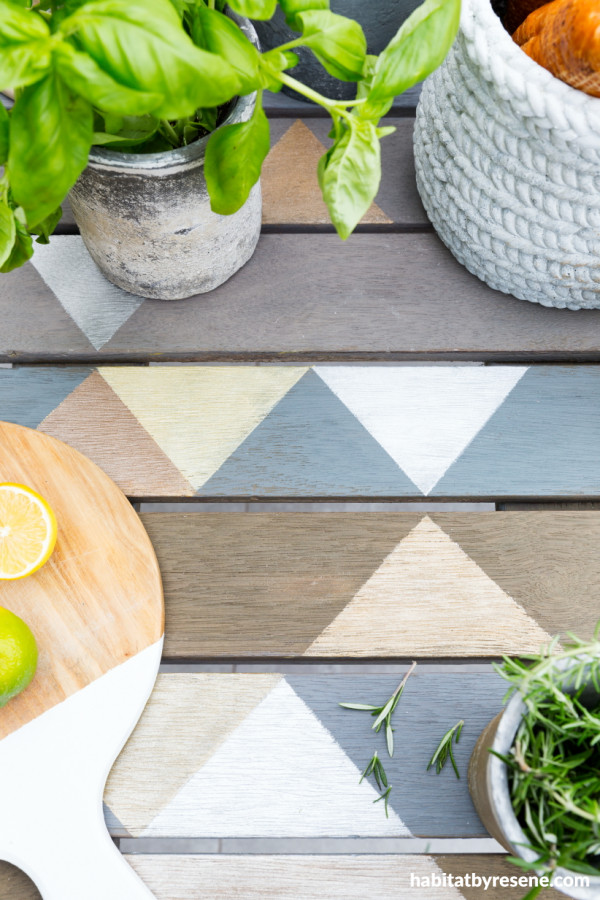 Create simple stencils out of cardboard, and get creative with geometric designs. We've stenciled the table with Resene Woodsman Equilibrium, Resene Waterborne Woodsman Smokey Ash and Resene Waterborne Woodsman Limed Ash with Resene Colorwood Whitewash and highlights of Resene Spark and Resene Gold Dust metallic. Pots are coated with Resene Resitex and Resene Sandtex for a sandstone effect, finished with Resene Gravel and Resene Gold Dust with Resene Alabaster on the lip. The braided pot has a basecoat of Resene Delta with overcoat of Resene Alabaster diluted with Resene FX Paint Effects medium. Chopping board handle in Resene Alabaster. Project by Greer Clayton and Celia Faris, image by Larnie Nicolson.
Transform a tired outdoor table into a work of art with creative use of stains and paint. Stains are semi-transparent so the final finish colour will depend on the nature of the timber being stained. Stains applied to light woods will appear much stronger and brighter in colour than stains applied to dark wood.
The powerful punch of hot colours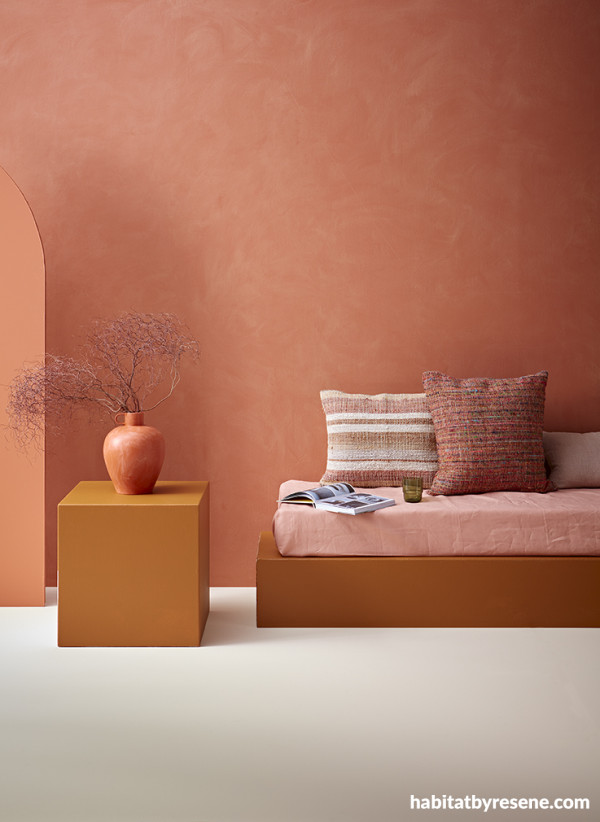 Channel Sante Fe style by layering earth tones with a limewashed effect. Start with walls in Resene Wild West mixed with Resene FX Paint Effects medium coloured with Resene Sante Fe. Bench base in Resene Korma, plinth in Resene Korma and archway wall in Resene Bitter. The floor in Resene Bianca cools the hot palette. Artwork in Resene Nero (faces) and Resene Waiouru, vases and accessories in Resene Sand, Resene Cashmere, Resene Blank Canvas, Resene Bianca, Resene Alabaster and Resene Finch. Collectively, the colours add up to a welcoming palette that recalls the desert landscape of the southwest of the US.Project by Gem Adams, image by Wendy Fenwick.
When you want to make an impact, hit the hot colours and bring the heat of the desert into your world, Sante Fe style is for you. This rich and bold theme draws on the history of the southwest of the US, with elements that are rustic and earthy colours inspired by Native American and Spanish design influence. Terracotta means 'baked earth' in Spanish and is a hot design trend. Southwestern-style interiors are made up of a richly warm colour palette of burnt oranges, rusty reds, deep browns and shades of natural and earth tones.
Resene FX Paint Effects medium makes it easy to create the rustic, textured look. Some techniques also have the practical benefit of disguising less-than-perfect surfaces. Imperfections in the surface can add to the overall impact of the effect. We've used gradations of colour on the arches and main wall, and the paint effects creates 'movement' in the final finish.
Published: 08 Dec 2021
Do you have a home full of wonderful Resene paint and colour? Send us some snaps by emailing [email protected].