►
◄
latest
habitat tv
blog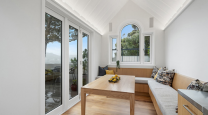 Master Builders' Chief Executive David Kelly shares his tips for building in the challenging climate.

Planning... more
Get your dining room ready for holiday entertaining
It's only a matter of weeks until Christmas feasting commences, but before you pull out your stretchy pants, you might want to turn your attention to your dining room. With family and friends about to descend upon your home, now is the ideal time to prep and prepare before the festive rush gets to be too much.
Refresh your room's overall look
Look around your dining room and ask yourself: what's looking worse for wear and could use a clean or fresh coat of paint? If you've got the time, giving your larger features like your dining room table or sideboard a fresh coat of paint will instantly lift the space and set the scene for more festive additions. Once you've chosen a fresh colour, you can work with the look to bring in smaller festive details to match.
Published: 05 Dec 2019
Do you have a home full of wonderful Resene paint and colour? Send us some snaps by emailing [email protected].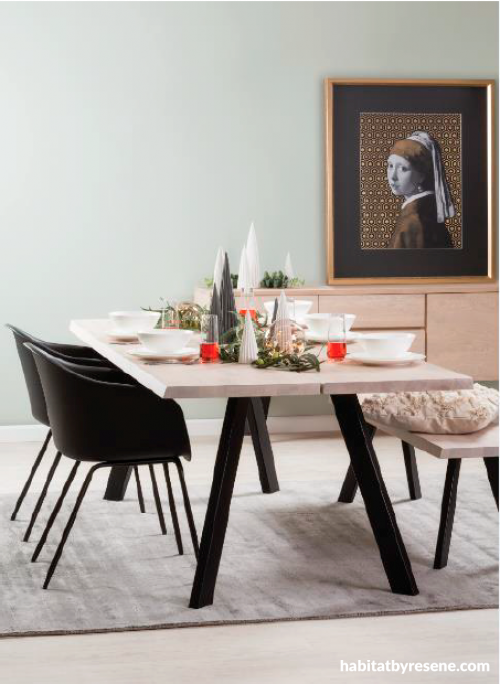 A new lick of paint or wood stain on major pieces of furniture can really transform a space in time for guests, and its usually a project that's quick and easy to conquer over the weekend. Going with a great evergreen option like Resene Colorwood Whitewash ensures you can enjoy the colour year-round. Wall in Resene Pumice; table, chairs, sideboard, artwork, rug and accessories from Nood.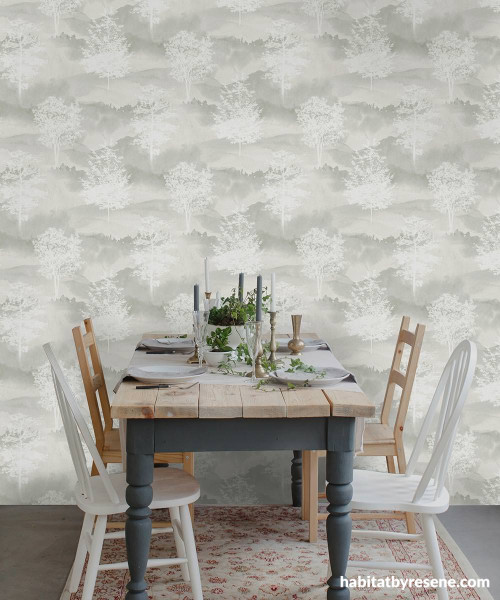 Even just painting the legs of your dining table can make a dramatic difference. To get the look, start with one or more key walls in Resene Wallpaper Collection 90820, go for the floor in Resene Stack, Resene Baltic Sea on your table legs, then paint a couple of chairs and a few plant pots in Resene Quarter Merino.
Add colour to your table décor
Once your room's larger details have been sorted out, it's time to tackle your table décor. Floral arrangements can be really enchanting, and even more so when the vase has been given a festive facelift. You could also paint chargers, napkin rings, candleholders, personalised name cards, faux fruits and more. If you're going traditional, paint table décor with Christmas red and green classics like Resene Roadster and Resene Family Tree. If sparkle is on your mind, try a metallic paint colour like Resene Rose Gold, Resene Fortune, Resene Sterling or Resene Stun.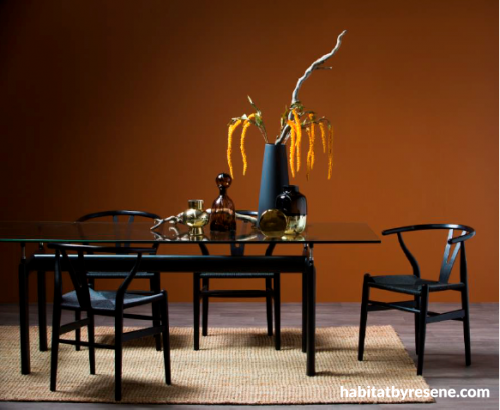 For an non-traditional holiday centrepiece, found objects like branches and driftwood can become sculptural statements when left as is or with a couple coats of paint. Mix in metallic elements by painting a candleholder and the bottom half of a vase in Resene Gold metallic paint. Wall in Resene Cinnamon; table, chairs, rug and accessories from Nood.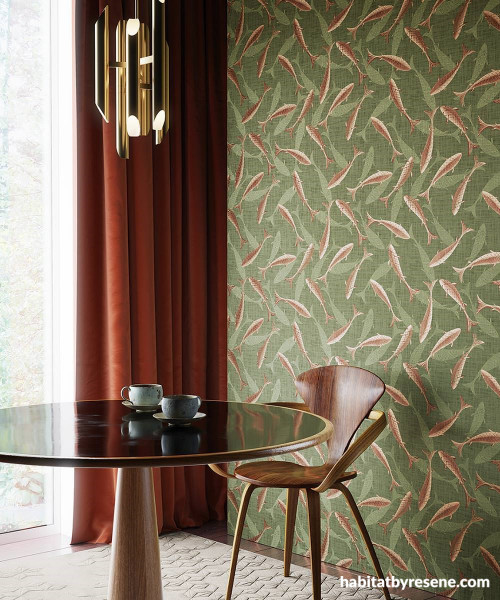 The colours in Resene Wallpaper Collection IUM002 not only blend perfectly into a traditional holiday colour scheme, it's both quirky and luxe enough for creating a year-round dining space that shines. Try it with velvet, brass and Art Deco inspired details and timber flooring stained in Resene Colorwood Natural for an elegant and enviable look.
Make a unique table runner with wallpaper
Another idea is to use cut lengths or left over off cuts of Resene wallpaper as a table runner for a unique table setting look. Ask the staff at your local Resene ColorShop to help find colours to match your chosen wallpaper to paint elements of your centrepiece or other accessories. Or, try one of these creative combos below created by Louise Hilsz of BeautyEQ:
Background in Resene Wallpaper Collection 289595 (top) and Resene Eighth Pearl Lusta (bottom) with cutlery and plate painted in Resene Glorious.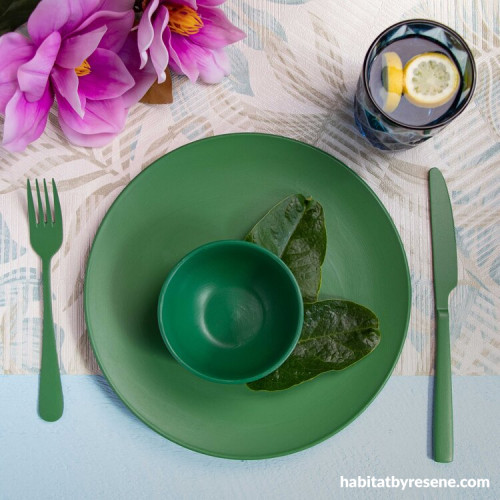 Background in Resene Wallpaper Collection 69803 (top) and Resene Bluetooth (bottom), plate and cutlery painted in Resene Parsley and bowl painted in Resene Kaitoke Green.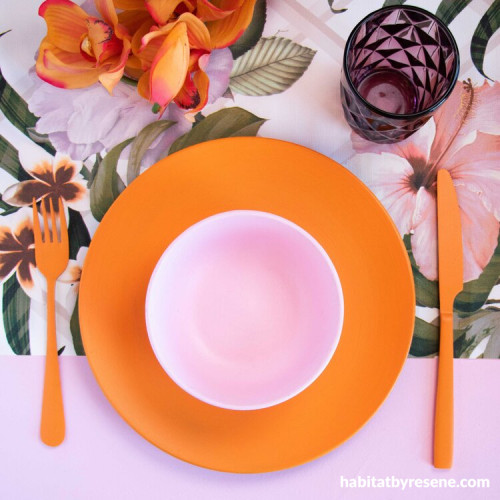 Background in Resene Wallpaper Collection 36518-1 (top) and Resene Princess (bottom) with bowl painted in Resene Princess and cutlery and plate painted in Resene Party Zone.
Other key things to think about:
Save yourself stress in the immediate days leading up to Christmas by making a list of things that need a deep cleaning or iron. This goes for everything from table linens and napkins to seat cushions and table runners. If you find any stains on your table cloth that just won't come out, pick up a couple Resene testpots and a stencil and cover up stains with a painted holiday motif. Or, let your children get creative and turn it into a special holiday tablecloth for the kids' table.
Check all your light fixtures and replace any broken or burned out bulbs – you don't want to be caught eating in the dark! This should also extend throughout the house and anywhere guests will be, including the front entrance and walkways.
While you're outside, if you notice your walkway or drive is looking a little grimy, give it a fast clean look with Resene Paint Prep and Housewash, or for a longer term option spray on Resene Deep Clean and leave it to work its magic.
Speaking of safety, now's a great time to change smoke and carbon monoxide detector batteries, ensure there is a fire extinguisher handy and double-check your first aid kit to make sure there is burn cream, ice packs and bandages. If there will be any young guests joining you, remember to cover electrical outlets, move lamps and vases away from table edges (or put delicate decor away entirely) and make provisions to block stairways to prevent falls.
Replace old, tatty candles with some brand new ones that match your décor.
If you'll be bringing out heirloom pieces for your holiday dinner, why not polish your silver now so that you'll have one less thing to think about on the day?
Coffee lovers on the guest list? Make sure you have post-lunch or dinner coffee and tea facilities sorted by cleaning filters and tea pots. If you use a drip coffeemaker, give it a good cleaning by filling the water chamber with equal parts white vinegar and water. Using an empty paper filter, allow the machine to 'brew' until half the chamber is empty. Turn the coffee maker off, let it sit for 30 minutes, then finish brewing. Rinse the machine by brewing a pot of water through a new filter. If you have a pod coffee maker, run though the vinegar solution without a pod in the machine, then repeat with water.
Note: The painted cutlery and dinnerware shown in this story are for inspiration only to illustrate colour schemes you could try in your home. We don't recommend paint on utensils and plates you are directly eating with, or off.
stylingLouise Hilsz?
imagesNood, BeautyEQ