►
◄
latest
habitat tv
blog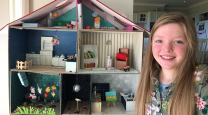 Getting a cohesive holiday look need not break the bank
As the world moves towards a more sustainable future, why not take the same positive approach to your festive flair? Before you go crazy at the shops on everything from too much tinsel to over-the-top ornaments, consider an eco-friendly approach to your home's festive décor.
The best part is that creating a consistent holiday look throughout your home while spreading Christmas cheer is surprisingly easy to achieve with little more than a few Resene testpots.
Published: 28 Nov 2019
Do you have a home full of wonderful Resene paint and colour? Send us some snaps by emailing [email protected].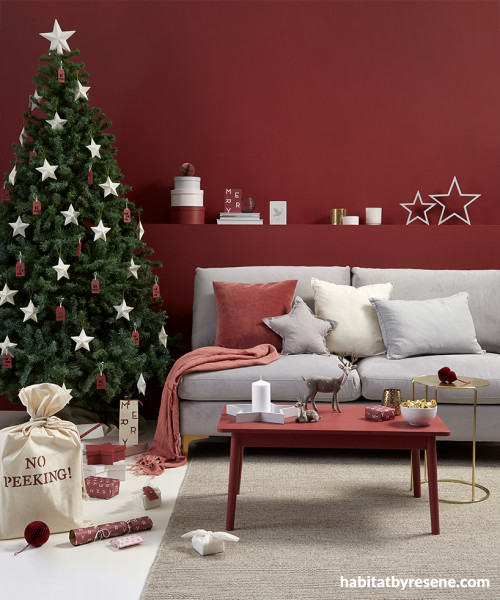 Walls in Resene Merlot and floors in Resene Half Spanish White set the tone for this stunning and inviting Christmas scene. The coffee table is in Resene Merlot, the stars on the back shelf are in Resene Triple Concrete, the tree ornaments are painted in Resene Quarter Spanish White and Resene Merlot, the star tray is in Resene Triple Concrete, the small bowl with sweets is in Resene Ebb and the boxes are in Resene Merlot, Resene Ebb and Resene Triple Concrete.
Start with a plan
Just like with any other decorating project, going in with a plan will help save you time and money down the line.
Whether you prefer a spirited look or a simple one, putting together a mood board can help set the scene – and it will keep on you on track as you create your own decorations.
Start by gathering together images that inspire you. Make a Pinterest board online or grab a pair of scissors and cut up some old catalogues or magazines and take a hands-on approach until you've found a look you like that'll complement your existing home décor.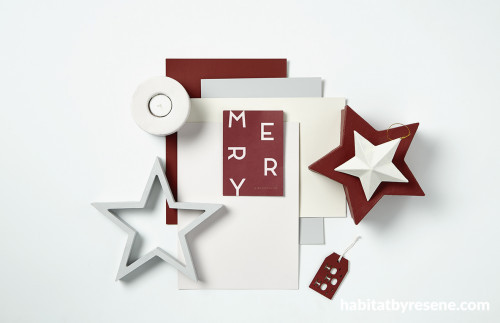 Background in Resene Quarter Spanish White with A4 draw down paint swatches in (from top to bottom) Resene Merlot, Resene Triple Concrete, Resene Half Spanish White and Resene Ebb. Tea light holder in Resene Ebb, star in Resene Triple Concrete, tag and star-shaped box in Resene Merlot and star ornament in Resene Quarter Spanish White.
Once you've got your ideas together, you can upload your images to the Resene Colour Palette Generator to get a good starting colour palette to work with. Or, try some of these classic Christmas colours:


For less traditional decorating ideas, look up your wall colour in the Resene Swatch Library, where you'll find three complementary colour suggestions. Resene Merlot, for instance, looks great with Resene Fjord, Resene Chalky and Resene Wasabi. While this might not be a colour palette that screams Christmas to some, it could make for a really creative colour scheme when used on more traditional Christmas shapes. Plus, it's bound to look gorgeous against your wall colour.
Make your own tree ornaments
Whether balls, stars, hearts or angels are your cup of tea, dazzling Christmas tree ornaments can be achieved for far less than the cost of brand-new items.
By taking a creative approach, almost anything destined for the recycling bin can enjoy a second life as a Christmas ornament. If you're feeling crafty, upcycle some wood offcuts from a previous project and turn them into simple shapes using a jigsaw or scroll saw. Paint them in your favourite Resene colours, drill holes near the tops, run through some ribbon or twine, and you'll have everything you need to trim the tree in no time. The best thing is if you want to change your theme colours next year, you can just paint them again.
Or, grab the kids and take them for a walk to the op shop and hunt out some old ornaments that could be made new again. You're sure to find some quirky treasures that will quickly become family favourites. Resene Waterborne Smooth Surface Sealer will work great as a primer on most surfaces and will help your topcoats stay put.
If you do need to purchase something new, look for those made from cardboard or wood. Give them a couple coats of paint and never worry again about having to pick up shattered glass fragments the next time the kids or pets accidently knock the tree.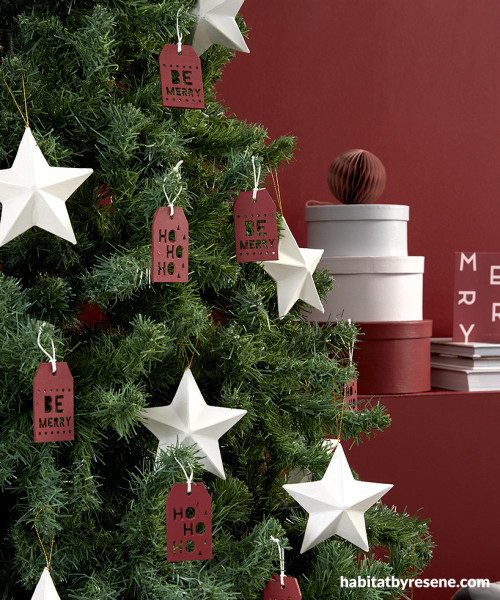 Wall and tags in Resene Merlot, stars in Resene Half Spanish White. Boxes in Resene Merlot, Resene Ebb and Resene Triple Concrete.
Try an alternative tree
Want to save on space and fuss? Forgo the traditional tree and save your living room floor from an onslaught of needles. A plywood tree is modern, fun and requires next to no clean up.
Make your own by cutting a sheet of plywood into a triangle, paint it to coordinate with your existing décor or festive vision, then hammer in a few small nails for hanging ornaments. The beauty of a plywood tree is that it can be tailored to your tastes and needs – in any size, colour or shape to match your theme. Plus, it takes up virtually no storage space when it comes time to pack it away.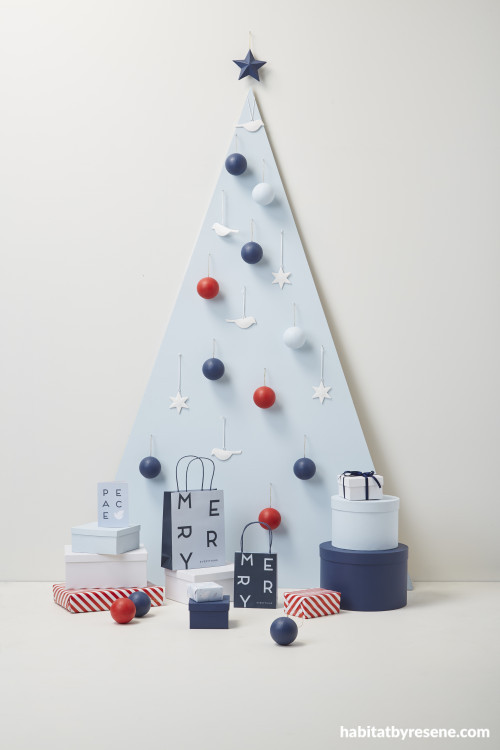 Wall in Resene Rice Cake, plywood tree in Resene Oxygen, round ornaments in Resene Oxygen, Resene Biscay and Resene Roadster and boxes in Resene Oxygen and Resene Biscay.
Speaking of alternative trees, for smaller homes, flats or apartments, a tree branch can provide a chic minimalist vibe without the hassle. Pop one into a sturdy vase or pot painted to match your décor and hang your upcycled ornaments. You could even go one step above and paint your branches in shimmery metallic like Resene Proton, Resene Stun, Resene Gold Dust or Resene Rose Gold for added sparkle.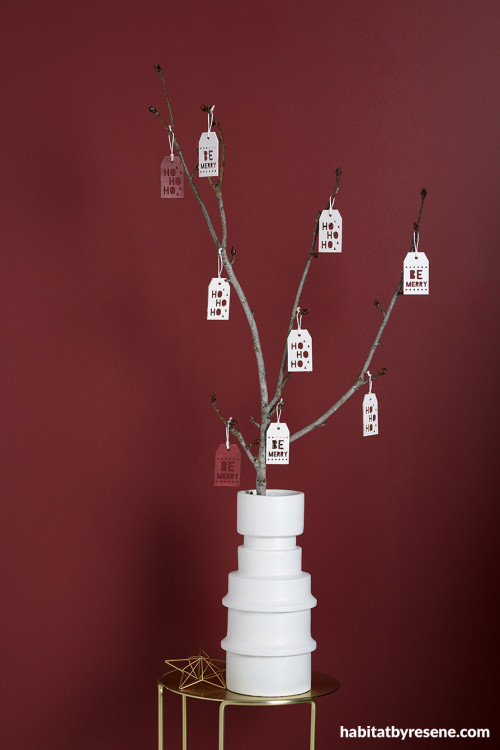 Wall in Resene Merlot, tags in Resene Half Spanish White and Resene Merlot. Planter in Resene Half Spanish White.
Layer in accessories
Give your shelving the star treatment with holiday-themed décor. Using plywood or even odd op-shop finds painted to match your scheme, you can adorn the surfaces of your space with Christmas cheer.
If you have a couple of old candlesticks or vases lying around, why not paint them up to match your upcycled ornaments? You can play with a variety of colours or stick to one colour for a tone-on-tone approach.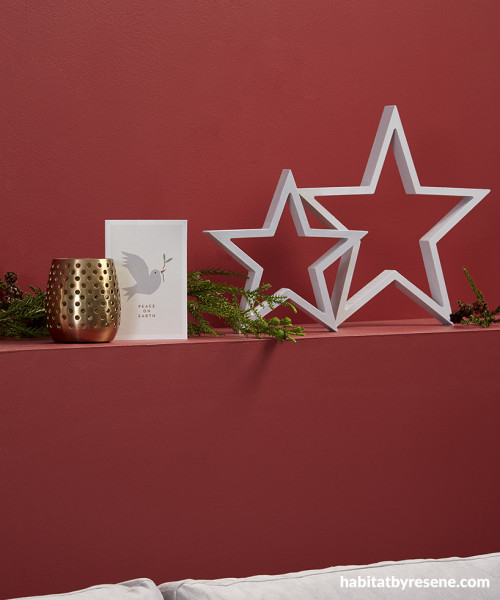 These wooden stars have been painted in Resene Triple Concrete to pop out against the Resene Merlot wall behind.
Rethink your wrapping
While wrapping paper looks beautiful, it often only sees one use. At worst, some are completely non-recyclable.
Instead, grab those old pillowcases from the back of your linen closet that you never use and make your own Santa sacks for each recipient storing gifts under the tree. You can use anything from rope, ribbons and even old shoelaces to tie the sacks. Use Resene testpots to paint or stencil on festive shapes, messages or names so that you'll know whose sack is whose.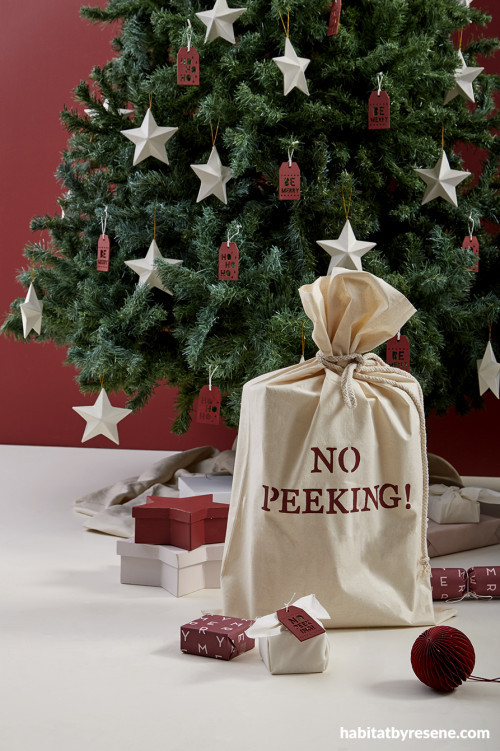 Wall in Resene Merlot, floor in Resene Half Spanish White and star-shaped boxes in Resene Merlot and Resene Ebb.
Deck out the dining table
Before Christmas feasting can commence, setting your dining room table with festive touches is a must. The best part is, many of the elements that adorn it can be painted to match your overall scheme, such as napkin rings, chargers and tablecloths.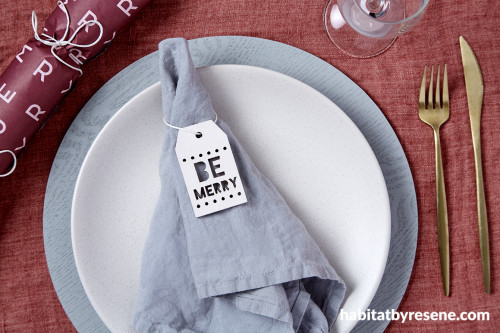 This table charger is in Resene Silver Chalice and the napkin ring tag is in Resene Half Spanish White.
To find out how we made our holiday decorations and for other DIY projects to put you in the holiday spirit, check out HabitatTV.
styling Vanessa Nouwens?
images Bryce Carleton