►
◄
latest
habitat tv
blog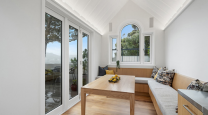 Master Builders' Chief Executive David Kelly shares his tips for building in the challenging climate.

Planning... more
Going, going gone: Expert shares décor and colour tips that will help sell your home
Considering selling your house? Interior designer Meisha Campbell has styled many homes for customers who are putting their homes on the market. She shares her top tips for attracting potential buyers to your home.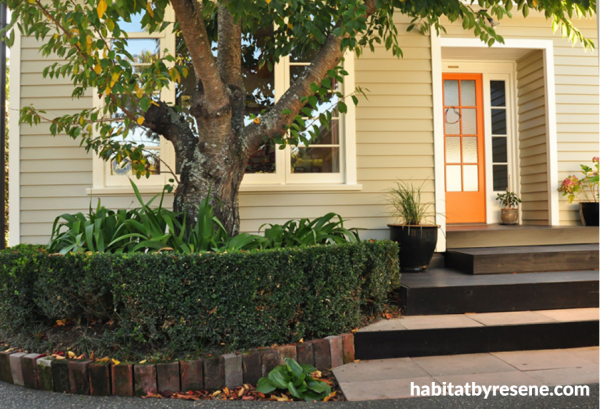 The weatherboard exterior of Josh and Fleur's Christchurch home is painted in Resene Triple Ash, the windows and trims in Resene Quarter Thorndon Cream and the steps in Resene Double Masala.
First impressions count
Usually people form an opinion on something within seven seconds, says Meisha. Cleaning up your exterior is an easy way to woo potential buyers from first glance.
Meisha's top tips:
Take care of any paint touch ups. Paint and colour choices make a huge impact on someone's emotional connection to a home. If you need help consult a Resene Colour Consultant, or try the Palette Generator tool to create a striking colour scheme.
Clean your exterior including your letterbox. Resene Deep Clean is fantastic for cleaning grime off decks, patios and paths.
Take away any unnecessary items, shoes/hoses/dead or dry plant pots/front door
Place simple, neutral and symmetrical plants
Replace outdoor lighting, make sure it's clear of cobwebs.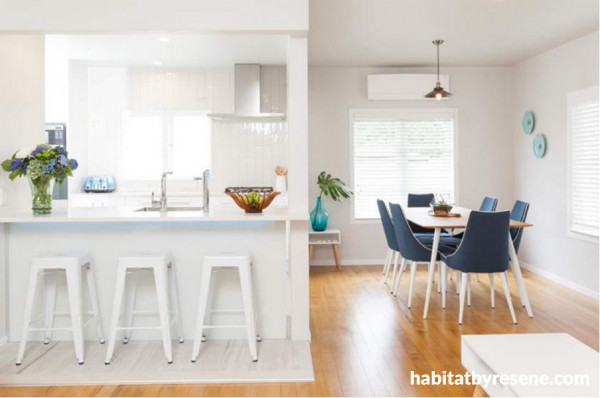 A crisp fresh colour scheme based on Resene Sea Fog certainly gives Mick and Kathy's kitchen and dining area a bright and breezy feel. Photo supplied.
Get rid of clutter
Store it, give it away or send it to the tip – whatever you do, get rid of the junk, says Meisha. "A potential buyer will struggle to get past the clutter and will more than likely cross your house off their list," she adds.
Meisha's tips:
For every five items you have, take away three, you'll be left with the two most important pieces to you and less clutter.
Consider going neutral. If you have a lot of colours throughout your home some might consider this is 'visual clutter'. Consider swapping to neutral wall colours. Remember it's not forever it's just while you're selling. Resene's top 10 colours for the last year were: Resene Black White, Resene Alabaster, Resene Half Black White, Resene Sea Fog, Resene Double Alabaster, Resene Quarter Black White, Resene White Pointer, Resene Half White Pointer, Resene Rice Cake and Resene Half Sea Fog.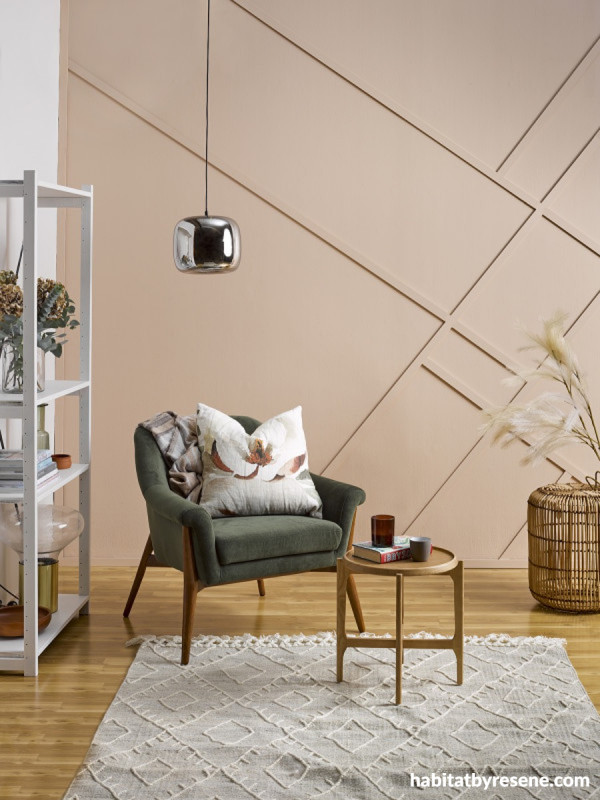 The furniture in this room has been moved away from walls so it 'floats' Back wall in Resene Cashmere, left wall in Resene Alabaster and floor in Resene Colorwood Natural timber stain. Rug, chair, cushion, lamp and table from Freedom Furniture. Styling Amber Armitage, image by Melanie Jenkins.
Furniture placement and decor
Furniture can clutter a space as well says Meisha. Look out for overcrowding, random pieces that clash and furniture that's too large for the space.
Meisha's tips:
'Float' your furniture. This means bringing pieces out so they no longer touch the walls. This will create a flow space around the furniture making that space appear bigger.
Keep your furniture as neutral as possible.
Define your living space if it needs it with a rug and coffee table, chaise lounges love defining.
Try to match all your furniture to create that cohesive and balanced look, again this will make the spaces appear bigger but also aesthetically pleasing. If your furniture doesn't match, paint it with Resene Lustacryl semi-gloss or Karen Walker Chalk Colour matte finish . To paint furnityre apply one coat of Resene Quick Dry followed by Resene Enamacryl tinted in the colour of your choice.
Don't overcrowd your lounge suite and tables with items, a few strategically placed cushions and throws is enough, remembering to keep the colourings and palette warm, simple and light colours to give the buyers a sense of calm.
Use coffee table trays to group your decor.
Odds are better than evens! Decor is best visually in odd numbers so a coffee table tray with three items in it is better than two or four.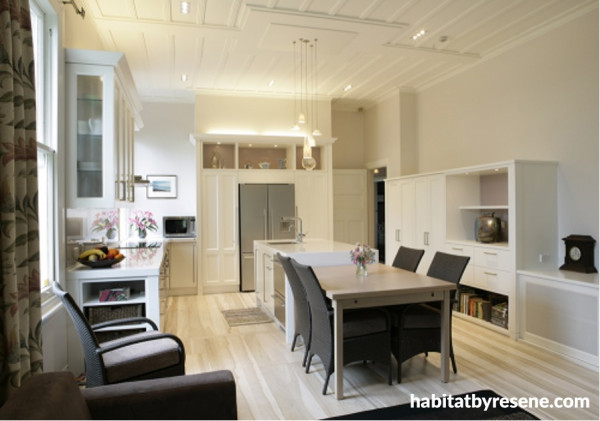 Resene Blanc is a sophisticated yellow-based off-white, used in this kitchen designed by Natalie Du Bois. An extra touch of warmth is added with the backs of the high shelves painted in Resene Triple Milestone, while the cabinets are in the classic cream, Resene Quarter Pearl Lusta.
Turn on the light
Even if your open homes are during the day, think about lighting, says Meisha. Top tips:
Lighting gives us a warm feeling even in the daytime. Pop on all your lights, light the candles and turn on lamps.
Consider paint, wall and ceiling colours which are good for low light rooms.
Look at your kitchen pendants. These are affordable to replace and can make a kitchen. In an open plan living the island pendants are what defines that space creating the height needed to square off the kitchen giving it definition much like the rug to the living room.
Clean up the kitchen
As the old adage goes, kitchens sell houses. Pack away that bread maker, put the coffee maker in storage, tell your cake mixer to beat it, clearing kitchen surfaces makes a huge impression on buyers, says Meisha.
Meisha's tips:
Take away those 'day to day' elements we all have out. Keep it very simple including the fridge.
Buyers will look in your cabinets; they just will. Enough said.
For more advice visit Meisha's facebook page or contact her on [email protected]
Published: 28 Jan 2021
Do you have a home full of wonderful Resene paint and colour? Send us some snaps by emailing [email protected]esene.co.nz.