►
◄
latest
habitat tv
blog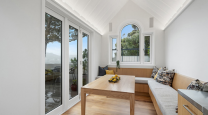 Master Builders' Chief Executive David Kelly shares his tips for building in the challenging climate.

Planning... more
Goodbye white, hello colour: A daring blue/green and a dusky black transform this Oamaru home into a moody retreat
Serial renovator and decorator Kaye was a Resene Black White devotee but her new home in Oamaru has seen her side-line her favourite white to embark on a brave new world of colour. She found a bold splash of blue/green Resene Atomic was just the thing to liven up the space, which she shares with her partner Simon. With a clever second kitchen and a master bedroom in atmospheric Resene Nocturnal, their new nest from McBrimar Homes has a delight hidden around every corner.
"Each time I have renovated or built I have learnt something new that I can take to the next project," says Kaye, whose bold colour choices were unlike anything she's done before.
"I had used Resene Double Black White in my previous home and loved it. This time, I wanted to be a bit more daring and use a darker palette to create a moody, cosy ambience."
Kaye painted her master bedroom in Resene Nocturnal with Resene Double Black White ceiling and trim. Resene Nocturnal, a deep rich black, gave the walls a recessive quality and created an enhanced sense of space. "I wanted a moody look for our master bedroom, as it's one of the rooms we spend the most time in and I wanted it to be a comfortable and relaxing area of the home," says Kaye. "We chose Resene because they are the best paints in the market and we love their colour options."
When it comes to interior design, Kaye's style is an eclectic mix of shabby chic with a touch of modern elegance. Her vibrant décor has found its home on the strong grey-blue walls of her favourite room; the lounge. The Resene Black White architraves and ceiling provide a clean palette that allows the blue hue of Resene Atomic to take centre stage.
"The lounge has come together exactly the way I wanted it to," says Kaye. "It looks great at night time when the curtains are pulled and we are able to sit down together and catch up on the day."
The remainder of the house including the spare bedroom, kitchen and hallway are painted in crisp Resene Double Black White, with ceilings and architraves in Resene Black White. Hidden behind the main kitchen lies a second kitchen and pantry, where walls in Resene Double Black White brighten the narrow space. "My favourite colour would have to be Resene Double Black White," says Kaye. "I have used it in two homes now and it covers the majority of my walls.
"Resene Double Black White is just such an easy colour to work with and you can pair it with anything. It's a great colour for a white on white look and I've added many different whites in my styling in the past."
As a busy person, Kaye's main challenge was finding the time to be onsite during the build. "I needed to make sure I was there enough to ensure that the look I was going for was actually happening in reality," says Kaye. "The best part of this build has been all of it really.
"The whole look of my home came together just as I had pictured it and I'm looking forward to doing it all over again one day."
About McBrimar Homes
McBrimar Homes was established seven years ago with a goal of building warm and comfortable homes in the Oamaru region. As a registered Master Builder, they build approximately thirty homes every year. You can read more about McBrimar Homes here
Top tip: The colour of your walls will react differently to different types of lighting in your home. Try to have a mix of lighting in your space, including ambient lighting such as overhead lights and task lighting to illuminate what you'll be doing in a space, such as spotlights in the kitchen. If you have vibrant art on your walls or unique architectural elements try installing accent lighting to play up the details.
Paint tip: Use Resene SpaceCote Low Sheen for general wall areas and Resene SpaceCote Flat for ceilings for finishes that are easy to wipe clean. Up the gloss level on trims and joinery with Resene Lustacryl semi-gloss waterborne enamel or for a higher gloss, Resene Enamacryl gloss waterborne enamel.
Images by Rachel Wybrow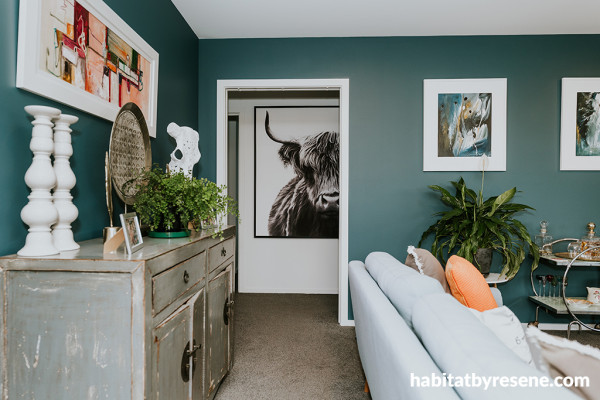 Making the move to build a new house was a no brainer for Kaye. The blank canvas gave her a chance to get creative with moody Resene Atomic walls in the lounge and Resene Double Black White on the architraves and ceiling.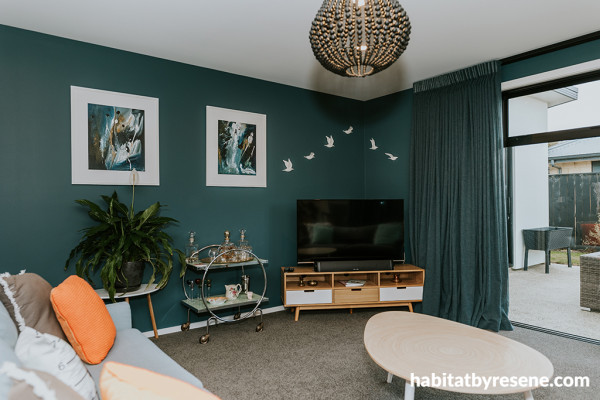 The lounge is home to Kaye's collection of eclectic décor, which shines against the walls in Resene Atomic. The blue grey hue is sharpened by the ceiling and architraves in Resene Double Black White.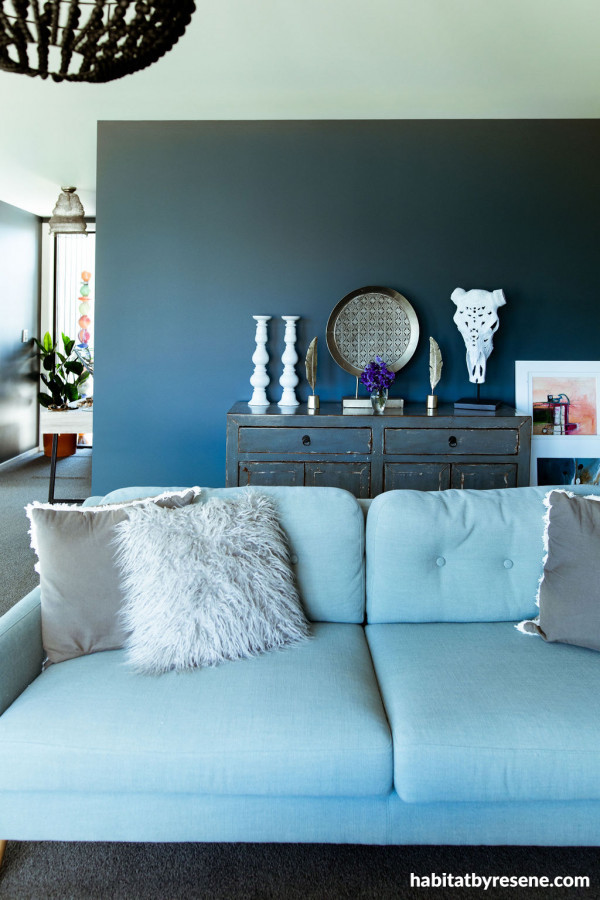 Resene Atomic walls in the lounge create a spacious atmosphere that is especially cosy at night. The architraves and ceiling are in Resene Double Black White. Resene Atomic is perfectly complemented by the sideboard painted in Resene Gravel.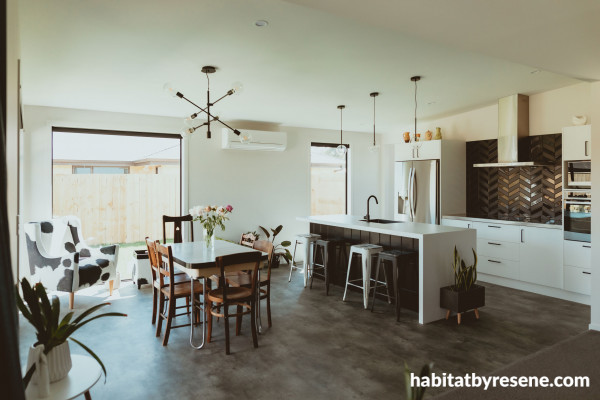 Resene Double Black White gives the kitchen and dining room walls a polished finish that highlights Kaye's darker toned décor. The ceilings and architraves are in Resene Black White; a chalky white grey.
Behind the main kitchen is a second kitchen and pantry; a clever use of space that allows for extra storage. The narrow space is lightened with walls in Resene Double Black White and trim in Resene Black White.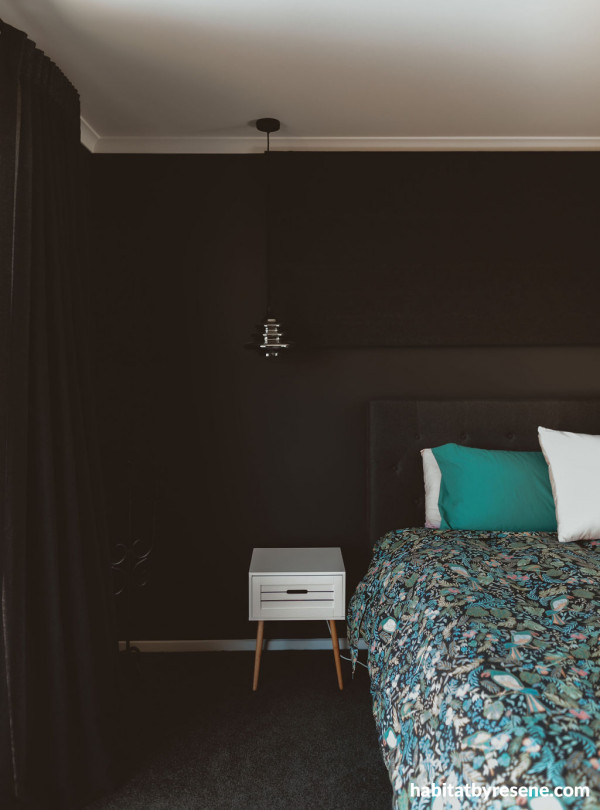 Cosy and moody, the master bedroom is the perfect place to relax after a long day. With walls in Resene Nocturnal and ceiling in Resene Double Black White, the bedroom is a dark and elegant haven for the couple.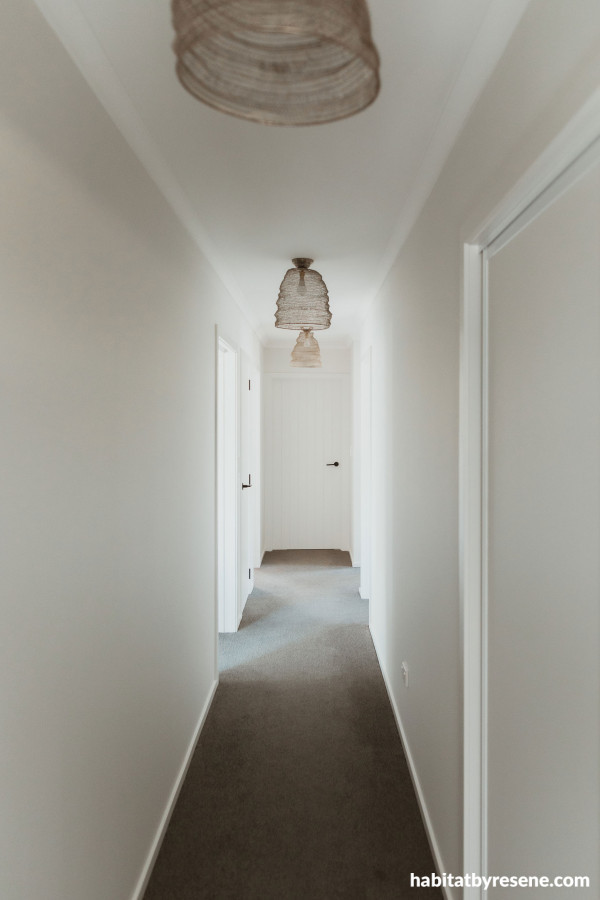 The hallway's minimalist vibe is achieved with walls in Resene Double Black White, a moody grey white that is complemented by the ceiling and architraves in Resene Black White.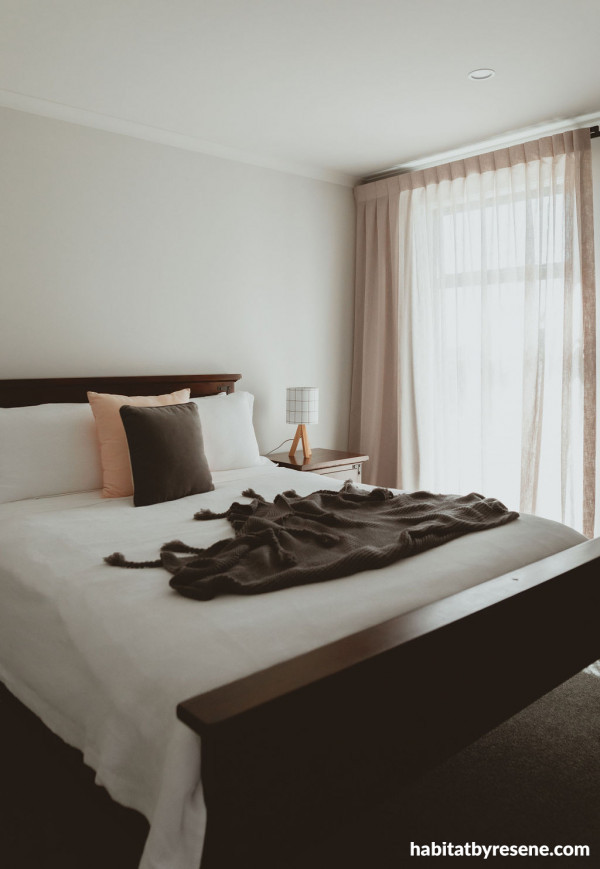 The spare bedroom is an elegantly styled simplistic masterpiece with pale pink and dark grey accents that pop against walls in Resene Double Black White and ceiling in Resene Black White.
Published: 17 Jun 2021
Do you have a home full of wonderful Resene paint and colour? Send us some snaps by emailing [email protected].
Resene Double Black White
the look
If you're stuck on what
colour to use or need colour
advice, try out the Resene
Ask a Colour Expert service.