►
◄
latest
habitat tv
blog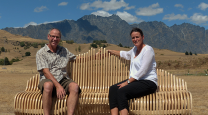 Great green ideas to transform your home into an indoor oasis
As the natural world blazes with the rich reds and oranges of autumn, find your indoor oasis with Resene's wide range of revitalising greens. From a small splash of paint to a full-blown room of colour, green can simultaneously calm and energise an area, adding a grounded feel and making it perfect for any room of the house. Whether it's deep Resene Forest Green or playful Resene Snowy Mint, there's a green for everyone at Resene.
A warm fir coat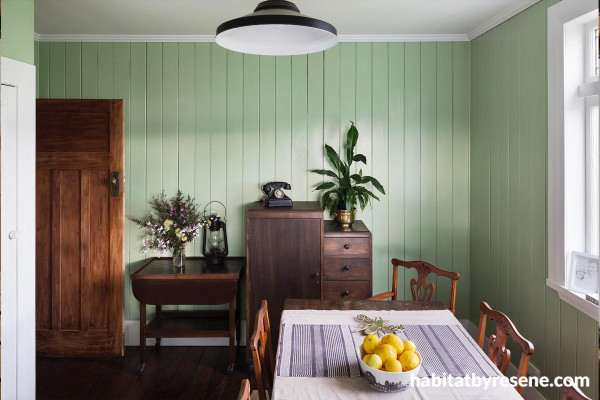 Homeowners Jane and Pim used calming Resene Norway for the walls of the dining room in their century-old villa. The ceiling and trims create a greater sense of space and are painted in Resene Quarter Villa White. Image by Jessica Gernat.
While you're out gathering firewood for the coming winter, why not gather some inspiration as well? Evergreens such as cypress, spruce and mahonia provide a lighter green base that denotes calm. This dining room feels vibrant and calm with its use of leafy cool green Resene Norway paired with Resene Quarter Villa White on the skirting and window trims. Wooden furniture and colours inspired by the outdoors nurture the connection between nature and home comfort. Offset a lighter coloured wall by pairing it with furniture stained in deep wood shades, such as Resene Woodsman Dark Oak.
It's a jungle in there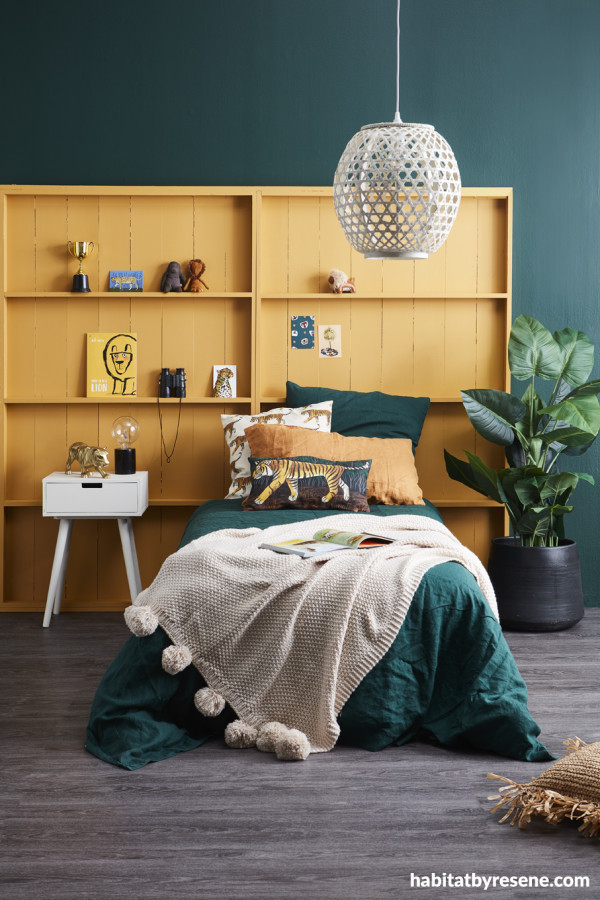 This lively bedroom wall is in Resene Palm Green, while the bookshelf bedhead adds contrast and is painted in Resene Noosa. The bedside lamp is painted in Resene Nero and the side drawer and pendant lamp are painted in ReseneQuarter Sisal. Side drawer from Kmart, bamboo pendant light from Bed, Bath & Beyond. Project by Vanessa Nouwens, image by Wendy Fenwick.
Move away from those blue/pink colour schemes in your child's bedroom and create a jungle for them to explore! Resene Palm Green provides a mossy backdrop for their imagination to run wild. Better yet, the colour green is proven to have a calming effect, making bedtimes even easier after your little one's adventurous day. Being an old ivy league, Resene Palm Green has the capability to grow and change as your child does. Just pair it with some furniture in vibrant green Resene Edgewater or sophisticated Resene Rustic Red as they mature.
Beneath the canopy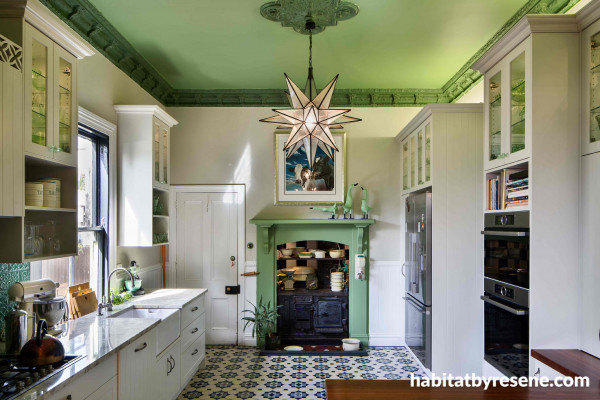 This delightful kitchen uses Resene Joanna for the walls and Resene Half Joanna for the kitchen cabinets. The trim, panelling and doors are Resene Alabaster, while a pop of colour accentuates the fireplace in Resene Woodstock. The ceiling is in tranquil Resene Green House. Interior design by Debra DeLorenzo, image by Paul McCredie.
What better way to preserve the memory of summer days under leafy trees than to recreate it in your home? A colourful ceiling is the perfect way to set the tone of a kitchen and create a greater sense of space. It's good to keep colours crisp in areas where cleanliness is important. We start our day in the kitchen and the right colour choices can do a lot to energise us when we wake up. Designer Debra DeLorenzo contrasted Resene Joanna with a pop of colour in Resene Green House in her centenarian double bay villa in the heart of Wellington. The result is a room that is bursting with charm while still retaining an organised and polished feel.
Rite of passage

Our hallways deserve just as much love as the rest of the house. This wall glows in Resene Mother Nature and the desk is in Resene Noir. The vase is in Resene Peace and the pot plant is in Resene Silver Chalice. Vase from Shut the Front Door, artwork Linn Wold from Popmotif. Project by Vanessa Nouwens, image by Melanie Jenkins.
The hallway is an important but often neglected part of our homes. Regularly overlooked in favour of redecorating larger rooms, our homes are left feeling disconnected as we travel from room to room. Luckily, sprucing up your hallway is a quick fix and can instantly bring back that connection. This hallway uses Resene Mother Nature to create a lush green space reminiscent of a tropical jungle escape. When it comes to hallway furniture often simpler is better in narrow spaces. Use delicate and streamlined furniture such as this desk painted in Resene Noir to emphasise the drama of a green wall without weighing the space down.
A little goes a long way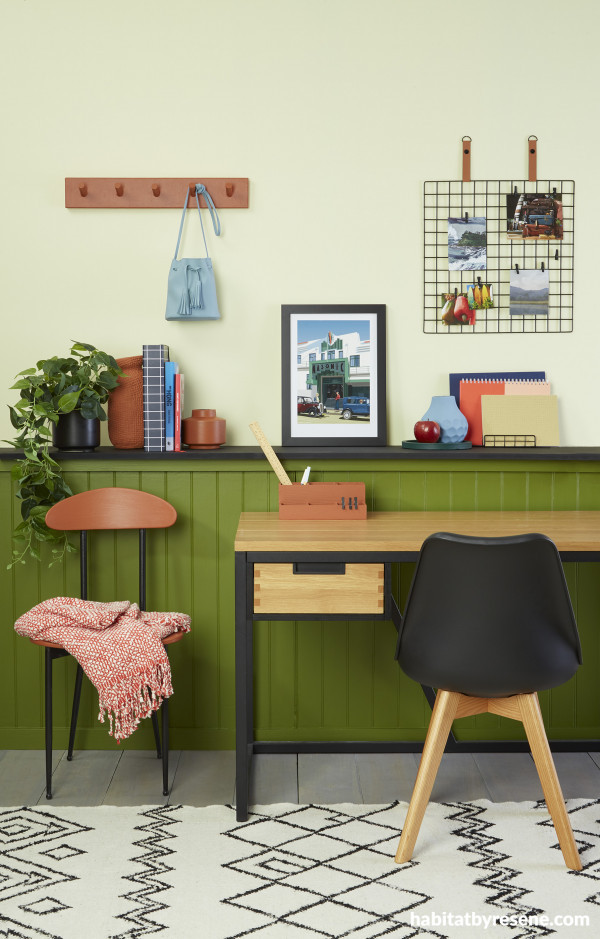 Wall in Resene Moonlight and tongue-and-groove panelling in Resene Untamed. Shelf (on top of panelling) in Resene Noir, floor in Resene Colorwood Mid Greywash and spare chair in Resene Moccasin and Resene Noir. Hooks, pencil holder and tall textured vase in Resene Moccasin, round dimpled vase in Resene Mystery, low plate (with apple) in Resene Family Tree, table in Resene Noir with Resene Family Tree legs and chair in Resene Pohutukawa. Desk and rug from Freedom Furniture, throw from Nood, pencil holder and hook set from Kmart, artwork by Contour Creative Studio from Endemic World, purse from Miniso. Project by Laura Lynn Johnston, image by Bryce Carleton
Now more than ever we are spending increased amounts of time working from home. The challenge of trying to carve out a study or office space in our already busy households can seem nearly impossible. Green is a particularly good colour for an office space, as studies have linked the colour green to increased productivity and concentration. However, you don't necessarily need to plaster your walls in the colour to get a taste of that calming effect. This study space uses Resene Untamed and is a perfect example of how a little bit of green can go a long way. Use green as an accent colour with interesting textures like tongue-and-groove panelling. Bring nature to you with houseplants and cosy colours such Resene Moccasin and Resene Mystery to brighten your day and make study fun again.
Forest bathing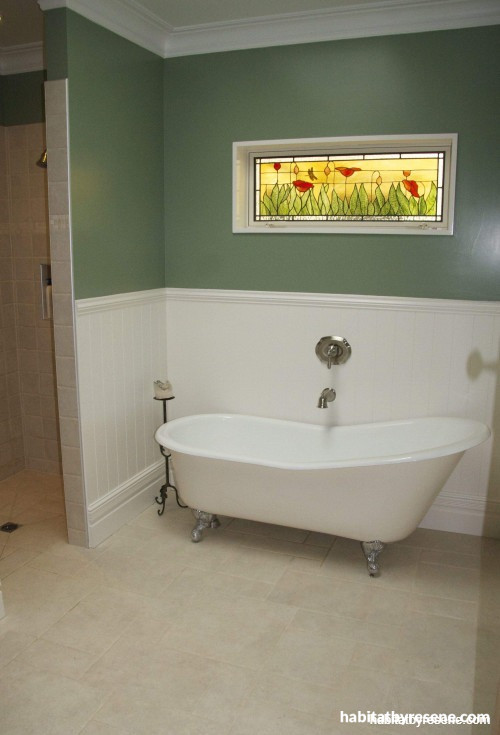 Homeowners Alex and Nichole said no to neutral and created this idyllic two-toned bathroom with walls in Resene Xanadu. The white beneath the dado line is in Resene Quarter Spanish White. The bathroom's trim and ceiling are also in Resene Quarter Spanish White. Project and image by Alex and Nichole.
The bath is a place to soak, read a good book and relax after a busy day. Often bathrooms have smaller windows and lack a good amount of natural light. So how do we keep such an enclosed space feeling open and natural? Paint it green of course. Pair paler, greyed down greens such as Resene Xanadu with warm Resene Quarter Spanish White for an organic feel that naturally brightens the room and reflects light. Homeowners Alex and Nichole introduced character details into the room with the replica clawfoot bath and colourful stained glass window. You can ground a design such as this one by adding richly varnished wooden furniture to create a timeless, classic look.
Top tip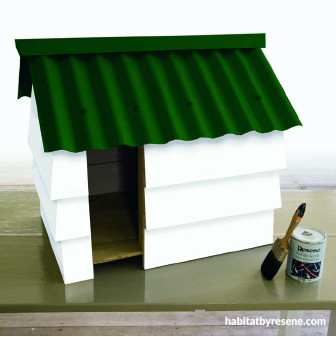 Dog kennel roof painted in Resene Mid Green and walls in Resene Alabaster. Project by Rachel Macdonald, image by Lucent Media.
Why not use up your leftover paint and treat your pet to a home renovation too? Resene greens work perfectly to complement your garden design and are a quick and easy way to refresh anything from doghouses to birdhouses.
Published: 24 Mar 2021
Do you have a home full of wonderful Resene paint and colour? Send us some snaps by emailing [email protected].