►
◄
latest
habitat tv
blog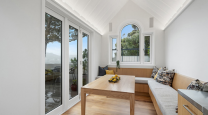 Master Builders' Chief Executive David Kelly shares his tips for building in the challenging climate.

Planning... more
Home delivery: This shipping container has been transformed into a cosy 65 sqm family home
Shanon and Shelley packed up their city life and shipped out– literally. The couple chased their dream of living in a shipping container to a place you'd least expect; the grassy plains of Millers Flat in Central Otago. While some may find the idea of living out of a shipping container for a year with a family of four daunting, it was the perfect experience to launch the couple's business, Voyager Cabins. With a unique design and coats of Resene paint, a shipping container in a field has never looked more elegant.
Like many great ideas, Voyager Cabins began as a sketch on a piece of scrap paper. Shanon, who has a background in commercial project development, had been sketching cabin designs for several years before the couple decided to take the leap, moving to the country to finally bring those designs to life.
The couple used two shipping containers and self-supporting sandwich roofing panels to create a comfortable home for their family of four, incorporating two large loft areas into the 65-metre-square floor plan. The family lived in the cabin for an extended trial period, before Shanon and Shelley launched it as accommodation for cyclists completing the Clutha Gold Cycle trail.
When it came to interior style, modesty was the goal. Shanon and Shelley went for a 'back country chic' look, combining natural timbers and steel to create a space that blends rustic cottage with industrial. "When we were designing our Voyager Cabins, we were after a simple, honest and unadorned style," says Shanon. "We wanted the buildings to be modest, existing in natural surrounds and enabling people to spend time relaxing in the outdoors.
"We wanted the cabins to look elegant, but not flashy, with a relaxed country modern vibe."
Shanon and Shelley worked with the Alexandra Resene team to create a custom dark black grey shade for the exterior that matched the classic international colour charts for shipping containers. Similar to Resene Fuscous Grey, their cabin exterior complements the roof in COLORSTEEL® Sandstone Grey.
"We didn't want it to end up looking like a grey battleship on site!" says Shanon. "Though dark, we felt that the grey fitted in well with a natural environment, whether among trees, in open grass areas or at a beachside location."
The couple incorporated a slice of nature with a timber deck finished in Resene Woodsman Natural and upcycled an old pew with Resene Dell; a leafy glade green colour. Shanon and Shelley also brought the emerald tone of Resene Dell inside, using it on the floor of the bathroom and laundry with surrounding plywood walls finished in Resene Qristal Clear polyurethane satin varnish. "We achieved the look we were after with green floors, a soft white timber frame and exposed timber," says Shanon. "Our favourite colour is Resene Dell.
"We are surrounded by pasture and Resene Dell brings the outside in."
Early on in the building process, the couple realised that their idea of a simple country cabin with no fussy finishing was not so simple to create. "We found we were always being challenged by the imposition of building code requirements, well-entrenched ways that tradies like to do things, and the craft that is required to finish raw products ," says Shanon. "But we were so pleased with the result.
"We especially love the modern look and how the loft spaces and two extra lounges create spaciousness and allow family or guests to spread out."
In the bedrooms, the couple used Resene Colorwood Rock Salt whitewash on the walls and Resene Aquaclear to finish the wooden flooring that continues through the remainder of the cabin. The open plan lounge and dining area is a double height space with Resene Half Black White on the cathedral-like ceiling, doors and trim.
While simplicity was key, it didn't stop Shelley and Shanon from including some upcycled hidden gems in the home. "We were conscious of limiting our waste, so we upcycled woollen blankets for curtains which we love," says Shanon, who also sourced old furniture from around the Central Otago region. "By adding some colour and different textures in our furniture we have created a really cosy space.
"We even upcycled a bath and inserted it into the deck!"
After a year of perfecting the prototype, Shelley and Shanon are proud to present Voyager Cabins and their boutique accommodation, Ormaglade Cabins, to those visiting Central Otago. "It's a great feeling to prove that we can design and build a unique product that fits well together," says Shanon. "These cabins are for escaping to and relaxing in; just light the fire, have a bath and enjoy the sunset.
"On reflection we have given things a slightly more conventional finish than was intended, so maybe it's more accurate to describe our style as container chic!"
If you're looking to build or buy a Voyager Cabin, visit the Voyager Cabins website to learn more about the process of building a shipping container cabin.
Shanon and Shelley also offer accommodation through Airbnb, where you can stay in the original Voyager Cabin on Millers Flat. Visit the Ormaglade Cabins website for more information on accommodation packages or check out their Facebook here
Top tip: If you're keen to upcycle wooden furniture, try Karen Walker Chalk Colour paint and wax from Resene ColorShops. It's quick and easy to use and gives a matte finish to your furniture.

The open plan lounge and dining room in the cabin have floors built from structurally insulated panels (SIPs) which are finished in Resene Aquaclear and Resene Half Black White on the ceiling and trim. The statement larch wall is finished in Resene Qristal Clear polyurethane satin and the surrounding plywood walls are in Resene Colorwood Rock Salt whitewash.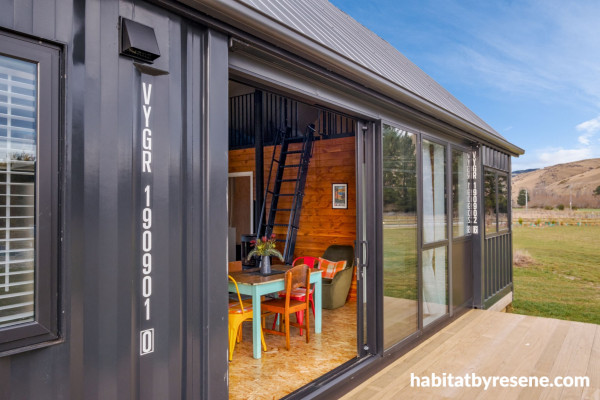 One of the small touches the couple love is the VYGR 190909 code stencilled onto the container – a reference to the Voyager Cabin name and the date the container was shipped to them. The roof is in COLORSTEEL ® Sandstone Grey and the exterior wall is in a custom black grey created by their local Resene ColorShop, similar to Resene Fuscous Grey. The deck is finished in Resene Woodsman Natural.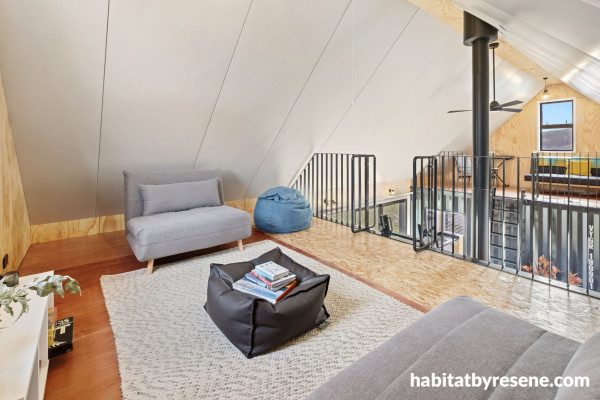 The ceiling in Resene Half Black White gets its shape from the long-run sandwich panels that run at a 45 degree pitch. The panels, from Conqueror NZ in Christchurch, are self-supporting, meaning they have no internal truss or other internal structure supporting them.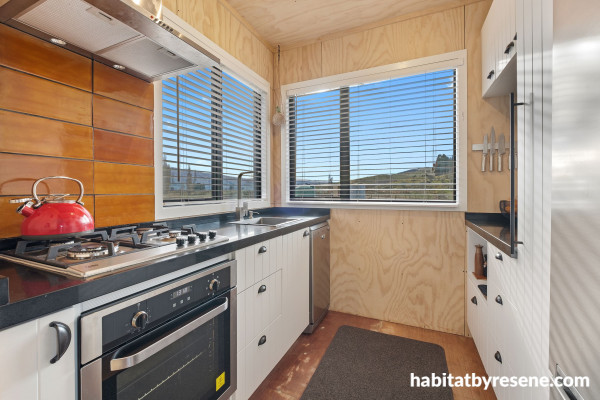 The plywood walls in the kitchen are finished in Resene Qristal Clear polyurethane satin varnish and the floor is in Resene Aquaclear.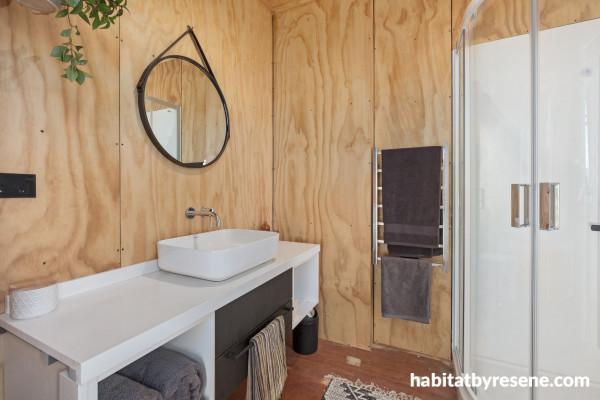 The plywood walls in the bathroom are finished in Resene Qristal Clear polyurethane satin varnish.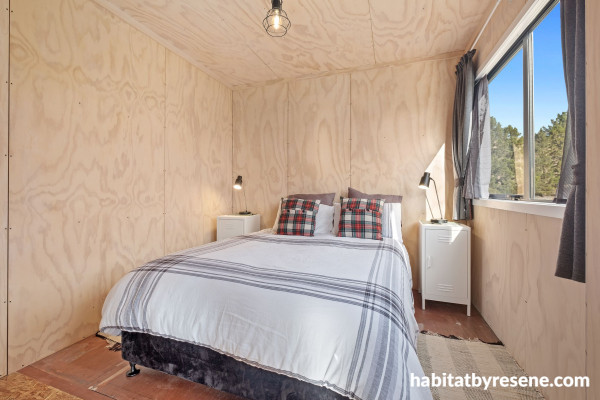 The master bedroom has been given a rustic cottage look with plywood walls finished in Resene Colorwood Rock Salt whitewash and window trim in Resene Half Black White.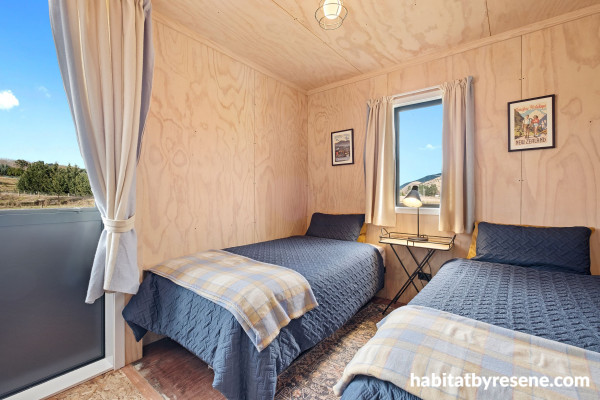 The second bedroom is inResene Colorwood Rock Salt whitewash and window trim in Resene Half Black White.
Published: 15 Jul 2021
Do you have a home full of wonderful Resene paint and colour? Send us some snaps by emailing [email protected].
the look
If you're stuck on what
colour to use or need colour
advice, try out the Resene
Ask a Colour Expert service.