►
◄
latest
habitat tv
blog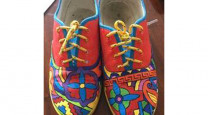 Aidan and Linda's Home of Many Colours
23 Jun 2011
Do you have a home full of wonderful Resene paint and colour? Send us some snaps by emailing [email protected].
Bold choices brighten a family home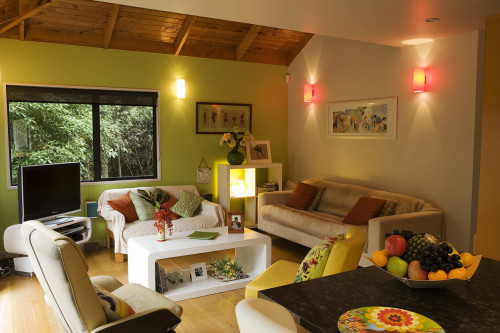 "It doesn't look like much from the road, does it?" says Linda of the 15-year-old plaster and aluminium house that she, husband Aidan and daughter Eleanor call home. Actually, it looks like a lovely home, but it's true that you'd never suspect that the interior was so colourful and architecturally interesting, or that the back section consisted of a huge deck, infinity pool and seemingly endless native bush. (Indeed, it was this bush and swimming pool that first attracted Aidan and Linda to the house.)
For starters, a brilliant blue Resene Mariner wall greets you in the entranceway. The colour was inspired by the blue stained-glass windows bordering the front door. Further down the hallway, a stretch of bright pink wall is just as unexpected as the soaring cathedral ceilings and bridge walkway overhead. Aidan reveals that the shade of pink - Resene Lipstick - was chosen to precisely match a fuchsia flower that he was enamoured with. The staff at the local Resene ColorShop remarked that they had never colour-matched a petal before!
This passion for flowers is not entirely surprising for someone nicknamed Digger, who is happiest when in the garden. Aidan is also "Mr DIY guy", says Linda, and it was he who painted the entire home himself. He even took into account that one half of the house gets more sunlight that the other, and painted the sunnier half with soft beige Resene Quarter Tea, while the dimmer half got a boost of brightness with white Resene Black White. The resulting balance is subtle, but effective.
It's the kind of attention to detail that you'd expect from someone who works as NBR New Zealand Opera's general director. At the moment his focus is the company's latest production, Cavalleria Rusticana & Pagliacci. (Aidan says that while the name of the opera may not be instantly recognisable, the music definitely is, as it has been used so much in film and other popular mediums.) Linda, too, is involved in opera - having sung at Covent Garden, she now directs and teaches with a passion. A baby grand piano takes pride of place in the formal living room, while throughout the house are hundreds of CDs and huge drawers filled with sheet music. This is, however, an unpretentious family home, full of warmth and personality.
How would you describe your interior design style? Colourful and relaxed; a mixture of old and new.
What did your home look like before the renovation? The carpet went up the walls, to a strange low dado. The entire place was cream and a little sad. Outside, the deck was rotting and unfinished.
Where did your inspiration come from for your home interior look? The furniture we have collected on our travels, some of which are family heirlooms.
What was the greatest success with the renovation? The wooden floors and colourful statement walls.
Why did you make these colour choices? They make you smile.
What is your favourite thing in the house? Our bedroom furniture from Rose & Heather.
Which space in the house do you get your greatest satisfaction from? The sitting area off our kitchen (painted with Resene Happy Hour) because it creates a happy family environment and a social area in which to entertain.
What is your advice for someone trying to achieve a similar look with their home interior? Don't be afraid of colour.
The editor's pick of this week's comments will receive 2 tickets to see NBR New Zealand Opera's spectacular production of Cavalleria Rusticana & Pagliacci, in either Auckland or Wellington.
Get the look
Finding a flower, picture or something else you love is a great way to start developing a colour scheme. With the Resene ColourHelper tool, Resene staff can electronically measure the colour of your chosen object and find the closest Resene colour, plus suggest complementary colours to go with it. Or, you can take a photo and upload it to the free on-line Resene Colour Palette Generator. The Resene Colour Palette Generator will then create a custom colour palette which you can print, email or share on Facebook.
pictures
Photography: Dallas Pickering http://dallaspickering.com/
Fine dining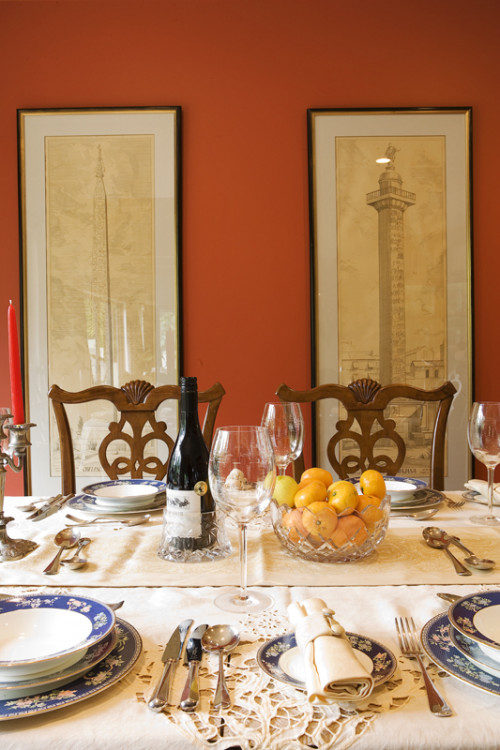 A feature wall of Resene Afterburner adorns the formal dining room.
Into the blue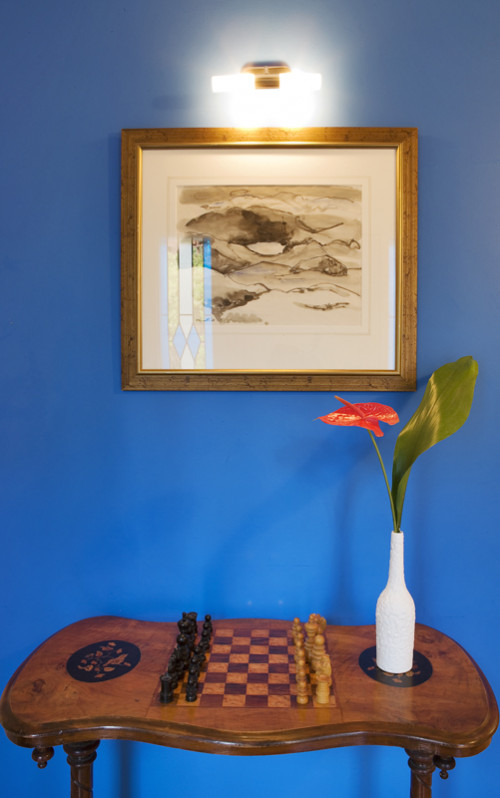 The blue Resene Mariner wall opposite the front door matches the stained blue glass windows which can be seen reflected in the artwork.
Pretty in pink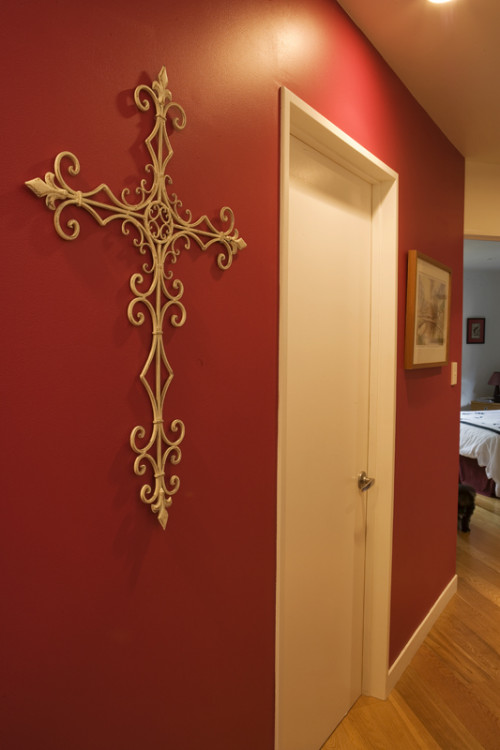 Inspired by a bunch of fuchsia flowers from a friend, a wall painted with Resene Lipstick enlivens the hallway.
Neutral ground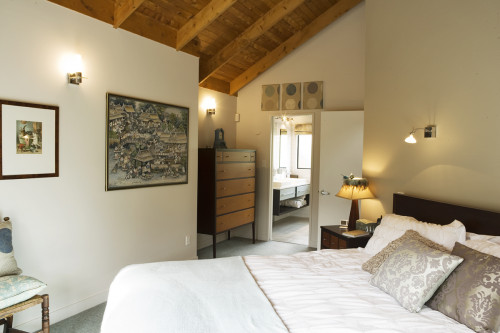 The master bedroom is painted with Resene Double Tea and Resene Quarter Tea.
Room to grow
The Resene Feijoa feature wall in Eleanor's room has been versatile enough to suit her as a child and as a teenager.