►
◄
latest
habitat tv
blog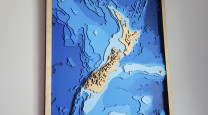 Home sweet blue home: Budget friendly ideas and tips for using blue in home décor
Choosing the right colour palette for your home can be similar to selecting the perfect ingredients for a culinary masterpiece. Each colour has its unique flavour, and when used thoughtfully, can evoke a range of emotions. We're diving into the captivating world of blue, exploring different shades and ways to incorporate this versatile hue into your home. With hundreds of shades of Resene blues, we've got some hot tips and cost-effective ways to freshen up any space in your humble abode.
Coastal blues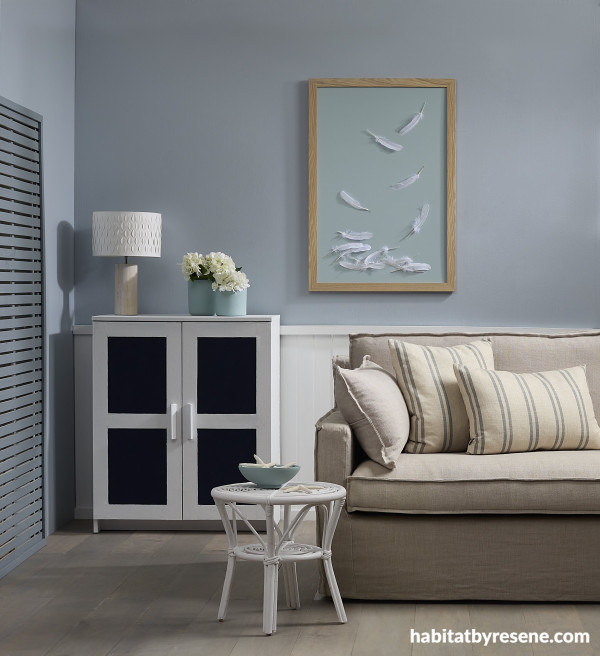 In this breezy coastal living room, the walls are painted in Resene Forecast, tongue-and-groove panelling in Resene Sea Fog, flooring in Resene Colorwood Mid Greywash, screen in Resene Regent Grey and cabinet in Resene Sea Fog with inset panels in Resene Blue Night and Resene Regent Grey. The vases are painted in Resene Azure, Resene Juniper and Resene Sorrento, DIY feather artwork in Resene Conch, lamp base in Resene Colorwood Whitewash and cane table in Resene Quarter Sea Fog. Project by Megan Harrison-Turner, image by Bryce Carleton.
Nothing quite captures the essence of coastal living like shades of ocean blue. This stunning living room epitomises the art of coastal-inspired decor. A mix of soft breezy blue and deep navy creates a soothing ambiance reminiscent of beachfront serenity. Incorporating coastal elements like feathers, seashells, driftwood and white furnishings can accentuate the maritime theme, transporting you to a beachside paradise in the heart of your home. For another coastal theme palette, using white, taupe and blue, try Resene Quarter Thorndon Cream, Resene Drought and Resene Ship Cove – a spectacular trio!
Cocooning navy elegance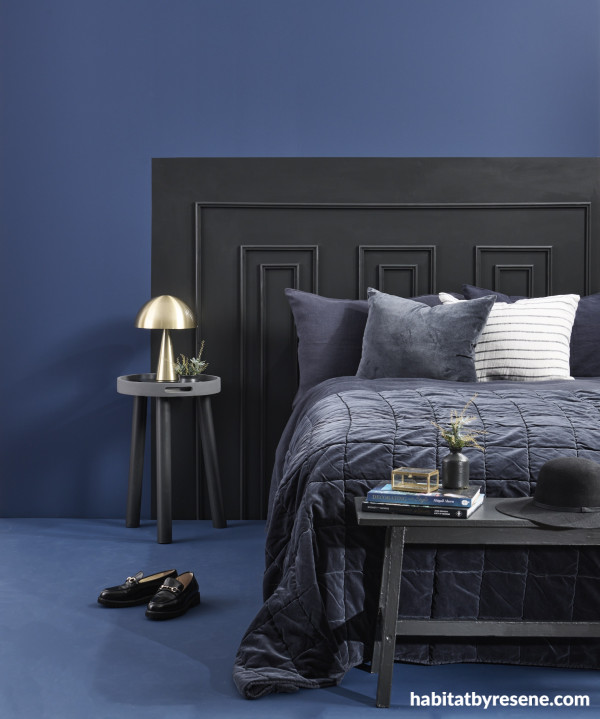 Navy blues and charcoals create classy comfort that invites you to come and relax. In this bedroom, the wall and floor are painted in Resene Ocean Waves with painted headboard in Resene Night Magic, table and bench in Resene Half Nocturnal, vase in Resene Baring Head and book and small vase in Resene Eau De Nil. Lamp from Cane Collection, rug from Bed Bath & Beyond, bedding from Città, shoes from Miss Wilson. Project by Melle Van Sambeek, image by Bryce Carleton.
If you prefer a more sophisticated ambiance, navy might be the colour for you. This bedroom showcases the power of deep, moody blues and black to create an atmosphere of luxury and intimacy. Even though blue is often seen as a cool colour, in this scheme it has an almost sultry feel, teamed as it is with other dark colours and luxurious bedlinen such as the velvet quilt. It's intense and enveloping with a slightly regal and timeless edge, largely due to the panelled headboard. It's a drama queen of a room… in the best possible way!
If you want an even more opulent space, try other royal shades like Resene Tarawera, a deep marine blue green, Resene Upstage, a dramatic and lavish grape red, or Resene Persian Red, an antique precious red. You can even try rich wooden accents and metallic details or a crystal chandelier to complete the look and relax in style.
Trendy feature wall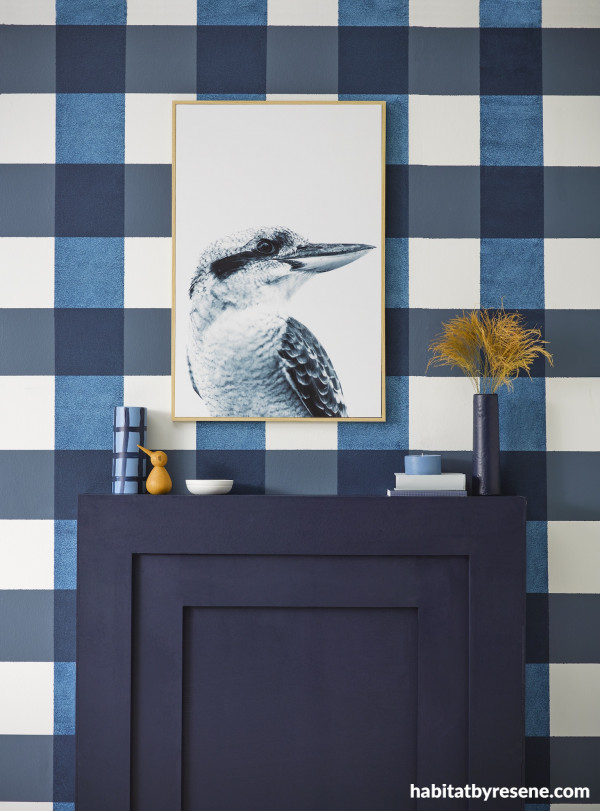 This feature wall is bold and blue, with a background colour in Resene Sea Fog, and Resene Indian Ink and Resene Rhino as its check colours - both diluted with Resene FX Paint Effects Medium. The shelf is painted in Resene Indian Ink. Project by Vanessa Nouwens, image by Melanie Jenkins.
This bold yet sophisticated hand-painted feature wall immediately draws the eye and adds an artistic flair to the space. Whether in a small entranceway, or large bedroom, the alternating squares of deep navy, sky blue and white can create a dynamic visual impact, making a room feel more expansive. A checked wall offers a wonderful canvas for displaying art or photographs, turning it into a personalised gallery. For more colour-blocking techniques check out tips from the habitat plus – special paint effects book.
If this pattern catches your eye, you can choose to use more subtle, pastel blues like Resene Spindle and Resene Quarter Frozen. However, you could also try going for a neutral palette by painting the background in a white, Resene Black White or Resene Alabaster, and checked pattern in calming taupe like Resene Joss and Resene Quarter Joss.
Charming bedroom bliss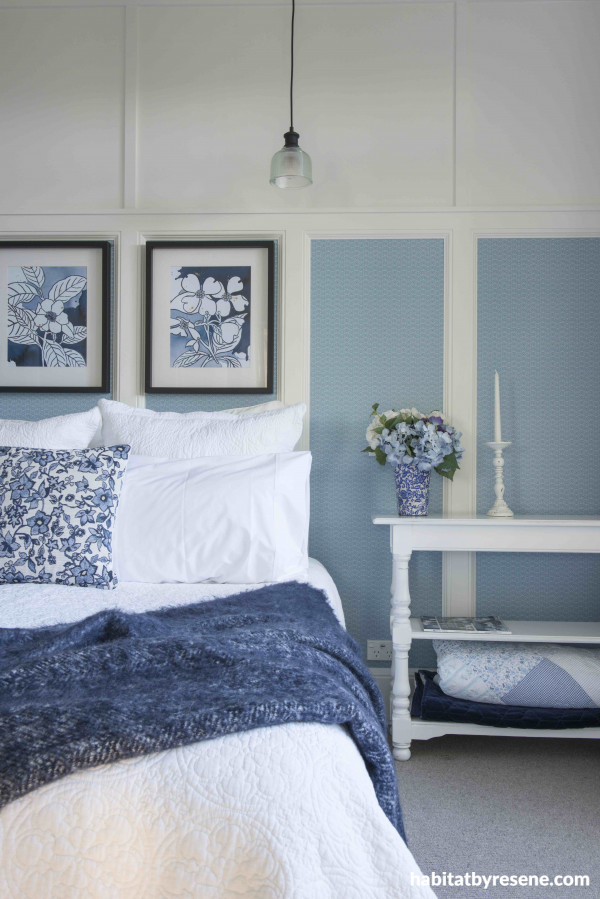 Kirsty and David Wraight both say their guest bedroom is their favourite room of the house as they pushed themselves to try something different. Resene Wallpaper Collection E375052 on the lower half of the walls has a delicate flower design that creates visual texture. The panelling and ceiling are painted in Resene Quarter Rice Cake.
In the bedroom, a subtle touch of blue can work wonders. Soft powder blue walls and delicate floral patterns on the bedding create an oasis of calm. This bedroom exemplifies how blue can make a big difference in the overall feel of the room. You can opt for a Resene wallpaper to add some texture or pattern, or use a blue paint with a calming nature like Resene Comfort Zone, Resene Awash or Resene Oxygen. Try making your own artwork or painting accessories using the same colours to create a cohesive feel – you'll be amazed at what you can do with Resene testpots!
Kitchen dream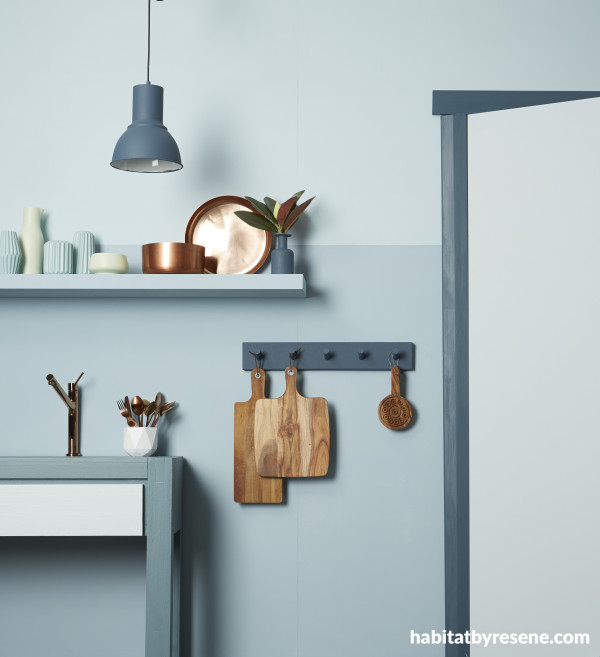 This kitchen is a river of blues with the lower wall painted in Resene Raindance, the upper wall and shelf painted in Resene Mystery, cabinet top and legs in Resene Artemis, door architrave, pendant light and hook rack in Resene Safehaven, door and cabinet drawers in Resene Slipstream, jug and bowl in Resene Aura and fluted vases in Resene Unwind. Tap from Archant, tray and bowls from Farmers. Project by Megan Harrison-Turner, image by Bryce Carleton.
From the deep slate of Resene Safehaven to the cool, icy Resene Slipstream, these blue shades seamlessly harmonise in this enchanting tonal blue kitchen. Grey-blues remain a enduringly favoured choice for home interiors - and if you haven't considered pairing them with copper accents, you're overlooking a sublime combination!
To prevent the colour scheme from overwhelming the space with excessive blue, infuse warmth by incorporating an array of copper accessories and fixtures, along with inviting timber elements such as cutting boards and wooden utensils. For a refreshing twist, consider adding smaller accessories with a hint of green, like the gentle apple green of Resene Aura or the subdued lichen green of Resene Unwind, as seen on these petite vases.
Playful Hamptons accents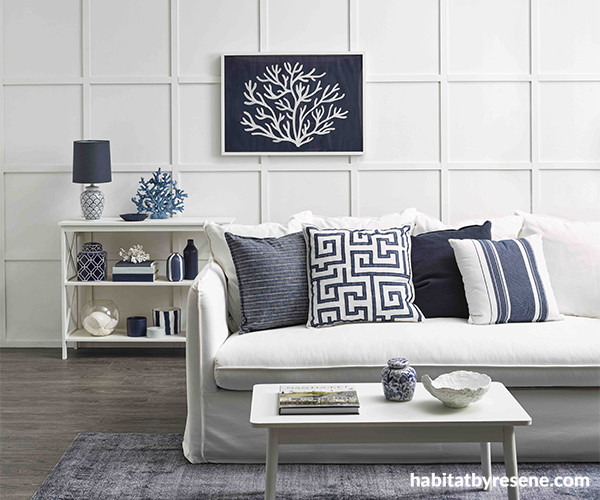 In this Hamptons-style living room, the walls are painted in Resene Black White, floor in Resene Colorwood Dark Ebony, table and cabinet in Resene Merino, shell dish and plant pot in Resene Blue Night, plant pot in Resene Black White with stripes in Resene Blue Night, books in Resene Blue Night and Resene Halcyon, medium vase (with white stripes) in Resene Biscay with stripes in Resene Black White, tealight holder in Resene Halcyon, small coral in Resene Black White and large seashell in Resene Black White. Sofa and cushions from Freedom, table and cabinet from Mocka, lamp and book from The French Villa, Navy linen look cushion from The Warehouse. Project by Vanessa Nouwens, image by Wendy Fenwick.
Sometimes, all you need is a touch of blue to make a statement, especially in an otherwise neutral space. This Hamptons living room uses blue accents through decorative pillows, art, a stunning rug, and blue painted accessories. This is really a testament to the versatility of blue – it can be bold and commanding or subtle and inviting, depending on how you choose to use it. For lively, vibrant accents, try blues like Resene Bowie, Resene Endeavor and Resene Mariner. For gentle, muted blues, try Resene Half Halcyon, Resene Smokescreen and Resene Breathless.
Blue, in its various shades and applications, has the remarkable ability to transform your home into spaces of tranquillity, elegance and charm. Dive into the calming and captivating world of blue and incorporate this versatile colour into your home and discover the magic it can bring to your living spaces.
Published: 14 Sep 2023
Do you have a home full of wonderful Resene paint and colour? Send us some snaps by emailing [email protected].